The National Socialists and the German people were enjoying a revival of prosperity, happiness, and hope.  They had thrown off the Jewish and Allied noose inside of Germany to a certain degree. The U.S. was in an economic depression. So the International Criminal Gang wanted to continue their evil plans from World War I, to finish off the German empire, Britain's competition, and rob it blind.
*****
ADOLF HITLER
ENGLISH - DEUTSCH
"The Jewish doctrine of Marxism rejects the aristocratic principle of nature and puts in place of the eternal privilege of power and strength the mass of numbers and their dead weight. It denies, therefore, the value of being a person, contests the significance of nationality and race and deprives humanity of the conditions for their existence and their culture. It would, as basis for the universe, lead to the end of every humanly conceivable order. And just like in this largest recognizable organism only chaos could be the result of the application of such a law, so on earth it would only be the inhabitants own demise. If the Jew triumphs over the peoples of the world with the help of his Marxist creed, then the Jew's crown will be the death dance of humanity, and this planet will travel through the ether devoid of humans once more, just as it did millions of years ago. Eternal nature retaliates relentlessly against transgression of its laws. So I think that I am acting today for the purpose of the Almighty Creator. In defending myself against the Jew, I fight for God's work." Adolf Hitler, Mein Kampf, 1943 edition
###
English-German: Hitler Uncensored
Mit deutschen Untertiteln - Uebersetzung bei germanvictims.com
THE MOST JUST, HONORABLE AND COURAGEOUS LEADER IN CENTURIES, AN EXEMPLARY MAN WHO WAS UP AGAINST A HORDE OF CHEATERS, THIEVES, DECEIVERS, DEFAMERS, AND MASS MURDERERS WHO ACCUSED HIM AND THE GERMAN PEOPLE OF WHAT THIS HORDE DID!
THE TRUTH IS IN OUR GERMAN BLOOD! YOU CAN'T KILL IT!

HEIL TO THE GERMAN PEOPLE THEN AND NOW!
 
The Jew Alberti-Sittenfeld wrote in the year 1883 in the newspaper "Gesellschaft" (society): "Whoever dares to take up a fight against the Jews, they will pull his existence from under his feet and will battle him with animal brutality and with the most base brutality until he loses his mind and gives up the fight." From "Mein Politisches Testament" (My political testament) by Julius Streicher.
"Lord God, give us the strength that we retain our liberty for our children and our children's children, not only for ourselves but also for the other peoples of Europe, for this is a war we ALL wage, this time, not for our German people only, but in the long run for all of mankind." Adolf Hitler, 1942
ADOLF HITLER BOUGHT US TIME AGAINST THE JEWISH BOLSHEVIK MONSTER! AND HE GAVE US AN IDEOLOGY TO FIGHT FOR!
* * *
https://archive.org/details/TheYoungHitlerIKnew
Item 26, Chapter 5: Germany, Adolf Hitler, and National Socialism:
https://archive.org/details/Natures_Eternal_Religion_Audiobook
Item 27, Chapter 6: Racial Socialism:
https://archive.org/details/Natures_Eternal_Religion_Audiobook
 * * *
From Winston Churchill, Francis Nielson, Makers of War

The election on July, 31st, 1932 was a victory for the National Socialists. They polled 13,574,000 votes and with 38% of the total votes cast legitimately and democratically became the largest Party in the Reichstag with 230 seats. The Social Democrats had 133 seats and the Communists 89. On January 30th, Adolf Hitler was appointed Chancellor of Germany. [1]
"The German leader with the highest of praise for his accomplishments as no other foreign statesman ever received from an Englishman." (Winston Churchill, 4th, October, 1938) [2]
Upon his return following a visit to Hitler, his daughter greeted Lloyd George, humorously with a "Heil Hitler!" "Yes, Heil Hitler. I too, say that because he is truly a great man. I have never met a happier people than the Germans and Hitler is one of the greatest men among the distinctly great men that I have ever encountered." Lyod George [3]
"In England, many people imagine Hitler as a cannibal; but I would like to say how I have found him. He conveys good comradeship. He is unpretentious, naturally and apparently sincere. It is not true that he speaks to individuals as though he were speaking to an assembly. "He has a supreme intellect. I have known only two other men to whom I could apply such distinction—Lord Northcliffe and Lloyd George. [4]
"If one puts a question to Hitler, he gives an immediate, brilliant clear answer. There is no human being living whose promise on important matters I would trust more readily. He believes that Germany has a divine calling and that the German people are destined to save Europe from the revolutionary attacks of Communism. He values family life very highly, whereas Communism is its worst enemy. He has thoroughly cleansed the moral, ethical life of Germany, forbidden publication of obscene books, and performance of questionable plays and films."I spoke with Hitler about one and a half years ago when he said, 'certain English circles speak of me as an adventurer. My reply to that is that adventurers have built the British Empire."No words can describe his politeness; he disarms men as well as women and can win both at any time with his conciliatory, pleasant smile. He is a man of rare culture. His knowledge of music, the arts and architecture is profound."Many evidently find it difficult to imagine a cultivated man in accord with a man of determined action…
"If a vote of general opinion was taken on who was the greatest politician that British history ever produced, the name of Cromwell would very likely head the list. But Cromwell was a man of the greatest determination, and used methods of reckless inconsideration." (Viscount Rothermere, Warnings and Predictions, p. 180-183) [5]
"While all those formidable transformations were occurring in Europe, Corporal Hitler was fighting his long, wearing battle for the German heart. The story of that struggle cannot be read without admiration for the courage, the perseverance, and the vital force which enabled him to challenge, defy, conciliate, or overcome, all the authorities or resistances which barred his path. He, and the ever increasing legions who worked with him, certainly showed at this time, in their patriotic ardour and love of country, that there was nothing that they would not dare, no sacrifice of life, limb or liberty that they would not make themselves or inflict upon their opponents." (Winston Churchill, Francis Nielson, Makers of War, p. 101) [6]
[1-6] Michael Walsh "Witness to History"
WITNESS TO HISTORY - post - download book

Virtual Tour of Hitler's art museum, called "Haus der Deutschen Kunst" in Munich - Opened in 1937 - you'll have to download the player - easy - takes a few seconds
DIE NEUE REICHSKANZLEI - NEW CHANCELLERY
click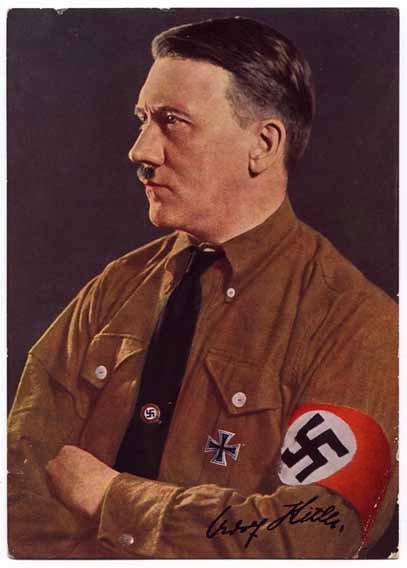 *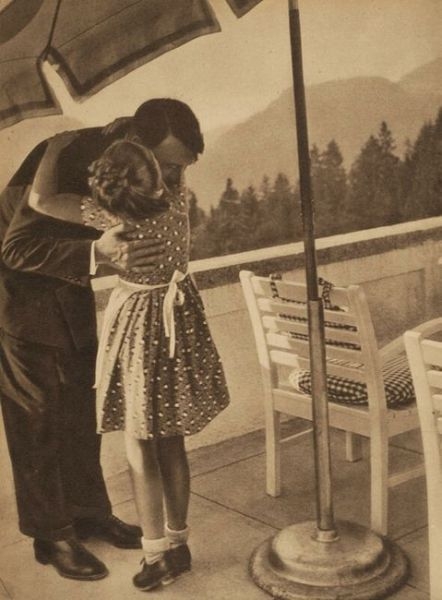 *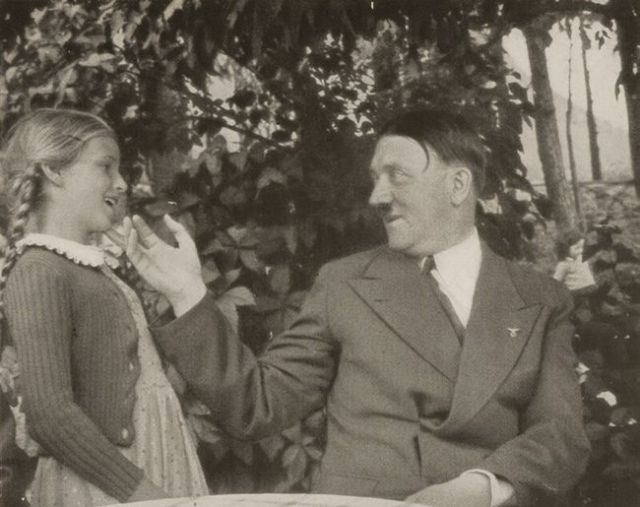 *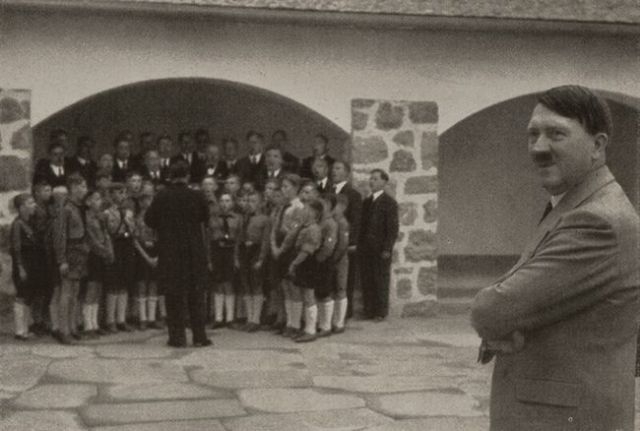 *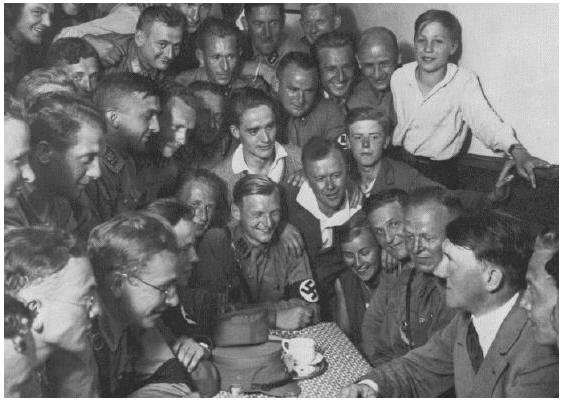 *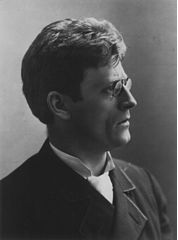 "I am not worthy to even speak about Adolf Hitler, and his live and his works do not prompt me to sentimentality. He was a warrior-a warrior forhumanity, and he was the preacher of the gospel of justice for all people. He was a reformer figure of the highest rank, and it was his historical fate to lead at a time of unparalleled brutality, to which he eventually fell victim. Every Western European may see him this way; but we, his devotees, we bow our head before his death."
Norwegian writer and Nobel Laureate Knut Hamsun; published in the Norwegian newspaper "Aftenposten" on May 7, 1945
*
By Admin - The ongoing lies and defamation regarding the German people are to hide the truth about the criminal gang who runs this world. The truth is, there was an annihilation plan in the pipeline already before WWI to diminish the successful German empire. And because after WWI the defeated and poverty-stricken Germans recovered again under a strong leader, a second world war was created by the New World Order to destroy Germany worse than in WWI. Not only that, because Hitler stood up to the Jews who had usurped Germany after WWI and who were taking 60% of employment for themselves while comprising only about 1-5% of the population, severe punishment was arranged for by the Jews against German civilians. This was done by bombing civilian city centers murdering 1,000,000 Germans, driving off 20,000,000 Germans from their homelands in Europe, and having 12,000,000 Germans annihilated after the war. The poverty and suffering in Germany went on until 1955.
Hitler had only a local conflict with Poland after Poland kept attacking the German border and torturing to death 8,000 ethnic Germans over a period of several months. When the Poles came onto German territory, Hitler responded to their fire for the first time. This conflict was solved in 18 days. But, Britain and France right away declared war on Germany as soon as Hitler responded to Poland with fire. Hitler had never had any aggression toward England or the U.S.A. Yet Jew Churchill wanted to destroy Germany. They set it up with Poland; that's why Poland became so aggressive. Jew Roosevelt started war with Germany by lying to the American people and attacking German ships in international waters over several months. After many months of this aggression, Adolf Hitler needed to declare war on the U.S. to protect his ships. And after all this, the International Criminal Gang had the audacity to blame the war on Germany and burden her with endless reparation.
ADOLF HITLER WAS LOVED. IN PUBLIC APPEARANCES ADOLF HITLER WAS SHOWERED WITH FLOWERS! CONTRARY TO THE MISINFORMATION TO HIDE THE ALLIED CRIMES, HE WAS NOT A DICTATOR, BUT AN ELECTED CHANCELLOR WHO LEAD THE GERMAN PEOPLE OUT OF GREAT SUFFERING AND OPPRESSION CAUSED BY THE ALLIES AND THE JEWS. HE ALSO SAVED THE GERMANS FROM JEWISH-LED COMMUNISM. AND MOST OF ALL, ADOLF HITLER'S SOLDIERS SAVED GERMANY AND WESTERN EUROPE FROM A FULL BLOWN RUSSIAN INVASION.
Hitler taught the working men, the business men and the farmers to work together by understanding economy from each other's perspective. Here he is greeting workers.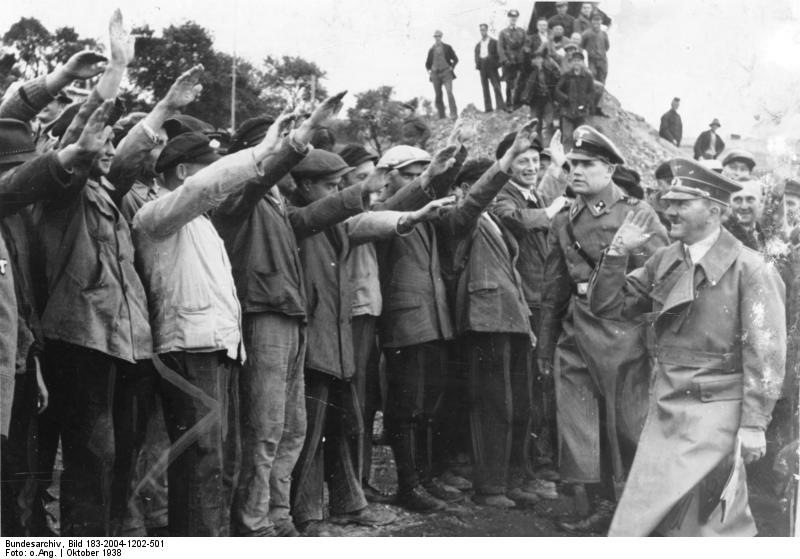 It did not matter what Adolf Hitler did because the Allies wanted WWII to destroy the competition, Germany, and to rob, rape, and kill Millions more Germans, orchestrated by International criminals and executed by Roosevelt, Churchill, Stalin, Eisenhower, et al. This criminal gang had no mercy for civilians, and their kind are now the greatest threat to all mankind.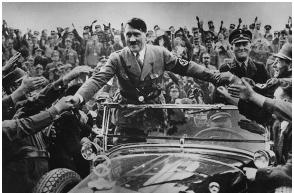 Man of Peace:
Nobel Peace Price for Adolf Hitler
 THE NSDAP'S 25-POINT PROGRAM:
posted on my website National Socialists: Guest: 30.06 talks with Diana about the ideological nature of the NSDAP's 25-Point Program on this 80-year-anniversary; he also talks about the events and mentality in the Weimar Republic (run by Jews after the war) and the devastation, hyper inflation and other Jewish influence.