…"Das Grundgesetz in den V.S. wird nicht mehr eingehalten. Der Angriff kommt jetzt zuerst auf die Menschen in den Staaten die aus der Union aussteigen wollen (21 haben Antrag gestellt) und souveräne Staaten sein wollen wegen dem verbrecherischen Washington…"
BEI PENSIONIERTEM GREEN BERET, KOMMANDANT UEBER GANZ AFRIKA, U.S. MAJOR DAN PAGE: DIE PLAENE FUER DIE GANZE WELT - 10 ZONEN UND WELTREGIERUNG. DAS KOMMENDE ERMORDEN DER AMERIKANISCHEN BUERGER.
[*Bemerkungen by germanvictims.com]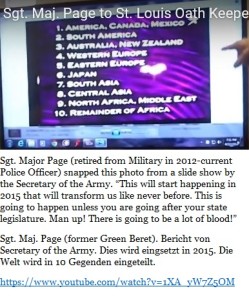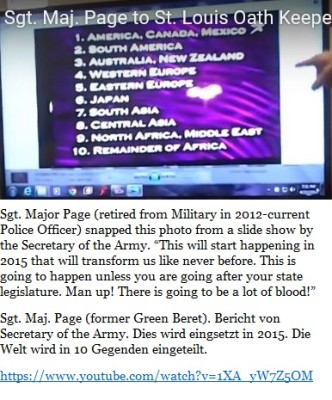 gv: Was in Amerika jetzt passiert und anscheinend passieren wird, passiert wohl in Deutschland und Europa auf ähnlichem Weise, mit gleichen Zielen aber auf anderer Bühne.~gv
[*Bemerkungen by germanvictims.com]
DEUTSCHE ÜBERSETZUNG VON SGT. MAJ. DAN PAGES VORTRAG. ES GEHT ÜBER DAS ENDE DER VEREINIGTEN STAATEN, DEN POLIZEISTAAT, UND DAS TÖTEN DER AMERIKANER BEI EIGENEM UND FREMDEM MILITÄR DAS UNS KURZ BEVORSTEHEN SOLL.  Nur ein paar Auszüge:
Ich übersetzte Einiges was Sgt. Maj. (Hauptfeldwebel) Dan Page sagt: (im Ruhestand aber arbeitete zur Zt. des Vortrags als Polizist - wurde aber anscheinend wegen diesem Video entlassen.)
Er redet vom Amerikanischen Grundgesetz das jetzt oft gebrochen wird: "Das Volk hat das Recht und nicht die Regierung - das oberste Gericht is außer Kontrolle - wir haben Religionsrecht das gebrochen wird [*man darf im Militaer Jesus nicht mehr erwaehnen oder wird bestraft] - Normalerweise erlauben wir der Regierung das Recht, anstatt ergreift die Regierung als Diktator einfach irgendein Recht und befehlt uns - Das Volk hat das Recht per Grundgesetz eine schlechte Regierung abzusetzen -  Die Bibel ist die Grundlage für das Am. Grundgesetz - In vergangenen Zeiten trugen die Pfarrer eine Militäruniform unter dem Pfarrergewand denn sie waren zu jeder Zeit bereit zu kämpfen und waren die ersten auf dem Kampfplatz - Tapfere Männer damals - sie nannten sich Minute Men - In 50 Jahren kann man ein Land zerstören - was ist nur mit uns passiert!? -
Der Präsident ist nicht der Kommandeur der Wehrmacht - (nur nach einer Kriegserklärung) sondern der Kongreß - Seit dem 2. Weltkrieg wurde nie ein Krieg erklärt - Ich war in 9 Kampftouren - jede hat mich 18 Monate meines Lebens gekostet - Ich habe genug vom Töten, bin es müde - Entweder wählt ihr oder ihr wird für den Krieg gewählt - Ich meine es todernst - Ich bin ein ehemaliger Green Beret und mache keinen Spaß darüber - Jeder Staat der Vereinigten Staaten ist nach dem Grundgesetz souverän und so haben sie kein recht unsere Söhne in den Krieg zu schicken - Bundestruppen (Federal)  haben kein Recht in einem Am. Staat und auch nicht die National Guard. Nur die Melitia innerhalb des Staates welche der Mayor des Staates oder der Sheriff eines Bundeslandes innerhalb des Staates aufruft hat das Recht (Bürger im Alter von 18 bis 65 können aufgerufen werden) - Jeder Bundesstaat ist ein souveräner Staat - die Bundesregierung (Federal) hat kein Recht unsere Söhne überall in die Welt in Kriege zu schicken - Kongreß diktiert dem Militär, nicht der Präsident - Langsam nehmen sie unsere Rechte und Identität weg - sie wollen das Grundgesetz vernichten - sie haben schon mehrere neue und andere Entwürfe geschrieben - Wir sind nicht weit weg vom Martial Law (Kriegsrecht-Polizeistaat). Sie werden es aber nicht so nennen sondern "Emergency Police Power" (Notfall Polizeistaat).  Sie wollen das 1. und 2. Amendment (ganz alte Änderung des Grundgesetzes hunderte Jahre alt) abschaffen. Das 1. Amendment: Das erste enthält Freiheit der Religion. Das 2. Amendment: Das zweite enthält Freiheit des Ausdrucks und Rede. Sie wollen es umändern um uns Bürger eines souveränen Staates Untertane zu machen zur Bundesregierung (Federal) IN JEDER HINSICHT!!! Wir sind in großer Gefahr!!!
Ich hatte die Möglichkeit bei einem Vortrag des Secretary of the Army ein Bild von seinem PowerPoint Slide zu machen. Dies soll bei 2015 eintreten. Ganz Amerika wird sich ändern. Dies ist ein Entwurf von vielen. (Bild oben) Es wird in den V.S. 10 Zonen geben. Alle Landgrenzen sollen verschwinden. [*Das sind Verwaltungsgrenzen von gewissen Gegenden innerhalb eines U.S. Staates und nennt sich "county". California, z.B., hat 58 counties.  Jedes county hat eigene Wahlen für die Verwaltung des county und etwas andere Regeln und Freiheit]. Die ganzen Polizeiämter sind nicht mehr souverän sondern kommen vom County dann unter die Herrschaft der Führung einer von den 10 Zonen der U.S.A.
Auch als Mensch haben wir souveränes Recht, aber… sie brechen es. Sie brechen das Grundgesetz.
Mexico, Canada und VS werden in eine Region verwandelt werden.
Alles wir eins werden in den V.S. Sie werden Barakken bauen wo wir hinkommen wie im Gulag in Rußland. Sie werden unsere Kinder auch wegnehmen und sie gehirnwaschen in Erziehungsbarakken. Dort leben sie und kommen nur ab und zu nach Hause, immer weniger. Danach werden die Kinder die Eltern ausspionieren. Ihr kommt alle ins Gulag es sei denn ihr kommt von dem Fernseher und den Fußballspielen weg und macht was. Das Haus steht schon in Brand. Redet mit euren Kindern. [*Damit meint er wohl habt Zeit fuer Eure Kinder.] Erwachsene Maenner werden heulen darueber dass sie ihre Kinder vernachlaessigt haben. Dann redet er von den trainierten Mördern im Militär die Navy Seals und S. Korea Seals, seine Freunde die er vorstellt. Die lächeln weil sie dich töten und lieben ihren "job." Mehrere Amerik. Kommandanten sind zurückgetreten weil sie nicht mitmachen wollen was jetzt mit Amerika gemacht wird.
China baut eine Straße von China bis zum Mund von dem Euphrates Fluß für nur Militärfahrzeuge zu befahren.
Amerikanisches Gesetz: Kein Ausländer darf Praesident werden. Obama is ein Ausländer ohne Dokumente. Ich flog zu seiner Schule in Kenya mit einem Privatflugzeug.
Frage von Zuhörerin: Sagen Sie daß verschiedenen Militären von anderen Ländern mit dem U.S. Militär zusammenarbeiten?
Antwort Dan Page: Ja.
Frage von Zuhörerin: Um uns zu töten?
Dan Page: Ja!
So kommts:
Zuerst kommt Schikane und Verfolgung
Dann kommt Strafvervolgung
Dann kommt Execution
Obama läßt Hunderte von Tausenden Moslemen in unser Land JEDE WOCHE. Mosleme sind friedlich bis sie die Überhand oder Mehrheit haben - dann töten sie dich!
Ein Federal Agent (Bundesagent) ist immun gegen Strafvervolgung (Beispiel Ruby Ridge, Waco Texas Situation) von einem Bundesstaatsgericht. Deswegen ist es nicht grundgesetzmässig daß er in einem U.S. Staat agiert. Aber sieht nun was passiert in anderen Staaten wo Federal Agents Land von Privatbesitzern wegreissen. Das ist grundgesetzwidrig. Sie stehlen Tausende von Ackern.
Es gibt keinen "Executive Order" im Grundgesetz wo der President einfach etwas erfindet, unterzeichnet und es muß gemacht werden.
Wir stehen vor einem wirtschaftlichen Zusammenbruch. Die meisten Polizeichefs werden jetzt von der FBI geschult. Ich weis nicht was mit denen gemacht wurde, denn sie kommen alle gehirngewaschen zurück.
FEMA übersieht jetzt "Terroristen," in anderen Worten Unterdrückung der Bürger.
Rex84 -"Operation Gardenplot" - Dies ist kein Witz. Wir haben jeden Moment einen Zusammenbruch der U.S.A. Vielleicht mehrere kleine oder einen großen. When sie ein Christ sind, dann müßten Sie jeden Morgen genau wissen was sie tun müssen. Der Boden müßte unter Ihren Füßen donnern wenn sie kommen.
Ich werde bei Jesus sein wenn sie mich töten. Aber ich kann auch töten. Ich habe eine Menge Menschen getötet und ich kann noch eine Menge mehr töten. Sie müssen jetzt ein Mann sein! Sie wollen Eure Kinder wegnehmen und sie indoktrinieren - sie werden es tun - es kommt - Ihr könnt es nicht aufhalten weil wir zu lange gewartet haben. Dies wird ein 50-Jahre-langer Kampf werden. Wir hier alle werden es nicht überleben. Der Kampf ist für Eure Kinder. Ihr müßt in den "Kampf" rein. Die 2016 Präsidentenwahl ist extrem wichtig. Es wird wohl die letze Wahl sein.
Ihr müßt den Kampf innerhal Eures Staates machen. Raus vom Kampf gegen das Federal (Washington). Dafür ist es zu spät. Im U.S. Staat und County und Schulvorstand, hier müßt ihr kämpfen. Da kann eine Menge getan werden um dies abzuhalten. When Ihr richtig steht mit Gott, dann gibt er viel Hilfe. Ihr wollt nicht in einen Krieg ziehen, glaubt es mir!!! Verwickelt Euch jetzt in den "Kampf." Ihr wollt keine solche Erinnerungen haben vom Krieg wie ich!!! Ihr wollte keine Flut von Menschen sehen so wie ich [*er meint die abgemetzelt werden]. When Sie eine Krankheit haben, wie Zuckerkrankheit, Herzkrankheit usw. werden sie nur 24 Stunden überleben von dem Moment wo Martial Law (der Polizeistaat) erklaert wird. Dieser kommt. Jedesmal wenn ihr widersteht, werden sie mehr angrifflich werden weil sie ihre Regierung standhalten wollen.
9/11 - davon hörte ich von einem Colonel am 1. Aug. 1999 das erste mal und sah die Bilder von all den Leuten beteiligt. 19 von Saudi. Er sagte, danach ist Amerika nicht mehr das gleiche Land. Saudi? Warum griffen wir Afghanistan an? Danach verlies er das Militär und sagte: "Da mach ich nicht mehr mit was sie mit Amerika machen." Andere zogen sich auch zurück - viele guten Am. Militärmänner. Niergends gab es 'weapons of mass destruction.' Ich war in Afghanistan (als erster da) und in Iraq. Sadam Hussein war bewiesen unschuldig. Sadam sagte: "Ich habe viele Menschen getötet aber ich habe niemals 50 Millionen meiner eigenen Menschen getötet." Warum diese Kriege? Welt Regierung! Jeder der sich weigert, einschließlich Ihr, ist ein Toter Mensch.  Ich weis ich habe eine große Zielscheibe auf meinem Rücken. Alle 6 Monate muß ich mich noch bei den Feds vorstellen. Das letzte mal wo ich da war sagten sie mir: "Wir bringen jede Woche 1,000 Spetsnaz (Specnacs), das ist Rußisches Spezial Militär ins Land. Dort sind 18,000 von ihnen in Ft. Letterwood (???) momentan (April 2014). In Fort Collins (???), Colorado 25,000.  Die werden Euch töten. [*Wenn wir Feinde von Russland sind, warum bringen sie ihre Soldaten hier nach Amerika??? Da stimmt doch was nicht. Ich glaube schon lange sie arbeiten zusammen und tun nur so umd Kriege zu fuehren und Menschen zu toeten und dabei noch Geschaefte zu machen. Die welche dahinter stecken sind die Chabad Lubawich Juden die die Kriege treiben um Armageddan hervorzubringen, im Auftrag der fuehrenden Juden, so wie sie es sagen.]
Die letzten 60 Tage und Stunden einer Nation (von meiner Kriegserfahrung): So gehts vor:
Die Zeitung wird anfangen starke psychologische Kriegsführung zu machen. Sie werden über etwas "hier" reden aber etwas dort machen. Und laufend durch Ablenkung von "hier" reden.
Es gibt dann einen Internationalen Vorfall - und davon werden sie laufend reden - fuer Ablenkung von was anderem das sie machen ohne dass wir es merken
Eine person oder eine Gruppe von Menschen wird als Rassist erklärt oder so was ähnliches und laufend darauf herumgehämmert um auch abzulenken - und was weiteres wird wo anders gemacht ohne dass wir es bemerken
Menschen [*die Widerstaendler sind] werden festgenommen für inländischen "Terrorismus"
Dann kommt die alte Rache basiert auf altem Haß
Die Menschen werden randalieren. Dann werden die Bank Karten (debit cards) abgestellt. Wenn die innere Stadt explodiert, werden die Menschen jene Menschen ermorden die sie nicht mögen. Auftragnehmer [*special forces] werden kommen und die Menschen töten. Es gibt sehr, sehr böse Menschen. Die töten 24 x 7 und sind das gewöhnt und sind sehr geübt darin. Ihr braucht nicht eine Menge von Gewehren. Nur ein Gewehr das ihr kennt, geübt habt und mit dem ihr gut schießen könnt.
Die letzten die kommen ist die Hauptmilitärkraft. Das ist das Ende. All dies wird in den letzten 60 Stunden der letzten 60 Tage passieren. So haben wir es in Iraq gemacht. Wir haben 32,000 Menschen getötet in einer Nacht. Wir konnten mit dem Fernglas die Gesichter dieser Menschen sehen. Die Angst weil sie wussten wir kommen. [*Redet er von Zivilisten?] Es kommen dann die B52 und die Warhawks. Die U.S. Staaten die zuerst angegriffen werden sind die 21 Staaten die einen Auftrag stellten von der U.S. Union auszutreten weil sie keine U.S. Regierung wollen die das Grundgesetz verletzt. [*Bei November 2014 sollen es 50 Staaten sein. So sind wir also alle dran.]
In English:
50 Staaten haben friedliche Losloesung von der Union angefordert
Wenn Sie Geld and die Kirche geben, [*wie man das aus Ihrem Steuerreport sehen kann], für sie kommen sie zuerst weil sie als Christ erkannt werden.
Was ist heute die Definition eines Terroristen: Weißer Mann, glaubt an Jesus Christus, glaubt an das 2nd. Amendment der Constitution (Grundgesetz) (Die 2. Abänderung des Grundgesetzes). Im Inter-amerikanischen Kriegsschauplatz könnten Atomwaffen verwendet werden.
Arbeitet mit der Polizei zusammen damit sie wissen daß ihr in Wirklichkeit keine Terroristen seid (er spricht damit die "Oathkeeper" Gruppe an) sondern ganz normale Menschen, denn Polizisten sind sehr zynisch. Deshalb muss man vorsorgen.
90% des Amerikanischen Militärs wird die Wahl treffen Euch zu töten. Noch kurz vor Bush hätten 75% der MarineCorps das NICHT gemacht. Da hat der Bush all die guten rausgeschmissen und rausgedrückt. So, das ist jetzt anders weil sie all die besten rausgeschmissen haben. Jetzt sind es 90% die das eigene Volk töten werden. Heute haben wir 170,000 Mitglieder in der MarineCorps. 
Eine Besondere Ansprache an die Damen. Meine Damen, geniesst es Frauen zu sein (er meint, anstatt Euch mit den Männern zu streiten und sie zu bekämpfen). Es wird bald der Tag kommen wo ihr Euch nicht mehr huebsch machen werden könnt.
Patriot Act: Ein Mensch kann jetzt auf unbestimmte Zeit eingesperrt werden, inkognito. Kein Recht mehr auf einen Rechtsanwalt [*wie das vorher das Recht war fuer jeden Verhafteten] - keine Post - kein Familienbesuch - es wird Ihnen nicht gesagt warum sie eingesperrt werden - Sie sind für immer weg. [*gv: Das erinnert mich an die Methoden in Soviet Rußland die an meiner deutschen Verwandschaft angewandt wurde.~gv]
In dem Film: "Escape" [*Flucht, Ausbruch] mit Stallone und Arnold, dieses Schiff in dem Film existiert in Wirklichkeit. Es ist sehr, sehr wahrheitsgetreu.
Das Amerikanische Militär kann benutzt werden und wird benutzt werden gegen das Volk innerhalb der Vereinigten Staaten (grundgesetzwidrig)."
[*gv: Ich habe gehört daß sie heimlich ein anderes Grundgesetz geschrieben haben - ganz kurz ein Video von einer Enthuellerin das ich aber verloren habe] und danach schon verfahren. Habe die Sache noch nicht nachgeforscht. Wir haben eine Judenregierung, und die macht was sie will,  so wie es Jude Kissinger sagt:]
"Das Illegale tun wir sofort. Das grundgesetzwidrige dauert eine Weile." Henry Kissinger."