My rights as U.S. citizen: This website exposes the lies of WWII era and thereafter and brings the truth about Hitler, the so-called Nazis, the Allies (All-lies), the Jews, and Germany then and today.
THIS WEBSITE IS IN THE UNITED STATES OF AMERICA
- PROTECTED UNDER THE ARTICLE 19 OF THE UNITED NATIONS DECLARATION OF HUMAN RIGHTS - AND THE U.S.A. FIRST AMENDMENT -
July 2015: Nearly 900 Posts! Only a small amount visible under "Recent Posts."  Search by category.
July 2015: Fast 900 blogs. Nur ein kleiner Teil sichtbar unter "Recent Posts-Deutsch-English." Suche bei "category" oder "Deutsche Seiten."
DEUTSCH - ENGLISH BLOG

This website has been produced in the United States by a United States citizen. It is offered to the global community for informational purposes only.
Although its content may be controversial, it is protected from political censorship by the First Amendment to the U.S. Constitution and Article 19 of the U.N. Declaration of Human Rights, which reads:
"Everyone has the right to freedom of opinion and expression; this right includes freedom to hold opinions without interference and to seek, receive, and impart information and ideas through any media and regardless of frontiers." Any government that does not allow this is a Communist government or looks at its people as children. 
I declare my opinions about many things on this website. I have come to my opinions only after researching many subjects in books, on websites, in articles, and videos by others. While I do not know anything 100% for sure where I could not have been present, my conclusive opinions are based on collecting much information about historical activities and honorable people coming to a reasonable and logical opinions on many things. Further I have personal experience with the American occupation in Germany and my parents with Soviet Russia.
It is only possible to use general terms when writing. All authors do this. But, when in a negative way I use the general term Americans, British, Russians, Jews, and all races, etc. my criticism pertains only to those of them who have done and are doing harm to the German people and all people on this earth. In no way am I accusing innocent citizens of any race or creed of anything!
While I sometimes write in anger, and so many people are confused about anger, let it be known that anger with me does not equal violence. Anger is a God given gift of arousal to take steps to put the offenders in their place with truth and to motivate oneself to speak out.
Disclaimer: There is probably some nonsense on some websites I am posting or linking to;  along with good articles stating the truth. Since some websites are like a labyrinth, I have no control over lies told along with the truth. I have no time to ferret every lie out. Adolf Hitler was not a Jew and not involved in banking with the Jews. The money that ran into Germany was through German-Jewish bankers for the Jews and Communists to turn Germany into another Soviet Union and to pay assassins. I am sure that at times, when the enemies of the Germans want to accuse Germans, they call German Jews "Germans." When they want to be victims, they call Jews in any country "Jews." And if it was a Jew in Poland who committed a crime, I'm sure they will call him a Pole, to hide the fact that he is a Jew, etc.
Liebe Freunde aus Deutschland!
Wie viele von Ihnen schon wissen, die Wahrheit ueber Hitler und die zwei Weltkriege ist im Juden-Deutschland verboten! Deshalb hat man meine Internet Addresse (I.P.) jetzt zum grossen Teil in Deutschland blockiert.  Bitte schreiben sie immer die volle Addresse ein wenn Sie suchen, naemlich http://www.germanvictims.com und laden sie so viel runter wie sie können mit Verweis auf meine Heimseite als Quelle und verteilen sie es. Alles darf kopiert werden, es sei denn der Artikel sagt 'copyright,' was nur sehr selten der Fall ist, aber immer nur mit der Quellenangabe von dem Verfasser den ich auffuehre und meine Quelle. Alle Bücher sind 'public domain' und dürfen heruntergeladen und verteilt werden falls sie nicht verboten sind in Deutschland und Oesterreich, usw.

Bitte beachten: In letzter Zeit habe ich ein Problem mit den links meiner Heimseite (ich rede nicht von links auf anderen Seiten ueber die ich so und so keine Kontrolle habe). Ich weis nicht wie das kam. Deshalb, weil die meisten Links korregiert sind auf "Deutsche Seiten" bitte ich Sie wenn moeglich von dort einzusteigen (Link Unter Deutsches Opferlamm und "Verbrechen an Deutschen" rechts auf jeder Seite sichtbar). Die "Deutschen Seiten Links" auf der Seitenleiste wurden alle ueberprueft und arbeiten richtig. Ich habe tausende von Links auf meiner Heimseite, so ist es eine Riesenarbeit jeden einzelnen Link zu ueberpruefen und jeweils zu korrigieren. Das dauert eine Weile. Danke.
As many of you do not know, it is forbidden in Germany to inform about certain WWII truths,  primarily in the areas of Allied crimes and proof that the Jewish holocaust is a hoax. This is because the Jews and the Allies were the criminals and, surprise, the Germans and Hitler the honorable people. The Jews and the U.S.A. government fear that the truth will prevail about the whole scam to bring the German empire down, so they put Germans into prisons as soon as they just questions the Jewish Holocaust or bring up the Jewish-Allies' crimes. There is not defense in court in Germany regarding Nazi history!!! Yes, the Jew-America reigns Germany since May of 1945 since Germany is not sovereign and has been a slave state to the U.S.A. with traitors and deceivers in Germany's government - since people have to survive and some people rather live a decent live than live in poverty or get murdered while lying to themselves. The Jews and the American President are in cahoot to keep the Germans down and defamed. Germany has a Communist regime dressed in the Democracy lie! Similarly, the U.S. is Communist, especially since WW2 when the Communists won. Of course it's all hidden from the citizens under the word "democracy." And, true, we Americans have had quite a few privileges but the noose is now being tightened ever more for the kill. First we were used to make money for them (Federal Reserve, Stock Market) so they can rob our land and our homes due to debt. In other words, we are their modern slaves.
35,000 Book Titles "burned" in Germany since the OCCUPATION OF GERMANY by the U.S.-Jews. These books are primarily historical accounts of the facts of the WWII era and reading them is punishable by law in Germany. So visitors to my site can imagine why the Germans are primarily quiet. But recently they do at least quietly demonstrate about killing our surrendered soldiers and the killing of 400,000 German civilians in Dresden. And now they are called "rats" by their Communist so-called "German" Jew-Polish-U.S. government, with currently one of many communist Jews oppressing the Germans, namely Angelea Merkel. May the forces of goodness, truth and justice revenge the injustices committed against the German people!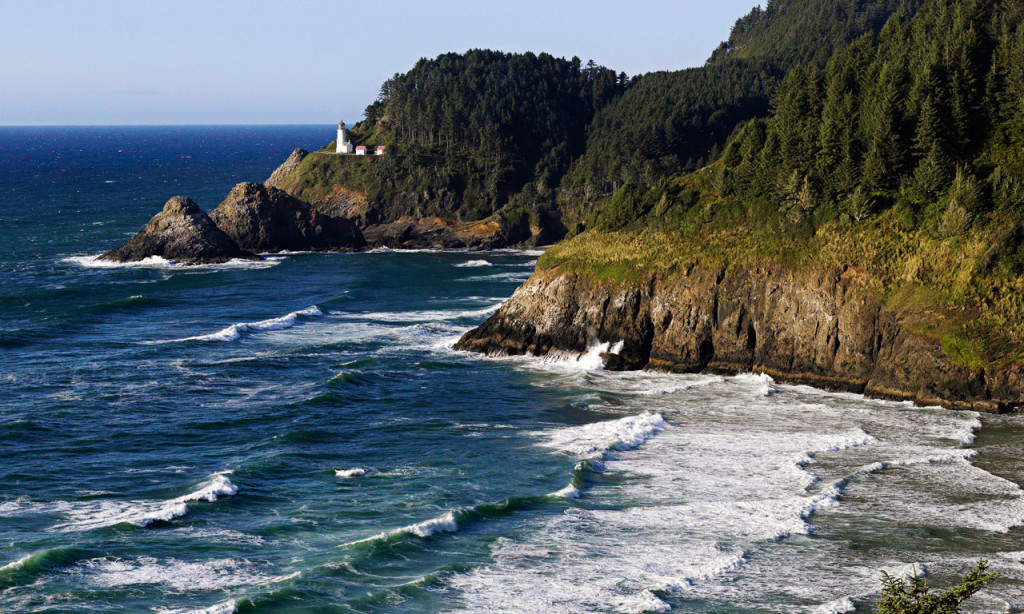 * * *
Wie man meinen Blog liest: Obwol nur ca. 100 Seiten von meiner neuesten Information auf der rechten Seite unter "Recent Posts" aufgefuehrt sind, habe ich viele hunderte aeltere Seiten. Diese AELTEREN Seiten die sie nicht auf den ersten Blick sehen koennen, finden sie innerhalb von anderen Seiten mit Links verbunden. Die Links zu meinen neuesten Artikeln und neue Links von anderen Webseiten sortiere ich fast immer oben auf eine passende Seite ein und nach einer gewissen Zeit sortiere (verschiebe) ich die Links, wenn angebracht, alphabetisch weiter unten ein. Deshalb, auch wenn Sie eine Seite schon gelesen haben, bitte besuchen sie die Seite wieder, denn auf vielen alten Seiten gebe ich immer wieder neue Links zu neuen Artikeln oder Heimseiten oben hinzu.
Generelle Information, hauptsaechlich Links zu anderen Heimseiten Artikeln und meine neuen freien pdf Buechern, sortiere ich auf AKTUELL-NEW regelmaessig ein.
Fuer deutschsprachige Leute gibt es dann eine Liste von allen Deutschen Seiten:
How to read my blog: Even if you have already visited a page, please visit again because I add new article links and new links to other website articles to many posts on the top of each page. Only about 100 "recent posts" are listed on the right side of this site, but I have many hundreds older posts that are linked within other pages, usually listed alphabetically on the bottom of a page, as I have time to sort them.
About the Jewish-initiated indoctrination to fight against "hate" and call people "haters" who point out evil and perversion," I have this to say:
LOVE GOOD AND HATE EVIL!
LOVE TRUTH AND HATE LIES!
LOVE BEAUTY!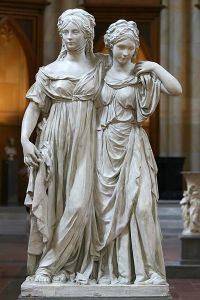 This is beautiful German art!
AND HATE UGLINESS!
This sculpture below is ugly, and it is a lie about man! This is why it is not inspiring for our spirit but depressing and confusing.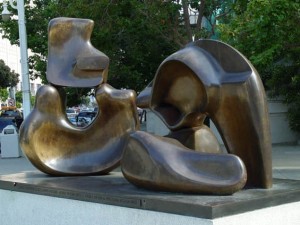 This is very ugly American art! It hits you on a low animal energy level (everything has vibrations) and brings your well-being down a few octaves. It leaves you with a dark feeling and reflects what we have become as a society! This, as many other pieces of ugly art and many other ugly things in our society, have been put into our lives, ON PURPOSE, by our enemies to destroy the beauty in us by getting us used to ugliness and to throw us off our center. Look around you, how ugly so many things have become! If art is not speaking to the divine in you, lifting you up, giving you ideals you can strive for in yourself, it is working on debasing you. PURPOSELY! And mongrel dogs and mongrel people are the mode. Don't buy it. The pure race of animal or people is the most beautiful race, whether negro or white. The pure race has a unique look throughout its people.
GREED AND INAPPROPRIATE HATE FROM OUR ENEMIES BRING US THEIR DECEPTION AND LIES. THEY ARE THE REAL HATERS, HATING GOODNESS AND BEAUTY. TRUTH IS BEAUTY. SO THEN THEY CALL TRUTH SPEAKERS 'HATERS' AND HAVE CREATED HATE LAWS TO COVER FOR THEIR CRIMES AGAINST FREE SPEECH IN A SOCIETY. THE ONLY ONES WITH FREE - AND FILTHY - SPEECH ARE THE JEWS AND THE BLACKS. THE BLACKS ARE BEING USED TO DRIVE THE HATE AGAINST WHITE PEOPLE. THE JEWS, THE WORLD DESTROYERS FOR CENTURIES,  CAN NEVER BE CHANGED! NEVER! WE MUST FIGHT THEM WITH THE UTMOST OF OUR STRENGTH BY REALIZING THE GREAT ACCOMPLISHMENTS OF THE WHITE RACE (NEVER MIND ROME'S WITCH HUNT, ETC. - ROME IS A BASTION OF THE JEWISH INFILTRATION), BEING TRUE TO OUR OWN RACE, OUR GENETIC HERITAGE, OUR HISTORY, OUR CULTURE, AND OUR SENSE OF BEAUTY AND DIVINITY. IF WE HAVE LOST THESE QUALITIES, WE MUST FIRST RETURN TO THEM!
TRUTH IS THE MOST BEAUTIFUL THING!
This is German 'Nazi' truth by Arno Breker!
IF WE ALL WOULD LIVE IN TRUTH, HARM WOULD RARELY COME TO ANY OF US.
BUT THERE ARE MANY PEOPLE WHO LOVE LIES AND HATE TRUTH.
DECEPTION AND LIES CAN HAVE HORRIBLE CONSEQUENCES; THEY HAVE LED TO THE TORTURE, RAPE, ROBBERY AND DEATH OF HUNDREDS OF MILLIONS OF PEOPLE IN JUST ONE CENTURY ALONE.
JUST BECAUSE YOU ARE GOOD, NEVER ASSUME OTHERS ARE GOOD. THIS IS CARELESS AND VERY DANGEROUS.
MEASURE PEOPLE BY WHAT THEY DO AND NEGLECT TO DO; NOT BY WHAT THEY SAY. WATCH WITH A CAREFUL EYE. BE SUSPICIOUS, IT'S A BUILT-IN SURVIVAL DRIVE.
GULLIBLE SHEEP HAVE NO PROTECTION FROM CUNNING WOLVES! THAT'S WHY WE NEED LEADERS WHO ARE FATHERS AND MOTHERS TO OUR NATION, LEADERS WHO LOVE OUR NATION AND OUR CULTURE. NOT JEWS! THEY HATE US. READ THE TALMUD!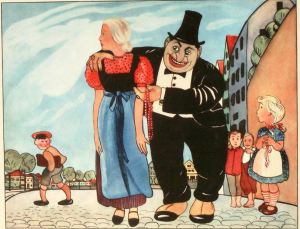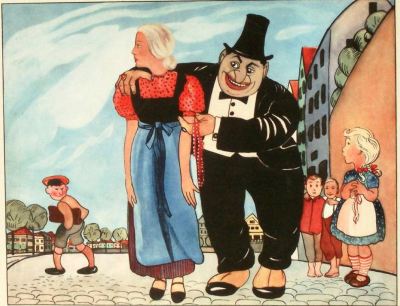 The only hope is consciousness - becoming conscious of their world-wide deceit, cunning, rape, robbery, torture and murder.
The most gullible sheep are CHRISTIANS. Christianity, I've concluded, is a Jewish invention superimposed on stolen Nordic mythology and history that the Jews altered to suit their greed and lusts. In other words, the Jews are the original identity thieves (of our Nordic history), placing themselves into the theater of the history of the great Nordic men and then documented a falsified and debased history in the bible, with lots of Jew-serving verses and stories, of course. For centuries, only Rome, filled with Marrano scribes, wrote our false European 'history' books.
Once the shock of truth hits home, one wakes up. Now I am keeping my eyes out for the cunning wolves, who are in fact enemies of the Christians and the enemies of all people. Unless we know the truth in history, we are like children BLINDLY trusting our government and media as if they were our daddy, which will lead to our 'death.' Why? Because an international criminal gang has been using and manipulating the people of the U.S.A. for about 100 years now (actually since the American Revolution) tearing us up slowly in a hostile takeover of our government while we have been 'partying wildly' with their liquor, their drugs, and their consumer goods, not to mention the "sexual revolution" and "women's liberation" - which also came from them -  that destroyed our family lives. This pack has also been devouring country after country and their people. We are no exception in their blood lust.  While they put us into bondage with feeding us Christianity - their style - pretending to be our Judea-Christian friends, they have at the same time always worked on getting rid of Christians around the world and intensified this goal during the last 60 years in the U.S.A. through abuse in the media and in real live cases. In Russia the Jews slaughtered tens of Millions of Christians between 1916 and the 1970s! Of course, many of the Jews gave the orders behind closed doors and the Russian people were slaughtered by Russians or later Chinese. The Jews were not only the murderers at times, but they were primarily in commander positions in the slaughter in Russia. The Jews also brought Communism to China ending up with Jew  Mao-Tse-tung killing 40 Million Chinese. Yes. That's the power of deception.
* * *
Many pages have links for articles and books in both English and German - Some pages are all German or all English
Besides issuing new posts, new articles, new information and new books are also added to my old posts on an ongoing basis. So please check back on pages you have visited before.
###
Neue Information, Artikel und Buecher werden immer wieder auf die meisten alten Seiten hinzugefuegt. So bitte Seiten wieder besuchen!
Viele Seiten haben links in beiden Sprachen, Englisch und Deutsch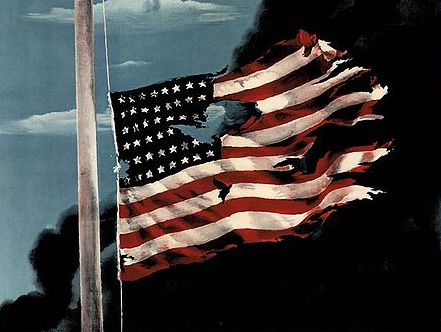 AS AN AMERICAN CITIZEN, I CLAIM FREE SPEECH UNDER THE CONSTITUTION OF THE UNITED STATES OF AMERICA AND ITS AMENDMENTS, ESPECIALLY, THE FIRST AND SECOND AMENDMENT!
AS A DECENT PERSON, I DESIRE THE TRUTH OF HISTORY AND HATE EVIL DEEDS AND LIES, ESPECIALLY ABOUT THE GERMANS, AS I AM GERMAN-AMERICAN! THIS IS WHAT HAS MOTIVATED ME TO CREATE THIS BLOG.
This website accepts no responsibility for the opinions expressed in its articles; nor does it accept responsibility for the views expressed by any of its article writers. Though we tend to agree with the views of most of our writers, we do not necessarily agree with all their views; and sometimes we disagree with parts of what a writer has to say but publish the article anyway.

On this blog, I am speaking primarily in behalf of the German people, as Germans have a gag order for nearly 70 years now, enforced by the International Criminal Gang, to prevent the Germans from speaking the truth about WWII history. Anyone who speaks up about certain history lies will be ruined and will go to prison. Bolshevism! So that the International Criminal Gang would have legally protected free reign to go on a crime spree of raping, robbing, torturing and murdering Germans toward the end of the war and for many years after the war, the ICG first had the Germans sign a contract at capitulation that the Germans can never bring any charges against the Allies for their crimes. After Germany's forced signature, the path was free for the Allies to do with the Germans as they pleased. And it was barbaric! In fact, Jew Dwight Eisenhower, Supreme Commander of the Allies, even said: "Do with the Germans as you please." In other words, rape, rob, torture and murder them as you please. And they did. And the crime numbers go into tens of Millions. The Jews and the Allies have also set up laws in Germany to prevent the Germans from proving the falseness of so-called German war crimes and the so-called (Jewish) Holocaust. One of the laws is Jewish instilled paragraph 130 in Germany which is conflicting with the German constitution. But the Jews say, they have special privileges.
The control of the Germans has been arranged by never giving Germany a peace treaty so that it cannot be a sovereign country again but is under the control of the U.S.A.; and, therefore, under the Jews and can only do and say what the Jews allow. Basically, Germany is a slave state and the Germans have to take this. The older generation, suffers/suffered terribly over the lies and injustices. The younger Germans have been brainwashed and buy the whole German war crimes and holocaust lies as they were taught these lies from Kindergarten on, movies and Television "documentaries" for the last 60-70 years.  If parents tell them something else, the parents will be arrested!!! These falsifications of WWII history have torn German families apart because the threat of jail and financial and career ruin if one does not go along with the Jewish/Allied lie agenda is too much of a risk for most Germans. It's tragic!!! These lies have huge implications. They may lead eventually to the complete disappearance of the Germans as they are at a disadvantage to protect themselves, promoted by the puppet "German" government, and other races are taking over Germany! Every week, the enemy of the German people in their newspapers, magazines, "documentaries" movies, history classes, and so on can freely accuse the innocent German people without anyone stopping them. This is because they own or control the world media. And if Germans speak up, they will go to prison. The accusations of the German enemies are becoming ever more bizarre as these accusers are the types who have no control over themselves since they are on the level of beasts; that's why they need to control others. The honest and brave Germans, or decent people from most other countries, who speak up against the historical lies, go often to prison and will have their finances ruined and their career destroyed as historians, scientists, laypeople, etc. Often they will never get a decent job again in Germany and many other countries! In the U.S. we have free speech, but here people's businesses are firebombed, their meetings are interrupted, their websites are hacked, their libraries are burned, and the truth speakers for Germany are verbally and physically attacked and their career can also be ruined. This is nothing but Communism!

It goes without saying, but since some people need to be told things explicitly: When I speak of "Americans" or "Allies" as having committed crimes against the Germans, I am only speaking of those civilians, military personnel and leaders who have actually committed or arranged for and tolerated these crimes and continue to harm the Germans. When I use the term "Jews," I never refer to all Jews but to cruel Jews who have committed crimes against the Germans and the rest of humanity in the last 100 + years, and those Jews who are taking control of the West to overtake non-Jews and have a sinister agenda, in particular against Germans. I am also accusing those Jews who support the crimes of these criminals, protect them, or participate in some ways; e.g. the pensions they get paid by the Germans for a crime Germany has not committed.  It needs to be said, that all Jews are obligated to the Talmud, and the Talmud is a rape, rob and murder book. For that reason I deal with Jews, henceforth, with great distrust.
Nevertheless, crime is an individual act and does not cover a whole race. Therefore, a whole race or country, cannot honestly be punished for the crimes of some individuals.

It seems to me, people, especially Jews on the lower levels in society who are kept in the dark as well, should be happy and relieved about the fact that it has been scientifically proven that the Germans did not gas any Jews. We bring a good message! Instead, we who speak of truth are getting so much hate and are called haters, and many are imprisoned for "defaming the Jews' dead" by the ones who defame our German dead. Is this not bizarre? Or is it about the Billions of Dollars the Germans and the Americans pay to the Jewish "victims?" for nearly 70 years now? And is it not also about world power for the powerful Jews who stomp around like bullies ordering everyone around and harm anyone who does not bow down to their lies? And is it not further about hiding the crimes of the Allies and the Jews, the 12 Million German civilians murdered? And the 20 Million Germans driven out of Eastern Europe who had lived there for sometimes a couple of hundred years or longer? Indeed, it's about hiding Allied crimes, hiding Jewish crimes, Jewish hate, Jewish finances, and Jewish world control!
Because many books by English or American authors claim the Jewish holocaust is true, bla, bla, bla, either because they were brainwashed or they would otherwise not have had their book published, there are not many books to be found where the author does not claim a Jewish Holocaust. So there will be some books that claim this on my website because many, many books speak truth but also lies. First, I cannot fully read all books I am posting to find out if they are referring to the invented Jewish Holocaust and so-called German war crimes, and Second, I would have a very limited amount of books if I threw all the  books and articles about the Germans out.  I'll have to let some of them slide. Of course, I will not provide books that obviously attack the German Reich. I have to be satisfied with some truth they speak about the German Reich. Each person, if they really want to, can sort out the truth from the lies once they remove the block from their brain that the "Germans are guilty."
BUT LET ME MAKE IT CLEAR, IN NO WAY DO I AGREE WITH ANY AUTHORS OR BOOKS THAT CLAIM THAT THE GERMANS STARTED EITHER WWI OR WWII AND THAT THE GERMANS KILLED JEWS, PURPOSELY! THIS IS OUT OF THE QUESTION AND TOTALLY CONTRARY TO THE GERMAN CHARACTER. FURTHERMORE, WE HAVE SCIENTIFIC PROVE THAT THIS DID NOT HAPPEN. THERE WERE 12 MILLION DEAD GERMAN CIVILIAN BODIES TO HEAP ON STACKS AND PHOTOGRAPH IN GERMANY, POLAND, RUSSIA, CZECHNIA, ETC. AND IN ALL, THERE WERE 60 MILLION DEAD BODIES FROM THE WAR, MILLIONS IN THE RUSSIAN DEATH CAMPS, THE GULAGS, ALONE.
IN ADDITION, A HUGE NUMBER OF BOOKS ACCUSE ADOLF HITLER OR THE GERMAN WEHRMACHT OF CRIMES AGAINST HUMANITY. THIS IS ANOTHER BIG LIE AND ONE PARROT REPEATS AFTER ANOTHER TO GET THEIR JEWISH PUBLISHER TO PRINT THEIR BOOK. WHAT MOST PEOPLE DO NOT KNOW IS THAT THE "GERMAN BUNDESREPUBLIK" IS NOT A GERMAN GOVERNMENT BUT AN OCCUPATION GOVERNMENT PUT UPON GERMANY SINCE 1945 WITH LEADERS WHO EITHER ARE PRETENDING TO BE GERMAN OR COMMUNIST GERMANS WHO ARE FOOLISH ENOUGH TO BELIEF IN COMMUNISM DUE TO THEIR EAST GERMAN TRAINING, OR IN A THIRD CASE ARE GERMAN TRAITORS. IN THE FOURTH CASE, ARE AND HAVE BEEN JEWS. ALL OF THE GERMAN LEADERS AFTER HITLER HAVE BEEN AND ARE OPERATING UNDER THE CONTROL OF THE U.S. GOVERNMENT AND THE JEWS. NO MEDIA IS PRINTED IN ANY PAPER IN GERMANY WITHOUT THE PERMISSION OF THE U.S. GOVERNMENT! GERMANY MUST BE KEPT DOWN BECAUSE THEY ARE SO GREAT AND WOULD RISE AGAIN AND LEAD THE WHOLE WEST IN ONE UNIT AGAINST THE INTERNATIONAL CRIMINAL GANG.

I HAVE STUDIED THE CHARACTER OF ADOLF HITLER, AND IN NO WAY WAS HE ANYTHING BUT AN HONORABLE MAN, ACTUALLY A VERY NOBLE MAN. HE FORESAW THE BOLSHEVIK JEWS' PLAN TO FIRST OVERTAKE GERMANY AND THEN THE WEST AND WANTED TO STOP IT. THEY EVEN ANNOUNCED IT. YES, TREASON BY GERMANS PROBABLY MET WITH SWIFT EXECUTION IN NATIONALIST GERMANY, AS IT DID IN MOST COUNTRIES, NOT JUST GERMANY. THIS WAS WITHIN THE NORMALCY OF A NATION. THERE WAS VERY LITTLE OF THIS IN GERMANY AND IT WAS PRIMARILY IN RESPONSE TO OVER 40 ATTACKS ON ADOLF HITLER'S LIFE AND BETRAYAL OF THE MILITARY. IN ADDITION, IN THE WAR, THE JEWS AND ENEMY CIVILIANS WORKED AS PARTISANS TO TRICK THE GERMAN SOLDIERS AND THEN TORTURED THEM TO DEATH IN THE MOST HEINOUS WAYS. THEY DID THE SAME TO GERMAN CIVILIANS WHO LIVED IN ENEMY COUNTRIES FOR CENTURIES. THESE PARTISANS WERE THE MOST BRUTAL AND CRUEL CREATURES AND THEY WERE EXECUTED AND SOMETIMES THERE WERE HEAVY PUNISHMENTS FOR COLLABORATORS AS WELL. NEVER EVER DID THE GERMAN MILITARY TORTURE ANY PEOPLE! NEVER DID THEY RAPE, UNLESS THERE WAS A SINGLE CIRCUMSTANCE HERE AND THERE. THE PUNISHMENT FOR RAPE IN THE GERMAN MILITARY WAS SEVERE, INCLUDING PRISON AND LOSING STRIPES. THE GERMAN MILITARY WAS ONLY SO GOOD BECAUSE THE SOLDIERS WERE IN GENERAL VERY HONORABLE, THE RULES WERE STRICT AND THE DISCIPLINE SHARP.

AND THE GERMAN SOLDIERS DID NOT SET OUT TO COMMIT WAR CRIMES. THIS IS A LYING AGENDA BY THE JEWS, THE ALLIES AND THEIR PUPPET FALSE 'GERMAN' GOVERNMENT FOR 70 YEARS TO DISTRACT FROM THE HORRIFIC CRIMES OF THE ALLIES, AND ESPECIALLY CAUSED AND COMMITTED BY THE JEWS - BY EGGING ON NON-JEWS - WHO WANT THE GERMANS TO BE DESTROYED. YES, DESTROYED! WHY? BECAUSE THE GERMANS STOOD UP TO THE JEWISH FINANCIAL AND CRUEL PHYSICAL DOMINATION OF THE GERMANS IN THE JEWISH-RUN WEIMAR REPUBLIC, AND GREAT GERMANS SPOKE UP ABOUT THE CRIMES OF THE JEWS FOR CENTURIES. THE JEWS HAVE ANNOUNCED FOR OVER 100 YEARS THAT ANYONE WHO STANDS UP TO THEM WILL BE DESTROYED. THAT'S THE KIND OF POWER THEY HAVE THROUGH FINANCES. NEVERTHELESS, ADOLF HITLER STOOD UP TO THEM SO THEY MADE AN HONORABLE MAN INTO A MONSTER WITH MEDIA LIES BECAUSE THEY HAVE THE MEDIA FULLY IN THEIR HANDS. THE SMALL MEDIA OUTLETS TODAY AND THE AUTHORS WHO PRINT THE TRUTH HAVE A DIFFICULT AND DANGEROUS LIFE BECAUSE OF THE JEWS. IN THE WEIMAR REPUBLIC (AFTER WWI), THE JEWS OWNED  99% OF THE NEWSPAPERS. 
There are lessons to be learned for Americans (and the rest of the World) who are willing with an open mind to look at these truths presented here because the crimes against Germans where crimes against all humanity. And this is my second reason for having this blog, namely to alert people, especially Americans, that what was done to Russia and to Germany (and China, and other countries) by the brutal Jews and their henchmen, has slowly been coming to the USA in disguised ways and to many small countries with brutal swiftness (e.g., Iraq, Afghanistan, Syria, Ukraine).  All the wars from WWI on (and many others before), determinedly, are driven by the Jews. The Jews say themselves that they are the creators of wars and revolutions to make a profit. The Jews are running almost all governments (and they want to destroy the last few independent ones, e.g. Syria), and they are the Fenris wolf running wild, first destroying all independent countries and then they will give us Americans the coup de gras, I believe, perhaps with WWIII, perhaps with an invasion from Mexico, China, or Russia? Communism is prolific in those countries. It does not look good for us Americans.
Sorry to spread such negative thoughts, but these things are a sad reality that people do not want to see, out of fear, hate, or prejudice. We have all been too busy 'having a good time' while they have been taking our homeland away from us, and robbing, raping, and occupying other countries. At least I will know who is REALLY responsible for my death, if I get murdered, or if I die under martial law, in a revolution or in WWIII.
THEREFORE, THIS BLOG IS FOR THOSE SPECIAL PEOPLE WHO ARE TRUTH SEEKERS WHO HAVE THE COURAGE TO LOOK AT THEIR COUNTRY'S CRIMES AGAINST THE GERMANS AND LEARN FROM THAT ABOUT THEIR OWN DESTINY. 
DEUTSCHLAND IST UNSCHULDIG. EWIG LEBE DIE WAHRHEIT!
GERMANY IS INNOCENT - MAY THE TRUTH PREVAIL IN ALL ETERNITY!
QUENELLE!