germanvictims.com - Communism Marxism in America - communist goals - reds in America? - Bolshevism undermining the U.S.? …We are planning to annihilate the bourgeois class. We want an increase in war between the classes. It is impossible without terror…
adding more links and articles below
AND IF YOU DO NOT BELIEVE DR. WICKSTROM, THEN LISTEN TO THE WIFE OF RETIRED CONGRESSMAN DANNEMEYER, ON WHAT THE JEWS HAVE PLANNED FOR THE AMERICAN CHRISTIANS (AND DISSIDENTS):
Dr. Lorraine Day:
ENGLISH - DEUTSCH BLOG
# # #
I take my Stand - Communism in the USA-booklet
Short Video - How the American People Have Been Defrauded
A collection of reports on Bolshevism in Russia-booklet
Judaism and Bolshevism Facts-booklet
World Significance of the Russian Revolution- booklet
Censored-History - Eric Butler
Hey Liberals, Get a Taste of Communism
Aufstieg*Bolshevismus zur Weltmacht
Major Jordan's Diaries - The Truth About the US and USSR
Dilling Elizabeth - The Roosevelt Red Record and Its Background
Kommunist and rapist: Martin Luther King:
Kommunist and Murderer Nelson Mandella:
The Truth about Nelson Mandela
Mandela and His Mossad Training
Must Read Book: Dilling Elizabeth - The Octopus
Must Read Book: - The Plot Against Christianity - The Jewish "Religion" Its Influence Today
De_Grand_Pre_Donn_-_Barbarians_Inside_the_Gates_The_Black_Book_of_Bolshevism_Book_1
New World Order Assassins
Audio-Click on MP3 to listen
https://archive.org/details/ThePiperReportMar142011
COMMUNISM IS JEWISH:
…It was an open secret that the overthrow of the Russian Government and the seizure of power with incalculable consequences for the rest of the world, was largely organised by international Jewish revolutionaries. The world's greatest land mass was being hijacked. Mr. Oudendyke, the Representative of the Netherlands Government in St. Petersburg in charge of British interests after the liquidation of the British Embassy by the Bolsheviks sent in a report to Mr. Balfour.
"I consider that the immediate suppression of Bolshevism is the greatest issue now before the world, not even excluding the war which is still raging, and unless Bolshevism is nipped in the bud immediately it is bound to spread in one form or another over Europe, and the whole world, as it is organised and worked by Jews, who have no nationality, and whose one object is to destroy for their own ends the existing order of things…" (British Government White Paper, April, 1919—Russia No.1)… from Michael Walsh's 2013 New Edition WITNESS TO HISTORY
 Behind-Communism-Frank-L-Britton-1952
Crimes and Mercies by James Bacque (1997)
The Naked Communist_by W Cleon Skousen
"As for anyone who does not know that the present revolutionary movement is Jewish in Russia, I can only say that he must be a man who is taken in by the suppression of our despicable Press." (Hilaire Belloc, G.K's Weekly, Feb., 4th, 1937)
"The conceptions of Bolshevism are in harmony in most points with the ideas of Judaism." (Jewish Chronicle, April, 4th, 1919)
THE ANGEL WAS REALLY A BEAST - MARTIN LUTHER KING, JR.
WHAT YOU DID NOT KNOW ABOUT MARTIN LUTHER, KING!
JEWISH TRAINED COMMUNIST TO UNDERMINE THE U.S.A. - AND HOW THIS MAN DEFAMED THE NAME OF THE GREAT GERMAN MARTIN LUTHER
MORE LINKS AND BOOKS TOWARD THE END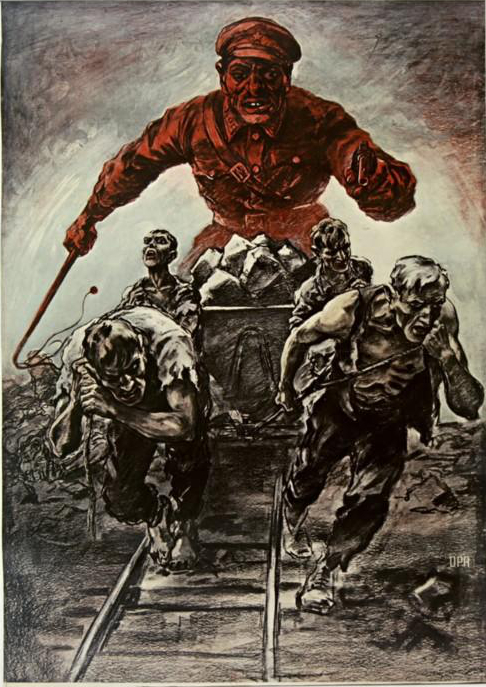 German anti-Bolshevik Poster during National Socialism
I AM PROVIDING THIS INFORMATION BECAUSE THE JEWISH COMMUNISM HAS SEEPED INTO THE WEST TO DESTROY US. THEREFORE THE CRIMINAL COURT PROCEDURES AND JUDGEMENTS IN GERMANY, EUROPE, CANADA, ETC.
ICH VERBREITE DIESE INFORMATION WEIL SICH DER JUEDISCHE KOMMUNISMUS HEIMLICH IM WESTEN VERBREITET HAT UM UNS ZU ZERSTOEREN. DESHALB DIE VIELEN VERBOTE DIE WAHRHEIT ZU SPRECHEN UND DIE VERBRECHERISCHEN GERICHTSMETHODEN UND URTEILE.
"The goal we've had for 3,000 years is almost accomplished. Our race will win: Every Jew a king, every Christian a slave. We stirred anti-German feelings which reached their height in WWII, but our  final goal is WWIII. This war will end our fight against the non-Jews because then our race will rule the world without dispute."  (This statement was made by Rabbi Emanuel Rabinowitsch during a rabbi conference in Budapest on 12 Jan. 1952).
They have reached their goal in the U.S., theoretically, all we need now is a financial crash and/or Martial Law, then the killing could begin:
Jewish U.S. Law to Kill Christians
Must listen: Chapter 2 to wake up whites in the world as our end will be near unless we do something about it
What I am afraid of is that our non-American Jewish-U.S.A. deceptive government will kill most of us from within by foreign mercenary troops. (Listen to the video right below by Green Beret Sgt. Dan Page.) I believe that this is why they are bringing all these foreign soldiers onto our soil (Russian, Korean, Chinese, etc.). Perhaps, first we will get into a war with Russia, then the Russian troops they bring in every week by the thousands now before the war will kill us during the war, pretending the Russians have taken over, when in fact they are already here and sanctioned by the Jewish Russian and Jewish American government, THE SAME EVIL regime with two faces. I believe the Russia/US war is a pretense. They have no differences. It's an 'elimination of the American population' scam. That's what I have concluded some time ago due to my own learning and awareness of the same repeated evils over the centuries. I hope for the best, but it does not look good, especially after listening to Sgt. Dan Page, a Green Beret.
Red Alert - Missouri Police officer, Green Beret, Sgt. Dan Page - One Thousand Spetsnaz (special Russian forces) entering the U.S. every week - America is going down!
The Jew Commies Butchers from Hell
Solzhenitsyn: Russia and the Jews
This will be most likely be the scenario: After the American Soldiers and the Foreign Soldiers have killed enough Americans, the American military and police will also be killed because it's about getting rid of as many Americans as possible so the Jews can take the land and all desired property (martial law) and have full control. Then the mercenaries soldiers, like the Russians, etc. will also be killed to remove the witnesses of the evil (just like the Jews did in Russia from 1917 up to today.) Can't think this is possible if you are white? That's because the white brain cannot think this way, unfortunately, until it's too late; unless they had painful personal experience and/or knowledge of true history!

EDITORIAL NOTE from the book "Are the American People being Brainwashed into Slavery?" by Kenneth Goff, 1940
From May 2, 1936, to October 10, 1939, I was a dues-paying mem­ber of the Communist Party, operating under my own name Ken­neth Goff, and also the alias John Keats. In 1939, I voluntarily ap­peared before the Un-American Activities Committee in Washing­ tin, D. C., which was chairmaned at that time by Martin Dies, and my testimony can be found in Volume 9 of that year's Congressional Report.
During the period that I was a member of the Communist Party, I attended their school which was located at 113 E. Wells St., Mil­waukee, Wisconsin, and operated under the name Eugene Debs La­bor School. Here we were trained in all phases of warfare, both psychological and physical, for the destruction of the Capitalistic society and Christian civilization. In one portion of our studies we went thoroughly into the matter of psycho-politics. This was the art of capturing the minds of a nation through brainwashing and fake mental health-the subjecting of whole nations of people to the rule of the Kremlin by the capturing of their minds. We were taught that the degradation of the populace is less inhuman than their destruction by bombs, for to an animal who lives only once any life is far sweeter than death. The end of a war is the control of a con­quered people. If a people can be conquered in the absence of war the end of the war will have been achieved without the destructions of war.
During the past few years I have noted with horror the increase of psychopolitical warfare upon the American public. First in the brainwashing of our boys in Korea, and then in the well-financed drive of mental health propaganda by left-wing pressure groups, wherein many of our states have passed Bills which can well be used by the enemies of America to subject, to torture and imprisonment those who preach the gospel of our Lord and Saviour Jesus Christ, and who oppose the menace of Communism. A clear example of this can be seen in the Lucille Miller case. In this warfare the Communists have definitely stated : "You must recruit every agency of the nation marked for slaughter into a foaming hatred of religious healing."
Another example of the warfare that is being waged can be seen in the attempt to establish a mental Siberia in Alaska, which was called for in the Alasken Mental Health Bill. A careful study of this Bill will make you see at once that the land set aside under the allot­ment could not be for that small territory, and the Bill within itself establishes such authority that it could be turned into a prison camp under the guise of mental health for everyone who raises their voice against Communism and the hidden government operating in our nation.
This book was used in underground schools, and contains the ad­dress of Beria to the American students in the Lenin University prior to 1936. The text in the book in general is from the Commu­nist Manual of Instructions of Psychopolitical Warfare, and was used in America for the training of Communist cadre. The only re­vision in this book is the summary, which was added by the Com­munists after the atomic bomb came into being. In its contents you can see the diabolical plot of the enemies of Christ and America, as they seek to conquer our nation by subjecting the minds of our people to their will by various sinister means.
This manual of the Communist Party should be in the hands of every loyal American, that they may be alerted to the fact that it is not always by armies and guns that a nation is conquered.   KENNETH GOFF
AN ADDRESS BY BERIA
American students at the Lenin University, I welcome your atten­dance at these classes on Psychopolitics. Psychopolitics is an important if less known division of Geo-politics. It is less known because it must necessarily deal with highly educated personnel, the very top strata of "mental healing."
By psychopolitics our chief goals are effectively carried forward. To produce a maximum of chaos in the culture of the enemy is our first most important step. Our fruits are grown in chaos, distrust, economic depression and scientific turmoil. At least a weary populace can seek peace only in our offered Communist State, at last only Com­munism can resolve the problems of the masses.
A psychopolitician must work hard to produce the maximum chaos in the fields of "mental healing." He must recruit and use all the agencies and facilities of "mental healing." He must labor to increase the personnel and facilities of "mental healing" until at last the en­tire field of mental science is entirely dominated by Communist principles and desires.
To achieve these goals the psychopolitician must crush every "home-grown" variety of mental healing in America. Actual teachings of James, Eddy and Pentecostal Bible faith healers amongst your mis­guided people must be swept aside. They must be discredited, defamed, arrested, stamped upon even by their own government until there is no credit in them and only Communist-oriented "healing" remains. You must work until every teacher of psychology unknowingly or knowingly teaches only Communist doctrine under the guise of "psy­chology." You must labor until every doctor and psychiatrist is either a psycho-politician or an unwitting assistant to our aims.
You must labor until we have dominion over the minds and bodies of every important person in your nation. You must achieve such dis­repute for the state of insanity and such authority over its pro­nouncement that not one statesman so labeled could again be given credence by his people. You must work until suicide arising from mental imbalance is common and calls forth no general investigation or remark.
With the institutions for the insane you have in your country pris­ons which can hold a million persons and can hold them without civil rights or any hope of freedom. And upon these people can be prac­ticed shock and surgery so that never again will they draw a sane breath. You must make these treatments common and accepted. And you must sweep aside any treatment or any group of persons seeking to treat by effective means.
You must dominate as respected men the fields of psychiatry and psychology. You must dominate the hospitals and universities. You must carry forward the myth that only a European doctor is com­petent in the field of insanity and thus excuse amongst you the high incidence of foreign birth and training. If and when we seize Vienna, you shall have then a common ground of meeting and can come and take your instructions as worshippers of Freud along with other psychiatrists. Psychopolitics is a solemn charge. With it you can erase our enemies
-3-
as insects. You can cripple the efficiency of leaders by striking insanity into their families through the use of drugs. You can wipe them away with testimony as to their insanity. By our technologies you can even bring about insanity itself when they seem too resistive.
You can change their loyalties by psychopolitics. Given a short time with a psychopolitician you can alter forever the loyalty of a soldier in our hands or a statesman or a leader in his own country, or you can destroy his mind. However,  you labor under certain dangers. It may happen that remedies for our "treatments" may be discovered. It may occur that a public hue and cry may arise against "mental healing." It may thus occur that all mental healing might be placed in the hands of ministers and be taken out of the hands of our psychologists and psychiatrists. But the Capitalistic thirst for control, Capitalistic inhumanity and a general public terror of insanity can be brought to guard against these things. But should they occur, should indepen­dent researchers actually discover means to undo psychopolitical pro­cedures, you must not rest, you must not eat or sleep, you must not stint one tiniest bit of available money to campaign against it, dis­credit it, strike it down and render it void. For by an effective means all our actions and researches could be undone.
In a Capitalistic state you are aided on all sides by the corruption of the philosophy of man and the times. You will discover that every­ thing will aid you in your campaign to seize, control and use all "mental healing" to spread our doctrine and rid us of our enemies within their own borders.
Use the courts, use the judges, use the Constitution of the country, use its medical societies and its laws to further our ends. Do not stint in your labor in this direction. And when you have succeeded, you will discover that you can now effect your own legislation at will and you can, by careful organization of healing societies, by constant campaign about the terrors of society, by pretense as to your effec­tiveness make your Capitalist himself, by his own appropriations, finance a large portion of the quiet Communist conquest of the nation.
By psychopolitics create chaos. Leave a nation leaderless. Kill our enemies. And bring to Earth, through Communism, the greatest peace Man has ever known. [*Yeah, peace, like the 66 Million murdered Russians have now who are under the earth!~germanvictims.com]
Thank you.
You may continue reading this book here:
Brainwashed into Slavery - Kenneth_Goff-circa_1940- 66pgs
Video –  TREASON! Tax Excempt Foundations and Collective Treason created to Overthrow the USA and merge the US with Russia - Edward Griffin with Norman Dodd, former Congressional Investigator:
Video - Tax Exempt Foundations and Collectivist Treason - Overthrow of the USA -  Edward Griffin with Norman Dodd
Source - quote on archive.org: "Since 1908, robber baron oligarchs have been using a network of private organizations to hijack foreign diplomacy, localities, and public education, under the disguise of "charitable organizations" or "foundations". This is not a "conspiracy theory", rather it is a fact - as determined in congressional hearings in 1953. This rare PDF file is the digitized prime record of those hearings.  The robber baron families have tried strenuously to keep this matter under wraps, but you can download and preserve your own copy here:"
FIND LINKS AND BOOKS AT THE END OF THE PAGE.
  VIDEOS UEBER DEN BLUTIGEN JUEDISCHEN SOVIET KOMMUNISMUS
Zu Teil 1: Kein Wort davon dass Millionen der "Ukrainer" , Krim- und Wolga- und Sibirienbewohner sowie erfolgreiche Bauern (Kulaken) eigentlich deutsche Kolonisten waren und es tausende von deutschen Staedtchen gab, die natuerlich alle umgenannt wurden. Es waren die Deutschen welche den "Ukrainischen Brotkorb" gegruendet, gepflegt und gefordert haben. Z. B., bei Massenverhaftungen in der Odessa Gegend in 1936 und 37, mehr Deutsche wurden ermordet oder ins Gulag geschleppt als Ukrainer. Millionen von deutschen Handwerkern, Bauern sowie Kaufleute wurden schon seit 1917 durch das Deportieren auf die Sibirische Steppe ohne jegliche Verpflegungsmoeglichkeiten vernichtet.
Video – Die Blutige Geschichte des Juedischen Kommunismus – Teil 1
*****
Zu Teil 2: Unter der Kommunistischen Regierung "Bundesrepublik" wird natuerlich tuechtig gelogen ueber die Nazis. Der Verfasser des videos ist entweder hirngewaschen in Bezug auf die Nationalsozialisten oder er luegt damit er nicht verhaftet wird. Die wahre Geschichte ist: Die Deutschen machten einen Praeventivschlag gegen die Russen welche an der Grenze Deutschland's millionenfach zum Angriff auf Deutschland angesammelt waren. Gottseidank, sonst waere Deutschland und ein Grossteil Europas schon 1941 unter die brutale Regierung Stalin's gefallen. Unter diesen Umstaenden blieb Adolf Hitler keine andere geistig normale Wahl. Er wusste doch was fuer ein heimtueckischer Teufel Stalin war. Weiterhin, es waren nicht die Deutschen welche alles verbrannten und zerstoerten sondern Stalin befahl seinen Soldaten alles zu zerstoeren und zu verbrennen bei deren Rueckzug. Natuerlich! Damit die Sovietbuerger den Deutschen Soldaten nichts zum Essen anbieten konnten. Aber die menschlichen deutschen Soldaten haben sogar die Russische Befoelkerung der verbrannten Staedte gefuettert. Die "Verbrannte Erde" war ein Soviet Schachzug nicht nur gegen die deutschen Soldaten sondern gegen Stalin's eigene Staatsbuerger. Stalin wollte sich nicht um seine verzweifelten Staatsbuerger kuemmern. So, wenn sie verhungerten oder erfroren, dann war er sie los. Weiterhin, kein Wort davon dass nicht nur Millionen von "Muslims" ausgetrieben wurden, sondern auch Millionen Deutsche die man einfach auf die Steppe warf wo die meisten starben. Sehen Sie sich doch die Gesichter von manchen auf dem video an, das sind Deutsche Menschen (hochgesetzte gerade Nasen und helle Haare). Die Crimea, Ukraine, und Wolga waren mit Millionen von Deutschen Kolonisten bevoelkert. Kein Wort ueber die Millionen von Deutschen die ermordet wurden. Kein Wort! GREAT MOURNING ON THE BLACK SEA        SCHWARZMEERDEUTSCHE Die Luegen und Irrefuehrungen sind die Verschwoerung von der kommunistisch-Juedischen Bundesrepublik, dem kommunistisch-Juedischen Amerika und dem kommunistisch-Juedischen Russland. Dieser Terror hing ueber Deutschland seit 1945 fast unbemerkbar da er "hinter geschlossenen Tueren" vorgeht und wo die meisten Verbrechen gegen die Menschheit vertuschelt werden. Und in 2001 fing der Terror in der USA ausgesprochen an, obwohl es ihn schon lange gab und er schon lange ausgefuehrt wurde, besonders gegen fuehrende Politiker! Langsam aber sicher wird die Welt in einen einzigen grossen Terrorstaat verwandelt:
Video – Die Blutige Geschichte des Juedischen Kommunismus Teil 2
 *****
Zu Teil 3: Darwinismus + Kapitalismus fuehrt zum Kommunismus; Die Darwin Idee, Menschen sind nur Tiere, fuehrt zur Ausrottung der Menschen. Furchtbare Irrefuehrung der Menschheit und immer der gleiche Plan seit Lenin, naemlich die Taeuschung der Menscheit mit Kommunismus, ein Plan der gezielt zum Massenverhungern oder Verarmen fuehrt und Anstiftung der Bevoelkerung gegen einander. …es zeigt wie Darwinismus und Kommunismus die Chinesische Kultur zerstoerte und wie Gehirnwaesche zu Massenwahn und dann zu Massenmord  fuert.  Beitraege ueber die Mordfelder in China und Kombodia.
Hier kann man deutschlich sehen zu welchen Gewalttaten Menschen aufgehetzt werden, sogar gegen ihre Professoren und ihre eigene Familie. Schauderhafter aber erleuchtender Beitrag.
Video – Die Blutige Geschichte des Juedischen Kommunismus Teil 3
"We will offer the Christian world unheard of peace overtures, and these nations, stupid and decadent, will leap at the chance to be our friends; they will willingly cooperate in their own destruction. Then, when their guard is down, and they have gone to sleep, we will smash them with our clenched fist." Dmitri Manuilsky, 1947 [Dmytro Zakharovych Manuilsky] (1883-1959) Bolshevik/Soviet Diplomat
[*The same type of people have invaded the U.S.A.~germanvictims]

"Esau-Edom is modern Jewry" 1925 Jewish Encyclopedia, Vol. 5 page 41. "Strictly speaking, it is incorrect to call an ancient Israelite a Jew or to call a contemporary Jew an Israelite or Hebrew." Jewish Almanac 1980.
"Some call it communism, I call it Judaism." Rabbi Stephen Weiss.
"Anti-Communism is Anti-Semitism." Jewish Voice, July - August 1941
Cultural Marxism has been dubbed "the greatest cancer in the Western world" but few even know what it is.
Definition of Cultural Marxism*:
An offshoot of Marxism that gave birth to political correctness, multiculturalism and "anti-racism." Unlike traditional Marxism that focuses on economics, Cultural Marxism focuses on culture and maintains that all human behavior is a result of culture (not heredity / race) and thus malleable.  Cultural Marxists deny that biological reality of race and argue that race is a "social construct". Nonetheless, Cultural Marxists support the race-based identity politics of non-whites.  Cultural Marxists typically support race-based affirmative action, the proposition state (as opposed to a nation rooted in common ancestry), elevating non-Western religions above Western religions, speech codes and censorship, multiculturalism, diversity training, anti-Western education curricula, maladaptive sexual norms and anti-male feminism, the dispossession of white people, and mass Third World immigration into Western countries. Cultural Marxists have promoted idea that white people, instead of birthing white babies, should interracially marry or adopt non-white children. Samuel P. Huntington maintained that Cultural Marxism is an anti-white ideology.
source: http://destoryculturalmarxism.blogspot.co.uk/
AMERICA WAKE UP! COMMUNISM IS REAL FOR US. IT'S BEHIND THE CAPITALIST FACE JUST WAITING TO GO INTO SEVERE ACTION!
Admin: Communism is a really bad idea, an evil idea. It is Jewish! It is sold as a social or political philosophy, but in fact, it is a scam: a scam to rid the middle class and the upper class of their property and life and to make them as poor as the poorest by confiscating all their property, if they even survive. Of course, the poor can easily be manipulated into believing it will be to their benefit to get rid of the middle and upper class, and just like in France and in Russia, there is no limit to what people will do to other human beings when the hate against another class (or race) is aroused.  The Jews, with their ever lying tongue and glib reasoning, are very practiced in leading people down a hateful path. And then they create a "hate law" when they are the biggest haters on the earth, going after country after country destroying independent (from their banks) governments so they can indebt them and control them and inject their filthy lifestyle. For this they are using our young American men's (and others) blood.
The idea of Communism (Bolshevism) comes from a German Jew, Karl Marx. He created the core of the master plan for the Jews on how to scam people out of their property and their wellbeing and murder the white intelligentsia of each country where they operate.
In Russia, where the Jews fell upon the country and created the Soviet Union, this scam had its first major initiation (except for the French Revolution in a disguised way). The plan was executed by getting rid of Millions of the middle and upper class by first instigating the poorest against them, then getting rid of the poorest, too. All government collaborators, police, soldiers, partisans - unless they were the highest leaders - were also murdered - and that included Jewish collaborators - to remove witnesses to the Jewish injustices against the Russian people. The most powerful Jews often worked behind the scene using primarily forced non-Jewish collaborators to do the bloodiest work, unless they wanted to personally enjoy torturing someone to death or humiliating them to the lowest place, as the Jewish partisans did since 1917 and during WWII.
From 60 to 120 Million Russians of various races, including tens of Millions of Christians, many of them German colonists, were murdered in the Soviet Union, starting in 1917. The mass murders by the Jews (see the numbers of Jews in the Soviet government in the article near the bottom) were already going into the Millions before Stalin came into reign, and these early mass murders are still being hidden from the public because they were committed by a primarily Jewish government and would be a great competition in the News to the invented Jewish Holocaust. In Russia, the law was that if the man of the household dies, ALL HIS PROPERTY goes to the state and the family is on the street, though there were also many women murdered. The "state," The Soviet Union, consisted of the reigning Jews since 1917 with non-Jewish collaborators. The Russian citizens were murdered in various ways by their government: Two government created famines in the German breadbasket area what we now call the Ukraine, incarceration, torture, execution, years of hard labor in the Gulag death camps for the 50% that survived the initial incarceration, abuse of various types, no help with illness, mental torment, typhus due to years of civil wars, by farmers having lost their land, their home and all their property, or being deported to the Siberian Steppe where there were no trees and all they could do is dig a hole in the ground to survive for a little while. Death was imminent for most of them. My German family and relatives living in Russia (today's Ukraine) went through all of these horrors. A few survivors fled to Germany via Poland during WWII.
In Germany, after WWI, the Jewish-Allied occupation with their Jewish-Allied government called "Weimar Republic" tried to overthrow Germany also with Communism and turn it into a second Soviet Union. Millions of starving Germans were manipulated into the Communist party with promises of equality for all, which they, ignorant of what really happened to Russia, interpreted as wellbeing for all. How wrong they were. But thanks to God's intervention a man like Adolf Hitler rose to see the Jewish scam for what it was and to fight against it with all his might. (See "Mein Kampf" – please note: the current English translations are biased and have parts missing in order to represent Hitler in a false light). He was the last leader standing up against the Jewish peril, Bolshevism and Communism. When he came into power, he eliminated the Communist party and all other parties who were created to distract and divide the German people. Had there not been an Adolf Hitler, Germany would have fallen to the Jewish Communists and all of Europe would long have been communist. But instead, since the capitulation, Germany is overrun by Communists and traitors of human dignity, honor and truth who work on destroying Germany from within, just like the U.S.A. is being destroyed from within: diluting the white European race and bringing it near extinction (currently about 8% of the world population) and taking our freedom away, inch by inch with false flag attacks.
Since capitulation in WWII, the Jews and various Allies are having a vice grip on the Germans, having them totally brainwashed into believing their fathers and grandfathers were murderers and are forbidding the Germans to accuse the Allies and the Jews of any war crimes and ethnic cleansing of the Germans, which they have committed by the Millions. Also they must accept the lie that Germany started WWII and that the Germans gassed Millions of Jews. If they don't, or even express doubt, they will go to prison and often will be ruined for life. Thousands of Germans are sitting in prison for expressing their contrary opinions about World War II, the Reich, the so called Jewish Holocaust, and Adolf Hitler; or for even just questioning the so called Jewish Holocaust. Spies are everywhere in Germany. This is why "all" Germans say the Jewish Holocaust is true. The Germans are frightened and intimidated about their history and break up family relations with anyone who does not believe the Jewish-Allied lies. This is a Jewish-American Communist vice grip and goes right along with forbidding free speech in many countries now regarding WWII issues, the so-called Jewish Holocaust, and the Jews. LET'S BE CLEAR, COMMUNISM HAS BEEN INSTILLED, ONE STEP AT A TIME IN THE WEST – THE BACKSIDE OF CAPITALISM. WHEN CAPITALISM COLLAPSES, THE MORE UGLY FACE OF COMMUNISM WILL RISE FURIOUSLY AND MURDEROUSLY!!! We are sitting ducks. We have been losing our freedom, one step at a time. The Blacks and the Gays and the false Jewish Holocaust are being used by the system to shut people up with "hate" speech accusations. Everyone has a right to their opinion about things but it is not allowed to speak the truth in America without being harassed and punished in one way or another, most often by destruction of one's reputation or career, or having one's property damaged or being physically harmed or even murdered. Tens of thousands of henchmen are ready to go into action. And that the American government is Jewish is clear; and that it has been a Jewish-run government during WWI and WWII is a hidden truth. While our gay men pride themselves and occupy themselves endlessly with their next sexual conquest, their country is slipping out from under their feet. And while the Blacks use their energy to blame the whites and not an inborn Black lack of organizational drive and the Jews who brought them to America in the first place, their America is going down with them. That is exactly what the plan is by our common enemy: destructive distraction and divide and conquer. So much wasted American man power that could have been used to protect America from a rotten leadership rising in the first place!!!
To come back to my family… we have first-hand experience with the Jewish grip on Russia. My grandfather on my mother's side was a tall, blue-eyed Prussian. He and grandmother were destroyed in the Gulag slave labor camp. My grandfather on my father's side was from the Palatines. He made a living by animal husbandry. He died of typhus and grandmother at child birth during the civil wars that raged in Russia after the revolution. They left 8 children behind, the youngest about 4 years old, the oldest fighting in the Revolution on the side of the whites (vs. the reds), who went missing in action. After my grandfather's death, their farm was taken away by the Soviets. These orphaned children were my uncles and aunts and the youngest my father, who fled then from Kazakhstan (at that time it was Siberia) back to their ancestral home the Ukraine (at that time is was not the Ukraine but the Soviet Union, former Russia) but not without one going missing and one dying of Typhoid. Several grand uncles, aunts and cousins who were fleeing the civil war in Siberia, were also heading back to the Ukraine to their relatives in the slow moving Siberian train only to become ill with Typhoid and being kicked off the train and dying a slow miserable death on the deserted Steppe. Later some of my surviving relatives were then starved to death by the government-created famine in the nineteen-twenties and other relatives later in the government-created famine in the nineteen-thirties. The German farmers created the "Ukrainian" bread basket, but you won't hear about this anywhere! These famines were really conspiracies to murder the successful German farmers and rob their land. Russian and Ukrainian successful farmers were also murdered and their property confiscated.
Starting in 1917, there were ongoing attacks on the German colonists by instigated Jewish, Russian, and Ukrainian bandits. Often they came into the house and tortured and murdered the man of the house. If the man was killed, then the family was driven off their land by the government. Houses were burned to frighten the rest of the community. This happened in thousands of German villages in the "Ukraine," but also at the heavily German populated Volga and Crimea. Throughout the years the Germans in Russia were ethnically cleansed. Once the Gulag slave labor camps were established by the Soviet Jewish system in the 1930s, Germans and any successful farmer, members of the intelligentsia, priests, teachers, writers and artists considered the middle class, were hauled off from the Ukraine, Volga, Crimea and Siberia into these camps if they were not executed. In 1936 and 1937 a blood bath of executions took place. Out of the tens of thousands of Germans arrested around Odessa region alone for "political" reasons, which were fabricated (later acknowledged by the Russian government), nearly 75% were executed and about 25% went into the labor camps. The goal was to exterminate as many Germans as possible under pretense and use up the rest in the labor camps. The Germans were also strict Christians and lived in all Catholic or all Protestant villages at that time. So when we hear about the "Ukrainian Christians" being murdered, let me point out that the most murdered Russian citizens were German Christians on the Black Sea. GREAT MOURNING ON THE BLACK SEA
The German military occupied the Ukraine during WWII. When the German military had to retreat, they took as many Russian-Germans with them as they could on their military train and resettled them in Poland as German citizens. All of them spoke German, Russian and Ukrainian. Other Germans fled the Black Sea by foot or by wagon. Whoever stayed behind, for them it was sure death or Gulag as they were now considered collaborators with the enemy. My parents and a handful of relatives were able to flee with the German military to Poland. Later they had to flee Poland as the Russians came in, and we lost some of our relatives again. Our Prussian grandfather and grandmother were overcome by the Russians and hauled off to the Gulag in Siberia with a 10 year sentence for fleeing the Soviet Union. They survived 10 years in the camps and as soon as they were released, they died. I think it was murder - I guess, cyanide! One of my father's brothers and his family were also overcome and hauled off to the Gulag. He was taken to the infamous Vorkuta on the Bering Sea. He survived nearly 10 years and shortly before his release he "died." I think it was murder. My aunt, his wife, and his children were taken to a Gulag in Kazakhstan. They survived the 10 years and were placed on a restricted area after their release. There they scraped for survival. My mother's brother and his wife and children were also overcome by the Russians. Luckily, he alone escaped the Russians by digging himself into a train wagon loaded with coal and finally ended up in Germany. His wife and children were not so lucky but where put into the Gulag; they survived and were able to come to Germany in the 1970s. He was re-married in Germany and had 2 children as he believed his wife was dead. Tragic! My parents and siblings escaped to Germany as well, but all the horror and suffering they went through is another story. I was then born and raised in Germany in the aftermath of the war.
MAY IT BE CLEAR TO US THAT THOSE WHO INVENTED COMMUNISM / BOLSHEVISM / CAPITALISM HAVE NO HUMAN COMPASSION. WE ARE NOTHING BUT INSECTS TO THEM. AS THE TALMUD SAYS: THE BEST OF THE GOYIM DESERVES TO DIE AND THE GOYIM LIVES ONLY TO SERVE THE JEW. THEIR PLAN IS FOR ALL OF US TO BE UNDER THEIR CONTROL WITH NO MORE FREE SPEECH AND NOTHING BUT A DETERIORATING LIFESTYLE. THEY ARE PREARING THE NEW WORLD ORDER WITH DUMBING DOWN OUR CHILDREN WITH ONLY THE MOST BASIC EDUCATION AND NO MORE DEBATIVE, CLEAR THINKING. AND THEN THEY FED US ALL THE ABSURD MEDIA TO CORRUPT US, SO WE HAVE NO MORE IDEALS, NO MORE HONOR, WHICH HAS MADE US VERY WEAK AND NOTHING BUT CONSUMERS. AND AS TIMES GET TOUGHER, I BELIEVE THAT ALL WE WILL THEN CARE ABOUT IS FOOD FOR SURVIVAL. WHEN THIS HAPPENS, WE WILL BE EASY COLLABORATORS TO TURN IN OUR INNOCENT FELLOW CITIZENS, JUST LIKE THE RUSSIANS DID. I HOPE THIS WILL NEVER HAPPEN, BUT HOW CAN THE SPIRAL DOWNWARDS END ANYWHERE ELSE IF WE DO NOT STOP IT?
LET RUSSIA BE AN EXAMPLE AND A WARNING TO US ALL.
WILL YOU HELP STOP IT BY PASSING ON THE TRUTH?
… and that will be most Americans who have EVER said or written in an email that they are Christians.
Just like they did at the Nuernberg Trial and in all the trials against German truth speakers nowadays, they will say: "TRUTH IS NO DEFENSE." This statement by the international criminal gang of judges is nearly 70 years old and has worked to murder Germans at the Nuernberg Trial and put thousands of modern day Germans into prison for questioning history truth.
MEMORIAL DAY
YES, HONOR YOUR AMERICAN SOLDIERS OF WWII,
but
we must know this: American Soldiers died, unknowingly, for the Jewish Bolshevik-Communists and the rest of the International Criminal Gang so they can take over the United States and the whole world. They died to make the Criminal Gang rich and powerful and spread Bolshevism-Communism all over Eastern Europe and hidden Communism into the rest of Europe and into the U.S.A., as well as outright Communism into Vietnam, Korea, China, Cuba, etc. To hide the plan and deceptive implementation of the International Criminal Gang, the great honorable man Adolf Hitler and the German Nationalists had to be made into monsters and perpetuated in Hollywood as monsters for the last 80 plus years. All lies! Nothing but lies about the Germans.  It was all about money and evil world power. None of the accusations of the so-called Nazis are true! The American soldiers continue to die for the International Criminal Gang (as well as German soldiers dictated by the Jewish-American government) to guarantee world conquest by the Jews which will lead to our complete destruction of freedom and, I believe, tens of Millions of deaths! This might come as a shock for the uneducated in the truth, but Adolf Hitler was the noble man.  The so-called Nazis were the most honorable people you could find in Europe at that time. To hide the gang's crimes, the International Criminal Gang has invented thousands of lies about the National Socialists. Hitler was goaded into declaring war on the U.S. due to Jew Roosevelt's continuous attacks on defenseless German ships in international waters so that Hitler could order his Marines to defend their ships. Jew Churchill was out to destroy the German goyim to further the Jewish kingdom and rejected all peace offers by Hitler. Both Churchill and Roosevelt worked behind closed doors to further Stalin's murder machine of non-Jews (and Jews who were Stalin's competition) to further the Jewish kingdom on the globe.
And so, behind closed doors, the Jewish Communists have taken over the U.S.A., Europe, and more WHILE FABRICATING ENDLESS, OUTRAGES LIES FOR OVER 100 YEARS ABOUT THE GERMAN REICH, THE GERMANS, ADOLF HITLER AND THE GERMAN SOLDIERS TO DISTRACT AMERICANS AND THE WORLD FROM FACING THE REAL INTERNATIONAL CRIMINALS. Are we Americans going to be the next ones to get slaughtered? Our government is Jewish. And Jews have Bolshevist / Communist goals. Obama apparently has Communist, possibly Jewish roots. His behavior is cold and detached. The Jews who hijacked the Russian monarchy in 1917 and created the Soviet Union murdered 60-120 Million Russian citizens, and Millions of German colonists (Russian Citizens), first the elite and middle class and then they continued all the way down to the poor peasants under their government, starting at their usurpation. Tens of Millions more were dragged off to the Gulag slave labor camps were at least 50% perished. Stalin continued the slaughter. Millions more German soldiers and ethnic Germans in the Eastbloc countries or kidnapped in Germany were murdered in the Gulag system until the 1970s.
Adolf Hitler was the last leader standing against the Communist Jewish New World Order.
The German heroes fought and died for their fatherland and the freedom of Europe from the Marxist Jewish Beast. The Allied soldiers fought and died, unknowingly, for the world dominion and mass murder by the Jews and for the rest of the International Criminal Gang. 
World-Revolution-Nesta-Webster
Red Networks Who is Who_Dilling
*****

*****
MARXISM, COMMUNISM, BOLSHEVISM  IS A JEWISH CONSPIRACY TO SLOWLY TAKE OVER CONTROL,  AND THEN USURP GOVERNMENTS. IN THIS PROCESS, THEY RAPE, TORTURE, AND MURDER PEOPLE AND TAKE ALL THEIR POSSESSIONS. THEY USE 'LEGITIMATE' ACCUSATIONS, (ACCORDING TO THEIR 'LAWS') ACCUSATIONS THAT THEY HAVE FABRICATED AND DOCUMENTED AND SET IN STONE BY FALSE WITNESSES. THEN THEY KILL THE WITNESSES BY OTHER FALSE WITNESSES. AFTER THAT THEY KILL THE WITNESSES OF THE WITNESSES AND SO ON UNTIL ALL UNDESIRED HUMANS ARE ELIMINATED. IN TODAY'S TIMES, THEY CALL INNOCENT PEOPLE 'TERRORISTS' NOW, DEFAME THEM IN THE NEWS, AND SO HAVE OTHERS HELP TO ARREST THEM OR KILL THEM. THEN THE HUNTERS LOOK LIKE THE GOOD GUYS AND PEOPLE ARE HAPPY AND FEEL SAVE AGAIN. THE ONLY THING IS, THE HUNTING GAME IS A PLANNED GAME TO ELIMINATE PEOPLE WHO SPEAK UP AND DO NOT GO ALONG WITH OUR ROTTEN GOVERNMENT. THEY WILL COME AFTER EVERYONE WHO SPEAKS UP AND LATER AFTER EVERYONE WHO DOES NOT SPEAK UP UNTIL THEY HAVE KILLED ENOUGH PEOPLE TO BRING THE POPULATION FAR DOWN. THEY ARE WELL PRACTICED IN RUSSIA, GERMANY, IRAQ, AFGHANISTAN, AND MANY OTHER COUNTRIES. THEY ALWAYS PLAY THE SAME DECEPTIVE AND CRUEL GAME!!! I HAVE GONE THROUGH THE PROCESS DURING MY 2 YEAR RESEARCH ABOUT GERMANY TO FACE THE FACT THAT CRUEL AND BRUTAL INHUMANS ARE RUNNING THE WORLD SINCE 1900. AND ADOLF HITLER WAS NOT ONE OF THEM.

 Equality for all men (those whom they let live) = equally poor, robbed, sick, hungry, tortured, forgotten, living in endless terror, forbidden to speak truth, and murdered. Implemented in Russia in 1917 by the Jewish Communist take over and in Germany after WWI to a lesser degree - before Hitler came into power; and then again after WWII until now in hidden ways.
Mass murder of civilians happened in Russia since 1917 - and then in Germany after WWI and during and after WWII. Germans are still murdered by the International Criminal Gang up to this day.
*****
 COMMUNISM = MARXISM = BOLSHEVISM = FORBIDDING FREE SPEECH, ROBBERY, TORTURE AND MURDER
BOLSHEVISM BRINGS RICHES FOR THE OPPRESSORS AND MURDERERS AND EVER GREATER POVERTY FOR THE REST
*****
COMMUNISM IS A JEWISH CONSPIRACY; IT IS NOT A POLITICAL PHILOSOPHY - IT DOES NOT EVEN MAKE SENSE.
and comes from Karl Marx, a German Jew!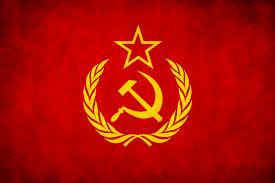 Jews Killed Millions - The Greatest Holocaust of All Times!!!
 http://freedom4um.com/cgi-bin/readart.cgi?ArtNum=138858
***
 IS COMMUNISM HIDDEN IN AMERICA?
 YES! WE HAVE BEEN SLOWLY TAKEN OVER SINCE 1900 - ARE WE WAITING FOR THE OTHER SHOE TO DROP?
A Message to the Spartans of the Spirit – by Ingrid Zundel
American "Anti-Communism" -  By Bill Guru
Americans like to imagine that they are the most anti-Communist people on earth. They rail constantly against Stalin, the gulags and the twenty million plus deaths. No doubt they are perfectly correct in these positions. But the terrific irony of all these anti-Communist dialectics is that these same Americans have willingly adopted Communist social values as their own.
Although Americans would be shocked to know it, both racial equality and equality for women are basic Communist doctrine – and have been from inception. Anyone who reviews Joseph Stalin's Soviet Constitution of 1936 sees that in article 118 of said Constitution that racial discrimination is prohibited; article 122 of that same Constitution guarantees women equality in the job market and guaranteed maternity leave.
From the beginning of the Communist revolution it was official Bolshevik policy to drive women out of the home into the factories. This was in stark contrast to the American system of family wage; e.g. paying a man enough money to support a wife and family.
In the 1950's a book was published, "Women and Communism" including many documented statements by Lenin and Stalin that women must become factory directors and managers, just like men.
If all this sounds exactly similar to post-1960's feminist doctrine; it is. Feminism originated post-World War Two with the publication of Betty Goldstein/Friedan's "The Feminine Mystique" in 1963. Betty was a closet Jewish Communist whose background was deliberately covered up when her agit-prop book was published.
Anyone who looks at the feminist movement knows that it, and the media which push it, have been Jewish instigated from its very beginnings. (…) Jewesses like Ruth Bader Ginsberg, Gloria Allred, Shulasmith Firestone, Robin Morgan, Linda Ellerbee, Andrea Dworkin, Bella Abzug, Germaine Greer, etc. have been the driving force of the movement. (…)
The membership of the American Communist Party in the 1940's was 40%-43% . composed of Jewesses. Both the ethnicity and the red colors of American feminism are therefore obvious. The doctrine of racial equality has been equally Jewish and Communist inspired. (…)  Civil Rights and equal opportunity in housing were long Communist Party planks.
Americans have also adopted the Communist system of no-fault divorce. In the U.S.S.R. it was accepted practice for couples to divorce for no reason or any reason. The Communist judge was prohibited from inquiring into the reasons for the break-up which were legally irrelevant.  In 1974 a Berkeley law professor wrote an article analyzing the American adoption of Soviet family law.
Party periodicals in the 1950's used to show mothers earning the money and fathers changing the diapers. All this gender radicalism long pre-dated the feminist revolution of the late 1960's and early 1970's. The great irony of all this is that the American social structure has been bolshevized without the average American even realizing it.
*****
 WHAT HATE!
"We hate Christianity and Christians. Even the best of them must be regarded as our worst enemies. They preach love of one's neighbor and mercy, which is contrary to our principles. Christian love is an obstacle to the development of the revolution. Down with love of one's neighbor. What we need is hatred; only thus shall we conquer the universe." (A. Lunacharsky)
"By May, 1st, 1937, there should not be one single church left within the borders of Soviet Russia, and the idea of God will have been banished from the Soviet Union as a remnant of the Middle Ages, which has been used for the purpose of oppressing the working classes." (Joseph Stalin)
"We Bolsheviks are going to bring the Social Revolution as much to America as to Europe. It is coming systematically, step by step. The struggle will be long, cruel and sanguinary… what matters the loss of 90% by executions if 10% of Communists remain to carry on the revolution? Bolshevism is not a seminary for young ladies. All children
should be present at the executions and rejoice at the death of the enemies of the proletariat." (V.I. Lenin)
Lenin
Marxism is war between the classes and not a battle for peace. At times it can lead to civil war. Marxists must be for civil war.
(1) Down with the sentimental dreams of peace. We want civil war.
(2) Civil war is necessary.
(3) Socialism can only come through a civil war.
(4) We represent terror - we are not a court - we are here to destroy the enemy.
(5) The power and the massive nature of the terror must be promoted.
(6)  We are planning to annihilate the bourgeois class. We do not need to prove that one or the other has acted against the Soviet power. The first thing we will ask one arrested is to which class does he belong, what his ancestry is, what kind of education he had, what his occupation is. These questions determine the fate of the arrested. This is quintessential of the red Terror.
(7) "Civil War in the villages, " Lenin article, August 1918: Merciless war against the Kulaken (farmers who are well off which is actually not much). Death to them. Hate and despise. With an iron fist, the workers must beat down the resistance of the Kulaken who make deals with foreign capital against the workers of their country.
9 August 1918, order from Lenin: "It is necessary to build a special troupe of reliable men. They must disperse merciless terror against Kulaken, priests, Weissgardisten (anti-communist troupes). They must be put into a concentration camp outside of the city. This punishment expedition is to be initiated immediately.
Lenin in his article "Ueber die Naturalsteuer" 1921: We want an increase in war between the classes. It is impossible without terror. Either the terror of the Weissgardisten, the terror of the American way, German way, Hungarian way, or other ways, or the red proletarian terror. There is no middle path.
(1) Lenin, "Der Partisanenkampf, 13 Oct 1906, Lenin "Saemtliche Werke, Wien 1930"
(2) Lenin, "Lage und Aufgabe der Sozialistischen Internationale" 1.11.1914
(3) Lenin, "Sozialismus und Krieg," Aug 1915 "Saemtliche Werke," Berlin
(4) Lenin, "Speech at the Party Day 4 Nov. 1916, "Saemtliche Werke," Berlin, 1929
(5) The secret police, the Tscheka, Commissioner Felix Dsershinski, 1918
(6) John Baron, "KGB - Arbeit und Organisation des sowjetischen Geheimdienstes in Ost und West," Bern - Muenchen, 1976
(7) D. Schub, "Lenin - eine Biographie," Wiesbaden 1957
Walendy Documents in Deutsch. I was looking at document no. 14
http://nsl-lager.com/ht/
*****
 THE JEWISH ROTTING OF CHINA
by Arnold Leese
February 28, 1949
It was the Sassoon family which turned the normal Chinese dislike and distrust of foreigners into hatred. David Sassoon made the Opium Trade in China from 1832 until he died in 1864. His family carried on the Trade under our Flag and made huge fortunes. The British took the blame, and now the Chinese loathe us. Backed by the Sassoons, the Shanghai Opium Monopoly existed until 1917 under the Jew Edward Ezra, its Managing Com­mittee being composed entirely of Jews and Indians. Not only did the British Flag protect the Sassoons in this abominable trade which the Manchus did all they could to prevent, even to the extent of war, but also these Jews were welcomed in England instead of being ostracised. Royalty petted them and they intermarried with Aryan aristocrats. Some became Baronets and one a Minister of the Government.
When the Freemason, Sun Yat‑Sen, began his revolutionary movement at Canton, the Jew Morris Cohen, a British subject, be­came his aide‑de‑camp and was sent by Sun around the globe to get military experts for his revolutionary army. On Sun Yat‑Sen's death bed this Jew was commended to Chiang Kai‑Shek and he was employed as liaison officer between the Canton Government and all foreign Consulates‑General. Cohen became known in China as Moi‑Sha, and was made Military Counsellor to the Cantonese Forces, and a General, although still a British subject. Sunday Express described him as "the guiding genius behind the War‑Lords of China".
The Soviet Jew, Jacob Borodin (real name M. Grusenberg) was sent by the Kremlin with the Jew Joffe, in 1923, to try and bolshevise Sun Yat‑Sen and became Chief Political Adviser to the Kuomintang. His wife, a Jewess, spied in China for the Soviets. When Sun died, Borodin was left in charge and it was he who appointed Chiang Kai‑Shek to succeed Sun in 1926. However, in 1927 a raid was made by Chang Tso‑Ling on the Soviet Embassy at Pekin, which revealed the scope and extent of the Soviet plot to bolshevise China, and the Borodins were arrested and imprisoned.
In 1923 the notorious Jew, Trebitsch Lincoln, ex‑M.P. in Britain, headed a Chinese mission to get arms for Wu Pei Fu, a War‑Lord with a fine character, but failed, probably purposely, in the attempt. After that, Lincoln drifted about, too mistrusted in China for any other important role.
The Soviet General, B. K. Galen, who was really a Jew called Chesin, and was nicknamed Blucher, accompanied the "Armenian" Soviet Delegate Karachan to Pekin in 1924 where a treaty was made with Chang Tso‑Ling by which the Chinese Eastern Railway was handed over to the Soviets. This placed the movement of troops at the mercy of the Bolsheviks. The intrigues and bribery by which this surrender by Chang Tso‑Ling was obtained were carried out through the medium of a Jewish timber magnate called S. Skidelski. At once, the Railway was placed in charge of the Jews Gekker, Koslowsky and Snamensky (Zamyensky). To continue with the career of General "Galen", he became Chief Military Adviser to Chiang Kai‑Shek in1926.
Now for the Soviet Jew S. A. Gekker: As early as 1922; he has been Military Adviser to the Mongolian Bolshevik Government, and in 1924 he was made Head Political Commissar on the Chinese Eastern Railway aforesaid. This appointment was at the hands of the Jew, M. D. Lashewitz, who was President of the Board of Railway Control in Moscow.
Nor must the Jew, A. Joffe, be forgotten. We have already met him as head of the Soviet Mission to Sun Yat‑Sen, when, with the Jew, Jacob Borodin, he tried to develop Sovietism. Later he became Political Adviser to Chiang Kai‑Shek in 1926 and orga­nised the Red Section of the Kuomintang.
High up in the Political Department of the Red Army in China were also the two Jews, W. N. Levitschev and J. B. Gamarnik, who in 1936 was its head.
The Nanking Ministry of Finance has always been dominated by Jews, viz: Kann, L. Rajchman and R. Haas. In England, the Jew Billmeir helped, with his merchant fleet, to take Soviet arms to China in 1938.
Finally, the Jew Ben Kizer (U.S.A.) was appointed head of Unrra in China, and as everyone knows, it fell to pieces in corrup­tion.
Enough has been said to prove that every real key‑position in the process of the Bolshevik destruction of China has been Jewish. Lastly we remind our readers that Chiang Kai‑Shek himself is a Freemason, having reached the 33rd degree in the Scottish Rite!
ARNOLD LEESE
NOTE.—In the above article, no mention was made of Eugene Chen, Borodin's Colleague and Cantonese Foreign Minister in 1925. Some people think that Chen was Cohen, but there is in­sufficient evidence as to that. He was born in Trinidad, British West Indies, where he was called E. Bernard Acham. He qualified as a solicitor in England, and it can only be guessed why he became the revolutionary enemy of Britain in China.
Published by Arnold Leese, 20, Pewley Hill, Guildford, Surrey.
Source: http://www.jrbooksonline.com/HTML-docs/chinese_communism.htm
******
BELGIAN VOLUNTEERS FOR THE WAFFEN SS AGAINST BOLSHEVISM!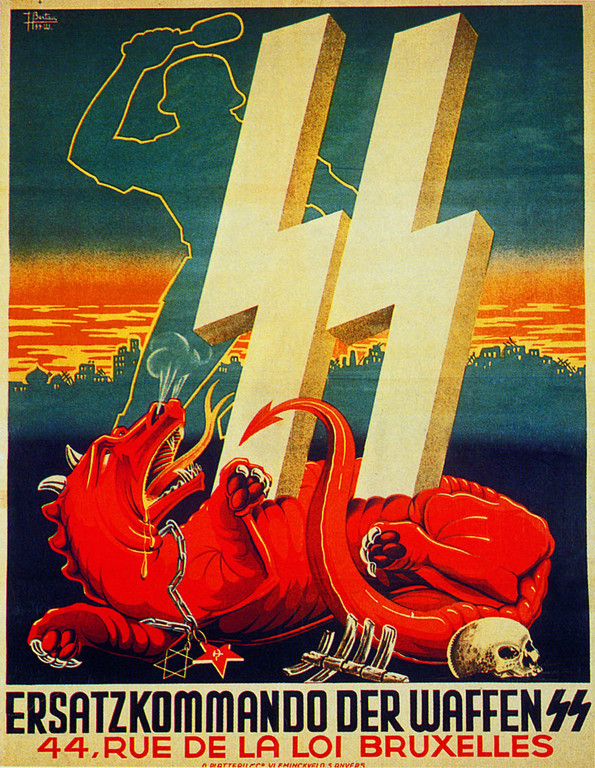 Various books on Communism / Bolshevism on offsite websites:
http://www.americandeception.com/index.php?page=usercat&catid=28
http://www.americandeception.com/index.php?page=usercat&catid=32
The Jewish Role in the Bolshevik Revolution and Russia's Early Soviet Regime
- Assessing the Grim Legacy of Soviet Communism -
by Mark Weber
In the night of July 16-17, 1918, a squad of Bolshevik secret police murdered Russia's last emperor, Tsar Nicholas II, along with his wife, Tsaritsa Alexandra, their 14-year-old son, Tsarevich Alexis, and their four daughters. They were cut down in a hail of gunfire in a half-cellar room of the house in Ekaterinburg, a city in the Ural mountain region, where they were being held prisoner. The daughters were finished off with bayonets. To prevent a cult for the dead Tsar, the bodies were carted away to the countryside and hastily buried in a secret grave.
Bolshevik authorities at first reported that the Romanov emperor had been shot after the discovery of a plot to liberate him. For some time the deaths of the Empress and the children were kept secret. Soviet historians claimed for many years that local Bolsheviks had acted on their own in carrying out the killings, and that Lenin, founder of the Soviet state, had nothing to do with the crime.
In 1990, Moscow playwright and historian Edvard Radzinsky announced the result of his detailed investigation into the murders. He unearthed the reminiscences of Lenin's bodyguard, Alexei Akimov, who recounted how he personally delivered Lenin's execution order to the telegraph office. The telegram was also signed by Soviet government chief Yakov Sverdlov. Akimov had saved the original telegraph tape as a record of the secret order.
Radzinsky's research confirmed what earlier evidence had already indicated. Leon Trotsky — one of Lenin's closest colleagues — had revealed years earlier that Lenin and Sverdlov had together made the decision to put the Tsar and his family to death. Recalling a conversation in 1918, Trotsky wrote:
My next visit to Moscow took place after the [temporary] fall of Ekaterinburg [to anti-Communist forces]. Speaking with Sverdlov, I asked in passing: "Oh yes, and where is the Tsar?"
"Finished," he replied. "He has been shot." "And where is the family?"
"The family along with him."
"All of them?," I asked, apparently with a trace of surprise.
"All of them," replied Sverdlov. "What about it?" He was waiting to see my reaction. I made no reply. "And who made the decision?," I asked.
"We decided it here. Ilyich [Lenin] believed that we shouldn't leave the Whites a live banner to rally around, especially under the present difficult circumstances."
I asked no further questions and considered the matter closed.
Recent research and investigation by Radzinsky and others also corroborates the account provided years earlier by Robert Wilton, correspondent of the London Times in Russia for 17 years. His account, The Last Days of the Romanovs - originally published in 1920, and recently reissued by the Institute for Historical Review — is based in large part on the findings of a detailed investigation carried out in 1919 by Nikolai Sokolov under the authority of "White" (anti-Communist) leader Alexander Kolchak. Wilton's book remains one of the most accurate and complete accounts of the murder of Russia's imperial family.
A solid understanding of history has long been the best guide to comprehending the present and anticipating the future. Accordingly, people are most interested in historical questions during times of crisis, when the future seems most uncertain. With the collapse of Communist rule in the Soviet Union, 1989-1991, and as Russians struggle to build a new order on the ruins of the old, historical issues have become very topical. For example, many ask: How did the Bolsheviks, a small movement guided by the teachings of German-Jewish social philosopher Karl Marx, succeed in taking control of Russia and imposing a cruel and despotic regime on its people?
In recent years, Jews around the world have been voicing anxious concern over the specter of anti-Semitism in the lands of the former Soviet Union. In this new and uncertain era, we are told, suppressed feelings of hatred and rage against Jews are once again being expressed. According to one public opinion survey conducted in 1991, for example, most Russians wanted all Jews to leave the country. But precisely why is anti-Jewish sentiment so widespread among the peoples of the former Soviet Union? Why do so many Russians, Ukrainians, Lithuanians and others blame "the Jews" for so much misfortune?
 A Taboo Subject
Although officially Jews have never made up more than five percent of the country's total population, they played a highly disproportionate and probably decisive role in the infant Bolshevik regime, effectively dominating the Soviet government during its early years. Soviet historians, along with most of their colleagues in the West, for decades preferred to ignore this subject. The facts, though, cannot be denied.
With the notable exception of Lenin (Vladimir Ulyanov), most of the leading Communists who took control of Russia in 1917-20 were Jews. Leon Trotsky (Lev Bronstein) headed the Red Army and, for a time, was chief of Soviet foreign affairs. Yakov Sverdlov (Solomon) was both the Bolshevik party's executive secretary and — as chairman of the Central Executive Committee — head of the Soviet government. Grigori Zinoviev (Radomyslsky) headed the Communist International (Comintern), the central agency for spreading revolution in foreign countries. Other prominent Jews included press commissar Karl Radek (Sobelsohn), foreign affairs commissar Maxim Litvinov (Wallach), Lev Kamenev (Rosenfeld) and Moisei Uritsky.
Lenin himself was of mostly Russian and Kalmuck ancestry, but he was also one-quarter Jewish. His maternal grandfather, Israel (Alexander) Blank, was a Ukrainian Jew who was later baptized into the Russian Orthodox Church.
A thorough-going internationalist, Lenin viewed ethnic or cultural loyalties with contempt. He had little regard for his own countrymen. "An intelligent Russian," he once remarked, "is almost always a Jew or someone with Jewish blood in his veins."
Critical Meetings
In the Communist seizure of power in Russia, the Jewish role was probably critical.
Two weeks prior to the Bolshevik "October Revolution" of 1917, Lenin convened a top secret meeting in St. Petersburg (Petrograd) at which the key leaders of the Bolshevik party's Central Committee made the fateful decision to seize power in a violent takeover. Of the twelve persons who took part in this decisive gathering, there were four Russians (including Lenin), one Georgian (Stalin), one Pole (Dzerzhinsky), and six Jews.
To direct the takeover, a seven-man "Political Bureau" was chosen. It consisted of two Russians (Lenin and Bubnov), one Georgian (Stalin), and four Jews (Trotsky, Sokolnikov, Zinoviev, and Kamenev). Meanwhile, the Petersburg (Petrograd) Soviet — whose chairman was Trotsky — established an 18-member "Military Revolutionary Committee" to actually carry out the seizure of power. It included eight (or nine) Russians, one Ukrainian, one Pole, one Caucasian, and six Jews. Finally, to supervise the organization of the uprising, the Bolshevik Central Committee established a five-man "Revolutionary Military Center" as the Party's operations command. It consisted of one Russian (Bubnov), one Georgian (Stalin), one Pole (Dzerzhinsky), and two Jews (Sverdlov and Uritsky).
Contemporary Voices of Warning
Well-informed observers, both inside and outside of Russia, took note at the time of the crucial Jewish role in Bolshevism. Winston Churchill, for one, warned in an article published in the February 8, 1920, issue of the London Illustrated Sunday Herald that Bolshevism is a "worldwide conspiracy for the overthrow of civilization and for the reconstitution of society on the basis of arrested development, of envious malevolence, and impossible equality." The eminent British political leader and historian went on to write:
There is no need to exaggerate the part played in the creation of Bolshevism and in the actual bringing   about of the Russian Revolution by these international and for the most part atheistical Jews. It is certainly a very great one; it probably outweighs all others. With the notable exception of Lenin, the majority of the leading figures are Jews. Moreover, the principal inspiration and driving power comes from the Jewish leaders. Thus Tchitcherin, a pure Russian, is eclipsed by his nominal subordinate, Litvinoff, and the influence of Russians like Bukharin or Lunacharski cannot be compared with the power of Trotsky, or of Zinovieff, the Dictator of the Red Citadel (Petrograd), or of Krassin or Radek — all Jews. In the Soviet institutions the predominance of Jews is even more astonishing. And the prominent, if not indeed the principal, part in the system of terrorism applied by the Extraordinary Commissions for Combatting Counter-Revolution [the Cheka] has been taken by Jews, and in some notable cases by Jewesses
Needless to say, the most intense passions of revenge have been excited in the breasts of the Russian people.
David R. Francis, United States ambassador in Russia, warned in a January 1918 dispatch to Washington: "The Bolshevik leaders here, most of whom are Jews and 90 percent of whom are returned exiles, care little for Russia or any other country but are internationalists and they are trying to start a worldwide social revolution."
The Netherlands' ambassador in Russia, Oudendyke, made much the same point a few months later: "Unless Bolshevism is nipped in the bud immediately, it is bound to spread in one form or another over Europe and the whole world as it is organized and worked by Jews who have no nationality, and whose one object is to destroy for their own ends the existing order of things."
"The Bolshevik Revolution," declared a leading American Jewish community paper in 1920, "was largely the product of Jewish thinking, Jewish discontent, Jewish effort to reconstruct."
As an expression of its radically anti-nationalist character, the fledgling Soviet government issued a decree a few months after taking power that made anti-Semitism a crime in Russia. The new Communist regime thus became the first in the world to severely punish all expressions of anti-Jewish sentiment. Soviet officials apparently regarded such measures as indispensable. Based on careful observation during a lengthy stay in Russia, American-Jewish scholar Frank Golder reported in 1925 that "because so many of the Soviet leaders are Jews anti-Semitism is gaining [in Russia], particularly in the army [and] among the old and new intelligentsia who are being crowded for positions by the sons of Israel."
Historians' View
Summing up the situation at that time, Israeli historian Louis Rapoport writes:
Immediately after the [Bolshevik] Revolution, many Jews were euphoric over their high representation in the new government. Lenin's first Politburo was dominated by men of Jewish origins
Under Lenin, Jews became involved in all aspects of the Revolution, including its dirtiest work. Despite the Communists' vows to eradicate anti-Semitism, it spread rapidly after the Revolution — partly because of the prominence of so many Jews in the Soviet administration, as well as in the traumatic, inhuman  Sovietization drives that followed. Historian Salo Baron has noted that an immensely disproportionate number of Jews joined the new Bolshevik secret police, the Cheka And many of those who fell afoul of the Cheka would be shot by Jewish investigators.
The collective leadership that emerged in Lenin's dying days was headed by the Jew Zinoviev, a loquacious, mean-spirited, curly-haired Adonis whose vanity knew no bounds.
"Anyone who had the misfortune to fall into the hands of the Cheka," wrote Jewish historian Leonard Schapiro, "stood a very good chance of finding himself confronted with, and possibly shot by, a Jewish investigator." In Ukraine, "Jews made up nearly 80 percent of the rank-and-file Cheka agents," reports W. Bruce Lincoln, an American professor of Russian history. (Beginning as the Cheka, or Vecheka) the Soviet secret police was later known as the GPU, OGPU, NKVD, MVD and KGB.)
In light of all this, it should not be surprising that Yakov M. Yurovksy, the leader of the Bolshevik squad that carried out the murder of the Tsar and his family, was Jewish, as was Sverdlov, the Soviet chief who co-signed Lenin's execution order.
Igor Shafarevich, a Russian mathematician of world stature, has sharply criticized the Jewish role in bringing down the Romanov monarchy and establishing Communist rule in his country. Shafarevich was a leading dissident during the final decades of Soviet rule. A prominent human rights activist, he was a founding member of the Committee on the Defense of Human Rights in the USSR.
In Russophobia, a book written ten years before the collapse of Communist rule, he noted that Jews were "amazingly" numerous among the personnel of the Bolshevik secret police. The characteristic Jewishness of the Bolshevik executioners, Shafarevich went on, is most conspicuous in the execution of Nicholas II:
This ritual action symbolized the end of centuries of Russian history, so that it can be compared only to the execution of Charles I in England or Louis XVI in France. It would seem that representatives of an insignificant ethnic minority should keep as far as possible from this painful action, which would reverberate in all history. Yet what names do we meet? The execution was personally overseen by Yakov Yurovsky who shot the Tsar; the president of the local Soviet was Beloborodov (Vaisbart); the person responsible for the general administration in Ekaterinburg was Shaya Goloshchekin. To round out the picture, on the wall of the room where the execution took place was a distich from a poem by Heine (written in German) about King Balthazar, who offended Jehovah and was killed for the offense.
In his 1920 book, British veteran journalist Robert Wilton offered a similarly harsh assessment:
The whole record of Bolshevism in Russia is indelibly impressed with the stamp of alien invasion. The murder of the Tsar, deliberately planned by the Jew Sverdlov (who came to Russia as a paid agent of Germany) and carried out by the Jews Goloshchekin, Syromolotov, Safarov, Voikov and Yurovsky, is the act not of the Russian people, but of this hostile invader.
In the struggle for power that followed Lenin's death in 1924, Stalin emerged victorious over his rivals, eventually succeeding in putting to death nearly every one of the most prominent early Bolsheviks leaders - including Trotsky, Zinoviev, Radek, and Kamenev. With the passage of time, and particularly after 1928, the Jewish role in the top leadership of the Soviet state and its Communist party diminished markedly.
Put To Death Without Trial
For a few months after taking power, Bolshevik leaders considered bringing "Nicholas Romanov" before a "Revolutionary Tribunal" that would publicize his "crimes against the people" before sentencing him to death. Historical precedent existed for this. Two European monarchs had lost their lives as a consequence of revolutionary upheaval: England's Charles I was beheaded in 1649, and France's Louis XVI was guillotined in 1793.
In these cases, the king was put to death after a lengthy public trial, during which he was allowed to present arguments in his defense. Nicholas II, though, was neither charged nor tried. He was secretly put to death - along with his family and staff —  in the dead of night, in an act that resembled more a gangster-style massacre than a formal execution.
Why did Lenin and Sverdlov abandon plans for a show trial of the former Tsar? In Wilton's view, Nicholas and his family were murdered because the Bolshevik rulers knew quite well that they lacked genuine popular support, and rightly feared that the Russian people would never approve killing the Tsar, regardless of pretexts and legalistic formalities.
For his part, Trotsky defended the massacre as a useful and even necesssary measure. He wrote:
The decision [to kill the imperial family] was not only expedient but necessary. The severity of this punishment showed everyone that we would continue to fight on mercilessly, stopping at nothing. The execution of the Tsar's family was needed not only in order to frighten, horrify, and instill a sense of hopelessness in the enemy but also to shake up our own ranks, to show that there was no turning back, that ahead lay either total victory or total doom This Lenin sensed well.
Historical Context
In the years leading up to the 1917 revolution, Jews were disproportionately represented in all of Russia's subversive leftist parties. Jewish hatred of the Tsarist regime had a basis in objective conditions. Of the leading European powers of the day, imperial Russia was the most institutionally conser-vative and anti-Jewish. For example, Jews were normally not permitted to reside outside a large area in the west of the Empire known as the "Pale of Settlement."
However understandable, and perhaps even defensible, Jewish hostility toward the imperial regime may have been, the remarkable Jewish role in the vastly more despotic Soviet regime is less easy to justify. In a recently published book about the Jews in Russia during the 20th century, Russian-born Jewish writer Sonya Margolina goes so far as to call the Jewish  role in supporting the Bolshevik regime the "historic sin of the Jews." She points, for example, to the prominent role of Jews as commandants of Soviet Gulag concentration and labor camps, and the role of Jewish Communists in the systematic destruction of Russian churches. Moreover, she goes on, "The Jews of the entire world supported Soviet power, and remained silent in the face of any criticism from the opposition." In light of this record, Margolina offers a grim prediction:
The exaggeratedly enthusiastic participation of the Jewish Bolsheviks in the subjugation and destruction of Russia is a sin that will be avenged Soviet power will be equated with Jewish power, and the furious hatred against the Bolsheviks will become hatred against Jews.
If the past is any indication, it is unlikely that many Russians will seek the revenge that Margolina prophecies. Anyway, to blame "the Jews" for the horrors of Communism seems no more justifiable than to blame "white people" for Negro slavery, or "the Germans" for the Second World War or "the Holocaust."
Words of Grim Portent
Nicholas and his family are only the best known of countless victims of a regime that openly proclaimed its ruthless purpose. A few weeks after the Ekaterinburg massacre, the newspaper of the fledgling Red Army declared:
Without mercy, without sparing, we will kill our enemies by the scores of hundreds, let them be thousands, let them drown themselves in their own blood. For the blood of Lenin and Uritskii let there be floods of blood of the bourgeoisie — more blood, as much as possible.
Grigori Zinoviev, speaking at a meeting of Communists in September 1918, effectively pronounced a death sentence on ten million human beings: "We must carry along with us 90 million out of the 100 million of Soviet Russia's inhabitants. As for the rest, we have nothing to say to them. They must be annihilated."
'The Twenty Million'
As it turned out, the Soviet toll in human lives and suffering proved to be much higher than Zinoviev's murderous rhetoric suggested. Rarely, if ever, has a regime taken the lives of so many of its own people.
Citing newly-available Soviet KGB documents, historian Dmitri Volkogonov, head of a special Russian parliamentary commission, recently concluded that "from 1929 to 1952 21.5 million [Soviet] people were repressed. Of these a third were shot, the rest sentenced to imprisonment, where many also died."
Olga Shatunovskaya, a member of the Soviet Commission of Party Control, and head of a special commission during the 1960s appointed by premier Khrushchev, has similarly concluded: "From January 1, 1935 to June 22, 1941, 19,840,000 enemies of the people were arrested. Of these, seven million were shot in prison, and a majority of the others died in camp." These figures were also found in the papers of Politburo member Anastas Mikoyan.
Robert Conquest, the distinguished specialist of Soviet history, recently summed up the grim record of Soviet "repression" of it own people:
It is hard to avoid the conclusion that the post-1934 death toll was well over ten million. To this should be added the victims of the 1930-1933 famine, the kulak deportations, and other anti-peasant campaigns, amounting to another ten million plus. The total is thus in the range of what the Russians now refer to as 'The Twenty Million'."
A few other scholars have given significantly higher estimates.
The Tsarist Era in Retrospect
With the dramatic collapse of Soviet rule, many Russians are taking a new and more respectful look at their country's pre- Communist history, including the era of the last Romanov emperor. While the Soviets — along with many in the West — have stereotypically portrayed this era as little more than an age of arbitrary despotism, cruel suppression and mass poverty, the reality is rather different. While it is true that the power of the Tsar was absolute, that only a small minority had any significant political voice, and that the mass of the empire's citizens were peasants, it is worth noting that Russians during the reign of Nicholas II had freedom of press, religion, assembly and association, protection of private property, and free labor unions. Sworn enemies of the regime, such as Lenin, were treated with remarkable leniency.
During the decades prior to the outbreak of the First World War, the Russian economy was booming. In fact, between 1890 and 1913, it was the fastest growing in the world. New rail lines were opened at an annual rate double that of the Soviet years. Between 1900 and 1913, iron production increased by 58 percent, while coal production more than doubled. Exported Russian grain fed all of Europe. Finally, the last decades of Tsarist Russia witnessed a magnificent flowering of cultural life.
Everything changed with the First World War, a catastrophe not only for Russia, but for the entire West.
Monarchist Sentiment
In spite of (or perhaps because of) the relentless official campaign during the entire Soviet era to stamp out every uncritical memory of the Romanovs and imperial Russia, a virtual cult of popular veneration for Nicholas II has been sweeping Russia in recent years.
People have been eagerly paying the equivalent of several hours' wages to purchase portraits of Nicholas from street vendors in Moscow, St. Petersburg and other Russian cities. His portrait now hangs in countless Russian homes and apartments. In late 1990, all 200,000 copies of a first printing of a 30-page pamphlet on the Romanovs quickly sold out. Said one street vendor: "I personally sold four thousand copies in no time at all. It's like a nuclear explosion. People really want to know about their Tsar and his family." Grass roots pro-Tsarist and monarchist organizations have sprung up in many cities.
A public opinion poll conducted in 1990 found that three out of four Soviet citizens surveyed regard the killing of the Tsar and his family as a despicable crime. Many Russian Orthodox believers regard Nicholas as a martyr. The independent "Orthodox Church Abroad" canonized the imperial family in 1981, and the Moscow-based Russian Orthodox Church has been under popular pressure to take the same step, in spite of its long-standing reluctance to touch this official taboo. The Russian Orthodox Archbishop of Ekaterinburg announced plans in 1990 to build a grand church at the site of the killings. "The people loved Emperor Nicholas," he said. "His memory lives with the people, not as a saint but as someone executed without court verdict, unjustly, as a sufferer for his faith and for orthodoxy."
On the 75th anniversary of the massacre (in July 1993), Russians recalled the life, death and legacy of their last Emperor. In Ekaterinburg, where a large white cross festooned with flowers now marks the spot where the family was killed, mourners wept as hymns were sung and prayers were said for the victims.
Reflecting both popular sentiment and new social-political realities, the white, blue and red horizontal tricolor flag of Tsarist Russia was officially adopted in 1991, replacing the red Soviet banner. And in 1993, the imperial two-headed eagle was restored as the nation's official emblem, replacing the Soviet hammer and sickle. Cities that had been re-named to honor Communist figures — such as Leningrad, Kuibyshev, Frunze, Kalinin, and Gorky — have re-acquired their Tsarist-era   names. Ekaterinburg, which had been named Sverdlovsk by the Soviets in 1924 in honor of the Soviet-Jewish chief, in September 1991 restored its pre-Communist name, which honors Empress Catherine I.
Symbolic Meaning
In view of the millions that would be put to death by the Soviet rulers in the years to follow, the murder of the Romanov family might not seem of extraordinary importance. And yet, the event has deep symbolic meaning. In the apt words of Harvard University historian Richard Pipes:
The manner in which the massacre was prepared and carried out, at first denied and then justified, has something uniquely odious about it, something that radically distinguishes it from previous acts of regicide and brands it as a prelude to twentieth-century mass murder.
Another historian, Ivor Benson, characterized the killing of the Romanov family as symbolic of the tragic fate of Russia and, indeed, of the entire West, in this century of unprecedented agony and conflict.
The murder of the Tsar and his family is all the more deplorable because, whatever his failings as a monarch, Nicholas II was, by all accounts, a personally decent, generous, humane and honorable man.
The Massacre's Place in History
The mass slaughter and chaos of the First World War, and the revolutionary upheavals that swept Europe in 1917-1918, brought an end not only to the ancient Romanov dynasty in Russia, but to an entire continental social order. Swept away as well was the Hohenzollern dynasty in Germany, with its stable constitutional monarchy, and the ancient Habsburg dynasty of Austria-Hungary with its multinational central European empire. Europe's leading states shared not only the same Christian and Western cultural foundations, but most of the continent's reigning monarchs were related by blood. England's King George was, through his mother, a first cousin of Tsar Nicholas, and, through his father, a first cousin of Empress Alexandra. Germany's Kaiser Wilhelm was a first cousin of the German-born Alexandra, and a distant cousin of Nicholas.
More than was the case with the monarchies of western Europe, Russia's Tsar personally symbolized his land and nation. Thus, the murder of the last emperor of a dynasty that had ruled Russia for three centuries not only symbolically presaged  the Communist mass slaughter that would claim so many Russian lives in the decades that followed, but was symbolic of the Communist effort to kill the soul and spirit of Russia itself.
~~~~~~~~~~~~~~~~~~~~~~~~~~~~~~
References for above article: The Jewish Role in the Bolshevik Revolution and Russia's Early Soviet Regime - Assessing the Grim Legacy of Soviet Communism - by Mark Weber
Notes
1.       Edvard Radzinksy, The Last Tsar (New York: Doubleday, 1992), pp. 327, 344-346.; Bill Keller, "Cult of the Last Czar," The New York Times, Nov. 21, 1990.
2.      From an April 1935 entry in "Trotsky's Diary in Exile." Quoted in: Richard Pipes, The Russian Revolution (New York: Knopf, 1990), pp. 770, 787.; Robert K. Massie, Nicholas and Alexandra (New York: 1976), pp. 496-497.; E. Radzinksy, The Last Tsar (New York: Doubleday, 1992), pp. 325-326.; Ronald W. Clark, Lenin (New York: 1988), pp. 349-350.
3.      On Wilton and his career in Russia, see: Phillip Knightley, The First Casualty (Harcourt Brace Jovanovich, 1976), pp. 141-142, 144-146, 151-152, 159, 162, 169, and, Anthony Summers and Tom Mangold, The File on the Tsar
(New York: Harper and Row, 1976), pp. 102-104, 176.
1.       AP dispatch from Moscow, Toronto Star, Sept. 26, 1991, p. A2.; Similarly, a 1992 survey found that one-fourth of people in the republics of Belarus (White Russia) and Uzbekistan favored deporting all Jews to a special Jewish region in Russian Siberia. "Survey Finds Anti-Semitism on Rise in Ex-Soviet Lands," Los Angeles Times, June 12, 1992, p. A4.
2.      At the turn of the century, Jews made up 4.2 percent of the population of the Russian Empire. Richard Pipes, The Russian Revolution (New York: 1990), p. 55 (fn.). By comparison, in the United States today, Jews make up less than three percent of the total population (according to the most authoritative estimates).
3.      See individual entries in: H. Shukman, ed., The Blackwell Encyclopedia of the Russian Revolution (Oxford: 1988), and in: G. Wigoder, ed., Dictionary of Jewish Biography (New York: Simon and Schuster, 1991). The prominent Jewish role in Russia's pre-1914 revolutionary underground, and in the early Soviet regime, is likewise confirmed in: Stanley Rothman and S. Robert Lichter, Roots of Radicalism (New York: Oxford, 1982), pp. 92-94. In 1918, the Bolshevik Party's Central Committee had 15 members. German scholar Herman Fehst — citing published Soviet records — reported in his useful 1934 study that of six of these 15 were Jews. Herman Fehst, Bolschewismus und Judentum: Das jüdische Element in der Führerschaft des Bolschewismus (Berlin: 1934), pp. 68-72.; Robert Wilton, though, reported that in 1918 the Central Committee of the Bolshevik party had twelve members, of whom nine were of Jewish origin and three were of Russian ancestry. R. Wilton, The Last Days of the Romanovs (IHR, 1993), p. 185.
4.      After years of official suppression, this fact was acknowledged in 1991 in the Moscow weekly Ogonyok. See: Jewish Chronicle (London), July 16, 1991.; See also: Letter by L. Horwitz in The New York Times, Aug. 5, 1992, which cites information from the Russian journal "Native Land Archives."; "Lenin's Lineage?"'Jewish,' Claims Moscow News," Forward (New York City), Feb. 28, 1992, pp. 1, 3.; M. Checinski, Jerusalem Post (weekly international edition), Jan. 26, 1991, p. 9.
5.      Richard Pipes, The Russian Revolution (New York: Knopf, 1990), p. 352.
6.      Harrison E. Salisbury, Black Night, White Snow: Russia's Revolutions, 1905-1917 (Doubleday, 1978), p. 475.; William H. Chamberlin, The Russian Revolution (Princeton Univ. Press, 1987), vol. 1, pp. 291-292.; Herman Fehst, Bolschewismus und Judentum: Das jüdische Element in der Führerschaft des Bolschewismus (Berlin: 1934), pp. 42- 43.; P. N. Pospelov, ed., Vladimir Ilyich Lenin: A Biography (Moscow: Progress, 1966), pp. 318-319. This meeting was held on October 10 (old style, Julian calendar), and on October 23 (new style). The six Jews who took part  were: Uritsky, Trotsky, Kamenev, Zinoviev, Sverdlov and Soklonikov. The Bolsheviks seized power in Petersburg
on October 25 (old style) — hence the reference to the "Great October Revolution" — which is November 7 (new style).
William H. Chamberlin, The Russian Revolution (1987), vol. 1, p. 292.; H. E. Salisbury, Black Night, White Snow: Russia's Revolutions, 1905-1917 (1978), p. 475.

W. H. Chamberlin, The Russian Revolution, vol. 1, pp. 274, 299, 302, 306.; Alan Moorehead, The Russian
Revolution (New York: 1965), pp. 235, 238, 242, 243, 245.; H. Fehst, Bolschewismus und Judentum (Berlin: 1934),
pp. 44, 45.
1.       H. E. Salisbury, Black Night, White Snow: Russia's Revolutions, 1905-1917 (1978), p. 479-480.; Dmitri Volkogonov, Stalin: Triumph and Tragedy (New York: Grove Weidenfeld, 1991), pp. 27-28, 32.; P. N. Pospelov, ed., Vladimir Ilyich Lenin: A Biography (Moscow: Progress, 1966), pp. 319-320.
2.      "Zionism versus Bolshevism: A struggle for the soul of the Jewish people," Illustrated Sunday Herald (London), February 8, 1920. Facsimile reprint in: William Grimstad, The Six Million Reconsidered (1979), p. 124. (At the time this essay was published, Churchill was serving as minister of war and air.)
3.      David R. Francis, Russia from the American Embassy (New York: 1921), p. 214.
4.      Foreign Relations of the United States — 1918 — Russia, Vol. 1 (Washington, DC: 1931), pp. 678-679.
5.      American Hebrew (New York), Sept. 1920. Quoted in: Nathan Glazer and Daniel Patrick Moynihan, Beyond the Melting Pot (Cambridge, Mass.: 1963), p. 268.
6.      C. Jacobson, "Jews in the USSR" in: American Review on the Soviet Union, August 1945, p. 52.; Avtandil Rukhadze, Jews in the USSR: Figures, Facts, Comment (Moscow: Novosti, 1978), pp. 10-11.
7.      T. Emmons and B. M. Patenaude, eds., War, Revolution and Peace in Russia: The Passages of Frank Golder, 1913- 1927 (Stanford: Hoover Institution, 1992), pp. 320, 139, 317.
8.     Louis Rapoport, Stalin's War Against the Jews (New York: Free Press, 1990), pp. 30, 31, 37. See also pp. 43, 44,
45, 49, 50.
1.       Quoted in: Salo Baron, The Russian Jews Under Tsars and Soviets (New York: 1976), pp. 170, 392 (n. 4).
2.      The Atlantic, Sept. 1991, p. 14.; In 1919, three-quarters of the Cheka staff in Kiev were Jews, who were careful to spare fellow Jews. By order, the Cheka took few Jewish hostages. R. Pipes, The Russian Revolution (1990), p. 824.; Israeli historian Louis Rapoport also confirms the dominant role played by Jews in the Soviet secret police throughout the 1920s and 1930s. L. Rapoport, Stalin's War Against the Jews (New York: 1990), pp. 30-31, 43-45, 49-50.
3.      E. Radzinsky, The Last Tsar (1992), pp. 244, 303-304.; Bill Keller, "Cult of the Last Czar," The New York Times, Nov. 21, 1990.; See also: W. H. Chamberlin, The Russian Revolution, vol. 2, p. 90.
4.      Quoted in: The New Republic, Feb. 5, 1990, pp. 30 ff.; Because of the alleged anti-Semitism of Russophobia, in July 1992 Shafarevich was asked by the National Academy of Sciences (Washington, DC) to resign as an associate member of that prestigious body.
5.      R. Wilton, The Last Days of the Romanovs (1993), p. 148.
6.      Richard Pipes, The Russian Revolution (1990), p. 787.; Robert K. Massie, Nicholas and Alexandra (New York: 1976), pp. 496-497.
7.      An article in a 1907 issue of the respected American journal National Geographic reported on the revolutionary situation brewing in Russia in the years before the First World War: " The revolutionary leaders nearly all belong to the Jewish race, and the most effective revolutionary agency is the Jewish Bund " W. E. Curtis, "The Revolution in Russia," The National Geographic Magazine, May 1907, pp. 313-314. Piotr Stolypin, probably imperial Russia's greatest statesman, was murdered in 1911 by a Jewish assassin. In 1907, Jews made up about ten percent of Bolshevik party membership. In the Menshevik party, another faction of the Russian Social Democratic Labor  Party, the Jewish proportion was twice as high. R. Pipes, The Russian Revolution (1990), p. 365.; See also: R. Wilton, The Last Days of the Romanovs (1993), pp. 185-186.
8.     Martin Gilbert, Atlas of Jewish History (1977), pp. 71, 74.; In spite of the restrictive "Pale" policy, in 1897 about 315,000 Jews were living outside the Pale, most of them illegally. In 1900 more than 20,000 were living in the capital of St. Petersburg, and another 9,000 in Moscow.
9.      Sonja Margolina, Das Ende der Lügen: Russland und die Juden im 20. Jahrhundert (Berlin: 1992). Quoted in: "Ein ganz heisses Eisen angefasst," Deutsche National-Zeitung (Munich), July 21, 1992, p. 12.
10.  Krasnaia Gazetta ("Red Gazette"), September 1, 1918. Quoted in: Richard Pipes, The Russian Revolution (1990), pp. 820, 912 (n. 88).
11.   Richard Pipes, The Russian Revolution (New York: 1990), p. 820.
12.  Contrary to what a number of western historians have for years suggested, Soviet terror and the Gulag camp system did not begin with Stalin. At the end of 1920, Soviet Russia already had 84 concentration camps with approximately 50,000 prisoners. By October 1923 the number had increased to 315 camps with 70,000 inmates. R. Pipes, The Russian Revolution (1990), p. 836.
1.       Cited by historian Robert Conquest in a review/ article in The New York Review of Books, Sept. 23, 1993, p. 27.
2.      The New York Review of Books, Sept. 23, 1993, p. 27.
3.      Review/article by Robert Conquest in The New York Review of Books, Sept. 23, 1993, p. 27.; In the "Great Terror" years of 1937-1938 alone, Conquest has calculated, approximately one million were shot by the Soviet secret police, and another two million perished in Soviet camps. R. Conquest, The Great Terror (New York: Oxford, 1990), pp. 485-486.; Conquest has estimated that 13.5 to 14 million people perished in the collectivization ("dekulakization") campaign and forced famine of 1929-1933. R. Conquest, The Harvest of Sorrow (New York: Oxford, 1986), pp. 301-307.
4.      Russian professor Igor Bestuzhev-Lada, writing in a 1988 issue of the Moscow weekly Nedelya, suggested that during the Stalin era alone (1935-1953), as many as 50 million people were killed, condemned to camps from which they never emerged, or lost their lives as a direct result of the brutal "dekulakization" campaign against the peasantry. "Soviets admit Stalin killed 50 million," The Sunday Times, London, April 17, 1988.; R. J. Rummel, a professor of political science at the University of Hawaii, has recently calculated that 61.9 million people were systematically killed by the Soviet Communist regime from 1917 to 1987. R. J. Rummel, Lethal Politics: Soviet Genocide and Mass Murder Since 1917 (Transaction, 1990).
5.      Because of his revolutionary activities, Lenin was sentenced in 1897 to three years exile in Siberia. During this period of "punishment," he got married, wrote some 30 works, made extensive use of a well-stocked local library, subscribed to numerous foreign periodicals, kept up a voluminous correspondence with supporters across Europe, and enjoyed numerous sport hunting and ice skating excursions, while all the time receiving a state stipend. See: Ronald W. Clark, Lenin (New York: 1988), pp. 42-57.; P. N. Pospelov, ed., Vladimir Ilyich Lenin: A Biography (Moscow: Progress, 1966), pp. 55-75.
6.      R. Pipes, The Russian Revolution (1990), pp. 187-188.;
7.      The Nation, June 24, 1991, p. 838.
8.     Bill Keller, "Cult of the Last Czar," The New York Times, Nov. 21, 1990.
9.      "Nostalgic for Nicholas, Russians Honor Their Last Czar," Los Angeles Times, July 18, 1993.; "Ceremony marks Russian czar's death," Orange County Register, July 17, 1993.
10.  R. Pipes, The Russian Revolution (1990), p. 787.
 Appendix
 A striking feature of Mr. Wilton's examination of the tumultuous 1917-1919 period in Russia is his frank treatment of the critically important Jewish role in establishing the Bolshevik regime.
The following lists of persons in the Bolshevik Party and Soviet administration during this period, which Wilton compiled on the basis of official reports and original documents, underscore the crucial Jewish role in these bodies. These lists first appeared in the rare French edition of Wilton's book, published in Paris in 1921 under the title Les Derniers Jours des Romanoffs. They did not appear in either the American or British editions of The Last Days of the Romanors published in 1920.
"I have done all in my power to act as an impartial chronicler," Wilton wrote in his foreword to Les Derniers Jours des Romanoffs. "In order not to leave myself open to any accusation of prejudice, I am giving the list of the members of the [Bolshevik Party' s] Central Committee, of the Extraordinary Commission [Cheka or secret police], and of the Council of Commissars functioning at the time of the assassination of the Imperial family.
"The 62 members of the [Central] Committee were composed of five Russians, one Ukrainian, six Letts [Latvians], two Germans, one Czech, two Armenians, three Georgians, one Karaim [Karaite] (a Jewish sect), and 41 Jews.
"The Extraordinary Commission [Cheka or Vecheka] of Moscow was composed of 36 members, including one German, one Pole, one Armenian, two Russians, eight Latvians, and 23 Jews.
"The Council of the People's Commissars [the Soviet .government] numbered two Armenians, three Russians, and 17 Jews.
"Ac.cording to data furnished by the Soviet press, out of 556 important functionaries of the Bolshevik state, including the above-mentioned, in 1918-1919 there were: 17 Russians, two Ukrainians, eleven Armenians, 35 Letts [Latvians], 15 Germans, one Hungarian, ten Georgians, three Poles, three Finns, one Czech, one Karaim, and 457 Jews."
"If the reader is astonished to find the Jewish hand everywhere in the affair of the assassination of the Russian Imperial family, he must bear in mind the formidable numerical preponderance of Jews in the Soviet administration," Wilton went on to write.
Effective governmental power, Wilton continued (on pages 136-138 of the same edition) is in the Central Committee of the Bolshevik party. In 1918, he reported, this body had twelve members, of whom nine were of Jewish origin, and three were of Russian ancestry. The nine Jews were: Bronstein (Trotsky), Apfelbaum (Zinoviev), Lurie (Larine), Uritsky, Volodarski, Rosenfeld (Kamenev), Smidovich, Sverdlov (Yankel), and Nakhamkes (Steklov). The three Russians were: Ulyanov (Lenin), Krylenko, and Lunacharsky.
"The other Russian Socialist parties are similar in composition," Wilton went on. "Their Central Committees are made up as follows:"
Mensheviks (Social Democrats): Eleven members, all of whom are Jewish. Communists of the People: Six members, of whom five are Jews and one is a Russian.
Social Revolutionaries (Right Wing): Fifteen members, of whom 13 are Jews and two are Russians (Kerenski, who may be of Jewish origin, and Tchaikovski).
Social Revolutionaries (Left Wing): Twelve members, of whom ten are Jews and two are Russians. Committee of the Anarchists of Moscow: Five members, of whom four are Jews and one is a Russian.
Polish Communist Party: Twelve members, all of whom are Jews, including Sobelson (Radek), Krokhenal (Zagonski), and Schwartz (Goltz).
"These parties," commented Wilton, "in appearance opposed to the Bolsheviks, play the Bolsheviks' game on the sly, more or less, by preventing the Russians from pulling themselves together. Out of 61 individuals at the head of these parties, there are six Russians and 55 Jews. No matter what may be the name adopted, a revolutionary government will be Jewish."
[Although the Bolsheviks permitted these leftist political groups to operate for a time under close supervision and narrow limits, even these pitiful remnants of organized opposition were thoroughly eliminated by the end of the 1921 .]
The Soviet government, or "Council of People's Commissars' (also known as the "Sovnarkom") was made up of the following, Wilton reported:
| | | |
| --- | --- | --- |
| Peoples Commissariat (Ministry) | Name | Nationality |
| Chairman | V.I. Ulyanov (Lenin) | Russian |
| Foreign Affairs | G.V. Chicherin | Russian |
| Nationalities | J. Dzhugashvili [Stalin] | Georgian |
| Agriculture | Protian | Armenian |
| Economic Council | Lourie (Larin) | Jew |
| | | |
| --- | --- | --- |
| Food Supply | A.G. Schlikhter | Jew |
| Army and Navy [Military] | L.D. Bronstein (Trotski) | Jew |
| State Control | K.I. Lander | Jew |
| State Lands | Kaufmann | Jew |
| Works [Labor] | V. Schmidt | Jew |
| Social Relief | E. Lilina (Knigissen) | Jew |
| Education | A. Lunacharsky | Russian |
| Religion | Spitzberg | Jew |
| Interior | Apfelbaum [Radomyslski] (Zinoviev) | Jew |
| .Hygiene | Anvelt | Jew |
| Finance | I. E. Gukovs [and G. Sokolnikov] | Jew |
| Press | Voldarski [Goldstein] | Jew |
| Elections | M.S. Uritsky | Jew |
| Justice | I.Z. Shteinberg | Jew |
| Refugees | Fenigstein | Jew |
| Refugees | Savitch (Assistant) | Jew |
| Refugees | Zaslovski (Assistant) | Jew |
Out of these 22 "Sovnarkom" members, Wilton summed'up, there were three Russians, one Georgian, one Armenian, and 17 Jews.
The Central Executive Committee, Wilton continues, was made up of the following members:
| | |
| --- | --- |
| Y. M. Sverdlov [Solomon] (Chairman) | Jew |
| Avanesov (Secretary) | Armenian |
| Bruno | Latvian |
| Breslau | Latvian [?] |
| Babtchinski | Jew |
| N. I. Bukharin | Russian |
| Weinberg | Jew |
| Gailiss | Jew |
| Ganzberg [Ganzburg ] | Jew |
| Danichevski | Jew |
| Starck | German |
| Sachs | Jew |
| Scheinmann | Jew |
| Erdling | Jew |
| Landauer | Jew |
| Linder | Jew |
| Wolach | Czech |
| S. Dimanshtein | Jew |
| Encukidze | Georgian |
| Ermann | Jew |
| A. A. Ioffe | Jew |
| | |
| --- | --- |
| Karkhline | Jew |
| Knigissen | Jew |
| Rosenfeld (Kamenev) | Jew |
| Apfelbaum (Zinoviev) | Jew |
| N. Krylenko | Russian |
| Krassikov | Jew |
| Kaprik | Jew |
| Kaoul | Latvian |
| Ulyanov (Lenin) | Russian |
| Latsis | Jew |
| Lander | Jew |
| Lunacharsky | Russian |
| Peterson | Latvian |
| Peters | Latvian |
| Roudzoutas | Jew |
| Rosine | Jew |
| Smidovitch | Jew |
| Stoutchka | Latvian |
| Nakhamkes (Steklov) | Jew |
| Sosnovski | Jew |
| Skrytnik | Jew |
| L. Bronstein (Trotsky) | Jew |
| Teodorovitch | Jew [?] |
| Terian | Armenian |
| Uritsky | Jew |
| Telechkine | Russian |
| Feldmann | Jew |
| Fromkin | Jew |
| Souriupa | Ukrainian |
| Tchavtchevadze | Georgian |
| Scheikmann | Jew |
| Rosental | Jew |
| Achkinazi | Imeretian [?] |
| Karakhane | Karaim [Karaite] |
| Rose | Jew |
| Sobelson (Radek) | Jew |
| Schlichter | Jew |
| Schikolini | Jew |
| Chklianski | Jew |
| Levine-(Pravdine) | Jew |
Thus, concluded Wilton, out of 61 members, five were Russians, six were Latvians, one was a German, two were Armenians, one was a Czech, one was an Imeretian, two were Georgians, one was a Karaim, one. was a Ukrainian, and 41 were Jews.
The Extraordinary Commission of Moscow (Cheka) 'the Soviet secret police and predecessor of the GPU, the NKVD and the KGB was made up of the following:
| | |
| --- | --- |
| F. Dzerzhinsky (Chairman) | Pole |
| Y. Peters (Deputy Chairman) | Latvian |
| Chklovski | Jew |
| Kheifiss | Jew |
| Zeistine | Jew |
| Razmirovitch | Jew |
| Kronberg | Jew |
| Khaikina | Jew |
| Karlson | Latvian |
| Schaumann | Latvian |
| Leontovitch | Jew |
| Jacob Goldine | Jew |
| Galperstein | Jew |
| Kniggisen | Jew |
| Katzis | Latvian |
| Schillenkuss | Jew |
| Janson | Latvian |
| Rivkine | Jew |
| Antonof | Russian |
| Delafabre | Jew |
| Tsitkine | Jew |
| Roskirovitch | Jew |
| G. Sverdlov (Brother of president of the Central Executive Committee) | Jew |
| Biesenski | Jew |
| J. Blumkin (Count Mirbach's assassin) | Jew |
| Alexandrovitch (Blumkin's accomplice) | Russian |
| I. Model | Jew |
| Routenberg | Jew |
| Pines | Jew |
| Sachs | Jew |
| Daybol | Latvian |
| Saissoune | Armenian |
| Deylkenen | Latvian |
| Liebert | Jew |
| Vogel | German |
| Zakiss | Latvian |
Of these 36 Cheka officials, one was a Pole, one a German, one an Armenian, two were Russians, eight were Latvians, and 23 were Jews.
"Accordingly," Wilton sums up, "there is no reason to be surprised at the preponderant role of Jews in the assassination of the Imperial family. It is rather the opposite that would have been surprising."
Bibliographic information
| | |
| --- | --- |
| Author: |  Weber, Mark |
| Title: |  The Jewish Role in the Bolshevik Revolution and  Russia's Early Soviet Regime |
| Source: |  The Journal for Historical Review (http://www.ihr.org) |
| Date: |  January/February 1994 |
| Issue: |  Volume 14 number 1 |
| Location: |  Page 4 |
| ISSN: |  0195-6752 |
|  Attribution: | "Reprinted from The Journal of Historical Review |
 excerpt from the documentary Synagogue of Satan:
45 COMMUNIST GOALS TO DESTROY and TAKE OVER AMERICA ESTABLISHED IN U.S. CONGRESS! – post
Solzhenitsyn - 200 Years Together - The Jews have removed the book from libraries and removed the chaptors accusing them the most from the digital versions!
1,000,000 WOMEN AND CHILDREN KIDNAPPED
 A Sea of Blood - media
Agreement_Between_US_and_USSR_in_all_Educational_Fields-1990-41pgs-pdf
***ALL AMERICANS MUST KNOW THE TERROR THAT IS UPON US - Dr. Oliver
America's_Decline_- Oliver - 1983
*
Millions of exterminations carried out in Russia by the Jews:
The-Black-Book-of-Communism-Jean-Louis-Margolin-1999 - Millions of exterminations by the Jewish Bolsheviks - pdf
Jew Harold Rosenthal: the Blood of Non-Jews will Flow
Brainwashed_Into_Slavery-Kenneth_Goff-circa_1940-66pgs-pdf
*
Canada's PM Glorifies Communist Role in WW2
Communism's Death Toll and the Jewish role in Bolshevism
Communist Goals - post
The_Communist_Program_For_World_Conquest-Gen._Albert_C_Wedemeyer_US_Army-1958-40pgs – pdf
The Creature From Jekyll Island-ByEdwardGriffin - pdf - Federal Reserve Scam
Crimes of the Bolsheviks - offline:
http://www.darkmoon.me/2011/crimes-of-the-bolsheviks-edited-by-isabella-fanfani/
*
Deliberatley Wasted Lives - Kaminski
DEUTSCHLAND BOLSHEVISMUS AUSGELIEFERT
Dostoievsky on the Jews - reviewed by Dr. William Pierce
An_Expose-Community_Education-Communist Style.sml
GREAT MOURNING ON THE BLACK SEA - post

Watch documentary "In the Shadow of Hermes" based on book "Under the Sign of the Scropion"  by Jüri Lina
Introduction To The Anti-humans
*
THE JEWISH GULAGS
http://servv89pn0aj.sn.sourcedns.com/~gbpprorg/judicial-inc/excursion_to_gulag.htm
Jews Killed Tens of Millions:
http://freedom4um.com/cgi-bin/readart.cgi?ArtNum=138858
Jews Murdered 65 Million in Russia
http://www.youtube.com/watch?v=v0tGrozx_XI&feature=related
Jews in the 1930s in Russia-Solzenitzhyn
 Last Days of the Romanovs - Robert Wilton - 1993 - media
 Lest we forget: The Truth about Nelson Mandela - media
Major Jordan's Diaries - The Truth About the US and USSR - pdf
Murdered Marilyn Monroe was surrounded by Communists under investigation – pdf
Organized_Communism_In_The_United_States-Congressional_Hearing-1958-163pgs- GOV-COM.-pdf
***Reds In America - media
Rogue State US - William_Blum 2002 - media
Social Engineering of Children - looks like Communist engineering
Russia and the Jews pdf - a detailed synopsys of Solzhenitsyn's "burned" book - 200 Years Together - the book can now only be found with the most Jewish crimes exposing chapters missing
The School of Darkness book is full of misinformation on Hitler. Like "every good American" she has been totally brainwashed about the National Socialists and what kind of fascists they were. However, the book gives much information how Communism has been instilled in the U.S.A. through teachers! I do not agree with anything about Hitler and the NS:
The_School_Of_Darkness-Bella_V_Dodd-1963-274pgs-COMMUNISM in the U.S.A.
 The Skeletons in Putin's Closet
Soviet Gulags - post
The Subversion of America by Tax Exempt Foundations - 1953 Investigation - pdf
 THE SUTTON BOMBSHELL - post - book
Under the Sign of the Scorpion – media
Under the sign of the Scorpion – archive link
USA Taken over by Communists - post
Dr. Lorraine Day is a world-renowned UCSF Physician and AIDS expert, defamed by the enemy for her truth speaking:
Jew Rosenthal: We'll Destroy all Police, Army Officers and Their Families
World_Communism-F_Borkenau-1939-436pgs-pdf
*****