germanvictims.com - Die Verfemung der Deutschen ist das weitreichende Mittel durch Luegen Hass gegen die unschuldigen Nationalsozialisten und heutigen Deutschen auf aller Welt zu schueren, so wie es schon seit 1871 die Methode der Weltherrscher war. Sie haben keine moralischen Grenzen mit ihren Luegen. Was auch immer die Weltregierer im Stande sind anderen Menschen anzutun, das haengen sie den Deutschen an.
- articles and books showing the systematic defamation of Germans as well as articles to bring truth to light. Luegen ueber die Deutschen und Richtigstellung -
ENGLISH - DEUTSCH

 Who were the real 'bad guys?'
…RUSSIAN STATE OVERTHROWN
BY AMERICA'S REVOLUTIONARIES
It was the revolution that never was. For 100 years the term Russian Revolution has been tirelessly trotted out as a mantra but was nothing of the sort. The 1917 Russian Government, the Royal family and governing elite, known as the bourgeoisie, were overthrown and displaced, mostly by non-Russians.
Those who financed the downfall of Russian governance were heads of ethnic banking cartels based outside Russia. Few of those hired to overthrow and take leading positions in the imposed government were ethnic Russians. The banking cartels rented-revolutionaries and their mercenaries, who impudently called themselves Bolsheviks (majority), were financed and armed by outside interests. Today we see similar methods of government removal at play in Libya, Egypt, Syria and elsewhere.
What has been inaccurately described as a Russian revolution was no overnight affair. The insurrection and ensuing Civil War was waged between 1917 - 1927. Of the tens of thousands of books, articles, documentaries purporting to cover the misnamed Russian Revolution I doubt there is one that reveals who financed the Bolsheviks during the bloody ten-year long overthrow of the Russian Empire. Civil Wars do not come cheap yet not a word reveals how these loans were arrived at or repaid.
In a sentence, the overthrow of the Russian government was the precursor to turning Russia into one vast plantation of slaves for the benefit of international finance.
Winston Churchill described the tumultuous years between 1918 and 1933 as a period of 'formidable transformations'. Germany, defeated in a war for which it could not be held solely responsible was from 1918 to 1933 impoverished by defeat, the harsh terms of the victor nation's rapacious Versailles To this backdrop was a tapestry of 6 million unemployed, whose families begged on the streets, starved, prostituted themselves. Ever present the effects of the violent revolutionaries who aimed to overthrow the legitimate governing apparatus of Germany, to replace it with Jewish Bolshevism. Germany was not working; Germany did not have a future. To the victors go the spoils of war. Germany would exist only as an indebted plantation to satisfy the loot and lust of Britain, France and the United States banking system.
Communist revolutionaries, eager to capitalize on their overthrow of the Russian State, seized power. A British Government White Paper estimated that the Royal Navy's blockade on Germany 'caused nearly 800,000 deaths, mainly women and children.' Vast tracts of German territory were seized as booty and claims for reparations were so draconian that they effectively turned every German into a slave of the victors.
With the German Kaiser (king) in exile, Workers and Soldiers' Soviets with the Social Democrats overthrew the legitimate Ebert government and proclaimed a Soviet Republic. Armed bands of communists (Spartacists) led by Rosa Luxemburg and Karl Liebnecht seized sections of cities and they with anarchists patrolled the streets. Another alien German, Kurt Eisner declared Bavaria to be a Soviet Republic. German servicemen returning from the war's frontlines were massacred. Bolshevik insurgents impudently seized state property. Strikes designed to cause maximum disruption to the staggering economy were organized. Workers who wished to work were threatened, often injured and even murdered. The nation's barracks and naval dockyards were seized; street barricades divided Germany's cities and towns into politico-criminal fiefdoms.
Large regions of the suffering nation such as the Saar and the Rhineland were occupied by French troops. Inflation soared out of control until the exchange rate was 136,000,000 Deutsche Marks to the dollar. Despite such widespread suffering, the architects of the disastrous Versailles Treaty's terms refused to remove the jackboot from the neck of a dying nation.
Germany had lost its soul, its will to live. German people, lacking leadership or direction were totally distracted by the day-to-day need to survive. A situation that the wealthy of Europe were quick to exploit, tens of thousands of sex tourists and financial parasites descended on the vanquished Germany to grow rich on the spoils of war and revolution. Decadence erupted in a whirlwind of sleaze. The arts were debased; family businesses were bought for a pittance. Such was the debasement of the German nation that the services of child prostitutes of both sexes could be bought openly on the streets of Germany. The world's debased were quick to take advantage of the German nation's descent into economic chaos whilst revolutionaries fought like jackals for territorial gain. The unjust fabric of the iniquitous Victors terms, the Versailles Treaty, was being shredded…
Continue Reading: 2013 New Edition WITNESS TO HISTORY
* * *
Here is one Major Defamation, clarified by
Deutsch-English - Ursula Haverbeck: Maerz 2015 - The Panorama Interview, with English Subtitles
* * *

ENGLISH
*****
A MUST READ BOOK - TRUTH FROM THE MOUTHS OF THE LEADERS - BY IRISH AUTHOR MICHAEL WALSH
2013 New Edition WITNESS TO HISTORY
Allied Atrocity Propaganda-posting
Defamation-Subjugation-Perversion
AMERICANS STOP SLANDERING GERMANS
Forged War Crimes Malign the German Nation - Walendy - link to book
Historiography_Invention of Great Lies in History_Oliver
HITLER AND ZIONISTS COLLABORATED
HITLER'S BARBAROSSA PROCLAMATION
Hostility Toward Germans Part I: The Anti-German Narrative in the West:
http://carolynyeager.net/hostility-toward-germans-part-i-anti-german-narrative-west
Hostility Toward Germans Part II: German Self-Hatred and Leftist Ideology:
http://carolynyeager.net/hostility-toward-germans-part-ii-german-self-hatred-and-leftist-ideology
Hostility Toward Germans, Part III: White Guilt and Islamic Chauvinism:
http://carolynyeager.net/hostility-toward-germans-part-iii-white-guilt-and-islamic-chauvinism
JEWISH HOSTILITY TOWARD GERMANS
JEWISH TREASON AGAINST GERMANY 1933
Revisionist pamphlet - Austin App
Sound of Music - Distortion History
STREET BATTLES OF THE NATIONAL SOCIALISTS
The Transfer Agreement And The Boycott Fever Of 1933-UdoWalendy
Truth for Germany - Walendy - media
*****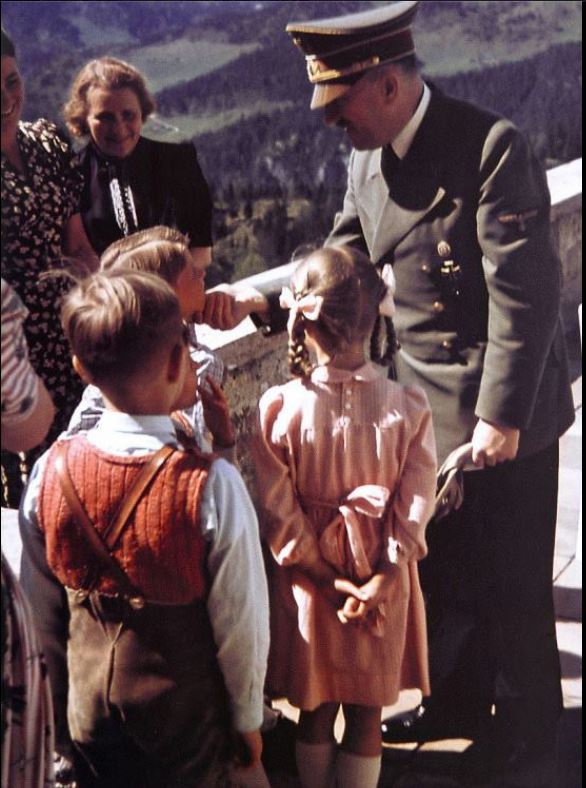 DEUTSCH
 Deutschland
Durch Fabrikrauch  und Auspuffgase,
über Speisekarten und Reisebroschüren hinweg
laß Dir sagen, daß ich Dich liebe, Deutschland.
Sie haben Dich furchtbar verstümmelt und gefesselt,
aber das Schlimmste: sie haben Dir in Deinem Elend
noch ein Narrengewand angezogen
und einen Schandblock um den Hals gehängt.
Jetzt mußt Du tanzen nach dem Geklimper von Euro und Dollar.
Du, verspottet und elend, genarrt und verhöhnt,
behängt mit Flitter und geschmückt mit Dornen,
laß Dir sagen: Ich liebe Dich.
Nicht nur, wo Du rein bist, in Deinen Wäldern,
 auf Deinen Bergen und Deinen unberührten Küsten
oder in den Augen Deiner Dir Treuen -
nicht nur dort liebe ich Dich.
Auch, wo man Dir - Heimat der Stille - tosenden Lärm aufzwingt,
auch, wo man Dich - Heimat der Denker - des Geistes beraubt,
auch, wo man Dich - Heimat des Mutes - feige macht,
dort, wo Du Dich Deiner am meisten schämst, liebe ich Dich.
Siehe, mit Dir  wollen wir alles ertragen,
die verlorene Krone suchen und sie Dir voller Erfurcht wiedergeben.
Mit Dir sind wir niemals allein,
durch uns sollst Du die Tränen vergessen.
In der Stunde Deines tiefsten Elends,
dürftig verborgen durch Neon und Chrom,
sind jene bei Dir, die Dein Elend am härtesten trifft.
Sie lieben Dich, Deutschland.
Magst Du den anderen erbärmlich und klein,
 gering und verdorben erscheinen -
uns bist Du Vater und Mutter zugleich.
Unsere Liebe sei Dir ein Trost.
Wir haben Dir nichts zu verzeihen,
verzeihe Du uns, daß wir zu schwach sind,
Deine Ketten zu sprengen und den Dich umgebenden Tand zu verbrennen.
Schenk uns die Kraft deiner Ewigkeit,
wir geben Dir alles, was uns verblieb.
Denn wir lieben Dich, Deutschland.
Konrad Windisch
 * * * 
Buch zum Kaufen: Das Jahrhundert
der Lüge
Von der Reichsgründung bis Potsdam 1871-1945
http://www.versandbuchhandelscriptorium.com/angebot/9939jahr.html
Buch zum Kaufen: KZ-Lügen Antwort auf Goldhagen
http://www.versandbuchhandelscriptorium.com/angebot/0817kzlu.html
Buch zum Kaufen: Das Lexikon der antideutschen Fälschungen
http://www.versandbuchhandelscriptorium.com/angebot/0367lexi.html
Buch zum Kaufen: Lügen in Kriegszeiten
Eine Sammlung und kritische Betrachtung von Lügen, die während des Ersten Weltkrieges bei allen Völkern im Umlauf waren
http://www.versandbuchhandelscriptorium.com/angebot/0301luge.html
Kriegsverbrechens oder Propagandaopfer No 1 - verboten
Historische Tatsachen - No. 2 Die Methoden der Umerziehung - link
https://archive.org/details/Historische-Tatsachen-02
Methoden der Umerziehung No. 2
NS Bewaeltigung-Deutsche Schreibtischtaeter - Hist. Tatsachen 05
HistorischeTatsachen-Nr.10-UdoWalendy-Deutsch-israelischeFakten198140S.Scan_text
Historische Tatsachen - Nr. 13- Behoerden contra Historiker Udo Walendy_text
Historische Tatsachen - Nr. 15 - Udo Walendy - Kenntnismaengel der Alliierten (1982, 40 S., verboten)
HistorischeTatsachen-Nr.18-UdoWalendy-AdolfEichmannUndDieSkelettsammlungDesAhnenerbeE.v.198340S.Scan-text
HistorischeTatsachen-Nr.20-UdoWalendy-DieSchuldfrageDesErstenWeltkrieges198440S.Scan-text
HistorischeTatsachen-Nr.21-UdoWalendy-StrafsacheWissenschaftlicheForschung198440S.Scan-text
HistorischeTatsachen-Nr.22-UdoWalendy-AlliierteKriegspropaganda1914-1919198440S.Scan-text
HistorischeTatsachen-Nr.24-UdoWalendy-IngridWeckert-MassentoetungenOderDesinformation198540S.Scan-text
 https://archive.org/details/Historische-Tatsachen-Nr-25
Amtliche Luegen Straffrei in Deutschland No. 29 - Udo Walendy 1985
Historische Tatsachen - Nr. 53 - Udo Walendy - Entstellte Geschichte (1992, 44 S., verboten)
Historische Tatsachen - Nr. 101 - Siegfried Egel - 'Revision des Geschichtsbildes durch Deutschland verboten!' (2008, 40 S.)
Historische Tatsachen - No. 102 Obrigkeit im Clinch mit der Wahrheit - link
https://archive.org/details/HistorischeTatsachenNr.102SiegfriedEgelObrigkeitImClinchMitDerWahrheit200840S.Bild
Historische Tatsachen - No. 103 Desinformationsagenten weiter aktiv - link
https://archive.org/details/HistorischeTatsachenNr.103SiegfriedEgelDesinformationsagentenWeiterAktiv200840S.Bild
Babi Jar Die Schlucht - Udo Walendy - Juden - media
Desinformationsagenten weiter Aktiv
Faelschung Der Deutschen Geschichte - Kammeier 1935
Geschichte der Verfemung Deutschlands - Das Unrecht an Deutschland Band 6 -  - media
Hartmut Stern: KZ-Lügen - Antwort auf Goldhagen -Buchkauf
 http://www.versandbuchhandelscriptorium.com/angebot/0817kzlu.html
Das Lexikon der antideutschen Fälschungen - Buchkauf
 http://www.versandbuchhandelscriptorium.com/angebot/0367lexi.html
  Luegenhetzte im 2. Weltkrieg -Verfemung - Band 2 http://www.vho.org/D/gdvd_2/index.html#Top - frei lesen
Richtigstellungen zur Zeitgeschichte - Dr. Heinrich Wendig - Buchkauf
http://www.versandbuchhandelscriptorium.com/angebot/0707rich.html
Richtigstellung zur Zeitgeschichte
SCHWEINEREI MIT DER KRIEGSSCHULD
DIE SIEGER IM SCHATTEN IHRER SCHULD
System der Anti Deutschen Faelschungen
Ueber Galgen Waechst Kein Gras_Malmedy Joachim Piper - Video
Die Verbotene Wahrheit2003_34S.
 Verschwiegene Wahrheiten - Luegen und Hass gegen die Deutschen:
http://archive.org/details/VerschwiegeneWahrheiten
Wahrheit fuer Deutschland - Walendy