The Jews were given another opportunity to massacre helpless Christians during the Spanish Civil War.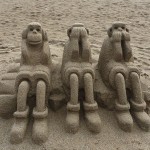 The Secret Holocaust
The real holocaust was a Christian Holocaust by Jews of sixty-six million, mostly Christians.
By Eustace Mullins 7-8-9
EXCERPTS - NOT COMPLETE BOOK POSTED
Ernest Elmhurst states in "World Hoax", p. 157, "Of no less significance was the transfer of Soviet Russia's former peace delegate at Geneva ~ the Jew Rosenberg (Moses Israelsohn) with his staff of 140 members to the office of Ambassador to Spain in August of 1936."
This cadre of highly trained specialists in torture and murder passed over a reign of terror which was largely ignored by the rest of the world, because the journalists covering the Spanish War, Ernest Hemingway and many others, were themselves sympathetic to the Communists and they sought only to discredit the Spanish patriots, the "Fascists" as they contemptuously termed them.
The Rosenberg murder teams were called "World Revolutionary Movement Purification Squads." Their "purification" consisted mainly of massacres of priests, nuns, choirboys and women and children as is so well described in the Book of Esther and the occasion of the Jewish celebration of the Feast of Purim.
Arthur Bryant, in his well-documented "Communist Atrocities in Spain", tells of one murder squad which went to the Dominican Convent in Barcelona and informed the Mother Superior that "because of possible mob violence" the nuns should accompany the squad to a place of safety. They were then taken to the suburbs and murdered.
Their Jewish leader commented, "We needed the building. We didn't want to muss it up before we occupied it."
E.M. Godden, in "Conflict in Spain," says on p. 72, "During the last week of July, 1936, the bodies of nuns were exhumed from their graves and propped up outside the walls of their convents. Obscene and offensive placards were attached to their bodies."
In Madrid, it was estimated that one tenth of the population of Spain was murdered by the Communist Jews by 1939. De Fonteriz in "Red Terror in Madrid" tells how Cheka crews organized by Dimitrov and Rosenberg carried out a program of torture and murder so obscene that it cannot be repeated or described.
For more information, you may read The Secret Holocaust