Sylvia Stolz: …May every German decide, whether he is still willing to participate, in any form, in the illegal and brutal re-education, defamation and persecution of his fellow citizens. Also, every non-German ought to decide if he wants to further foster or help hinder the destruction of the German nation and all other nations. No one will be able to say later that he didn't know what was going on…
gv 4/16
MANY LINKS TO VIDEOS, SITES, AND BOOKS TOWARD THE BOTTOM OF THE PAGE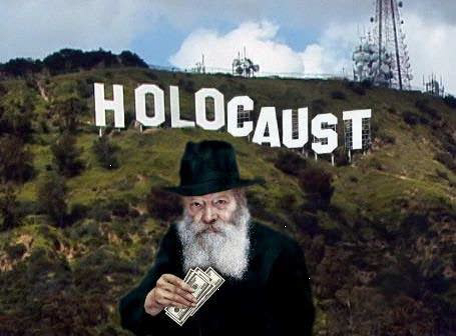 MAKE GERMANY SOVEREIGN SO IT CAN SPEAK HISTORY TRUTH, YOU U.S. DEVILS!
DEUTSCH: JUEDISCH-ALLIIERTE INTRIGE
#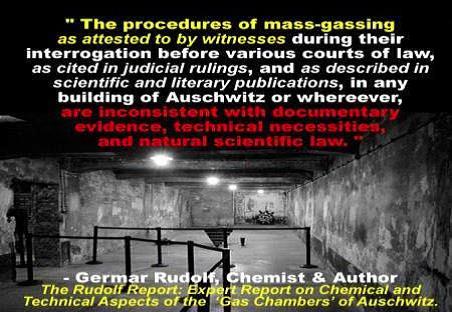 #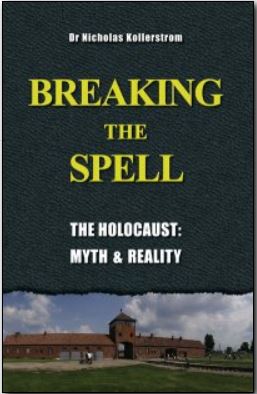 Newsletter 868 Review of Nicholas Kollerstrom-Breaking the Spell
#
###
Zundel's Release was in 2010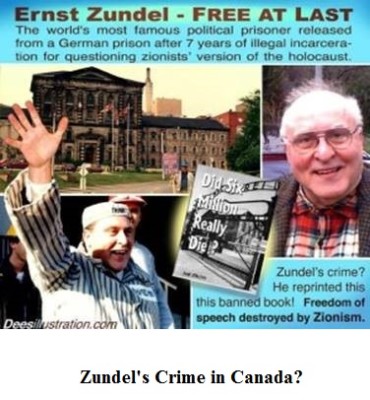 video "Off  Your Knees, Germany!" - by Ernst Zuendel
Video - A Documentary of the 1985 Zündel Trial
An Obituary to Douglas Christie, 1946-2013
http://codoh.com/library/document/2900/
source and thanks to: http://codoh.com/library/categories/1167/
Background and Detailed Chronology of Ernst Zuendel Persecution
Ernst Zundel spent seven years in prison for openly questioning the Holohoax but it was not all in vain. Zundels trial brought in some of the top experts, who supported the Holocaust, and they had to openly admit, under oath, in a court of law three very important facts that have now made it possible to question the Holocaust, the three facts admitted by the Holocaust supporters in court are…
No specific record exists of what Hitler's orders were regarding the Jews and whether in fact he had officially ordered them murdered.
There exists no single report that shows there were gas chambers in Nazi concentration camps.
No holocaust survivors ever could remember actually seeing smoke or smell burning flesh, they were all repeating what someone else had said.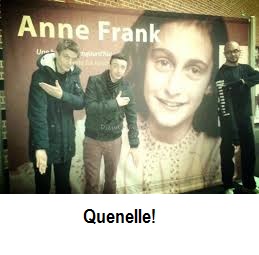 Anne Frank: Her story was actually an invention by an adult Jew. I cried for her, too, as a youth, believing the story handed to us by our Jewish teacher in Germany. Well, the tears were not in vain, as it is sad for children to be in a concentration camp. However, I do greatly hate the Jewish lies and deception. They have brought so much suffering to the German people since at least 1914, and not only that, to the whole world.
THE SYMBOLIC FICTIONAL NUMBER: "6 MILLION"- SINCE 1915 TO 1938 - 18 YEARS BEFORE HITLER: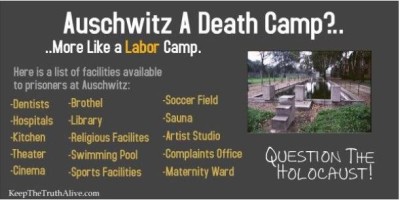 Published on Jan 24, 2015
Richard Edmonds and Ursula Haverbeck ask Vladimir Putin to reinvestigate the lies of the Soviet Commission in 1945, which formed the basis of the deceitful postwar histories of both the Katyn Massacre and the Auschwitz camp. Ursula Haverbeck points out that with mainstream historical authorities now accepting that Auschwitz was not the scane of the murder of millions of Jews in homicidal gas chambers, there is no established "scene of the crime". She has challenged official bodies including ministers of the various German states (Länder) to provide an answer – to define the scene of the crime. They have so far failed to do so, and she must therefore conclude that there is no substantiation to the official history of Auschwitz.
 * * *
It was not a "death" camp - but people keep calling it that! Darn it!
* * *
The Jewish Holocaust constitutes the GREATEST ORGANISED CRIME that the world has known.
THE GREATEST HOAX IN HISTORY
With the false claim that the Germans murdered six million Jews, mostly in gas chambers at Auschwitz-Birkenau in Poland during WWII, since the end of WWII, the world has been saturated with films, documentaries and books on the Holocaust. Anyone worldwide who dares to investigate the Jewish Holocaust claims, is branded an Anti-Semite and Holocaust Denier.
In our democratic world, a person who is accused of a crime is deemed innocent until irrefutable evidence proves them guilty. What has happened to democracy in Germany, Poland, France and Switzerland where people accused of Holocaust Denial are not allowed to provide any evidence that would prove that they are not guilty? In the Middle Ages, people accused of being witches, were also allowed no defence and were burned at the stake. As burning at the stake and crucifiction is not allowed in today's world, the best that the Jewish leaders and holocaust promoters can achieve is incarceration where no one can hear claims backed by years of very thorough research.
The Jewish success in blocking my book "The Answer Justice", their failed attempts to stop the book "Chutzpah" written by Norman Finkelstein whose mother and father were held in German concentration camps, the incarceration of revisionists Ernst Zundel and Germar Rudolf in Germany and David Irving in Austria: these are all desperate attempts to end what they call Holocaust Denial.
The English historian David Irving was refused entry to Australia in 2003 at the behest of the Jewish community (representing only 0.4% of the Australian population) thus denying the right of the other 99.6% to hear what David Irving has to say. Proof of Jewish power was the blocking of the public viewing of David Irving's film. The Jewish owners of the building locked the film presentation out which resulted in the headline in the "Australian" newspaper of: " Outrage at Jewish bid to stop the film by David Irving called "The Search For Truth in History" .
Sir Zelman Cowan who was Governor General of Australia and a man much reverred in the Jewish community, has stated in the Jewish Chronicle (London) that "The way to deal with people who claim the holocaust never happened, is to produce irrefutable evidence that it did happen". I agree 100% with Sir Zelman Cowan. I am quite certain that he and other Zionist Jewish (Ashkenazim) world leaders are aware that a United Nations or International forensic examination of the alleged gas chamber at No. 2 Crematorium at Auschwitz-Birkenau in Poland, would irrefutably prove the truth to the world that xyclon B cyanide has never been used as alleged by world Jewry to kill Jews.
In 1979 Professor W.D. Rubenstein stated: "If the Holocaust can be shown to be a Zionist myth, the strongest of all weapons in Israels's propaganda armory collapses. The Falsification of history by Zionist Jews in claiming the murder of six million Jews by Germany.
Jewish Chess-Genius Bobby Fischer: "The Holocaust . . . . a money-making invention of the Jews - a global Jewish plot" -   The Telegraph - 31 January 1999
[*But it is much more than money… it's the destruction of the spirit and soul of the German people suffering under a Jew-USA-war occupation government who lick the boots of their oppressors saying: "I am guilty, guilty, oh so guilty" since they have been indoctrinated with this lie since Kindergarten by the Jews in Germany. The United States government is the enemy of the German people, there are no ifs and buts about it! This is what I have come to conclude with my research. The U.S. is a brutal occupier who pretends to be the friend of the German people. Pfui! Disgusting!]
The truth is the Jewish Holocaust is the GREATEST HOAX ever perpetuated in history.
http://www.jrbooksonline.com/mcclelland/frauds_exposed.html
###
The Jews continue their false Nazi hunt to stay in the limelight and bombard us with pictures of heaps of bodies. Yes, but, who are the dead? 18 Million German dead bodies (ca. 6 Million Soldiers and 12 Million Civilians) were available in most of the countries, GULags and death camps for Germans in Europe to take pictures of heaps of dead!!! Toward the end, Typhus became also frequent in all camps and German POW camps with the result of reducing people to skin and bones.
What is a Holocaust? It is not a work camp for Jews (concentration camps where actually work camps) and it is not a prison for prisoners of war. A Holocaust is the purposeful murder of people for their race or for being from a certain country. Expulsion, even though it is awful, is not a Holocaust. Work camps as punishment for High Treason - the Jews of all the world declared war upon Gemany in March of 1933 - are not a Holocaust.
THE JEWS SAID THEMSELVES THAT THEY ARE OUT TO DESTROY THE REPUTATION OF THE GERMAN PEOPLE (already for more than 150 years) IN THE WHOLE WORLD AND WILL NOT STOP UNTIL THE WHOLE WORLD HATES US GERMANS AND WE ARE SO DISMAYED THAT WE NO LONGER KNOW WHO WE ARE!!!!!!!!!!!!! The realization of this crime by the Jews and the Allies, is awakening in us conscious Germans (the others have been brainwashed in school since early childhood with the lies and believe them) a healthy hate against this outrages crime upon humanity, German humanity. THE JEWS ARE CRIMINAL LIARS. THEY ARE TOLD BY THEIR "HOLY BOOK," THE TALMUD THAT THEY CAN LIE TO NON-JEWS IF IT BENEFITS THE JEWS!!! BUT THE TRUTH IS, THE GERMANS OF THOSE DAYS ARE SOME OF THE MOST HONORABLE PEOPLE ON THIS EARTH; AND THAT'S A FACT! TALMUD LATELY?

Victor Cavendish Bentinck, head of the British Psychological Warfare, admitted in a secret memorandum that there were no gas chambers and that they were used only for propaganda purposes. – gassing impossible – 131,000 Jews in Germany in 1939!!! (Dr. Franz Scheidl)
"Freedom of Speech is the one gift you must give to your worst enemies – in order to keep it for yourself…"
Defense Attorney Doug Christie's last words just hours before he passed on.
"Completeley different is today the Jewish Question of Europe [*compared to the plan to send them to Madagascar before the war started]. The Fuehrer once said in a speech at the Reichstag [like a congress]: "If the Jews should instigate a war [*and they did] against the Aryan nations to ruin them, it will not be the Aryan peoples that will be destroyed but the Jews. The Jew has been removed from Germany; today he lives in the East and works on streets, trains, and so on. [*for the German government] This development is hard but was administered without cruelty. We do not torture anyone, but we know that we are fighting for our own existence and the preservation of our Nordic blood." [The Jews declared war on Germany in March of 1933 Jewish declaration of war on Germany 1933)  —
* * *
Chubby Auschwitz children - look at those cheeks - with the adults behind them!
Those bodies of bones and skin were Typhus victims and they could have been in any concentration camp in the East where they starved the ethnic Germans to death, starting in 1944.
Jew wanted to be in Dachau rather than in a Soviet Labor camp as life was much better there: In Menahem Begin's autobiography White Nights, he devotes a paragraph (p. 204) to a Jewish doctor whom he meets in Pechor-Lag, a Soviet labor camp. The doctor had also been at Dachau and for Begin's edification compares Nazi and Soviet concentration camps. At Dachau, he recounts: "We worked at road-making. The work was hard, but we worked eight hours a day. Yes, sometimes the Nazi overseer used to slap my face and say "Jewish swine." That was terrible. But don't the Urki (common criminals) say "lousy Jew" to me here almost every day? Don't they kick me? Do you think there is much difference if the jailer hits and abuses me, or if the criminal prisoners do it? There I had a clean bed. I had soap to wash with, a toothbrush, clean underwear, warm clothes for the winter. All the time I was confined I had contact with my family. I was sent letters and parcels. I was not hungry. I do not have to tell you how much I hate the accursed Nazis. But when I lie here in the muck and the stink, when I scratch my body, when I long for an extra piece of bread, a terrible thought sometimes comes into my head. I admit it is a terrible thought, but I will not conceal it from you. At times I think that if I had to choose between Pechor-Lag and the Dachau concentration camp, I would choose Dachau." Source: Instauration, January 1979, Editor Wilmot Robertson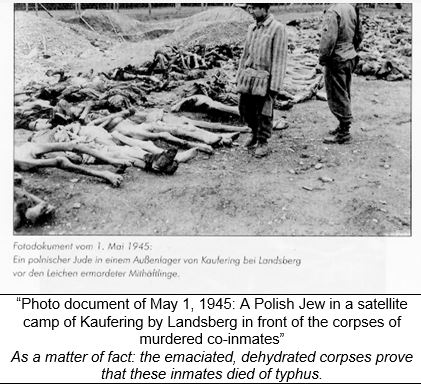 What mankind is up against:
 "Jews can lie to goyim (non-Jews) if it benefits the Jews" - Talmud, Holy Book of the Jews. Under lies fall, of course, deceiving, cheating, usury, false accusations, false testimony in court, and much more.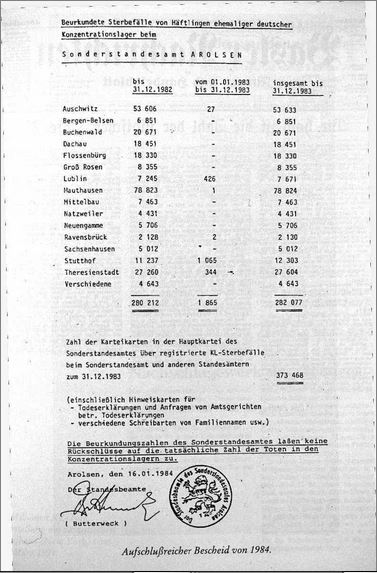 Above the official numbers as of 1984, which have been adjusted down again to about 60,000 Jews who died OF ALL CAUSES, none by murder. It has been scientifically proven that gassing was impossible. The Jews, however, with their media power are in a position to keep on telling the same old and outrages lies. There are very specific purposes for this, as outlined in some of my articles.
 * * *
Some of the proof on this page is outdated, as the numbers of Jews who died of all causes are very low compared to the about 60 Million people who died of the war or were murdered or killed. Many were murdered in Russia, others were partisans in many Allied countries and were killed in action. The Russian and Polish citizens surely also took revenge on the Jews who had overtaken their country and killed between 66 Million and 120 Million of their Relatives and friends. But criminally and conveniently, the Russian government, even the one of today, as well as all Allied governments, hide the Jewish deaths caused in their countries and shove the death numbers into the shoes of the German scapegoat as "murders by the Nazis," just like Katyin. Under threat of prison and a high fine, Putin forbids the Russians to bring up or learn about the truth about Jewish deaths and the Nazis under Hitler or Stalin and other Soviet leaders. You can see what kind of a criminal or coward Putin is.
MANY MORE BOOKS AND ARTICLES TOWARD THE END OF THIS PAGE
Most people have misconceptions about what Holocaust revisionists or "Holocaust deniers" claim and what they do not claim. This is caused by disinformation spread by the mass media. The list below is meant to give a brief overview as to what most revisionists say and what they do not say.
[*THEORETICALLY, ALL THE GERMAN JEWS COMMITTED TREASON AGAINST GERMANY WHEN ALL DECLARED WAR ON GERMANY IN 1933 IN THE NEWSPAPERS. So they were not innocent. Any German who committed treason received the death penalty. However, it was the newspapers that printed the declaration and there were no individuals Hitler could have prosecuted. As an example, if this would have been Russian Greeks declaring war on the Jewish Soviet Union because they were dissatisfied with something, all the Greeks in Russia would have been executed by the Jewish Soviets.
Yet Hitler just put the Jews into work camps instead of executing them, and that even much later and after he paid all expenses to immigrate them to Israel. But many did not want to go to Israel. Of course, Hitler was very aware of his public standing in the world and the power of the Jewish media and knew it would not be good PR to execute them, nor would he ever dream of such a thing, no matter how hard he wished they did not exist due to all the pain they have brought upon Germany for centuries. It probably was over 100,000 German Jews he would have had to kill in Germany. The kind of person he was, he had no taste for mass murder. In addition, the most powerful Jews had already left Germany in the early 30s, and the ones who were left were free to leave Germany also. So why didn't they after they committed treason with declaring war on Germany??? It is a fact, that Hitler wanted the Jews out of Germany eventually because of their usury, corruption, immorality, and undermining the state, but he did not take them into camps to kill them. Instead, he put them to work in the camps. He wanted them out of Germany because the Jews have terribly abused and exploited the Germans and debased the German culture and had a goal of overthrowing Germany with Communism. Though there were innocent Jews in the camps, there were also many guilty ones. Considering how the Jews abused the Germans with the Versailles Treaty and their Jewish Weimar Republic after WWI, Adolf Hitler had all the rights and good reasons to put them into camps outside of Germany to protect the German people. ~germanvictims]
Claims About Holocaust Revisionists
Fact
They deny that Jews were persecuted
WRONG. They do NOT deny this
They deny that Jews were deprived of civil rights
WRONG. They do NOT deny this
They deny that Jews were deported
WRONG. They do NOT deny this
They deny the Jews were herded into ghettos
WRONG. They do NOT deny this
They deny the existence of concentration camps
WRONG. They do NOT deny this
They deny that Jews were put to forced labor
WRONG. They do NOT deny this
They deny the existence of crematoria in concentration camps
WRONG. They do NOT deny this
They deny that Jews died for a great number of reasons: epidemics, malnutrition, diseases, mistreatment
WRONG. They do NOT deny this
They deny that other minorities were also persecuted as well, such as gypsies and political dissenters
WRONG. They do NOT deny this
They deny that the treatment of the Jews was unjust
WRONG. They do NOT deny this
They deny the victims their dignity
WRONG. They do NOT deny this
They deny the victims to be remembered
WRONG. They do NOT deny this
They deny to show compassion for the victims
WRONG. They do NOT deny this
They deny that there was a plan to murder all Jews
This is what they claim
They deny that Jews were murdered systematically
This is what they claim
They deny the existence of gas chambers for mass murder
This is what they claim
They deny that six million Jews died in the Holocaust
This is what they claim
Learn more about it here
SOURCE: http://holocausthoaxmuseum.com/faq/
 *****
May 21, 2014 - from Geoff T. via mail: 1. Historian, Sir Martin Gilbert in 'Auschwitz and the Allies' states on p. 26 that hundreds of thousands of Jews were gassed on a daily basis from March to June 1942.  This equates to a total of 24 million, whereas the world-wide Jewish population at that time, according to Jewish sources, was 15 million. 2. Victor Cavendish Bentinck, head of the British Psychological Warfare Executive, admitted in a secret memorandum that there were no gas chambers and that they were used only for propaganda purposes. See http://www.fpp.co.uk/Auschwitz/docs/Cavendish.html 3. In 1992, the official death toll at Auschwitz was reduced from 4 million to 1 million after Germar Rudolf, a researcher at the Max Planck Institute, published a report disclosing that the gas chamber shown to tourists is a post WW11 fake. See  http://archive.org/stream/DissectingTheHolocaust/RudolfGermar-DissectingTheHolocaust2003617P._djv… More recently the death  books at the Russian Central Archives (Moscow Nr. 18763, microfilm 557-25, rolls 281-286, from May 1940 to December 1944) have revealed a death toll of 103,424 who, with the exception of 1,646, died of natural causes. 4. In the WW11 memoirs of Winston Churchill, Charles de Gaulle, Harry Truman and Dwight Eisenhower containing 8,263 pages of text plus appendices end notes etc, they do not make any reference to a holocaust or mass murder.
*****
 "In fact more women died on the back seat of Senator Edward Kennedy's car in Chappaquiddick than ever died in the gas chamber they show the tourists at Auschwitz." 
British Historian David Irving

In 1992, the official death toll at Auschwitz was reduced from 4 million to 1 million after Germar Rudolf, a researcher at the Max Planck Institute, published a report disclosing that the gas chamber shown to tourists is a post WW11 fake.  See  http://archive.org/stream/DissectingTheHolocaust/RudolfGermar-DissectingTheHolocaust2003617P._djv …More recently the death  books at the Russian Central Archives (Moscow Nr. 18763, microfilm 557-25, rolls 281-286, from May 1940 to December 1944) have revealed a death toll of 103,424 who, with the exception of 1,646, died of natural causes. In the WW11 memoirs of Winston Churchill, Charles de Gaulle, Harry Truman and Dwight Eisenhower containing 8,263 pages of text plus appendices end notes etc, they do not make any reference to a holocaust or mass murder.
germanvictims - GERMANY HAD ABOOUT 550,000 JEWS IN 1933. AFTER THE JEWS DECLARED WAR ON GERMANY IN MARCH OF 1933 AND CALLED THE WORLD UP TO STOP BUYING FROM GERMANY, AN EXPORT-DEPENDENT COUNTRY, AND HITLER ANNOUNCED A COMMERCIAL BOYCOTT OF THE JEWS IN GERMANY AS A COUNTER MEASURE, ABOUT 400,000 JEWS EMIGRATED OUT OF GERMANY. SO THERE WERE ABOUT 150,000 LEFT IN GERMANY IN 1933, OF WHICH PROBABLY MANY MORE MIGRATED OUT. BY THE TIME HITLER PUT THE  JEWS LEFT IN GERMANY INTO CONCENTRATION CAMPS AS ENEMIES OF THE STATE (THE DECLARATION OF WAR ON GERMANY WAS TREASON AND THAT WOULD HAVE ACTUALLY DESERVED THE DEATH PENALITY IN THOSE DAYS), IT WAS AS RELATIVE SMALL NUMBER OF JEWS. ALL THE CAMPS WERE WORK CAMPS. THERE WERE CAMPS THAT WERE PRISONS, AND THOSE WERE FOR CRIMINALS. OF COURSE SOME JEWS WERE CRIMINALS. WHAT HAPPENED TO THE JEWS IN THE REST OF EUROPE, IS NOT THE RESPSONSIBILITY OF GERMANY. THE JEWS HAD MADE THEMSELVES ENEMIES IN MANY COUNTRIES BY BRUTALIZING PEOPLE, ESPECIALLY IN RUSSIA WHERE THEY HAD MURDERED TENS OF MILLIONS, STARTING IN 1917 WHEN THEY USURPED RUSSIA. SOME OF THE JEWS, WERE THEREFORE KILLED IN REVENGE BY CITIZENS OF VARIOUS COUNTRIES.
THIS IS OFFICIAL!
BETWEEN 70,000 TO 300,000 JEWS DIED IN ALL OF EUROPE OF VARIOUS CAUSES DUE TO THE WAR. NONE OF THEM DIED OF GASSING BY THE GERMANS! THIS HAS ALREADY BEEN SCIENTIFICALLY PROVEN OVER AND OVER AGAIN  BY VARIOUS INVESTIGATORS. 
Furthermore, it has been proven over and over again that it was NOT POSSIBLE to gas people at DACHAU, nor at any of the other concentration camps, for technical reasons; for example, one needed airtightness on the doors and windows (those current doors are "great German Engineering, aren't they"!!!), and glass panels in the doors are rediculous - desparate people for air and wanting to escape would have crashed them. In additon, it was impossible to cremate (these were cremation ovens not gasing ovens!) more than a small amount of people a day. First the liars called them gasing ovens, and when this no longer stood up, then they said the people were gased in a large room. Cyclone-B is highly explosive and could not have been handled the way the "victims" and their lying spokespersons said, and Cyclone-B discolors the walls blue and stays in the walls "for ever." And there are no residues in the walls of Cyclon-B in that "gassing" room!!! In any case, the Germans are not responsible for any Jews who died in other countries. It's the power Jews who are MAINLY responsible for the whole damned war which caused the death of 60 Million people, including some Jews. What if we would charge the Jews with that?!
Gassing people to death would be a barbaric act far below the honorable German character. We Germans come from the land of poets and thinkers. Hitler was in possession of gas for war application, but he said to his leaders that he would never use it against enemy soldiers - probably because he himself was injured in a gas attack in WWI and suffered greatly. The whole holocaust farce is continuing because the Jews have the power to do so as they monopolize the media and the masses have no clue of the truth of history. On the other hand, the Jews have this power because the ignorant masses give them the power by believing them.
DO NOT GIVE THEM THAT POWER ANY LONGER!
WITH THAT POWER, THE MASSES ARE TRAINED TO BE MIND CONTROLLED AND TURNED INTO TOYS OF THE JEWS WHO GET AWAY WITH ANYTHING THEY WANT TO DO, INCLUDING MURDEROUS FALSE FLAG ATTACKS ON THE UNITED STATES. (Attack on U.S. Liberty) WE ARE ONLY A FEW STEPS AWAY FROM HAVING OUR FREEDOM TAKEN AWAY COMPLETELY. THE READER MIGHT NOT KNOW THIS, BUT THE JEWS HAVE BEEN WORKING ON IT FOR YEARS TO TAKE OUR FREEDOM OF SPEECH AWAY - THEY DO THIS VIA THE HOLOCAUST AGENDA AND THE GAY AGENDA AND COME UP WITH ONE AMENDMENT AFTER ANOTHER TO WEAR DOWN OUR CONSTITUTION AND TO SILENCE US.  PEOPLE LIKE REV. TED PIKE  http://www.truthtellers.org/ HAVE BEEN DEDICATING THEIR LIVES TO FIGHT THIS DESTRUCTION OF OUR FREEDOM OF SPEECH. BUT THE JEWS ARE CHIPPING AWAY ON IT LITTLE BY LITTLE. DO YOU KNOW THAT BY LAW GAYS HAVE NOW MORE RIGHTS IN THE WORKPLACE THAN A HETEROSEXUAL PERSON? DO YOU KNOW THAT THE JEWS HAVE INSTALLED A LAW IN THE UNITED STATES WHERE THEY CAN EXECUTE CHRISTIANS?  WHEN THE TIME COMES OF CHAOS AND THEN THEIR FULL TAKEOVER, THEY WILL, UNLESS THEY ARE STOPPED NOW!!! GO AHEAD, KEEP RUNNING AFTER THE JEWS WHO HAVE BROUGHT PERVERSION AND INSANITY INTO YOUR SOCIETY AND HAVE NOW TAKEN AWAY MOST OF YOUR SAFETY AND SECURITY! YOUR GRAND CHILDREN AND CHILDREN WILL BE SLAVES OF THE JEWS AND MANY OF US ADULTS AS WELL - JUST LIKE THE RUSSIANS BECAME SLAVES TO THE JEWS AFTER THE JEWS TOOK OVER THE RUSSIAN GOVERNMENT IN 1917. http://www.youtube.com/watch?v=v0tGrozx_XI&feature=related  YOU MUST UNDERSTAND THAT OBAMA IS A COMMUNIST!!! SO IS MRS. MERKEL, THE PLUMP LITTLE HARMLESS-LOOKING POLISH LADY WHO HATES GERMANS AND WORKS FOR THE "BUNDESREPUBLIK" AND AMERICAN CORPORATION.
*
Committee for Open Debate on the Holocaust www.codoh.com
 May 21, 2014 To: Chancellor John G. Roberts Jr. Smithsonian Institute PO Box 37012 SI Building, Room 153, MRC 010 Washington, D.C. 20013-7012 E-mail: [email protected]To Smithsonian Channel: [email protected].   Regarding Program: Treblinka: Hitler's Killing Machine  Dear Chancellor Roberts: I have long enjoyed Smithsonian magazine and admired the Smithsonian Institute. Therefore I feel constrained to comment on the Smithsonian program "Treblinka: Hitler's Killing Machine."One of the promotional clips was entitled, "Excavating a Secret Gas Chamber: The watershed discovery of Star of David tiles confirms the existence of Treblinka's gas chambers and becomes the key to reconstructing the death camp's sinister workings." In fact, the film confused or conflated the Star of David with the trademark of the 125-year old Dziewulski Lange porcelain factory in Poland. The mark is actually a heraldic symbol known as a pierced mullet star. A second promotional clip was entitled, "The Bones the Nazis Hid: A forensic archaeologist who investigates modern-day murders uncovers a mass grave that's remained a secret since the Holocaust." It turns out that the "expert" forensic archaeologist was excavating at the edge of a known and well-marked Christian cemetery. It seems that a day's digging in three trenches produced 40 bone fragments. Your expert was unclear on whose bones these were, how long they had been buried, how many bodies were found (anywhere from 2 to 40 is possible), what killed them (odd to overlook for a forensic specialist), and whether any of the bones had been exposed to cremation, (something very relevant to investigations of Treblinka). Without further ado, the bones were put back into a hole and we are informed that this "proves" that Treblinka was "much more than just a labor camp." The program would have been a farce if it were not for the profound seriousness of events at Treblinka. At best, this recent "forensic investigation" revisited the Soviet efforts of August 1944 and the investigation of Judge Zdzisław Łukaszkiewicz in November 1945 and August 1946. This program does no credit to the Smithsonian Institute. I hope the Smithsonian will act to either correct the errors in "Hitler's Killing Machine" or disassociate itself from this Show. It has a moral obligation to do so. Sincerely yours, David Merlin Committee for Open Debate on the Holocaust P.O. Box 439016 San Ysidro, California 92143 Email: [email protected] Blog: www.codohfounder.com Inconvenient History Codohforum The Holocaust story serves as the Zionist Miracle Weapon that morally justifies the dispossession of the Palestinian people of their homes and land, is an endless source for billions of dollars in reparations for Jews, and is a weapon that in the United States is used to prohibit adult behavior by American congressmen, American academics, and American journalists (they all agree: you cannot "discuss" the Holocaust). I founded Committee for Open Debate on the Holocaust to try to defuse this Miracle Weapon. If you find my work useful, please take a moment to Contribute
THE INTERNATIONAL CRIMINAL GANG IS LYING ABOUT US GERMANS. THEY ARE TRYING TO DESTROY US - OPPRESS US - KEEP US SILENT WITH HATE LAW PARAGRAPH 130, AND OTHERS, IN GERMANY. THEIR DESIRE IS THE ANNIHILATION OF THE WHOLE GERMAN RACE. I DO NOT MEAN NECESSARILY PHYSICALLY… BUT SLOWLY DYING OUT FROM STRESS, FOLLOWING ILLNESS AND IGNORANCE OF THEIR GREAT HERITAGE.
It has long been established that between 70,000 to 200,000 Jews died of various causes in all of Europe during the war. Many Jews were taking part in partisan fighting against the Germans and died or were executed for torturing ethnic Germans and German soldiers to death. Others were murdered by the communities of their countries who felt that the Jews caused the war or as a revenge what Jews had done to them. Others died of illness and injuries, hunger during the last couple of months in the concentration camps, and typhoid rampant in the concentrations camps at the end as most major cities in Germany were bombed and infrastructure was down, and as the Russian soldiers and other enemy soldiers were brought in by the Millions bringing in disease. All of those conditions DO NOT QUALIFY FOR HOLOCAUST. A HOLOCAUST IS A SYSTEMATIC MURDERING OF PEOPLE.
Robert Faurisson:
Elie Wiesel - A Prominent False Witness
ELIE WIESEL won the Nobel Peace Prize in 1986. He is generally accepted as a witness to the Jewish "Holocaust," and, more specifically, as a witness to the legendary Nazi extermination gas chambers. The Paris daily Le Monde emphasized at the time that Wiesel was awarded the Nobel Prize because: (note 1)
These last years have seen, in the name of so-called "historical revisionism," the elaboration of theses, especially in France, questioning the existence of the Nazi gas chambers and, perhaps beyond that, of the genocide of the Jews itself. But in what respect is Elie Wiesel a witness to the alleged gas chambers? By what right does he ask us to believe in that means of extermination? In an autobiographical book that supposedly describes his experiences at Auschwitz and Buchenwald, he nowhere mentions the gas chambers. (note 2) He does indeed say that the Germans executed Jews, but … by fire; by throwing them alive into flaming ditches, before the very eyes of the deportees! No less than that!
Here Wiesel the false witness had some bad luck. Forced to choose from among several Allied war propaganda lies, he chose to defend the fire lie instead of the boiling water, gassing, or electrocution lies. In 1956, when he published his testimony in Yiddish, the fire lie was still alive in certain circles. This lie is the origin of the term Holocaust. Today there is no longer a single historian who believes that Jews were burned alive. The myths of the boiling water and of electrocution have also disappeared. Only the gas remains. The gassing lie was spread by the Americans. (note 3) The lie that Jews were killed by boiling water or steam (specifically at Treblinka) was spread by the Poles. (note 4) The electrocution lie was spread by the Soviets.n (note 5) The fire lie is of undetermined origin. It is in a sense as old as war propaganda or hate propaganda. In his memoir, Night, which is a version of his earlier Yiddish testimony, Wiesel reports that at Auschwitz there was one flaming ditch for the adults and another one for babies. He writes: (note 6)
Not far from us, flames were leaping from a ditch, gigantic flames. They were burning something. A lorry drew up at the pit and delivered its load — little children. Babies! Yes, I saw it — saw it with my own eyes … Those children in the flames. (Is it surprising that I could not sleep after that? Sleep has fled from my eyes.)
A little farther on there was another ditch with gigantic flames where the victims suffered "slow agony in the flames." Wiesel's column was led by the Germans to within "three steps" of the ditch, then to "two steps." "Two steps from the pit we were ordered to turn to the left and made to go into a barracks."
An exceptional witness himself, Wiesel assures us of his having met other exceptional witnesses. Regarding Babi Yar, a place in Ukraine where the Germans executed Soviet citizens, among them Jews, Wiesel wrote: (note 7)
Later, I learn from a witness that, for month after month, the ground never stopped trembling; and that, from time to time, geysers of blood spurted from it. These words did not slip from their author in a moment of frenzy: first, he wrote them, then some unspecified number of times (but at least once) he had to reread them in the proofs; finally, his words were translated into various languages, as is everything this author writes.
That Wiesel personally survived, was, of course, the result of a miracle. He says that: (note 8)
In Buchenwald they sent 10,000 persons to their deaths each day. I was always in the last hundred near the gate. They stopped. Why? In 1954 French scholar Germaine Tillion analyzed the "gratuitous lie" with regard to the German concentration camps. She wrote: (note 9)
Those persons [who gratuitously lie] are, to tell the truth, much more numerous than people generally suppose, and a subject like that of the concentration camp world — well designed, alas, to stimulate sado-masochistic imaginings — offered them an exceptional field of action. We have known numerous mentally damaged persons, half swindlers and half fools, who exploited an imaginary deportation; we have known others of them — authentic deportees — whose sick minds strove to go even beyond the monstrosities that they had seen or that people said had happened to them. There have been publishers to print some of their imaginings, and more or less official compilations to use them, but publishers and compilers are absolutely inexcusable, since the most elementary inquiry would have been enough to reveal the imposture.
Tillion lacked the courage to give examples and names. But that is usually the case. People agree that there are false gas chambers that tourists and pilgrims are encouraged to visit, but they do not tell us where. They agree that there are false "eyewitnesses," but in general they name only Martin Gray, the well-known swindler, at whose request Max Gallo, with full knowledge of what he was doing, fabricated the bestseller For Those I Loved.
Jean-François Steiner is sometimes named as well. His bestselling novel Treblinka (1966) was presented as a work of which the accuracy of every detail was guaranteed by oral or written testimony. In reality it was a fabrication attributable, at least in part, to the novelist Gilles Perrault. (note 10) Marek Halter, for his part, published his La Mémoire d'Abraham in 1983; as he often does on radio, he talked there about his experiences in the Warsaw ghetto. However, if we are to believe an article by Nicolas Beau that is quite favorable to Halter, (note 11) little Marek, about three years old, and his mother left Warsaw not in 1941 but in October of 1939, before the establishment of the ghetto there by the Germans. Halter's book is supposed to have been actually written by a ghost writer, Jean-Noël Gurgan. Filip Müller is the author of Eyewitness Auschwitz: Three Years in the Gas Chambers, (note 12) which won the 1980 prize of the International League against Racism and Anti-Semitism (LICRA). This nauseous best-seller is actually the work of a German ghost writer, Helmut Freitag, who did not hesitate to engage in plagiarism. (note 13) The source of the plagiarism is Auschwitz: A Doctor's Eyewitness Account, another best-seller made up out of whole cloth and attributed to Miklos Nyiszli. (note 14) Thus a whole series of works presented as authentic documents turns out to be merely compilations attributable to various ghost writers: Max Gallo, Gilles Perrault, Jean-Noël Gurgan (?), and Helmut Freitag, among others. We would like to know what Germaine Tillion thinks about Elie Wiesel today. With him the lie is certainly not gratuitous. Wiesel claims to be full of love for humanity. However, he does not refrain from an appeal to hatred. In his opinion: (note 15) Every Jew, somewhere in his being, should set apart a zone of hate — healthy, virile hate — for what the German personifies and for what persists in the German. To do otherwise would be a betrayal of the dead.
At the beginning of 1986, 83 deputies of the German Bundestag took the initiative of proposing Wiesel for the Nobel Peace Prize. This would be, they said, "a great encouragement to all who are active in the process of reconciliation." (note 16) That is what might be called "going from National Socialism to national masochism."
Jimmy Carter needed a historian to preside over the President's Commission on the Holocaust. As Dr. Arthur Butz said so well, he chose not a historian but a "histrion": Elie Wiesel. Even the newspaper Le Monde, in the article mentioned above, was obliged to refer to the histrionic trait that certain persons deplore in Wiesel:
Naturally, even among those who approve of the struggle of this American Jewish writer, who was discovered by the Catholic François Mauriac, some reproach him for having too much of a tendency to change the Jewish sadness into "morbidity" or to become the high priest of a "planned management of the Holocaust."
As Jewish writer Leon A. Jick has written: "The devastating barb, 'There is no business like SHOAH-business' is, sad to say, a recognizable truth." (note 17)
Elie Wiesel issues alarmed and inflammatory appeals against Revisionist authors. He senses that things are getting out of hand. It is going to become more and more difficult for him to maintain the mad belief that the Jews were exterminated or were subjected to a policy of extermination, especially in so-called gas chambers. Serge Klarsfeld has admitted that real proofs of the existence of the gas chambers have still not yet been published. He promises proofs. (note 18) On the scholarly plane, the gas chamber myth is finished. To tell the truth, that myth breathed its last breath several years ago at the Sorbonne colloquium in Paris (June 29-July 2, 1982), at which Raymond Aron and François Furet presided. What remains is to make this news known to the general public. However, for Elie Wiesel it is of the highest importance to conceal that news. Thus all the fuss in the media, which is going to increase: the more the journalists talk, the more the historians keep quiet. But there are historians who dare to raise their voices against the lies and the hatred. That is the case with Michel de Boüard, wartime member of the Resistance, deportee to Mauthausen, member of the Committee for the History of the Second World War from 1945 to 1981, and a member of the Institut de France. In a poignant interview in 1986, he courageously acknowledged that in 1954 he had vouched for the existence of a gas chamber at Mauthausen where, it finally turns out, there never was one. (note 19) The respect owed to the sufferings of all the victims of the Second World War, and, in particular, to the sufferings of the deportees, demands on the part of historians a return to the proven and time-honored methods of historical criticism. Notes 1.    October 17, 1986. Front page. 2.    There is one single allusion, extremely vague and fleeting, on pages 78-79: Wiesel, who very much likes to have conversations with God, says to Him: "But these men here, whom You have betrayed, whom You have allowed to be tortured, butchered, gassed, burned, what do they do? They pray before you!" (Night, New York, Discus/Avon Books, 1969, p. 79). In his preface to that same book, François Mauriac mentioned "the gas chamber and the crematory" (p. 8). The four crucial pages of "testimony" by Elie Wiesel are reproduced in facsimile in: Pierre Guillaume, Droit et Histoire (La Vieille Taupe, 1986), pp. 147-150. In the German-language edition of Night (Die Nacht zu begraben, Elischa [Ullstein, 1962]), on 14 occasions the word "crematory" or "crematories" has been falsely given as "Gaskammer" ("gas chamber[s]"). In January of 1945, in anticipation of a Russian takeover, the Germans were evacuating Auschwitz. Elie Wiesel, a young teenager at the time, was hospitalized in Birkenau (the "extermination camp") after surgery on an infected foot. His doctor had recommended two weeks of rest and good food but, before his foot healed, the Russian takeover became imminent. Hospital patients were considered unfit for the long trip to the camps in Germany and Elie thus could have remained at Birkenau to await the Russians. Although his father had permission to stay with him as a hospital patient or orderly, father and son talked it over and decided to move out with the Germans. (See Night, p. 93. See also D. Calder, The Sunday Sun [Toronto, Canada], May 31, 1987, p. C4.) 3.    See the US War Refugee Board Report, German Extermination Camps: Auschwitz and Birkenau (Washington, DC), November 1944. 4.    See Nuremberg document PS-3311 (USA-293). Published in the IMT "blue series," Vol. 32, pp. 153-158. 5.    See the report in Pravda, Feb. 2, 1945, p. 4, and the UP report in the Washington (DC) Daily News, Feb. 2, 1945, p. 2. 6.    Night (Avon/Discus). See esp. pp. 41, 42, 43, 44, 79, 93. 7.    Paroles d'étranger (Editions du Seuil, 1982), p. 86. 8.    "Author, Teacher, Witness," Time magazine, March 18, 1985, p. 79. 9.    "Le Système concentrationnaire allemand [1940-1944]," Revue d'histoire de la Deuxième Guerre mondiale, July 1954, p. 18, n. 2. 10.    Le Journal du Dimanche, March 30, 1985, p. 5. 11.    Libération, Jan. 24, 1986, p. 19. 12.    Published by Stein and Day (New York). Paperback edition of 1984. (xii + 180 pages.) With a foreword by Yehuda Bauer of the Institute of Contemporary Jewry, Hebrew University, Jerusalem. 13.    Carlo Mattogno, Auschwitz: un caso di plagio, Parma (Italy): 1986. See also: C. Mattogno, "Auschwitz: A Case of Plagiarism," The Journal of Historical Review, Spring 1990, pp. 5-24. 14.    Paperback edition, 1961, and later, published by Fawcett Crest (New York). 15.    Legends of Our Time (chapter 12: "Appointment with Hate"), New York: Schocken Books, 1982, p. 142, or, New York: Avon, 1968, pp. 177-178. 16.    The Week in Germany (published in New York by the German government in Bonn), Jan. 31, 1986, p. 2. 17.    "The Holocaust: Its Use and Abuse Within the American Public," Yad Vashem Studies (Jerusalem), 1981, p. 316. 18.    VSD, May 29, 1986, p. 37. 19.    Ouest-France, August 2-3, 1986, p. 6. Summary Elie Wiesel passes for one of the most celebrated eyewitnesses to the alleged Holocaust. Yet in his supposedly autobiographical book Night, he makes no mention of gas chambers. He claims instead to have witnessed Jews being burned alive, a story now dismissed by all historians. Wiesel gives credence to the most absurd stories of other "eyewitnesses." He spreads fantastic tales of 10,000 persons sent to their deaths each day in Buchenwald. When Elie Wiesel and his father, as Auschwitz prisoners, had the choice of either leaving with their retreating German "executioners," or remaining behind in the camp to await the Soviet "liberators," the two decided to leave with their German captors. It is time, in the name of truth and out of respect for the genuine sufferings of the victims of the Second World War, that historians return to the proven methods of historical criticism, and that the testimony of the Holocaust "eyewitnesses" be subjected to rigorous scrutiny rather than unquestioning acceptance.
Source: http://www.radioislam.net/islam/english/revision/wiesel.htm
Dr. William Pierce exposes the Jew's shenanigans extorting money out of "everyone."
  *
ENTERTAINING VIDEO ON THE
MAGICAL 6 MILLION NUMBER!
6 MILLION

 # PUSHED OVER AND OVER AGAIN - ALREADY IN 1915 - video
6 Million Jews - Sun of New York, June 6, 1915
6 Million Jews - New York Times, Oct 18, 1918
6 Million Jews - New York Times, Sept. 18th, 1918
6 Million Jews - New York Times, Nov 12th, 1919
6 Million Jews - Atlanta Constitution, Feb 23, 1920
6 Million Jews - New York Times, May 7,  1920
6 Million Jews - New York Times, July 20, 1921
6 Million Jews - Gazette, Montreal, Dec. 29, 1931
European Holocaust - New York Times, May 31, 1936
6 Million Jews starving dying because of Hitler - New York Times, Feb. 23, 1938 (Germany had only 1/2 Million Jews)
video shows all the Newspaper articles:

http://trutube.tv/video/1761/Six-MIllion-My-Ass
(only 1/2 + Million Jews in Germany in 1919)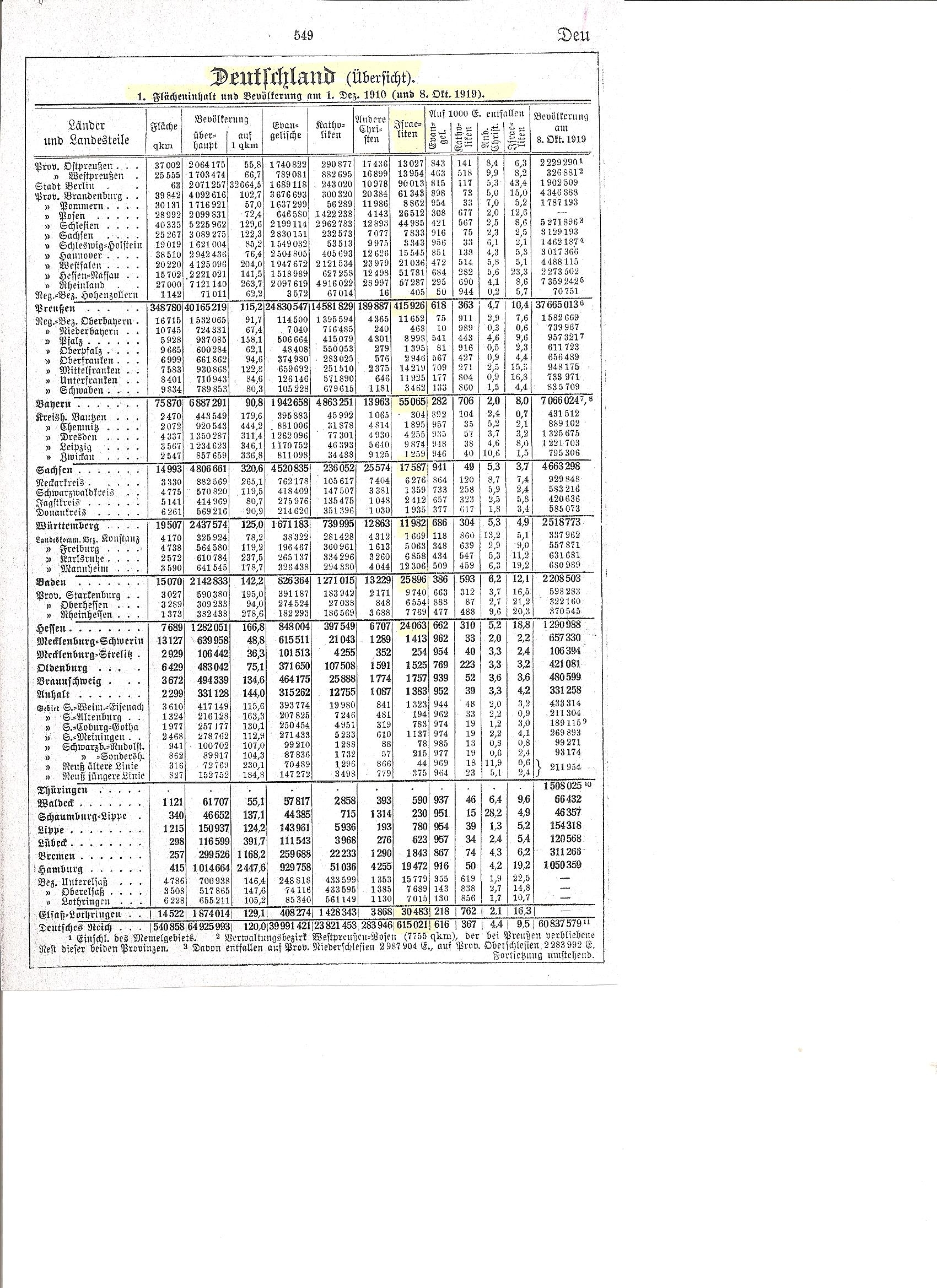 Amtliche Zahlen der festgestellten Auschwitz-Toten (Official Numbers of the Auschwitz Dead - Note how the numbers always change.)
Wikipedia has been taken over by the Jew!!! The Jews confirmed it.  Therefore the blatant following lie. No scientific proof by the Jews AT ALL! Only forbidding truth speakers to defend themselves in court with facts. Of course, according to the Jewish "holy" book, the TALMUD, "the Jews can lie about non-Jews "if it benefits them."
HOW THE NUMBERS OF DEAD JEWS HAS CHANGED OVER TIME:
DATUM

OFFIZIELLE, AMTLICHE QUELLEN

TOTE

31.12.1945

Französische Ermittlungsstelle für Nazi-Kriegsverbrechen

8.000.000

29.01.1946

IMT Nürnberg, der franz. Ankläger M. Dubost, Dok. F-140

7.000.000

19.08.1998

Der Groß-Rabbiner von Polen (Süddeutsche Zeitung)

6.000.000

20.04.1978

Le Monde (französische Tageszeitung)

5.000.000

23.01.1995

Die Welt

5.000.000

20.04.1989

Eugen Kogon, Der SS-Staat (Seite 176)

4.500.000

31.12.1952

Der Neue Herder (Lexikon) 7. Auflage (Seite 214)

4.500.000

01.10.1946

IMT-Dokument 008-USSR (Alliertes Militärgericht Nürnberg)

4.000.000

02.05.1997

USA-Today (größte Tageszeitung der USA)

4.000.000

24.11.1989

Oberstaatsanwalt Majorowsky (Anklageschrift 12 Js 1037/89)

4.000.000

26.07.1990

Judenführer Galinski: Allgem. Jüdische Wochenzeitung (Bonn)

4.000.000

08.10.1993

ZDF-Nachrichten

4.000.000

25.01.1995

Wetzlarer Neue Zeitung

4.000.000

01.12.2003

2004, nuevo espasa, diccionario enciclopédico. (Span. Enzyklpädie)

4.000.000

01.10.1946

IMT-Dokument 3868-PS (Alliiertes Militärgericht Nürnberg)

3.000.000

01.01.1995

Damals (amtliches Geschichtsmagazin, mtl., staatlich gefördert)

3.000.000

29.06.2002

Der Jude Marcel Reich-Ranicki, sog. Literaturkritiker, in Die Welt, Lit.

Welt

3.000.000

31.12.2001

Putzger, Historischer Weltatlas, 103. Auflage

3.000.000

18.07.1990

Eichmann: Rheinische Post

2.500.000

18.07.1990

The Peninsula Times (Tageszeitung, San Francisco, USA)

2.000.000

25.07.1990

Hamburger Abendblatt

2.000.000

27.01.1995

Die Welt (Kanzler Kohls "Millonen-Lüge", also mindestens 2 Mio)

2.000.000

02.05.1997

USA-Today (größte Tageszeitung der USA)

1.500.000

11.06.1992

Judenführer Galinski: Allgem. Jüdische Wochenzeitung (Bonn)

1.500.000

08.10.1993

ZDF (berichtigendes Schreiben zur Nachricht von "vier Millionen"

1.500.000

23.01.1995

Die Welt

1.500.000

09.11.1998

BILD

1.500.000

03.05.2000

Die Welt

1.500.000

01.09.1989

Le Monde (französische Tageszeitung)

1.433.000

02.02.1995

BUNTE Illustrierte

1.400.000

22.01.1995

Welt am Sonntag

1.200.000

31.01.2004

Die Welt

1.200.000

27.01.1995

Die Welt

1.100.000

27.01.1995

IfZ (Institut für Zeitgeschichte, München)

1.000.000

03.05.2000

Frankfurter Allgemeine Zeitung

1.000.000

06.02.1999

BILD

1.000.000

31.12.1989

Pressac, Auschwitz, Technique … (im Auftrag der Klarsfeldstiftung)

928.000

27.09.1993

Die Welt

800.000

22.01.1995

Welt am Sonntag

750.000

25.04.1994

Focus

700.000

23.01.1995

Die Welt

700.000

31.12.1994

Pressac, Die Krematorien … (Im Auftrag der Klarsfeldstiftung)

470.000

01.05.2002

Spiegelredakteur Fritjof Meyer: Osteuropa 5/2002

300.000

08.01.1948

Welt im Film (britische Wochenschau-Reportage Nr. 137)

300.000

06.01.1990

Frankfurter Rundschau

74.000

31.05.1994

Hoffmann, Stalins Vernichtungskrieg (Seite 302 f.)

74.000

17.08.1994

Intern. Suchdienst Arolsen (Sach Nr: 10824)

66.206
Jew - David Cole in Auschwitz Full Documentary
 http://www.youtube.com/watch?v=PWCOjOj4RAU
By Admin
The American media says repeatedly for nearly 70 years now that the Germans are evil people, and that they have gassed Millions of Jews. I say to each single American: "Proof it scientifically!" There has never been any scientific proof by the accusers; all it is is hearsay. But there are sinister reasons behind these accusations.
According to some witnesses, Hitchcock used Germans-set up to die in locked cattle trains-to put them into his movie for the Nuernberg Trial [fraudulent] conviction after they died, or basically were murdered.   The Germans have proven scientifically that the Cyclone-B gas supposedly used on the Jews cannot be found in those so called gas chambers. You cannot prove it because we already have proven it scientifically that no gas was used in the concentration camps for gassing Humans. The gas can exhibited where for delousing (POWs form eastern Europe were constantly flooding in). Adenauer, Kohl, many other former leaders, and Andrea Merkel are not fully representing the German people as they do not allow to discuss the Holocaust in public. They have put a gag order on the Germans with the Jewish hate paragraph 130, pleasing the Jews instead of representing the German people. Furthermore, Germany has been reigned by the Jews and Allies and is not a sovereign country, and anyone who dares to speak up against the holocaust or the false accusations of war crimes, or proves that the holocaust is a fraud will be defamed, will lose his career, will be financially ruined, and go to jail. Often the person or his home or business is physically attacked. Some revisionists have even been murdered.
Gefaelschte Bild Dokumente - Walendy - This is in German - all photos have been used as documentation proofs in books around the world - all photos are either photo montages or they are paintings and drawings photographed. Examined by experts. For details on photos go to FALSIFICATIONS
Words by a revisionist: "What an impact looking at this complete, over 100-page report makes! What is impressing me the most, out of a total overwhelming impression, is John Ball's presentation, starting on page 37, of the United States CIA Report written in 1979, titled "The Holocaust Revisited." Ball presents evidence that certain dark spots on the photos, intended to show that gas chamber operations were taking place, were not on the original exposures. CIA workers used magnifying and stereo-viewing equipment to study the photos, then added marks with pens to indicate holes in roofs, people in lines, and fences around buildings."
By Admin
Honest men and women have spoken out about the lies invented about the German people. The biggest lie is the accusation of the German people that they gassed the Jews. There are some very useful purposes for the criminal Jews and the criminal Allies to have created and then to perpetuate this lie. One of them is the cashing in of tenth of Billions of Dollars in reparation payments from the Germans. But that is not the worst of it.
For me personally, I have always experienced it as a great insult toward me, a German, and toward the good German people to be accused of such an atrocity. How dare they accuse us without having any scientific proof and no appropriate court case to prove that we Germans have done this! How dare they call us aggressive when Germany has led the least wars of all powers. How dare they say that we have an evil gene when in the Talmud they teach that the non Jews are worth less then dogs and only live to serve the Jew! How dare they accuse us of murder when the Talmud says they can murder non Jews! How outrages for German Christians to be accused of such devious things by people who live by such teaching!
And we have warriors of truth who have spoken up against the outrageous defamation of the good and honorable German people. There are many, but a few are here on this website.
The gassing of the Jews is a scam. I can say this with confidence because I believe in the scientific expertise that we have, foremost from Fred Leuchter and Germar Rudolf.
Why is the holocaust a scam? There might be many reasons for it, but I have myself come to a couple of conclusions after finishing about 1.5 years of research over the Reich, WWII and the aftermath of the war:
The bottom line of the whole scam is to hide the real reasons for WWI and WWII, namely to invade, rape and rob Germany and destroy her as a powerhouse,  as  a great culture, and therefore as competition.  And this scheme had the planting of its seeds after the German kingdoms united into one empire in 1871. The scheme to destroy Germany has to stay hidden and people need to be constantly distracted with lies of German crimes as to be so in awe of the 'terrible Germans' that they are so knocked out of their brains they cannot think of anything to the contrary. It's a tactic to distract, confuse, and blame others of what they, the Marxists, have done to us Germans and are doing to other countries through their endless wars to exploit countries. Where are the treasures of Irak?
Why did/do they want to destroy the good, very prosperous, skilled, diligent, hard working German people? Because Germany and England were the two major powers in Europe in 1900. England wanted to destroy Germany to get rid of the competition. Then after they destroyed her in the wars, in order to keep her totally down, they had to draw the last bit of blood out of Germany to make sure she would never rise again. So the Allied criminal gang blamed her for both wars (both unfounded and proven so), so that she would have to totally empty her pockets and pay reparations until doomsday come. That way she was totally impotent to rise again.
People are beating their heads over all the details in history books. It's all surface stuff. The details do not matter; it does not even matter who started the war in the big scheme of things, though it does matter to me, because the wars were a done deal. The wars were a plan long before they happened.
After Germany was brought to her knees by back stabber U.S.A., they never expected an  AVATAR , such as ADOLF HITLER, TO RISE and lead his people out of depression, mass suicide, and starvation. Adolf Hitler, a great, honorable man and probably the greatest leader in hundreds of years, perhaps in all of history, saw exactly what was going on and was working against that secret society, the Freemasons, the Bankers, the Communists, Bolsheviks, the Jews who were cheating, lying and committing treason against Germany and all of those that wanted to control the German people, suppress them, prostitute them, enslave them, and make them live to their standards as slaves for the Marxists, run by a criminal gang.
Germany rose again under Adolf Hitler. So now they had to defame him and his people so they would have a reason for war again in order to destroy him and his people again, and rob - Allied robber convoys - all the Germans had created.  And they did destroy us and they robbed everything from us, from churches, from homes, from factories, from museums, EVERYTHING. They even kidnapped our scientists, thousands of them and dragged them to foreign countries to be slave workers. And they took hundreds of thousands of Germans and put them into slave labor camps around the world!
Whilst the top Allied powers wanted to rule the world all alone, they accused Adolf Hitler to want to rule the world. (People were inspired by him all over Europe, not ruled!!!) While the Soviet Marxists murdered their own citizens by the tenth of thousands in their own country, and tortured people in the most horrific ways in many countries, tortured our civilians and soldiers to death in the most bestial ways, they had to accuse the Germans of such horrid deeds in order to turn everyone against them.
Whilst the Germans were rebuilding a society of honor, truth, Christianity, family life, and great culture, the evil schemers were writing false horror stories about the Germans and circulated them around the globe defaming us. These stories had a horrific impact on our ethnic Germans and the German soldiers in captivity, as they were tortured in the most horrific ways by the hundreds of thousand, ways one can almost not imagine. What comes to mind is the French Revolution. Here due to incitement of hate and false accusations, the general public was so incited and full of hate and revenge (against innocent poeple) that they boiled and fried the babies of the so-called enemies. The ones who instigated and managed the revolution where a group of greedy Jews, and they arranged for the public to kill their aristocracy and their neighbors in heinous ways. And in case of WWI and WWII, the torture the Germans suffered were acts of revenge against the invented deeds they heard about the Germans. I believe that the hate press and lies were driven primarily by the Jews against the Germans as the Jews had most of the media power in almost all countries. Their henchmen gladly wrote these lies out of ignorance, out of their own dark hearts, and because they gained financially from a war. All these people who did this and still do these things today, ongoingly, are humans without a heart who only know two things, power, and money. The Jews who make up these lies, should be writing about their fellow Jews, the Soviet Marxist/Bolsheviks who were/are the most cold-blooded murderers on this earth. In Russia alone they killed between 60 Million to 120 Million people. About 200,000,000 people have been destroyed in the 20th century due to wars driven by certain Jews, the Allies, and their henchmen!
And that's exactly what they did with Germany, the war mongers Churchill, Roosevelt, Stalin, et al. They sat out to destroy the empire Germany and take over what was left of Germany. So after the war, they went on a crime spree never before experienced in history. They murdered and raped Millions of Germans and killed, executed, and robbed everyone they wanted and took everything in sight they desired, including the content of people's homes, their houses and their land. And they took a lot of 'souvenirs' to the Allied countries, property that belonged to German people who have worked very hard for those items. They even took their watches, their silverware, their trinkets!!! For example, all the German soldiers were robbed of their wrist watches in the American prison camps. They even took their eating utensils. It turns my gut when I am learning about the details of what has been done to the German people, especially by the Americans, as I have made this my home country.
The most painful thing is the torturing, the raping and the starving of our people. All the material thefts are enraging but nothing compared to the most cruel physical torture and murder they have done to the German women, girls, children, men, and elderly.
And I have to listen endlessly to the lies about Germany (I no longer listen to mainstream news - but they briefly pop up on the internet-I do not give them much attention), and the false Jewish holocaust in this country. The Jewish accusation and greedy behavior and holocaust lies and endless new tales proliferated about the National Socialists and Adolf Hitler are just nauseating to me. Here on this website, you will find proof that the Jewish holocaust is a fraud and there are some real holocausts described here; holocausts to eradicate the German race.
Did you know that 6 Million German civilians were murdered after the war by starving them to death? That's right, 6 million GERMANS and not Jews. There were only 131,000 Jews in Germany in 1939. 
If you are of German decent, I highly recommend you throw off any anti German accusations and get your German pride back. You belong to the most prolific race in Europe - until they subjugated her -. The Germans brought forth some of the greatest men in all of history! You can find this pride here. It will take waking up to some very bitter facts; namely that we live in a very dangerous world were nothing matters but personal enrichment to our leaders. To really understand this in its depth is very painful.
Our plight as Germans is that we have been defamed to beat us. By making the Germans the bad people, everyone will say when the Germans complain: "They have nothing to complain about," and they will not hear us. The Germans have been silenced by the Jews in Germany with a paragraph 130. I have cried many tears over the injustices against the German people and the fact that the Allies and certain criminal Jews and their henchmen get away with such injustice just turns my gut.  We are the victims. They have harmed us and not us them! By making the Jews the victims, which they are not-to the contrary, some powerful Jews are the aggressors and murderers of the Germanic Race…(Dwight Eisenhower, Roosevelt)-everyone feels sorry for them and believes whatever these lying Jews conjure up in the media; and they are relentless. What they do is take history and pervert it to their advantage. They turn the table on everything new that is coming out of the archives supporting the Germans and inject it with their poison and lies and so perverting it. Matter of fact, they are probably in charge of the German archives, and we get our hands on only tiny bits and pieces. They probably have thousands of their own researchers who do what they need to do to oppress the truth.
From centuries of perverted accusations, the thinking of certain Jews has become so perverted that they can no longer help themselves but to lie. It's second nature for them. Even Martin Luther confirmed this.
The Defamation of the Germans has been going on for about 140 years now in order to make them disliked (everyone is envious of people who do really well) and get rid of them as competition as people will easily make war against those they dislike. Well, England is done for, but those who own England are alive and well and ever more prosperous! And so are the ones who OWN the United States. It is no longer its citizens.
The Jews in Germany (550,000) committed treason against their country, Germany, by declaring war on Germany in March of 1933. They knew war will come because the Jewish bankers and their henchman planned it and executed it. This is why they had the audacity to commit TREASON.
Only one half million Jews in Germany in 1933 and then 131,000 in 1939! 
From Dr. Franz Seidl: […] At Hitler's time only about  4% of World Jewry lived in Germany, meaning less than 600,000 Jews.  In Germany there was about 1% and the rest in Austria and CSR. In 1939 the number of Jews in these countries went down significantly: in Germany to 131,000; in Austria to 43,700 and in the CSR to 74,200. […]
THE CONCENTRATION CAMPS BEFORE THE WAR WERE WORK CAMPS FOR CRIMINALS, INCL. JEWS WHO WERE IN THE RESISTANCE AND COMMITTED CRIMES AGAINST THE PUBLIC AND THE GOVERNMENT. HITLER HAD OVER 40 ATTEMPTS ON HIS LIFE. YOU NEED TO KNOW THAT THE COMMUNISTS, RUN BY THE JEWS, STILL LIVED IN GERMANY AND DID NOT WANT HITLER'S PARTY TO WIN AGAINST THEM.
DURING THE WAR, THE CONCENTRATION CAMPS WERE USED FOR THE HUNDREDS OF THOUSANDS OF POWs the GERMANS HAULED IN. UNFORTUNATELY, THESE PRISONERS BROUGHT DISEASES, SUCH AS TYPHOID. IN THE BEGINNING THEY RECEIVED TREATMENT BUT AS THE INFRASTRUCTURE BROKE DOWN AND GERMANY WAS BARELY SURVIVING IN SOME AREAS, THEY WERE NEGLECTED. SO WAS FOOD SUPPLY. THIS WAS NOT DONE INTENTIONALLY BY THE GERMANS.
28 Problems with the Holocaust Legend
video "Off  Your Knees, Germany!" - by Ernst Zuendel
THE TEACHERS AND ADMINISTRATORS IN SCHOOL HAVE BEEN BULLIED BY THE JEWS! THE STUDENTS ARE MUCH BRAVER THAN THE TEACHERS AND MANY CLAIMED THE HOLOCAUST IS A FARCE.

50 School Essays Deny the Holocaust
In 70 Years No Forensic Proof-Faurisson
A
Faurisson_Robert_-_A_Prominent_False_Witness_Elie_Wiesel
Air Photos Evidence – No gas chambers - ebook
Air Photos Evidence
http://www.whale.to/b/ball.html
Anne Frank's Diary- A Hoax 1978  80S.Text
Are Holocost Witnesses Reliable_article
Video - Auschwitz—The Surprising Hidden Truth
By DenierBud 
http://codoh.com/library/document/1527/
Auschwitz A judge looks at the evidence
Video: Auschwitz Survivors Who Tell the Truth
 B
Background and Detailed Chronology of Ernst Zuendel Persecution
BARDECHE_Nuremberg or the Promised Land
Video - Buchenwald—A Dumb Dumb Portrayal Of Evil
By DenierBud 
http://codoh.com/library/document/1529/
Building Of Soviet Fake Gas Chambers Auschwitz
Building Of Soviet Fake Gas Chambers Auschwitz
By-their-fruits-ye-shall-know-them-Revilo-P-Oliver-1985-history
C
Churchill, Eisenhower, And De Gaulle*No Word About Gas Chambers
Communist Schemes to Silence Historian Faurisson
Concentration Camps - Konzentrationslager
Concentration-Camp-Majdanek-Jurgen-Graf-Carlo-Mattogno-2003
Concentration Camp Money: 'Lagergeld' used to Pay Prisoners for Their Work
Confession of Jew Who Transported Millions of Jews to Birobidjan, Russia*Havergeck Letter
D
The Dachau Massacre of Germans
Video - David Cole in Auschwitz: The Video of the Century.
By David Cole 
http://codoh.com/library/document/1001/
Debunking the Genocide Myth, Paul Rassinier - PDF
Did Six Million Really Die? (older book before the numbers where changed)
Dissecting the Holocaust-Germar Rudolf
Walendy_Udo_-_Do_Photographs_Prove_the_Ns_Extermination_of_the_Jews
Dr. Toeben at Auschwitz and an overview:
https://www.youtube.com/watch?v=xe6npWo7Wug
Dr. Toeben  - Holocaust, Free Speech, Holocaust Conference in Iran
https://www.youtube.com/watch?v=GkdP7C_6DKk
Download Books free - Buecher frei - Jewish Lies about Germans - Luegen ueber das Reich - Germar Rudolf
The Dwindling Death Toll of Auschwitz & Apollo Moonlanding History or Hoax? The Revisionist Feb. 2003
E
Elie Wiesel*Renowned Con Artist
Eric Hunt and Diana Spingola speak about the Jews' special status to get away with murder by using the Holocaust Hoax
Exposing Literary and Documentary Frauds about the "Holocaust"
F
The Facts About the Origins of the Concentration Camps and Their Administration
Walendy_Udo_-_The_fake_photograph_problem
Faked Medical Experimet Testimony At Nuremburg2
101: False Claims About Revisionism
Fear, Shame and Gas Chambers: The failure of American Academic Class:
 https://www.youtube.com/watch?v=WGI5buxfEyw&feature=youtu.be
First-Holocaust-Don-Heddesheimer-2003
Forced to build gas chambers after the war
Walendy_Udo_-_Forged_war_crimes_malign_the_German_nation2
Francais: La Shoah - tabou religieux
https://www.youtube.com/watch?v=RSnpfSxEHxg&feature=youtu.be
Fraud - Holocaust History Books
G
Gaschamber Hoax
Gas Chamber Hoax:
http://gaschamberhoax.com/jewish-gas-chamber-hoax/
Germar Rudolf - Holocaust Revisionism
H
Hate and Lies against German People
HHB (Holocaust Handbook Series)-Brochure
Carolyn Yeager-Hidden Auschwitz-the Underground Guided Tour
HiddenAuschwitz-theUndergroundGuidedTour - what the Tour Guides don't Tell you
#
Video: Edgar J. Steele: Holy Holocaust!: December 19th, 2005 (Pt. 1 of 2): https://www.youtube.com/watch?v=qCI32Hf_eRI Video: Edgar J. Steele: Holy Holocaust!: December 19th, 2005 (Pt. 2 of 2): https://www.youtube.com/watch?v=SxBO7e1QMdo
Hitler and Zionists Collaborated
Hitler Supported the Zionists to Move Out of Germany All Expenses Paid!
Hollywood used murdered Germans as "Jews"- original document
The Holocaust as political weapon against the Germans - PDF
Holocaust Deprogramming Course
http://holocaustdeprogrammingcourse.com/
Holocaust Handbooks*Movies
http://holocausthandbooks.com/index.php?main_page
Video - Holocaust, Hate Speech & Were the Germans so Stupid?
http://codoh.com/library/document/1530/
Holocaust Frauds Literary Documentary 
http://www.jrbooksonline.com/mcclelland/frauds_exposed.html
The following book examines many issues in separate chapters of the so-called Jewish holocaust:
The Holocaust Handbook - "Everything" you ever wanted to know and were not told-pdf
http://www.Holocausthandbooks.com
Dave Gahary: Audio Interview and Book: Holocoast Hoax Exposed
Holocaust or Holohoax? 21 Amazing Facts
  Video: Edgar J. Steele: Holy Holocaust!: December 19th, 2005 (Pt. 1 of 2):
https://www.youtube.com/watch?v=qCI32Hf_eRI
Video: Edgar J. Steele: Holy Holocaust!: December 19th, 2005 (Pt. 2 of 2):
https://www.youtube.com/watch?v=SxBO7e1QMdo
The Persecution of Horst Mahler:
Horst Mahler (there are many more not mentioned!)
HOW MANY MORE TIMES DO WE NEED TO SAY SCAM?
How Postwar German Authorities [dictated by Jew-USA occupiers) Orchestrated Witness Statements in "Nazi Crime Cases:"
http://www.inconvenienthistory.com/archive/2015/volume_7/number_2/how_postwar_german_authorities_orchestrated_witness_statements.php
How the Soviets manufactured 'war crimes' documents for the Nuremberg Trials
 Dr. Germar Rudolf - Phd. earned but denied in Germany for his scientific research on the holocaust. That's because Germany is under the ruler-ship of the U.S., and the U.S. is under the ruler-ship of Jews.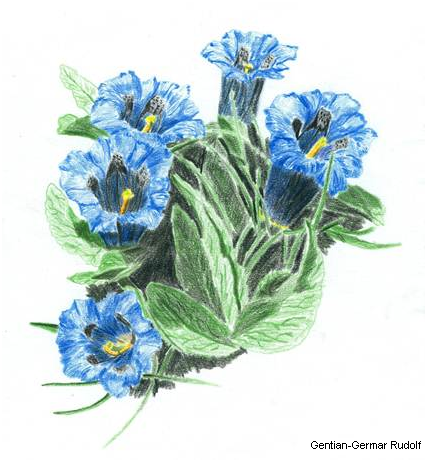 www.germarrudolf.com
I
The Truth is in the Blood of this Frenchman; that's why the liars haunt him nonstop:
In France Holocaust Lie Exposers are treated like Dangerous Criminals
In Seventy Years, No Forensic Study Proving the Existence and Operation of the "Nazi Gas Chambers"!
http://robertfaurisson.blogspot.com/2014/12/in-seventy-years-no-forensic-study.html
The Injustice of the Nuremberg Trials
Video - Professor Robert Faurisson in Sweden, 1992
An Introduction to Holocaust Revisionism
http://codoh.com/library/document/1501/
J
http://jan27.org/what-was-auschwitz/
Video - The Jewish Gas Chamber Hoax
By Eric Hunt 
http://codoh.com/library/document/3252/
Jewish Immigration from the Third Reich - Weckert
 Jewish Tyranny in "German" Courts-with the Holocaust Claim
The Jews and Their Lies_Rev. Martin Luther
Jews Declare War on Germans 1933
JEWS IN REICH DENY ATROCITIES BY NAZIS_3pg
K
L
la la fabula del holocausto_Arthur Butz
Video - The Last Days of the Big Lie
By Eric Hunt
http://codoh.com/library/document/1531/
Lectures on the Holocaust_573 pg-pdf
The Leuchter Reports-Critical Edition - no gassing possible in the concentration camps
The Leuchter Reports vindicated
M
MADAGASKAR, the final solution:
Our enemies grab much of what the great Fuehrer said and did and rub it into their own filth and turn it into the atrocious crimes THEY have committed (e.g. Russian Revolution, causing 2 world wars, and occupation of Germany). Perversion, lies, deception and GREED is what fills their brains. They are people incapable of honor. Here is the true Final Solution planned for the Jews: Germany's Madagascar Resettlement Plan.
http://www.barnesreview.org/final-solution-germanys-madagascar-resettlement-plan-p-570.html
source: John deNugent
Video: Majdanek Gas Chamber Myth
The Majdanek Gas Chamber Myth:
Video - The Majdanek Gas Chamber Myth
By Eric Hunt
http://codoh.com/library/document/3343/
Major Poullada's Final Defense Plea in the Nordhausen-Dora Concentration Camp Case
Masters of Makebelief:
http://jan27.org/news-views-70th-anniversary-commemoration/
Millions of Jews shipped to Birobidjan, Russia*Putin Letter
More Plausible Eyewitness Account Concentration Camps 1 pg
The Myth of the Extermination of the Jews: Part I
The Myth of the Extermination of the Jews: Part II
N
Video - Nazi Shrunken Heads
A 24-minute free video about lies which justify war
By DenierBud 
http://codoh.com/library/document/1528/
New Revisionist Commemoration Website Jan27.org
No Documents - No History, Faurisson - re false holocaust
 The Nuernberg Trials and the so called Holocaust
Nuremberg or the Promised Land - Bardeche
O
video:  "Off  Your Knees, Germany!" – by Ernst Zuendel
Video - One Third of the Holocaust
Watch the Movie — Calls for Rebuttals
By DenierBud 
http://codoh.com/library/document/534/
P
Paul Rassinier-pdf
To Pope John Paul II on Holocaust Truth - Leon Degrelle
Faurisson_Robert_-_A_Prominent_False_Witness_Elie_Wiesel
Propaganda Photographs - The Holocaust Fakes Revealed
The Protocols Of The Learned Elders Of Zion
Purpose of Jewish Holocaust Lie
R
Reparations Paid to Jews and Israel
Video: Revisionism in 30 minutes - French and English - Vincent Reynourd
REVISIONISM SINCE 15TH CENTURY
Robert Faurisson-An Honorable Man
The Rudolf Report 2nd edition - read online
Germar Rudolf, The Rudolf Report, Theses & Dissertations Press, Chicago, IL, 2003, 453pp., also online (www.vho.org/GB/Books/trr)
Solzhenitsyn Russia and the Jews_The Jewish Genozide against the Russians
S
Show me or draw me a Nazi Gas Chamber:
https://archive.org/details/1992RobertFaurissonInSweden
Standing up against the Holocaust Fraud
The Substitute Religion (Holocaust) -Williamson
The Prosecution of Sylvia Stolz:
Sylvia Stolz (there are many more not mentioned!)
Sylvia Stolz and Breakthrough on the Holocaust Front - 2008
"Synagogue of Satan" - Takeover of the U.S.A. and the World
Book - might be an older version: The Synagogue Of Satan - Pdf
Read the updated version of this book on-line at: http://www.thesynagogueofsatan.com/
T
 A Talk with Joaquin Bochaca about History Truths_7pg-pdf
Video: Theresienstadt Concentration Camp
The Transfer Agreement And The Boycott Fever Of 1933-Udo Walendy
videos: The Treblinka Archaeology Hoax
Video - The Treblinka Archaeology Hoax
By Eric Hunt 
http://codoh.com/library/document/3286/
Truth is Mighty and Will Prevail - Bishop Williamson's Holocaust Denial
U
V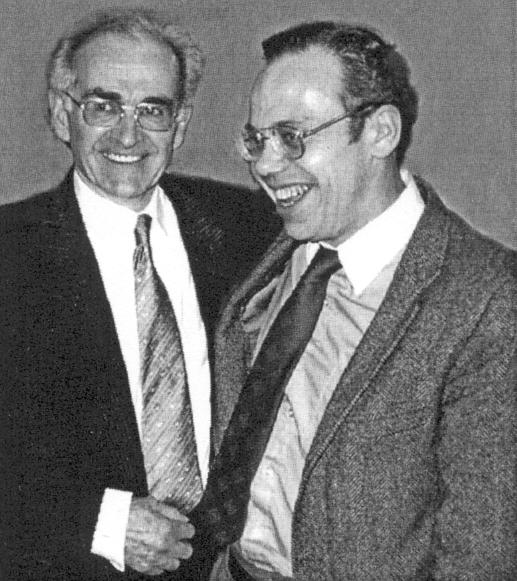 Mr. Faurisson and Mr. Leuchter
 W
The Wannsee Conference Protocol: Anatomy of a Fabrication
Video: Were the Germans so Stupid?
Who Brought the Slaves to America-Jews
Why the Gas Chambers Are A a Myth - HD (full)
World Awakes to Zionist Threat 1pg
X
Y
Z