YOU CAN GET KILLED IN THE COMMUNIST UNITED STATES FOR COMPLAINING ABOUT THIS GOVERNMENT.
THIS IS HIGH TREASON!
THEY ARE PRACTICING ELIMINATING PEOPLE IN A SMALL WAY NOW, SOMETHING THAT WILL COME OVER US IN A BIG WAY. FOREIGN MILITARY UNITS, SPECIAL FORCES, PRIMARILY FROM COMMUNIST COUNTRIES, ARE ALL OVER THE UNITED STATES AND ARE BEING SHIPPED IN REGULARLY. THE COMMUNIST JEWS ARE TAKING OVER OUR COUNTRY, LITTLE BY LITTLE, SO WE WON'T NOTICE IT UNTIL IT'S TOO LATE.
KNOW THIS: OUR U.S. GOVERNMENT HAS BEEN HIJACKED BY A FOREIGN,  MOST CRIMINAL NATION. AND WE ARE NOTHING BUT INSECTS TO THEM! IF WE ARE LUCKY, THEY'LL CALL US GOY. A WORKING COW AND STEER FOR THEIR TAX BENEFIT!
xxx
INTRODUCTION TO U.S. GOVERNMENT KILL ORDERS.
KAY GRIGSS WENT PUBLIC BECAUSE SHE FEARED HER HUSBAND MIGHT MURDER HER. THIS IS QUITE A FEW YEARS BACK. IMAGINE HOW BAD IT IS NOW!
#
THE TYPE OF THINGS AMERICAN SOLDIERS DO TO HUMAN BEINGS.
A WARNING!
LA VOY FINICUM
THIS TYPE OF CITIZEN ABUSE AROUND LAND GOES ON IN VARIOUS PLACES IN THE UNITED STATES.
THE "U.S. GOVERNMENT", OR RATHER THE JEW GOVERNMENT, WANTS TO TAKE MR. FINICUM'S  GRAZING LAND.
THE U.S. GOVERNMENT BREAKS THE CONSTITUTION BY DEMANDING HIS LAND (NOT BY EMINENT DOMAIN), THEN AGENTS SHOOT MR. La Voy Finicum DEAD IN COLD BLOOD - WITH HIS HANDS LIFTED UP IN SURRENDER. SEE VIDEO! THIS WAS A REASONABLE AND HONORABLE MAN BUT ONE WHO WAS AWARE WHAT IS HAPPENING TO THIS COUNTRY (USA) IS NOT GOOD.  YOU WILL SEE THIS WHEN YOU LISTEN TO HIM. HE HAS 11 CHILDREN AND A NUMBER OF GRANDCHILDREN. SO MANY PEOPLE ARE GRIEVING!
I SAY, THE COMMUNIST JEW GOVERNMENT IS STARTING TO CONFISCATE PRIVATE PROPERTY. COMMUNISM IS JEWISH!
Whose land is it? La Voy Finicum explains the constitution:
Obviously they wanted to get rid of this very INFORMED man who stood his ground and was an example to other Americans to not let the government just steal their land, something that the U.S. government is doing more and more now. 
Slow Motion,Zoom,Up Close,Killing Robert "LaVoy" Finicum. Did He, Or Not? Body Guards Testimony
It appears they used H.A.A.R.P. (magnetic waves) as there are bright flashes in the sky. This is what I heard a scientist say the H.A.R.P. tool does.  So did the agent shoot Mr. Finicum or was he shot by a drone with a H.A.R.P. weapon?

Since when have cops a right to shoot people because they are racing away from the police? And they shot at the van, too. What did these people ever do for the police to attack them trying to kill them? This is like Soviet Russia now in the 70s.
Another "execution" of an American citizen who did not like what the American government is doing to its citizens. Mr. Finicum was in the right. Here pictures from his life as father, husband, and grandfather:
REMEMBERING LA VOY. THE RANGERS CAME FROM FAR AND WIDE.
__________________
RUBY RIDGE
Lot's of manipulation to think a certain way, and certainly a lot of overstatements by the journalist. It seems to me this family was targeted to harm to teach all the other families a lesson.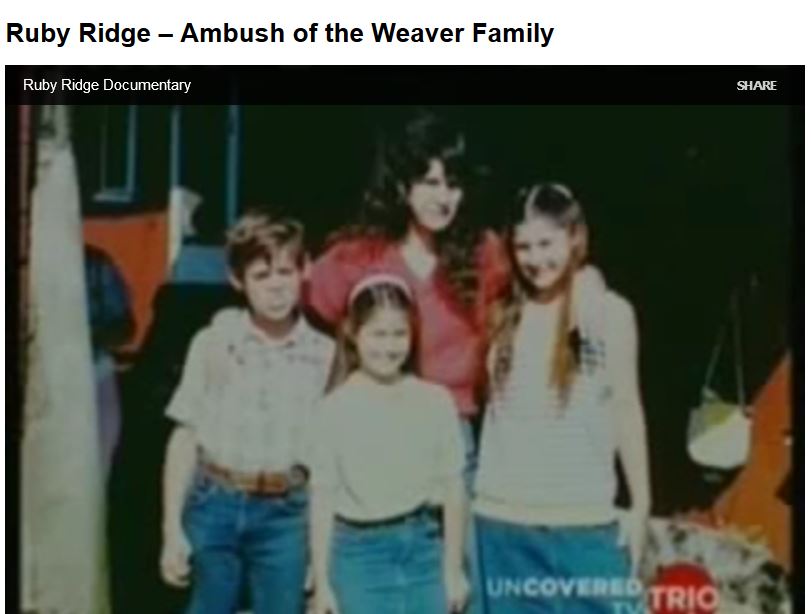 Plus they had a baby that came later… and Papa is not on the picture - he is probably taking it.
REGARDING THE AMBUSH OF THE WEAVER FAMILY: YES IT IS THE NEW WORLD ORDER, INDEED, WHEN A GOVERNMENT GOES AFTER GOOD CITIZENS WHO SPEAK OPENLY TO THEIR ASSOCIATES ABOUT WHAT THEY THINK OF THEIR ROTTEN GOVERNMENT. IF A COUNTRY CLAIMS TO BE A COUNTRY OF FREE SPEECH, A DEMOCRACY, AS THE UNITED STATES DOES IN THE CONSTITUTION, THEN ITS GOVERNMENT MUST ALLOW PEOPLE TO SPEAK ABOUT THEIR DISTRUST AND CONCERNS REGARDING THEIR GOVERNMENT! IT'S PLAIN AND SIMPLE.  THE WEAVER FAMILY NEVER MADE ANY THREATS TO THE GOVERNMENT NOR ANY THREATS OF VIOLENCE. THEY WERE COUNTRY FOLKS. THEY EXPRESSED THEIR SEVERE DISTRUST OF THE GOVERNMENT WHICH THEY BELIEVE HAS BEEN HIJACKED BY ZIONISTS. AND THEY WERE RIGHT, AS MANY OF US KNOW TODAY! THERE WERE OTHER THINGS THAT HAPPENED IN THE U.S. AT THAT TIME THAT MADE MANY PEOPLE DISTRUSTING OF OUR GOVERNMENT.  AND OF COURSE THINGS ARE GETTING WORSE. THE PROPER ACTION BY THE GOVERNMENT SHOULD HAVE BEEN TO INVESTIGATE WHY THE WEAVERS ARE SO-CALLED PARANOID! IT REQUIRED TO SEND AN HONEST INVESTIGATIVE JOURNALIST TO THE WEAVERS AND ASK WHAT BOTHERS THEM AND BRING IT BEFORE THE AMERICAN PUBLIC BY AN HONEST NEWS REPORT. BUT NO! THE NEWS COMPANIES ARE ALL IN THE POCKETS OF THE JEWS. SO THERE IS NO CHANCE OF AN HONEST REPORT ON THE NEWS.  INSTEAD, THE ZIONIST OCCUPIED U.S. GOVERNMENT GOES AFTER ITS CITIZENS AND ELIMINATES THEM! WE HAVE SEEN THIS IN SEVERAL SITUATIONS. NOT ONLY THAT, QUIETLY PEOPLE HERE AND THERE ARE MURDERED BY OUR GOVERNMENT, WE ARE TOLD, DIE OF ACCIDENTS AND SUDDEN ILLNESS. THIS IS WHAT THEY DID AND STILL DO IN THE SOVIET UNION/TODAY'S SO-CALLED NON-COMMUNIST GOVERNMENT OF RUSSIA. IT'S COMMUNIST FOR SURE! REMEMBER HOW MANY PEOPLE PUTIN HAD MURDERED WHO SPOKE TRUTH! AND THE UNITED STATES IS TURNING MORE AND MORE COMMUNISTIC. AND COMMUNISM IS JEWISH. SO IT IS INDEED A ZOG (ZIONIST OCCUPIED GOVERNMENT)!
RE-VISITING RUBY RIDGE*AMBUSH OF THE WEAVER FAMILY:
The Media always throws around with scary names to make almost normal citizen behavior into some kind of terrorist act to manipulate the public and justify any murder the police commits. And this was the case here. It's a great deception just like all the other similar cases. The victims are again the families. Who are some of the people they hire into the police force? I wonder if they put a few of their international mercenaries into these SWAT teams? They could shoot citizens in cold blood.
Ruby Ridge - Ambush of the Weaver Family
###
WACO, TEXAS
#