Tainted: Bindfolded German soldiers may have been forced into untrue admissions, it has been revealed. Surely, you would think, the British avoid torture? But you would be wrong, as my research into what has gone on behind closed doors for decades shows.
###
In this crime, as in many of them, the world bankers obviously did not want to be burdened with non-German prisoners or non-German wounded either; it costs $$$$$$$$$$$$$$$. Just bomb them!

"We are driving the Christians into a war in that we take
advantage of their stupidity, ignorance, and national pride.
They'll massacre each other and then we have enough place for our
own people." (Rabbi Reichorn, in Le Contemporain, Juli 1880)
1,190 BOMBS ON AUSCHWITZ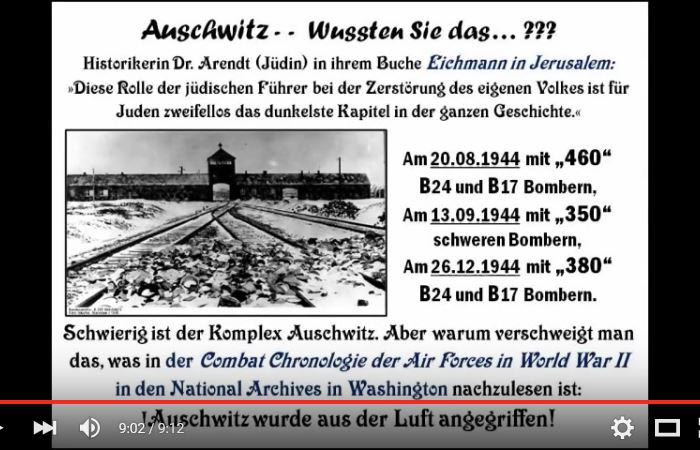 British Government Forces Atrocity Lies About Germans
The Morgenthau Plan and the Problem of Policy Perversion
How the British obtained the confessions of Rudolf Hoess
Rudolf Hess - The Man who Knew too Much
http://www.vho.org/tr/2004/1/Dunskus105-107.html
CHURCHILL: DRENCH GERMANY WITH POISON GAS!
CHURCHILL: JEW; ROOSEVELT:JEW; STALIN:JEW; EISENHOWER:JEW
TOB SHEBBE GOYIM HAROG! (Kill the best Gentiles-gentiles are non-Jews!) TALMUD: Sanhedrin 59
"the question is only whether world government will be achieved by consent or by conquest", JAMES WARBURG, JEW).
"We Jews are the destroyers and we will always be the destroyers. Regardless of what you do, you can never satisfy our desires. We will, therefore, always destroy, because we want our own world." (from the book YOU GENTILES vom Jewish author Maurice Samuels, page 155)
"A Jew may do to a non-Jewess whatever he can. He may treat her as he treats a piece of meat." - Hadarine, 20, B; Schulchan Aruch, Choszen Hamiszpat 348.
 Non-Jewish Children are subhumans. – Yebamoth 98a.
"A Jew is permitted to rape, cheat and perjure himself [give false testimony under oath in court]; but he must take care that he is not found out, so that Israel [the Jewish people] may not suffer." – Schulchan Aruch, Jore Dia.
How Britain tortured Nazi PoWs: The horrifying interrogation methods that belie our proud boast that we fought a clean war
Apology regarding Bad Nenndorf Torture Prison on Behalf of the Brits:
By Ian Cobain
PUBLISHED: 17:34 EST, 26 October 2012 | UPDATED: 17:35 EST, 26 October 2012
The German SS officer was fighting to save himself from the gallows for a terrible war crime and might say anything to escape the noose. But Fritz Knöchlein was not lying in 1946 when he claimed that, in captivity in London, he had been tortured by British soldiers to force a confession out of him.
Tortured by British soldiers? In captivity? In London? The idea seems incredible.
Britain has a reputation as a nation that prides itself on its love of fair play and respect for the rule of law. We claim the moral high ground when it comes to human rights. We were among the first to sign the 1929 Geneva Convention on the humane treatment of prisoners of war.
Tainted: Bindfolded German soldiers may have been forced into untrue admissions, it has been revealed. Surely, you would think, the British avoid torture? But you would be wrong, as my research into what has gone on behind closed doors for decades shows.
It was in 2005 during my work as an investigative reporter that I came across a veiled mention of a World War II detention centre known as the London Cage. It took a number of Freedom Of Information requests to the Foreign Office before government files were reluctantly handed over.
From these, a sinister world unfolded — of a torture centre that the British military operated throughout the Forties, in complete secrecy, in the heart of one of the most exclusive neighbourhoods in the capital. Thousands of Germans passed through the unit that became known as the London Cage, where they were beaten, deprived of sleep and forced to assume stress positions for days at a time. Some were told they were to be murdered and their bodies quietly buried. Others were threatened with unnecessary surgery carried out by people with no medical qualifications. Guards boasted that they were 'the English Gestapo'.
The London Cage was part of a network of nine 'cages' around Britain run by the Prisoner of War Interrogation Section (PWIS), which came under the jurisdiction of the Directorate of Military Intelligence. Out in the open: Lieutenant Colonel Alexander Scotland revealed some secrets in his controversial book about interrogating German officers, 'The London Cage' Three, at Doncaster, Kempton Park and Lingfield, were at hastily converted racecourses. Another was at the ground of Preston North End Football Club. Most were benignly run. But prisoners thought to possess valuable information were whisked off to a top-secret unit in a row of grandiose Victorian villas in Kensington Palace Gardens, then (as now) one of the smartest locations in London.
Today, the tree-lined street a stone's throw from Kensington Palace is home to ambassadors and billionaires, sultans and princes. Houses change hands for £50 million and more. Yet it was here, seven decades ago, in five interrogation rooms, in cells and in the guardroom in numbers six, seven and eight Kensington Palace Gardens, that nine officers, assisted by a dozen NCOs, used whatever methods they thought necessary to squeeze information from suspects. Of course, it is crucial to put these events into context. When the gloves first came off at Britain's interrogation centres — the summer of 1940 — German forces were racing across France and the Low Countries, and Britain was fighting for its very survival. The stakes could not have been higher. In the following years, large parts of Britain's cities were left in ruins, hundreds of thousands of service personnel and civilians died, and barely a day passed without evidence emerging of a new Nazi atrocity. Little wonder, perhaps, that it was felt acceptable for German prisoners to suffer in British interrogation centres.
And it should also be said that whatever went on within their walls, it paled into insignificance compared with the horrors the Nazis visited on millions of prisoners.
So, how can we be sure about the methods used at the London Cage? Because the man who ran it admitted as much — and was hushed up for half-a-century by an establishment fearful of the shame his story would bring on a Britain that had been fighting for honesty, decency and the rule of law. That man was Colonel Alexander Scotland, an accepted master in techniques of interrogation. After the war, he wrote a candid account of his activities in his memoirs, in which he recalled how he would muse, on arriving at the Cage each morning: 'Abandon all hope ye who enter here.'
Because, he said, before going into detail: 'If any German had any information we wanted, it was invariably extracted from him in the long run.' As was customary, before publication Scotland submitted his manuscript to the War Office for clearance in 1954. Pandemonium erupted. All four copies were seized. All those who knew of its contents were silenced with threats of prosecution under the Official Secrets Act. What caused the greatest consternation was his admission that the horrors had continued after the war, when interrogators switched from extracting military intelligence to securing convictions for war crimes.
Feared: Col Robin 'Tin Eye' Stephens was prepared to seek his own rough justice
Of 3,573 prisoners who passed through Kensington Palace Gardens, more than 1,000 were persuaded to sign a confession or give a witness statement for use in war crimes prosecutions. Fritz Knöchlein, a former lieutenant colonel in the Waffen SS, was one such case. He was suspected of ordering the machine-gunning of 124 British soldiers who surrendered at Le Paradis in northern France during the Dunkirk evacuation in 1940. His defence was that he was not even there. At his trial, he claimed he had been tortured in the London Cage after the war. He was deprived of sleep for four days and nights after arriving in October 1946 and forced to walk in a tight circle for four hours while being kicked by a guard at each turn.
He was made to clean stairs and lavatories with a tiny rag, for days at a time, while buckets of water were poured over him. If he dared to rest, he was cudgelled. He was also forced to run in circles in the grounds of the house while carrying heavy logs and barrels. When he complained, the treatment simply got worse. Nor was he the only one. He said men were repeatedly beaten about the face and had hair ripped from their heads. A fellow inmate begged to be killed because he couldn't take any more brutality. All Knöchlein's accusations were ignored, however. He was found guilty and hanged. Suspects in another high-profile war crime — the shooting of 50 RAF officers who broke out from a prison camp, Stalag Luft III, in what became known as the Great Escape — also passed through the Cage.
Of the 21 accused, 14 were hanged after a war-crimes trial in Hamburg. Many confessed only after being interrogated by Scotland and his men. In court, they protested that they had been starved, whipped and systematically beaten. Some said they had been menaced with red-hot pokers and 'threatened with electrical devices'. Scotland, of course, denied allegations of torture, going into the witness box at one trial after another to say his accusers were lying. It was all the more surprising, then, that a few years later he was willing to come clean about the techniques he employed at the London Cage.
In his memoirs, he disclosed that a number of men were forced to incriminate themselves. A general was sentenced to death in 1946 after signing a confession at the Cage while, in Scotland's words, 'acutely depressed after the various examinations'. Flashback: The prisoners in the dock are Nazi leaders Hermann Goering and Rudolph Hess - it is unknown how they might have been treated in prison. A naval officer was convicted on the basis of a confession that Scotland said he had signed only after being 'subject to certain degrading duties'. Scotland also acknowledged that one of the men accused of the 'Great Escape' murders went to the gallows even though he had confessed after he had — in Scotland's own words — been 'worked on psychologically'. At his trial, the man insisted he had been 'worked on' physically as well.
Others did not share Scotland's eagerness to boast about what had gone on in Kensington Park Gardens. An MI5 legal adviser who read his manuscript concluded that Scotland and fellow interrogators had been guilty of a 'clear breach' of the Geneva Convention.
They could have faced war-crimes charges themselves for forcing prisoners to stand to attention for more than 24 hours at a time; forcing them to kneel while they were beaten about the head; threatening to have them shot; threatening one prisoner with an unnecessary appendix operation to be performed on him by another inmate with no medical qualifications.
Appalled by the embarrassment his manuscript would cause if it ever came out, the War Office and the Foreign Office both declared that it would never see the light of day.
Two years later, however, they were forced to strike a deal with him after he threatened to publish his book abroad. He was told he would never be allowed to recover his original manuscript, but agreement was given to a rewritten version in which every line of incriminating material had been expunged.
A heavily censored version of The London Cage duly appeared in the bookshops in 1957.
But officials at the War Office, and their successors at the Ministry of Defence, remained troubled. Years later, in September 1979, Scotland's publishers wrote to the Ministry of Defence out of the blue asking for a copy of the original manuscript by the now dead colonel for their archives. The request triggered fresh panic as civil servants sought reasons to deny the request. But in the end they quietly deposited a copy in what is now the National Archives at Kew, where it went unnoticed — until I found it a quarter of a century later.
Is there more to tell about the London Cage? Almost certainly. Even now, some of the MoD's files on it remain beyond reach.
Scotland, his interrogators, technicians and typists, and the towering guardsmen left the building in January 1949. The villas were unoccupied for several years. Eventually, numbers six and seven were leased to the Soviet Union, which was looking for a new embassy building. Today, they house the chancery of the Russian embassy.
Number eight — where it is thought the worst excesses were carried out — remained empty. It was too large to be a family home in the post-war years and in too poor a state of repair to be converted to offices. By 1955, the building had fallen into such disrepair it was sold to a developer, who knocked it down and built a block of three luxury flats. One that went on the market in 2006 was valued at £13.5 million.
The Cage was not, however, Britain's only secret interrogation centre during and after World War II. MI5 also operated an interrogation centre, code-named Camp 020, at Latchmere House, a Victorian mansion near Ham Common in South-West London, whose 30 rooms were turned into cells with hidden microphones. The first of the German spies who arrived in Britain in September 1940 were taken there. Vital information about a coming German invasion was extracted at great speed. This indicates the use of extreme methods, but these were desperate days demanding desperate measures. In charge was Colonel Robin Stephens, known as 'Tin Eye', because of the monocle fixed to his right eye.
It was not a term of affection. The object of interrogation, Stephens told his officers, was simple: 'Truth in the shortest possible time.' A top secret memo spoke of 'special methods', but did not elaborate.
He arranged for an additional 92-cell block to be added to Latchmere House, plus a punishment room — known chillingly as Cell 13 — which was completely bare, with smooth walls and a linoleum floor. Close to 500 people passed through the gates of Camp 020. Principal among them were German spies, many of whom were 'turned' and persuaded — or maybe forced — to work for MI5. Its first inmates were members of the British Union of Fascists. Some were held in cells brightly lit 24 hours a day, others in cells kept in total darkness. Several prisoners were subjected to mock executions and were knocked about by the guards. Some were apparently left naked for months at a time.
Camp 020 had a resident medical officer, Harold Dearden, a psychiatrist who dreamed up regimes of starvation and of sleep and sensory deprivation intended to break the will of its inmates. He experimented in techniques of torment that left few marks — methods that could be denied by the torturers and that civil servants and government ministers could disown. These techniques surfaced again after the war in a British interrogation facility at Bad Nenndorf, a German spa town, in one of the internment camps for those considered a threat to the Allied occupation. In the four years after the war, 95,000 people were interned in the British zone of Allied-occupied Germany. Some were interrogated by what was now termed the Intelligence Division.
In charge of Bad Nenndorf was 'Tin Eye' Stephens, on attachment from MI5, and drawing on his Camp 020 experiences. An inmate recalled him yelling questions at prisoners and then punching them. Over the next two years, 372 men and 44 women would pass through his hands. One German inmate recalled being told by a British intelligence officer: 'We are not bound by any rules or regulations. We do not care a damn whether you leave this place on a stretcher or in a hearse.' He was made to sleep on a wet floor in a temperature of minus 20 degrees for three days. Four of his toes had to be amputated due to frostbite.
A doctor in a nearby hospital complained about the number of detainees brought to him filthy, confused and suffering from multiple injuries and frostbite. Many were painfully emaciated after months of starvation. A number died.
The regime was intended to weaken, humiliate and intimidate prisoners.
With complaints soaring, a British court of inquiry was convened to investigate what had been going at Bad Nenndorf. It concluded that former inmates' allegations of physical assault were substantially correct. Stephens and four other officers were arrested while Bad Nenndorf was abruptly closed. But there was a quandary for the Labour government. The political fallout could be deeply damaging. There were other similar interrogation centres in Germany. From the very top, there were urgent moves to hush things up.
Stephens' court martial for ill-treatment of prisoners was heard behind closed doors. He did not deny any of the horrors. His defence was that he had no idea the prisoners for whom he was responsible were being beaten, whipped, frozen, deprived of sleep and starved to death.
This was the very defence that had been offered — unsuccessfully — by Nazi concentration camp commandants at war-crimes trials. But he was acquitted.
The suspicion remains that he got off because, if cruelties did occur at Bad Nenndorf, they had been authorised by government ministers.
Extracted from Cruel Britannia by Ian Cobain, published by Portobello Books at £18.99. © Ian Cobain 2012. To order a copy for £15.99 (p&p free), call 0843 382 0000.
——————————————————————————————
It is unimaginable what our German people have suffered. There is no torture death a German man or woman has not experienced. We can attributed much of the German suffering to the Jews who have belied and defamed the Germans in their media monopoly for over 100 years in order to eliminate us as competition!
BARNES REVIEW:
Oct 31, 2012
Already in 2005 British journalist Ian Cobain wrote two papers published by the British daily The Guardian in which he presented evidence that the British occupational forces in Germany systematically tortured German inmates after the war in order to have them sign confessions which then could be used to either indict them or others for war crimes.
Now Cobain has followed up with a new article, this time published in the London Daily Mail about torture centers in Britain itself, where again German inmates were tortured into signing questionable confessions. The following paper discusses the implications this information might have.
British Torture: What Does it Mean for Revisionism?
By Santiago Alvarez
Rudolf Höss
In his memoirs written during the final months of his life while in Polish captivity awaiting his execution, former Auschwitz commander Rudolf Höss wrote that he had been severely mistreated by his British captors right after the end of the war.[1]
"I was treated terribly by the (British) Field Security Police. […] During the first interrogation they beat me to obtain evidence. I do not know what is in the transcript, or what I said, even though I signed it, because they gave me liquor and beat me with a whip. It was too much even for me to bear.
[…] Minden on the Weser River […]. There they treated me even more roughly, especially the first British prosecutor, who was a major. […] I cannot really blame the interrogators [at the IMT] – they were all Jews. I was for all intents and purposes psychologically dissected. […] They also left me with no doubt whatsoever what was going to happen to me."
Although a statement by a person generally regarded as having been one of the most pernicious SS henchman does not carry much weight in the eyes of the general populace, the fact that Höss was indeed tortured was later confirmed by one of the malefactors involved in the torture, as published in 1986 in a British book, where we find the following description:[2]
"Höss screamed in terror at the mere sight of British uniforms. Clarke yelled 'What is your name?'
With each answer of 'Franz Lang,' Clarke's hand crashed into the face of his prisoner. The fourth time that happened, Höss broke and admitted who he was.
The admission suddenly unleashed the loathing of the Jewish sergeants in the arresting party whose parents had died in Auschwitz following an order signed by Höss.
The prisoner was torn from the top bunk, the pyjamas ripped from his body. He was then dragged naked to one of the slaughter tables, where it seemed to Clarke the blows and screams were endless.
Eventually, the Medical Officer urged the Captain: 'Call them off, unless you want to take back a corpse.'
A blanket was thrown over Höss and he was dragged to Clarke's car, where the sergeant poured a substantial slug of whisky down his throat. Then Höss tried to sleep.
Clarke thrust his service stick under the man's eyelids and ordered in German: 'Keep your pig eyes open, you swine.'
For the first time Höss trotted out his oft¬repeated justification: 'I took my orders from Himmler. I am a soldier in the same way as you are a soldier and we had to obey orders.'
The party arrived back at Heide around three in the morning. The snow was swirling still, but the blanket was torn from Höss and he was made to walk completely nude through the prison yard to his cell."
Revisionists have insisted that this is a reliable confirmation for Höss's mistreatment,[3] which is also supported by the fact that Höss's statements about the alleged extermination activities which he described in his various "confessions" and in his memoirs are at times absurd, physically impossible, and at variance even with the orthodox narrative of what transpired at Auschwitz during the war.[4]
British Post¬war Torture Centers in Germany
The "Schlammbadehaus" (mud bath house) in Bad Nenndorf, after WWII a British torture center.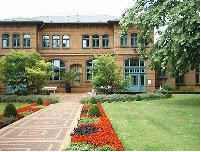 In September 2005, a German revisionist periodical published a paper that dealt with British torture practices in their post¬war detention center at Bad Nenndorf in Northern Germany.[5] The paper was mainly based on an article that had appeared in 1952 in the German weekly magazine Quick[6] and it mentioned in a footnote where British documents about that interrogation camp can be found. Only two months after the publication of that paper, three articles by Ian Cobain appeared in the leftist British daily The Guardian dealing with this and other British post¬war interrogation centers both in Germany and in the UK and the torture that had been used there to extract "confessions" from the inmates.[7] It is not known whether Cobain was inspired by the German article or whether this was a coincidence. However, based and inspired by Cobain's paper, a revisi onist team published another paper in the above-mentioned revisionist journal revealing more about the British torturers, in this case centering about the center located in the Germany city of Hameln.[8] Neither of the two revisionist papers exist have been translated into English so far.
One of the torture centers named in Cobain's papers was also Minden, where Höss had been systematically tortured. Hence these revelations once more bolstered the revisionist case Höss's testimonies are unreliable.
Hans Aumeier
Rudolf Höss was, of course, not the only German camp commander picked out by the British. Two other individuals were Josef Kramer, at war's end the camp commander of the notorious camp at Bergen¬Belsen, and Hans Aumeier, the head of the protective custody section of the Auschwitz camp, hence a subordinate of Höss. About the rough treatment which Kramer and other camp officials received from the British we have the description by British historian Montgomery Belgion[9] as well as the British journalist Alan Moorehead, who wrote:[10]
"As we approached the cells of the SS guards, the [British] sergeant's language become ferocious. 'We had had an interrogation this morning,' the captain said. 'I am afraid they are not a pretty sight.' […] The sergeant unbolted the first door and […] strode into the cell, jabbing a metal spike in front of him. 'Get up,' he shouted. 'Get up. Get up, you dirty bastards.' There were half a dozen men lying or half lying on the floor. One or two were able to pull themselves erect at once. The man nearest me, his shirt and face spattered with blood, made two attempts before he got on to his knees and then gradually on to his feet. He stood with his arms stretched out in front of him, trembling violently.
'Come on. Get up,' the sergeant shouted [in the next cell]. The man was lying in his blood on the floor, a massive figure with a heavy head and bedraggled beard […] 'Why don't you kill me?' he whispered. 'Why don't you kill me? I cannot stand it anymore.' The same phrases dribbled out of his lips over and over again. 'He's been saying that all morning, the dirty bastard,' the sergeant said."
Now, none of this is really new, as all this has been repeatedly quoted by all major revisionists in various works.
Regarding Hans Aumeier, there has so far been little evidence that he was tortured at all. In his 2004 book on Hitler and Stalin, German historian Prof. Dr. Werner Maser claimed that Aumeier had made a confession about the operation and death toll of the Auschwitz gas chambers "very obviously without force."[11] In contrast to this, British historian David Irving wrote in an unfinished typescript dated 2007 about the British documents on secretly overheard conversation of German prisoners in British captivity:[12]
"Regrettably, the top Auschwitz officers held by the British like the commandant, Rudolf Höß, or his erstwhile deputy Hans Aumeier, were not subjected to C.S.D.I.C.'s sophisticated interrogation techniques, but to the cruder, leather¬boot methods of Lieutenant¬Colonel A. P. Scotland, whose 'interrogators' stood over them with their fists as they wrote and rewrote their confessions until the wording was just right."
Irving gives no source for this, but Lieutenant¬Colonel A. P. Scotland is also the villain named by Ian Cobain as having been responsible for the torture of many German prisoners held in British captivity. Irving has posted a number of documents relating to Hans Aumeier on his website. Among them is his first confession of June 29, 1945, made while held in a prison in Oslo, in which he stated tersely:
"I know nothing about gas chambers, and during my time [of duty at the camp] no inmate was gassed either."
However, in a statement written on July 25, 1945, he suddenly reports in detail about the alleged first gassing at Auschwitz and all the subsequently built gas chambers in the various buildings at the Birkenau camp. The reason for his change of mind can be gleaned from a British Report on his interrogation, which states, among other things:
"The interrogator is satisfied that the bulk of the material in this report conforms with the truth in as far as it is concerned with facts, but Aumeier's personal reactions and feelings as stated in this report may have changed somewhat since his fate has taken a turn to the worse."
As Italian revisionist Carlo Mattogno has shown in his 2004 study on the so¬called Bunkers of Auschwitz,[13] Aumeier's claims about the alleged operation of the Auschwitz gas chambers are full of anachronistic flaws which can be explained only by the fact that the British had been apprised by the Polish authorities about the "story" they had established about the Auschwitz camp, and that the British then presented that story to Aumeier so that he would copy and thus "confirm" it after having realized that his fate had taken a turn for the worse. Actually, Aumeier was eventually
extradited to Poland and executed after a show trial staged against the Auschwitz camp garrison.
So how did the British make Aumeier realize within a month's time that his had taken a turn for the worse? In contrast to other inmates, neither Höss nor Aumeier were ever subjected to secret eavesdropping while incarcerated – or if they were, the transcripts of what they had said have either not yet been released or have been destroyed. Be that as it may, fact is that the British must have deemed it necessary to treat those two and many others of their "customers" in a different way to get out of them what they wanted.
Cruel Britannia
Ian Cobain has recently written an entire book on the history of torture committed by British officials in the various conflicts, starting from WWII and spanning all the way up to the current abuses inflicted on inmates arrested due to charges of terrorism or complicity in selfsame. Cruel Britannia is the title of this book, to be released on Nov. 1, 2012. Being a journalist, Ian Cobain has given himself a publicity boost by writing an article about his upcoming book – actually merely creating an extract from it – which was published by the Daily Mail on 26 October 2012. Cobain starts his book by looking into how the British, during the war, extracted vital information from German PoWs relating to pivotal issues of warfare, with few qualms as to the methods used. As regrettable as such actions might be, they are understandable and had justifiable ends – winning the war. Things changed, however, after the war had ended. Or rather, they did not change, and that's the problem. Although the justifiable ends had disappeared, the British kept on torturing, this time not to gain vital information, but in order to secure convictions in the upcoming war crime show trials. As Cobain writes in his Daily Mail extract:
Alexander Scotland
"So, how can we be sure about the methods used at the London Cage? Because the man who ran it admitted as much — and was hushed up for half¬a¬century by an establishment fearful of the shame his story would bring on a Britain that had been fighting for honesty, decency and the rule of law.
That man was Colonel Alexander Scotland, an accepted master in techniques of interrogation. After the war, he wrote a candid account of his activities in his memoirs, in which he recalled how he would muse, on arriving at the Cage each morning: 'Abandon all hope ye who enter here.'
Because, he said, before going into detail: 'If any German had any information we wanted, it was invariably extracted from him in the long run.' As was customary, before publication Scotland submitted his manuscript to the War Office for clearance in 1954. Pandemonium erupted. All four
copies were seized. All those who knew of its contents were silenced with threats of prosecution under the Official Secrets Act.
What caused the greatest consternation was his admission that the horrors had continued after the war, when interrogators switched from extracting military intelligence to securing convictions for war crimes.
Of 3,573 prisoners who passed through [the London interrogation center at no. 6¬8] Kensington Palace Gardens, more than 1,000 were persuaded to sign a confession or give a witness statement for use in war crimes prosecutions. […] In [Scotland's] memoirs, he disclosed that a number of men were forced to incriminate themselves."
Kensington Palace Gardens, Cobain wrote, was only one of nine such interrogation centers, also called "cages" for the way inmates were held there: like wild animals in cages [Guantanamo, anyone?]. And there were more of them operated by other branches of the British government. The same techniques used there were also applied in British interrogation centers abroad, among them those mentioned above in Germany at Bad Nenndorf, Minden and Hameln.
And what happened at the Akershus prison in Oslo where Aumeier was held? Maybe we will never find out. But we can reasonably assume that the British used their usual method to secure convictions during the upcoming war crime show trials in that case as well.
GERMANY IS THE VICTIM - LONG LIVE THE TRUTH!
Notes
[1] Steven Paskuly (ed.), Death Dealer: The Memoirs of the SS Kommandant at Auschwitz, Da Capo Press, New York 1996, pp. 179f.
[2] Rupert Butler, Legions of Death, Arrows Books Ltd., London 1986, pp. 236f.
[3] Faurisson, Robert. "How the British Obtained the Confessions of Rudolf Höss," Journal of Historical Review, 7(4) (1986), pp. 389¬403; cf. David Irving, Nuremberg: The Last Battle, Focal Point, London 1996, pp. 241¬246.
[4] Most recently: Carlo Mattogno, Auschwitz: the Case for Sanity, The Barnes Review, Washington, DC, 2010, pp. 425¬436.
[5] Johannes Heyne, "Die britischen Folterungen in Bad Nenndorf," Vierteljahreshefte für freie Geschichtsforschung, 2005, vol. 9, no. 1, pp. 14¬19. [6] "Hinter den Kulissen der Nachkriegszeit: Der dritte Grad," Quick, vol. 5, no. 10, March 9, 1952, pp. 28 – 31.
[7] Ian Cobain, "Revealed: UK wartime torture camp" & "The secrets of the London cage," The Guardian, Nov. 12, 2005; idem. "The interrogation camp that turned prisoners into living skeletons," The Guardian, Dec. 17, 2005.
[8] Hans Flessner, Erich Kern. "Das grauenhafte Geheimnis von Hameln," Vierteljahreshefte für freie Geschichtsforschung, 2006, vol. 9, no. 4, pp.
419¬428.
[9] Montgomery Belgion, Victor's Justice, Regnery, Hinsdale, IL, 1949, pp. 80f.
[10] Connolly, Cyril (ed.). The Golden Horizon, Weidenfels and Nicholson, London 1953, pp. 105f.
[11] Werner Maser, Fälschung, Dichtung und Wahrheit über Hitler und Stalin, Olzog, Munich 2004, p. 347.
[12] David Irving, Secretly Overheard: Eavesdropping on Hitler's Reich, http://www.fpp.co.uk/books/Overheard/CSDIC.pdf, p. 150.
[13] Carlo Mattogno, The Bunkers of Auschwitz. Black Propaganda versus History, Theses & Dissertations Press, Chicago 2004, pp. 133¬136.
This is an information service by TBR Magazine and Bookstore, P.O. Box 15877, Washington, D.C. 20003, USA phone: east coast: 202¬547¬5586; west coast: 877¬773¬9077 (from abroad: ++1-951¬587¬6936)
If you have not subscribed to our free weekly email newsletters yet, you can do so by going to our website and submitting your email address to us. You will then receive an email from us with a link you need to click in order to activate your subscription.
Click here to contact us by email
This email address was given to us when you signed up for this email newsletter service. If you want an unformatted text version of our newsletter instead, please do not hesitate to let us know. If you do not want to continue receiving our email newsletters, you can unsubscribe here.
This email is sent in accordance with the US CAN¬SPAM Law in effect 01/01/2004. Removal requests can be sent to this address and will be honored and respected.
Copyright © 2012 TBR Magazine and Bookstore.
——————————————————————————————-
Auszug aus "Die Geschichte der Verfehmung Deutchlands," Franz Scheidl
Die britischen Konzentrationslager
http://www.vho.org/D/gdvd_3/I1.html
Lange bevor es ein deutsches KZ gab, gab es solche im britischen Imperium.
Berüchtigt waren die britischen KZ in Südafrika während des Burenkrieges. Die Briten fingen die burischen Frauen, Kinder und Greise zusammen und steckten sie in Lager hinter Stacheldraht. Die Organisation der Verwaltung und Verpflegung dieser Lager war so mangelhaft, daß die Frauen und Kinder wie die Fliegen wegstarben. Die burische Zivilbevölkerung wurde in KZ gesteckt, um die burischen Krieger durch die Gefangennahme und Gefangenhaltung ihrer Frauen und Kinder zur Aufgabe des Kampfes zu zwingen. Eine barbarische und unsittliche Art der Kriegführung und ein Kriegsverbrechen.[1]
Berüchtigt und gefürchtet waren auch die britischen KZ im Mandatsgebiet Palästina. In großer Zahl wurden dort die palästinensischen Araber ohne Gerichtsurteil eingesperrt, die als Widerstandskämpfer gegen die Fremdherrschaft bekannt oder verdächtig waren.
Viele arabische Notabeln und Führer wurden dort gefangengehalten und waren oft grausamen übergriffen der Bewachungsorgane ausgesetzt. Im Konzentrationslager bei Akko wurden auch jene Araber eingesperrt, die von den Gerichten freigesprochen waren.
Während der beiden Weltkriege wurden die zivilen friedlichen feindlichen Ausländer in Lagern gesammelt und festgehalten.
Während des Zweiten Weltkrieges sperrte England Sir Mosley und mit ihm 3500 seiner Anhänger, streng königstreue und patriotische Faschisten, oh n e Urteil fünf Jahre in die Gefängnisse.
Nach dem Zweiten Weltkrieg unterhielten die Engländer mehrere KZ im besetzten Deutschland und Osterreich.
Die deutsch-amerikanische Bürgerzeitung, Chicago, Illinois, vom 13. August 1959, berichtet auf Seite 1 und 2:
,Die britischen KZ in Kenya (Ostafrika) sind seit einigen Jahren öffentlich bekannt. Im britischen Lager Hola wurden, wie gerichtsordnungsmäßig festgestellt wurde, Gefangene zu Tode geprügelt und keiner von uns kann jetzt behaupten, daß er nichts davon weiß oder daß es nicht wahr ist."
,Berüchtigt und gefürchtet waren auch die britischen KZ auf Zypern. Einige 5000 Personen waren in sieben KZ interniert. Diese lagen in Kokkonotrimithia, Mammari, Pyla, Pergamos, Piroi, Potemi und Kraolos."
"Um aus den gefangenen Kämpfern Informationen herauszubekommen, wandten die Briten alle Arten von Quälereien und Mißhandlungen, sogar Mord an. Neun Personen wurden zum Tode verurteilt und erhängt und sechs starben an den Torturen während der Befragung durch die englischen Geheimdienstleute. Die Verpflegung war unzureichend."
(P. Georghadjis, Innenminister der Republik Cypern. Interview in der " DWZ", Hannover, vorn 26. Jänner 1963, Seite 1.)
———————————————————————————————
How Brits tortured Germans
http://www.dailymail.co.uk/news/article-2223831/How-Britain-tortured-Nazi-PoWs-The-horrifying-interrogation-methods-belie-proud-boast-fought-clean-war.html
 Behind the Balfour Declaration: Britain's Great War Pledge To Lord Rothschild
http://www.vho.org/GB/Journals/JHR/6/4/John389-450.html
The Gas Chamber of Sherlock Holmes
7. The Nuremberg Trials
http://www.vho.org/GB/c/SC/sh7.html
HELLFIRE STORMS OVER GERMAN CIVILIANS
Table of German Deaths - media
Allied Robber Convoys - post
Barbarians - post
Bombing - 1,000,000 Dead - post 
Blood Tornados over Germany - post
British Bombed Prisoners in Harbor - 8000 dead - post
British Torture - post
"Confession" Hoess - through torture
Death of Hamburg - media
Destruction - website
Destruction of Germany - post
Genocide 28,000 Boers in South Africa (Dutch/Germans)
Haager Landkriegordnung - PDF
Holocaust for German POWs under Allied Military - post
  At Bleiburg Austria after the war, the British army turned over 700, 000 croates to Tito's red partisans.
http://www.youtube.com/watch?v=_8WCUcMz_Mo
http://www.youtube.com/watch?v=SHoA3HUxT54
GERMANY IS THE VICTIM - LONG LIVE THE TRUTH!