"Wir Juden sind die Zerstoerer und wir werden immer die Zerstoerer bleiben. Egal was ihr tut, ihr koennt uns nie zufriedenstellen. Deswegen werden wir immer zerstoeren, denn wir wollen unsere eigene Welt (Planeten)." (vom Buch: YOU GENTILES bei dem Juedischen Authoren Maurice Samuels, Seite 155) …Die Juden nuetzen uns aus, fuehren uns an der Nase herum und druecken die letzten Schaetze aus uns heraus… bis zu dem Tag…
English & Deutsch

*****
THE INSANITY OF THE JEWISH TALMUD
AN INTERNATIONAL CRIMINAL GANG IS DESTROYING US
DEUTSCHLAND VERNICHTUNG*LANGE SCHON PLAN DER JUDENKIRCHE
JEWS KILLED ALL THE GERMAN BABIES IN PALESTINE
###
THE WAYS OF THE JEWS: DESTRUCTION
The following book exposes the evil of the Jews:
https://archive.org/details/merchant_of_venice_1005_librivox
https://archive.org/details/themerchantofven01515gut
BY WAY OF DECEPTION THOU SHALT DO WAR!
- Mossad -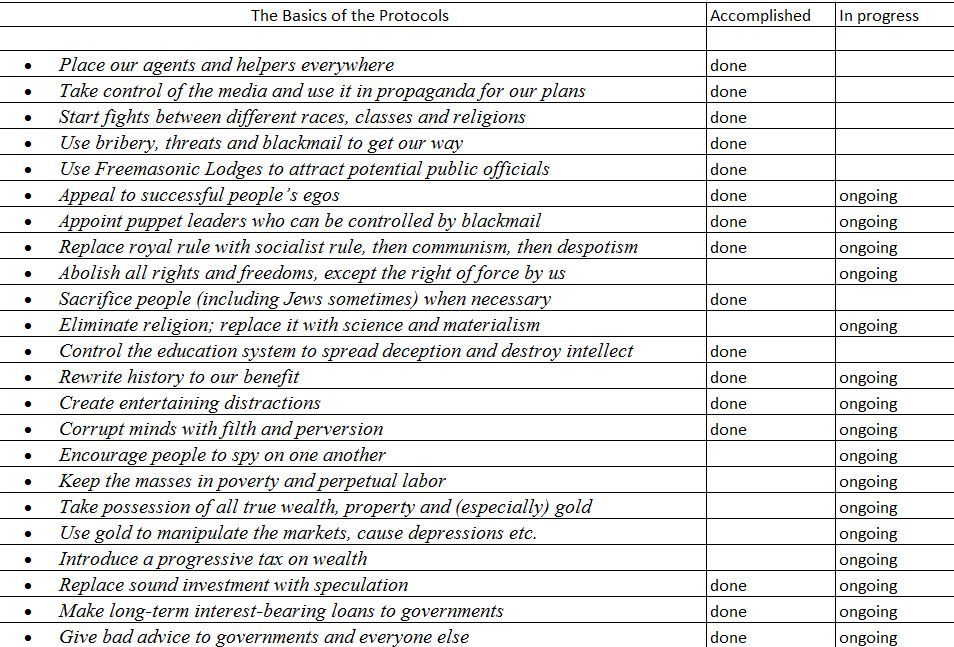 * * *
FRAU URSULA HAVERBECK
CHRISTOPER BOLLYN, JOURNALIST
Solving 9/11 – The Deception that changed the world:
HP – this is a real time bomb that could conceivably blow the Zionists right out of the water unless they can diffuse it before it gets to open debate in Parliament hence public. Once the truth is out that Israel and the Neo-cons did 9/11, killing 3000 Americans, not even the Congress nor the entire Main-Line Media will be able to maintain the Party Line that Israel is America's "Best Friend" and worth all the money and arms we give her, let alone the sacrifice of American lives and those of her designated enemies.  It will be interesting to see how the other 3 parties react since all are led and advised by ardent Zionists and are beholden to Jewish paymasters.  Perhaps they (and the media) will simply remain silent.  The President of the Green Party also faces a dilemma if he is a Jew – which my intuition tells me is the case.  He has stayed in the background so far, not surprisingly.  btw  I just finished reading Christopher Bollyn's "Solving 9/11″, which is available on-line and makes an irrefutable case for the Prosecution. – [email protected]
A MUST WATCH EXCELLENT VIDEO – GIVING DETAILS ON THE DECEPTION OF 9/11.
http://www.youtube.com/watch?v=UPiMzSQCtG8&x-yt-ts=1421914688&x-yt-cl=84503534
Solving 9-11:The Deception that Changed the World-Pdf:
http://www.germanvictims.com/wp-content/uploads/2015/01/Solving_9-11_-_The_Deception_That_Changed_The_World.pdf
Adolf Hitler: Video - The man who fought the Bank video:
http://www.youtube.com/watch?v=pDLyKSYRqXM&x-yt-ts=1421914688&x-yt-cl=84503534
The Jewish Strategy by Revilo Oliver – Pdf
http://www.germanvictims.com/wp-content/uploads/2013/05/The-Jewish-Strategy-Revilo-Oliver.pdf
Bolshevism = Zionism
http://davidduke.com/bolshevism-zionism-and-neocons-are-ideologically-indistinguishable-says-black-scholar/
The Greatest Mass Murderers of all Time—Excerpt from Dr. Duke's New Book
http://davidduke.com/stalins-jews-the-greatest-mass-murderers-of-all-time-excerpt-from-dr-dukes-new-book/
Stalin's Jews:
http://www.ynetnews.com/articles/0,7340,L-3342999,00.html
Solzhenitsyn on the Jewish Role in the Bolshevik Terror
http://davidduke.com/solzhenitsyn-on-the-jewish-role-in-the-bolshevik-terror/
Jewish Extremists Ruined Russia, Says Politician from Putin's Party
http://davidduke.com/jewish-extremists-ruined-russia-says-politician-putins-party/
Rethinking the Khazar Theory
http://davidduke.com/rethinking-khazar-theory/
"Lynching" of truth speakers
http://davidduke.com/steve-scalise-lynching-textbook-example-zio-media-lies/
Invisible Government:
http://justice4germans.com/2014/12/31/germanys-klagemauer-tv-reports-on-americas-invisible-government-and-their-role-in-the-world-wars/
The Talmud unmasked-Pdf
http://www.germanvictims.com/2015/01/10/the-talmud-unmasked/
THE POWER OF THE JEWS LIES NOT IN THE JEWS THEMSELVES, BUT IN THOSE WHO LET THEMSELVES BE USED BY THE JEWS TO INSTIGATE NON-JEWS TO DESTROY EACH OTHER IN COUNTRIES AROUND THE WORLD BY POLITICAL DEFAMATION, MURDER, CRIMES, SKIRMISHES, CIVIL WARS, AND WARS! ALL THESE ARE THE TOOLS OF THE JEWS TO CONTROL THE WORLD AND MURDER ITS PEOPLE.
John Kaminski: … Oliver asks if Roth's comment that "the hideous swamp the Jews have made of Western civilization" would impair the power of the ubiquitous tribe from which he defected. Of course it did not, and Roth's work, like that of so many others, is buried beneath the rubble of a million phony stories about the Holocaust and other Yiddish fantasies.
Roth wrote of how the Germans thought they could cast off the power of Jewish financiers that had ruled them for two centuries, and how they paid a horrible price for believing that they could do so. Oliver condensed the plot down to  . . .
The Jews, through their control of the press and of numerous hirelings, of whom Winston Churchill and Franklin Roosevelt are merely the most loathsome specimens, stampeded great hordes of crazed Aryans from Britain, France and the United States into Germany to commit outrages that forever forfeited their claim to be civilized men, thus giving to the world an unforgettable lesson of what happens to Aryan dogs who dare to disobey their divinely appointed masters.
"Does anyone wonder that the Jews feel a sovereign contempt for cattle that are so easily herded?"…
excerpt from: http://therebel.website/en/kaminski/831544-spiritual-syphilis
based on the book: The Jewish Strategy For Our Destruction - Revilo Oliver
German Poster during WWII Times: The Jewish Conspiracy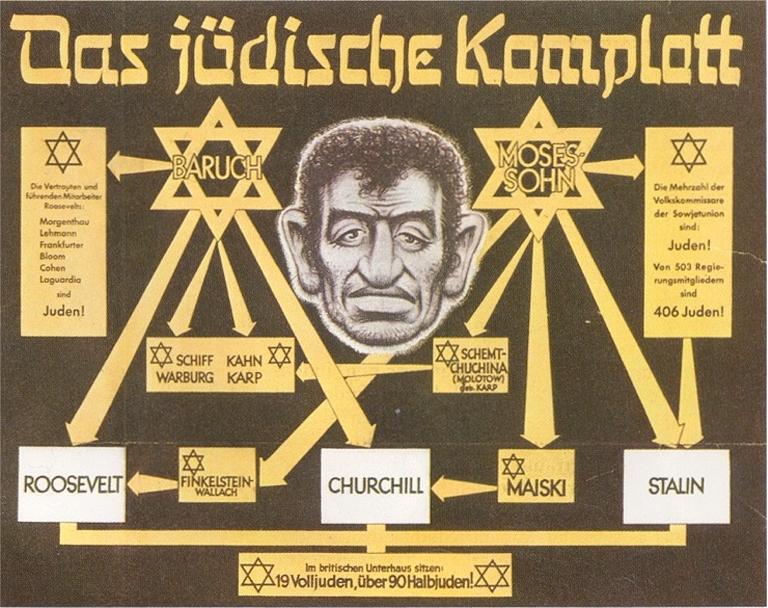 In the British Haus of Commons, 19 are full-blooded Jews, 90 are half-Jews
At the time they did not know that Roosevelt and Churchill were Jews. Maybe even Stalin.
* * *
This is a very difficult truth to face, especially for Christians:
The white race has been scammed and is in its death throws!
SPIELBERG'S HOAX - VIDEO ON SCHINDLER'S LIST
The Jews are the best liars - practiced for thousands of years to cheat and harm us and are extremely good at making themselves likable (excellent pretenders):
https://www.youtube.com/watch?v=80GgRWuXcO8
SWINDLERS' LIST
Corrupting and Falsifying Hate Movie - Steven Spielberg The Racist: Swindlers (Schindler's) List part 1
https://www.youtube.com/watch?v=R8taeSSIoyk
Corrupting and Falsifying Hate Movie - Steven Spielberg The Racist: Swindlers (Schindler's) List part 2
https://www.youtube.com/watch?v=aBWpc6oSKyk
Blog Talk - The  "anti-Semitism" Trick to Get  Away with Murder!
 Henry Ford's Intl. Jew Radio Talk - Bolshevism chapter 25
 Jewish Immigration from the Third Reich - Weckert
Building Of Soviet Fake Gas Chambers Auschwitz
Not Guilty at Nuremberg - Carlos Porter - Pdf
also visit very informative JEWISH - post
Besuchen Sie auch sehr informativen JUEDISCH - post
* * *
The Many Gods and Goddesses of the Jewish Kabbalah - June 21, 2014
Christian pastors and laymen believe that the Jews worship the God of the Old Testament. They are absolutely wrong! In fact, Texe Marrs documents that in Judaism, the Kabbalah teaches of numerous gods and goddesses. Some are sex deities. There is a serpent Queen and her mate, and a daughter and son who have incestuous sex. Amazingly, a serpent is revered as the Messiah-Spirit, and there is even a deity for the male phallus. Never before has anyone revealed these striking facts about the horrors of Judaism. Now you will know why Kabbalism has many initiate-students, including Madonna, Britney Spears, former President and First Lady Bill and Hillary Clinton, and Senator Harry Reid. — click on the MP3.
Jews have Destroyed what America used to be
2 Men arrested for free speech activity. See this excellent video commentary by Canadian pundit Brian Lilley. This is Bolshevism/ Communism!
Countering Jewish-Zionist Power
No hate crime charges for Jews - Unbelievable!
Jewish Promised Land of Organized Crime - 1
Jewish Promised Land of Organized Crime - 2
Jewish Sex Trafficking: 400,000 women lured from the Ukraine on false career promises - 3
Introduction To The Anti-humans
15+ years of prison for Amish Christians for shaving the heads of their opposition - for hate crime! Arranged for by the Jews! Unbelievable!
Dr. Lorraine Day is a world-renowned UCSF Physician and AIDS expert, defamed by the enemy for her truth speaking:
THE HIDDEN TYRANNY – Jew Rosenthal: We'll Destroy all Police, Army Officers and Their Families – post
***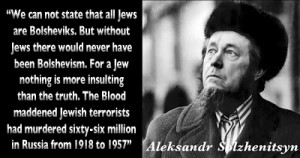 ***
Former U.S. Congressman Bill Dannemeyer – Law signed by Bush:
Jews smuggled a law into our congress: A Law that is set to Kill Christians
Jew Harold Rosenthal: the Blood of Non-Jews will Flow
Eye-opening talks:
Annihilating the white race by     A R R A N G E M E N T    of the Jews – radio talk by the author of "Synagogue of Satan" Andrew Carrington Hitchcock
Don't let the title throw you off-it's not about religion… a very detailed documentary of how the world is dangerously stacked against the white race and for enslavement of all people by Communist Synagogue of Satan takeover:
A must Watch Documentary: Synagogue of Satan - Takeover of the U.S.A. and the World
Book - might be an older version: The Synagogue Of Satan
Countering Jewish-Zionist Power
*****
The Dangerous Campaign For War Against Iran
ALL AMERICANS MUST KNOW THE TERROR THAT IS UPON US – Dr. Oliver
Authors of the World's Disasters
BIG STICK FALSE HOLOCAUST - post
BOLSHEVIK MASS MURDERERS - post
BOOK OF ESTHER - MURDER FEAST - post
BOOKS ARTICLES ENGLISH - post
Can The Jews Ever Be Wrong? - post
CHRISTIAN ZIONISM IS WRONG - post
FALSE JEWISH HOLOCAUST - post
FALSIFICATIONS - post
GREAT MOURNING ON THE BLACK SEA
Homeland Security – A Jewish Racket:
http://www.john-friend.net/2014/01/homeland-security-jewish-racket.html
ISRAEL'S ETHNIC CLEANSING BOMB - post
Israeli Deceit and Jewish-Zionist Power
Jewish Hostility Toward Germans
Jewish U.S. Law*Kill Christians
Jews in the 1930s in Russia-Solzenitzhyn - media
JEWISH CRIMES AGAINST HUMANITY - post
JEWISH TREASON - post
JEWISH-U.S. LAW - KILL CHRISTIANS
Liberating America from Israel
Off with your head!:
http://www.public-action.com/christmas.html
PALESTINE - ANCIENT GERMAN HOMELAND
Plan to Destroy All Sovereignty
REAL HOLOCAUSTS - page
RESPONSE TO JEWS DECLARE WAR ON GERMANY IN 1933
SWASTIKA - HAKENKREUZ - post
U.S.A. TAKEN OVER BY COMMUNISTS (JEWS)
USS Liberty Crew Murdered by Jews
Unmentionable Ethnic Interests
What the Jews think about the non-Jews:
http://www.goodnewsaboutgod.com/studies/political/jews/free_at_last.htm
The Zionists Have no Clothes - Part 1
The Zionists have no clothes - Part 2
The Zionists have no clothes - Part 3
****
DEUTSCH (oder mixed)
ABWEHR PROKLAMATION BY HITLER GEGEN DIE JUEDISCHE KRIEGSERKLAERUNG
DER FALSCHE HOLOCAUST - page
FALSCHER HOLOCAUST - post
FALSIFICATIONS - post
FREIMAURER - FREEMASONRY - page
HERRSCHAFT UEBER ALLE - post
Holocaust als Politische Waffe gegen den Deutschen-video
Holocaust als politische Waffe gegen die Deutschen - pdf
Horst Mahler ist im Gefaengnis fuer viele Jahre wegen seiner Aussprache gegen die Holocaust Luege
JUEDISCH - post
JUEDISCHE KRIEGSERKLAERUNG - post
KAUFMAN PLAN - STERILISIER ALLE DEUTSCHE! - post
KOMMUNISMUS - MARXISMUMS - ist Juedisch!
SWASTIKA - HAKENKREUZ - post
The Christian Science Monitor
10 brands you'll have to give up if you're boycotting Israel
Since 2005, the Boycott, Divestment, and Sanctions movement (BDS) has called on the international community to pressure Israel economically as "a form of civil resistance to Israeli occupation, colonialism, and apartheid."
That would mean significant lifestyle changes for some consumers. Here are 10 brands that BDS supporters have urged others to boycott, not to mention thousands of other products that contain or use Israeli-developed technology, including iPhones, iPads, MacBooks, Skype, computer firewalls, Microsoft XP.
- Christa Case Bryant, Staff writer
Pampers (this might be a problem)
Victoria's secret (there are plenty other brands)
Volvo
Intel
Hummus "Tribe" and "Sabra"
Motorola
Hewlett-Packard
Ahava cosmetics
McDonalds – promotes visits to Kiryat Gat built on erased Palestine village
Soda Stream
Source: Christian Science Monitor
The Jews as the "Poisoners of the Wells" from "therebel.org"
This term refers to medieval accusations against Jews as secretly poisoning the wells of their besieged hometown to help the enemy conquering it. In fact, Jews in the East Roman Empire were forced to take refuge in the rival Khazarian Empire because of that kind of accusations: collaboration with Byzanth's mortal Arab enemy. In more recent use, the term refers to the view that Jews are responsible for most if not all evils in the world. Such a Jew-centric perspective can easily be supported by facts:
the Jewish domination of the genocidal slave and spice trade
the Jewish dominance of organised crime
the Jewish domination of sex slavery and prostitution
the Jewish domination of the porn industry
the Jewish domination of illegal organ trade (including organ theft)
the Jewish domination of Freemasonry/Satanism
the Jewish domination of investment banks involved in the initiating and financing of most if not all wars in the past 200 years
the Jewish domination of multinational corporations involved in the deliberate poisoning of mankind, most notably Monsanto and vaccine manufacturing
the Jewish domination of illegal drug trade
the Jewish domination of illegal weapon trade
Jewish leading role in usuary and the fraudulent fractional reserve banking scam
the Jewish leading role in the creation and implementation of Communism
the Jewish leading role in the Ukrainian and Armenian genocide
the Jewish leading role in the promotion and execution of abortions
the Jewish leading role in the promotion and practice of homosexual lifestyle and pedophilia
the Jewish leading role in the promotion and practice of all sorts of perversions
So yes, Jews are poisoning the wells by systematically destroying the foundations of their host countries. Jewish thought policemen like the Anti-Defamation League of the (Satanic) B'nai B'rith always object to singling out Jews for their role in all sorts of societal evils. According to them Jews are just smarter, harder working and better at networking, which is why they tend to be overrepresented in any endeavour they put their mind on. This argument graciously ignores the fact that the Jews are not just piggybacking off an existing scam or conspiracy because it is lucrative, but they actually create, 'own' or at least dominate it…
January 30, 2014
APOLOGIES ARE NOT ENOUGH!
Jew musician's crocodile tears can't atone for centuries of crimes against humanity
Reacting to last weekend's massive anti-Jewish demonstrations in Paris, Jewish musician, author and popular columnist Gilad Atzmon has issued a statement suggesting Jews apologize for hiding their colossal and never-ending crimes against humanity behind their disingenuous shouts of anti-Semitism.
"It is time for Jews to look in the mirror and try to identify what it is in Jews in their culture that evokes so much fury," Atzmon writes.
Upwards of a hundred thousands demonstrators on the streets of Paris had plenty of suggestions for Atzmon and his Jew brethren, as outraged French citizens protested in a "day of anger" against the policies of President Francoise Hollande, especially new laws approving gay marriage which guarantee the further disintegration of traditional nuclear families.
A long-running feud over the social criticism of Holocaust Revisionist comedian Dieudonné helped fuel the recent outburst of anger at Jewish political manipulation in France, whose recent president Nicolas Sarkozy is on the record as having worked for both the Mossad and the CIA.
Dieudonné's concerts have been banned by the government because he speaks openly of the Jewish lies about World War II. His on-stage antics started a movement called "the quenelle" that has gone viral on the Internet and worldwide on the planet. Jews claim it is cryptic Nazi salute. Those who laughingly use the quenelle movement know it is a forbidden criticism of the powers that be.
Robert Faurisson, whose half century crusade to correct the false Jewish version of WW II history has earned him the title of "dean of Holocaust Revisionism, reported on today's events:
News from France - January 28, 2014
1) At the big demonstration in Paris last Saturday (January 26, "day of anger") against President Hollande and his government some participants, at least one with a megaphone, were heard chanting a slogan that can be translated "Faurisson is right: the gas chambers are a sham". The demonstration gave rise to clashes between marchers and police: there were 262 arrests and 19 policemen injured. Those arrested were all subjected to the burdensome procedure of detention in isolation (garde à vue), in which a lawyer and a physician must be called for each person held. See
The French are shouting: "Jews, Jews, Jews, France does not belong to you!"
Video of the French - on this link Apologies are not enough
2) The well-known revisionist "Joe Lecorbeau", graphic artist and publicist (joelecorbeau.com), is under arrest in Toulouse in the context of an inquiry into the posting on the Internet of a photo of a young man making the "quenelle" gesture in front of a Jewish  school in that city: the police have searched his house and seized his computer and other belongings .
3) This morning the comic Dieudonné, friend of the revisionists, saw both his theatre in Paris and his residence in the countryside to the west of the city searched by the police.
France, of course, is one of those European countries in which it is against the law to challenge the Jewish version of the events of World War II, which assert that 6 million Jews were killed by the Germans in their concentration camps. Despite the fact that Jews have reduced the supposed death toll in the Auschwitz camp from 4 million to 1.4 million, it remains a crime throughout Europe to challenge the 6 million figure or other details of Jewish lies about that tragic period in history.
Atzmon, a popular fixture on such well-known false opposition websites as rense.com and Veterans Today, claimed in his statement that the majority of Jews "failed to appreciate the growing mass fatigue of Shoah indoctrination (Holocaust propaganda) and belligerent lobby politics (which is shorthand for Jewish control of all the major governments in the world).
The award-winning saxophone player urged Jews to, "instead of whining about the 'rise of anti-Semitism', Jews better, once and for all learn to ask why? Why the Jews again? Why are they hated? What is it in Jewish politics that evokes so much resentment? Why does it happen time after time?"
For someone as popular as Atzmon NOT to know why Jews are resented and hated all over the world strikes me as particularly disingenuous and particularly Jewish, one of the leading traits for why Jews are hated to begin with, which is their utter inability to tell the truth about anything.
In any case, here are some suggestions for Atzmon so that he may better know why Jews are hated everywhere, and why the people of France and every other country have had it up to here with them. Sigh. Where to begin?
1. Jews have stolen everyone's money. America has gone broke financing wars for Jews all over the world. Every other country is in the same straits. Jews control all their governments. Jews control their media. Jews control their schools, their entertainment, their doctors, their courts, even their priests. The world is controlled by Jews, and everybody's life — except for rich Jews and their slaves — has never been more at risk.
2. Jews supervised the demolition of the Twin Towers in New York City and blamed it on contrived Islamic patsies, thereby green lighting an endless string of wars against Muslim countries, which has now been extended to ALL countries regardless of their religious orientation. The emphasis on war has become so intense that now the United States government is making war on its own people — can anybody realistically deny this? — because it is following the orders of Jews who control all the money in the world.
3. A Jewish company known for slave trading and weapons manufacturing now controls the world's food supply, and as a result everybody — and every living thing — is in the process of dying a premature death — from the bees to the sardines to your neighbors trying to live on poison junk food from the convenience store because it's all they can afford.
4. Jews have turned your children into poisoned zombies through medicines they are forced to take and lies they are forced to believe. No girl who takes Gardasil will bear normal children, and no boy who excels in school will ever be able to think outside the box and know that all the history he has learned is a lie written by Jews.
5. Jews promote homosexuality and unceasingly bash religions in order to destroy families, which is their last rival in controlling the world and every mind in it. With no family or no religion to believe in, everyone is easy prey to the lies they get everyone to believe. Thinking for yourself is now a crime. You see it being proven in the streets of Paris tonight.
6. The control of media by Jews is so complete, and its synchronization with government objectives so perfect, that new iterations of this string of false flag atrocities to achieve their totalitarian objectives are no longer necessary. Now, they can have the media simply report what has happened and the objective is achieved. The public believes what they are told, no matter what has actually happened. We see this vividly demonstrated in the so-called mass murder of schoolchildren in Connecticut, which never actually happened, and in the false flag bomb drill at a race in Boston, where no one was killed except the person they chose to blame for the event.
And another path of false history created by Jews deepens the darkness that now descends on us all.
7. If everyone in the world knew all the bad medicines Jewish doctors have foisted on their naive and trusting patients, and how many beneficial medicines they have suppressed in the interest of making more money by keeping people sick, Jews would have no place in the world that was safe enough to hide.
8. If everyone in the world knew how Jewish pimps lured starving girls out of poverty stricken Russian provinces and imprisoned them in Tel Aviv prison where they could be endless defiled by Israeli pervs, or murdered little Palestinian kids for sport so their organs could be removed and sold to deteriorating kosher lemmings in New Jersey, then no amount of apologizing could save them from the victims' irate relatives.
9. If everyone knew how totally the Jews have controlled the U.S. government throughout the 20th century, how they caused both World Wars, invented the Jewish hell bomb, put fluoride in the water, poisoned the polio vaccine, and intimidated a group of Jewish psychiatrists into declaring homosexuality normal  . . . well, what would you do to them?
Needless to say, this list of reasons why Jews are hated could be much longer, is much longer.
Apologies for this criminal, pathological, sociopathic behavior are not in order, because everyone knows a sociopath doesn't mean what he says. And only a sociopath could defend Judaism.
No, the only appropriate behavior for Jews considering what they have done to the world would be mass suicide.
Of course, since they will never realize their guilt, we know that won't happen.
And it devolves to us to achieve that same necessary objective in order to have any hope of saving a decent, healthy world from the Jews, who have no concern for its welfare. Or the welfare of anyone except their sick and twisted selves.
John Kaminski is a writer who lives on the Gulf Coast of Florida, constantly trying to figure out why we are destroying ourselves, and pinpointing a corrupt belief system as the engine of our demise. Solely dependent on contributions from readers, please support his work by mail: 6871 Willow Creek Circle #103, North Port FL 34287 USA.
source: https://therebel.org/kaminski/739589-apologies-are-not-enough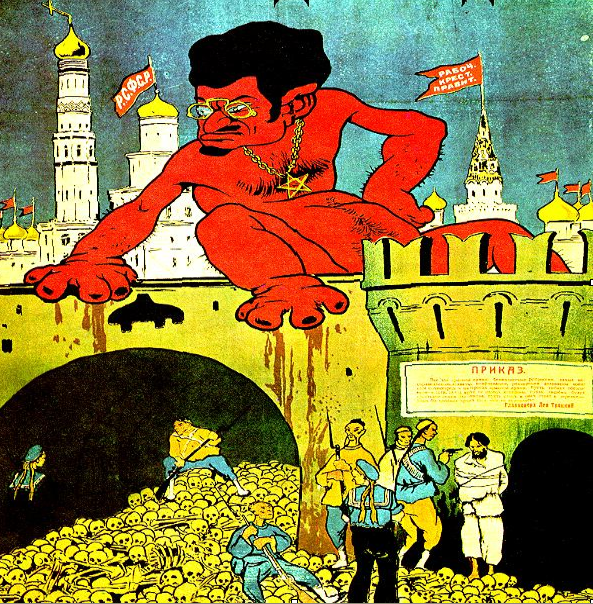 *
IN RUSSIA, THE JEWISH BOLSHEVIKS MURDERED 60,000,000 TO 120,000,000 PEOPLE, INCLUDING MILLIONS OF ETHNIC GERMANS STARTING IN ca. 1917
*
Deutsch
Grundwissen über das alles zerstörende Judentum:
"… wir müssen unserer Psychiatrischen Anstalten mit antisemitischen Verrückten und unsere Gefängnisse mit antisemitischen Verbrechern füllen. Wir müssen Antisemiten verfolgen und bis an die Grenzen der Gesetze und darüber hinaus vernichten. Wir müssen unsere Antisemiten erniedrigen und quälen bis sie zu unseren Weggefährten werden …" (Rabbi Leon Spitz, American Hebrew, 01.03.1946)
"Wir treiben die Christen in einen Krieg indem wir deren Dummheit, Ignoranz und nationale Eitelkeit ausnuetzen. Sie werden sich gegenseitig massakrieren und dann haben wir genug Platz fuer unser eigenes Volk." (Rabbi Reichorn, in Le Contemporain, Juli 1880)
"Wir Juden sind die Vernichter und wir werden immer die Vernichter bleiben. Egal was ihr auch tun werdet, unsere Wuensche koennt ihr nie befriedigen. Wir werden daher immer vernichten, denn wir wollen unsere eigene Welt." (aus dem Buch YOU GENTILES vom juedischen Autor Maurice Samuels, Seite 155)
English
Basic Knowledge about Judeas' greed for destruction and upheavel:
"We must fill our psychiatric hospitals with anti-semitic crazy people and our prisons with anti-semitic criminals. We must hunt anti-semitics and all the way to the limits of the law and after that destroy them. We must humiliate our anti-semitics and torture them until they become our fellow travelers…" (Rabbi Leon Spitz, American Hebrew, 01.03.1946)
"We are driving the Christians into a war in that we take advantage of their stupidity, ignorance, and national pride. They'll massacre each other and then we have enough place for our own people." (Rabbi Reichorn, in Le Contemporain, Juli 1880)
"We Jews are the destroyers and we will always be the destroyers. Regardless of what you do, you can never satisfy our desires. We will, therefore, always destroy, because we want our own world." (from the book YOU GENTILES vom Jewish author Maurice Samuels, page 155)
Posted 8/14/2013 - How the Jews won the West:
http://theendofzion.com/2013/08/09/how-the-jews-won-the-west-2/