6 Million German Civilians were Murdered in Germany Proper by the Allies After the War by Starving them to Death!!!  In addition, 1 - 2 Million German POWs were murdered by the US Military by starving them to death in various maltreatment in the US prison camps in Germany.
ENGLISCH-DEUTSCH
Gedaechtnisstaette Borna
Den wehr- und waffenlosen Opfern des deutschen Volkes in Trauer und Liebe.
Ihr Leiden und Sterben ruft laut in das Schweigen der Welt.
###
###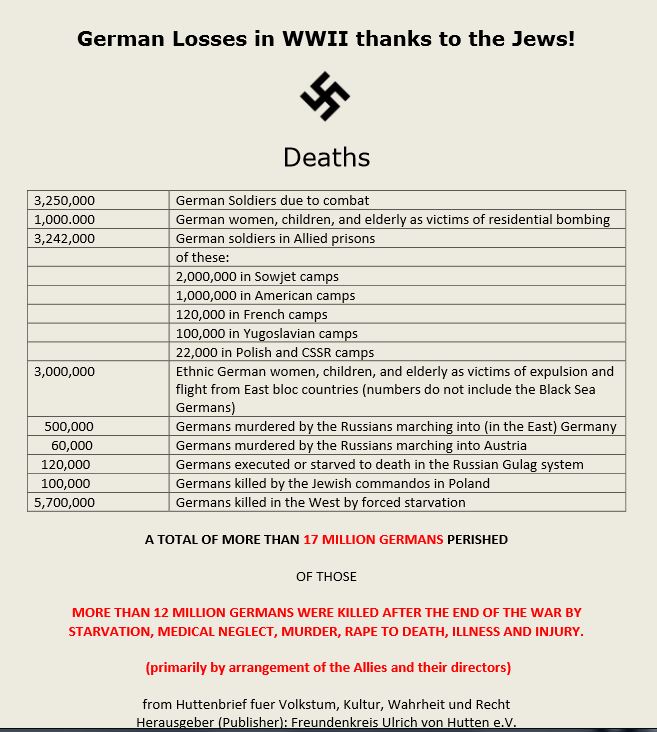 ###
###
~The more I discover the crimes against my German people, the more I love them. The more I am rejected for the truth, the more my passion for truth grows. The more I am threatened, the more I insist. I AM NOT A HERO AT ALL, but I've now gotten a glimpse of what German heroes are made of.~gv
*
OUR ENEMIES ARE PRODUCING VIDEOS THAT HAVE SOME TRUTH BUT ARE DOING THIS TO WORK IN LIES ABOUT GERMAN SOLDIERS' CRIMES AND THE JEWISH HOLOCAUST INVENTION. IN NO WAY DO I AGREE WITH ANY CRIME ACCUSATIONS OF THE GERMANS, EVEN IF I DO SHOW THE VIDEO!
BITTE BEMERKEN: UNSERE FEINDE PRODUZIEREN VIDEOS DIE WAHRHEIT HABEN ABER SIE PRODUZIEREN SIE NUR DAMIT SIE IHRE LUEGEN UEBER SOGENANNTE 'VERBRECHEN' VON DEUTSCHEN SOLDATEN UND DER JUEDISCHEN HOLOCAUST ERFINDUNG WEITER VERBREITEN KOENNEN. AUF KEINEN FALL UEBEREINSTIMME ICH MIT DEN ANSCHULDIGUNGEN GEGEN DEUTSCHLAND!
- GERMAN POWs INCARCERATED AT THE AMERICAN DEATH CAMPS on the RHEIN MEADOWS - HERE IS ONE OF MANY CAMPS: -