…In Hamburg-Wandsbek were thrown from American aircraft by day poisoned candy and disguised as fountain pens bomb cartridges. A number of children who pick up these items are killed and injured. (311)… A 12-year-old German girl who is traveling with a team of horses in Rothenburg / Tauber on a country road, is killed by enemy low-flying aircraft with on-board guns. (326)…
[*gv: The Mad American "Soldiers of Christ" still exist and are driven on by their Jew-Masters in the American Churches to cheer on the Israeli Mass Murderers of Palestinian "insects."]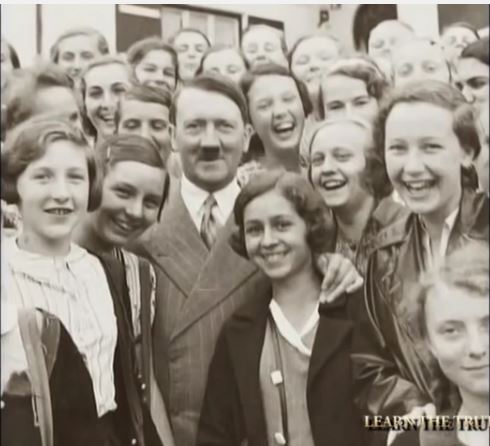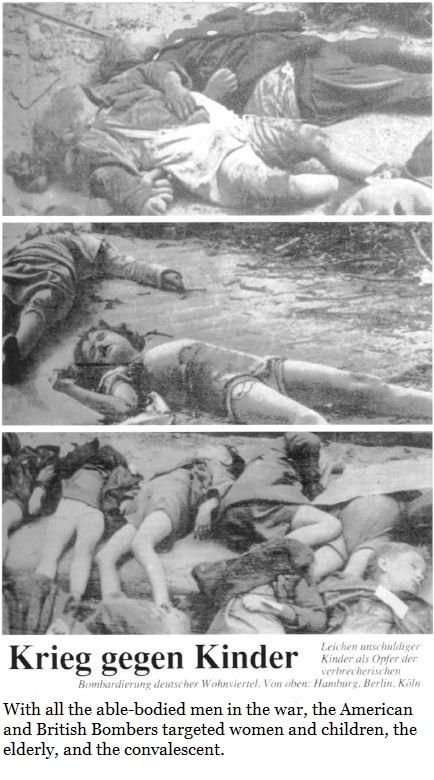 The German Military fought Strictly According to the Geneva Convention. The lies about the German Military are a Scam, like Holocaust is to hide the Allied crimes and shot up the Germans.

SLIGHTLY EDITED GOOGLE TRANSLATION - not the best English.
[*gv: OF COURSE THE NON-HUMANS WHO RAN THE ALLIED GOVERNMENTS AT THAT TIME (AND NOW) HAD TO INVENT THE JEWISH HOLOCAUST TO DISTRACT FROM ALL THESE HEINOUS CRIMES ALL THE ALLIES HAVE COMMITTED TOWARD THE GERMAN CIVILIANS AND GERMAN SOLDIERS!
The word Tiefflieger means low flying attack planes.
There are very few German Reich documents left from the Allied crimes since all the Allies that occupied Germany stole the Reich's government records to hide the Allies' crimes against humanity.~gv]
VOLUME I
USA
VIOLATION OF RULES OF WAR IN AIR BATTLE
1 9 4 0    M a y
Two enemy aircraft drop bombs on the hospital in Amiens, although the building is clearly identified by the Red Cross. This will create two wounded killed and 24 seriously injured again. (136)
1 9 4 2
O c t o b e r
Enemy planes resort to the military completely meaninglessness bombing of East Frisian island of Spiekeroog were Hitler Youth members who are employed in the fields of the island with harvesting operations. (126)
1 9 4 3
June July
Between Soden and Hall of Münster the Passenger train Frankfurt- Fulda was attacked twice with bombs and strafing. After the train stopped, the fire on the fleeing people is continued. (193)
September October
In Gdansk are in perfectly clear day by enemy aircraft bombs thrown at the clearly the Red Cross marked Deaconess Hospital. The Children's Department receives a direct hit and was completely destroyed, with 49 children and six nurses find their death. (132)
O c t o b e r
In Limburg attack two enemy fighters attack with on-board weapons trucks on the highway, which are loaded with household goods,  This is one person killed and three others seriously injured. (156)
In the village Viermünden Krs. Frankenberg (Eder) will be attacked by deep flying aviators systematically farmhouses and putting them on fire, making a total of ten farmsteads destroyed. The village has no industry plants. (506)
In Hamburg-Wandsbek throw from enemy aircraft by day poisoned candy and disguised as a fountain pens bomb cartridges. A number of children who pick up these items, are killed and injured. (311)
1 9 4 4
J a n u a r
Engage enemy aircraft with a clear view attack the only 30 home-village Schauereck Krs. Euskirchen with guns and ten to twelve bombs. Thereby numerous residents, including women and children, were killed. (560)
10 km south of Houffalice in Belgium is a medical column successively attacked by three enemy low-flying planes three times. By this means are 40-50 man killed and injured a further large number of wounded. (561)
M a r z
Between Schonungen and Gädheim (Lower Franconia) attack enemy low flying planes a German hospital train marked visibly as such. Many wounded are killed or seriously injured once again achieved. (179)
In the area of ​​Blaubeuren near Ulm enemy low flying planes shoot repeatedly at the rural population, both in the fields and on the streets. A farmer was seriously injured on the road, his horses shot dead. A flock of sheep is likewise fired at. Military objectives are not present in the area. (352)
In Stendal are women and children who work in the gardens, attacked by enemy planes from 20-30 m height and fired upon, with dead and wounded as result. (311)
In Templin (Uckermark) throw enemy planes in daylight raid bombs at the district hospital, which is clearly marked with the Red Cross. Result:. 200 injured civilians dead.  (578)
A p r i l
Near Oschatz (Sachsen) two enemy planes shoot at German women and children who work in the fields. (397)
In Goslar, a German farmer is shot dead on the fields at work by an enemy low-flying aircraft. At his back palm-sized blast holes are detected by physicians. (392)
After a dogfight between German and American fighter pilots turning two machines from USA, fly to a parachute hanging on German pilot and shoot him with the gun in the air. (158)
In Usingen, a train parked in the train station, which is fully occupied by civilians, is of two enemy low-flying aircraft bombarded with on-board weapons. Result: six dead, 14 seriously injured and numerous minor injuries. (144)
A 12-year-old German girl who is traveling with a team of horses in Rothenburg / Tauber on a country road, is killed by enemy low-flying aircraft. (326)
Six enemy fighter-bombers attack the small rural community Harthausen Krs. Eßlingen with bombs and strafing. Industrial plants are there not exist. (505)
After dogfight between German and enemy pilots described shooting two enemy aircraft near Korbach (Waldeck) a hanging parachute German pilots. (504)
Hostile low flying planes shooting on the country road just past Erlangen a German passenger car with their onboard weapons. The occupants, two civilians are killed. (326)
In Lellbach (Waldeck) American fighters after air combat with German fighters shoot dead a German pilot who withdrew from burning engine and will depend on the parachute, with on-board weapons. (340)
M a y
In Lößen  American planes attack in clear weather from low height German civilians. A couple is killed, two children and a 20-year-old girl seriously injured. (547)
J u n i
Enemy fighter-bombers attack with on-board weapons near St. Lo German medical convoy which is clearly marked with the Red Cross. All vehicles burn out. The serious injuried burn to death. (116)
In Baron (Normandy) eight enemy aircraft attack a clearly marked German Casualty Clearing Station. Result: 50 wounded dead, many others seriously injured. Above Baron shot down British air force officer declared that the Red Cross sign of the square have been clearly visible. (657, 659)
Hostile low flying planes shoot at Ansbach a convoy of only civilian passenger train, which are numerous men, women and children killed and wounded. (326)
In Mayenne - Mouertlin attack enemy aircraft German Medical trucks with Red Cross insignia at low altitude with onboard weapons and put them on fire. All 18 wounded burned to death. (509)
Tiefflieger (low flying attack planes) attack the passenger train Schwebta - Heiligenstadt with onboard weapons. Each individual car of the slow-driving train is attacked by machine gun fire. Result: five dead and 10-15 wounded German civilians. (198)
Enemy fighter shoots in the area of Alencon on a downed German pilot who dropped out of the plane and hangs on the parachute. (306)
In the area Argentan - Fallaise (Normandy) German Red-Cross is convoy with wounded by American low-flying aircraft shot to nothing left. English Major assured that Englishmen not attack Red Cross vehicles, whereas the Americans have free hunting and received bonuses for firing on vehicles. (314)
Near Caputh in Potsdam two enemy airplanes attack from a low height sailing and rowing boats on the river Havel. The same is repeated in the Stölpchen- and the Kleiner Wannsee. Military objectives are not present on these bodies of water. (203)
On the road Castel - San Pietro near Rome attack three enemy Tiefflieger two German ambulances with Bordwaffen and set them both on fire. (333)
In Occagens (Normandy) enemy fighters attack five German ambulance vehicles which are clearly marked as such, and set them on fire. Accompanying staff and most of the wounded die in the flames. Even wounded, who are trying to escape are hunted down and shot. (133)
In Caen American airmen attack clearly marked German  Wounded Clearing Station with bombs and strafing, which resulted in several deaths and numerous wounded. (535)
In Bauville (Normandy) American fighter-bombers attack French Red Cross vehicle. A heavily pregnant French woman and her daughter are killed, the husband seriously injured. (112)
In Alencon is German ambulance column, carry their vehicles all the Red Cross markings, are bombarded by enemy low-flying aircraft with board weapons. (500)
German hospital train is attacked by three American planes with bombs and strafing in space Dijon. Result: three dead and 15 wounded. (551)

J u l i
The German wounded collection station  in Rennes is attacked by a group of twin-engined American bombers on a clear day. Strong losses both among the wounded as well as among the French population. (178)
On the road Leffatte - Fallaise attack enemy fighters first aid car and put it on fire. The attack continues, as cars already on fire, so that rescue of the wounded impossible. Five wounded burn to death. (457)
On the road from Caen to Argentan is a medical car convoy  50 clearly-marked vehicles by enemy low-flying aircraft totally destroyed. (558)
Four American airmen attack on clearly with the red cross marked medical convoy of eight cars in Fallaise. The eight cars are set on fire, killed with numerous wounded or wounded them again. (536)
On the road Vimoutiers - Trun enemy low-flying attack ten German ambulance cars and shoot them with onboard weapons on fire. (555)
In Peroux (Normandy), the German military hospital 502, housed in a monastery, which is visible from afar characterized by the Red Cross, shot at by enemy planes flying low. (574)
German ambulance, consisting of eight vehicles attacked  on the way from Fallaise to Laigel by six enemy fighter planes.  The majority of the wounded is killed. (577)
In Chateau Auxais (Normandy) the clearly marked German Wounded Aid station is attacked by four enemy fighter-bombers in a triple attack with twelve bombs and on-board guns. Result: Three doctors and seventeen wounded dead (386)
A refugee convoy of 150 French civilians (men, women and children), by white cloths and flags as a refugee train is clearly visible, flight bombarded with strafing by enemy fighters. Result: eighty-three dead, twelve wounded. (127)
In St. Arbi are twenty-two German ambulances, which are loaded with wounded, for half an hour under attack by hostile aircraft. After the attack, the wounded are brought from the street to the church nearby, which is characterized by red-cross-badge as Wounded collection. In a second attack, this church was destroyed by bombs, killing 160 wounded, including Americans and British. (127)
On the route between Laon and Brussels German field hospital convoy, which is clearly marked, attacked three times by enemy planes. (559)
Two German ambulances are shot at by Rouzie by low-flying aircraft on the drive to the dressing station  and fall into the ditch. Many wounded are killed. (176)
A u g u s t
On the road to Paris clearly marked sanitary Automobile are attacked by two American airplanes and set on fire. Two wounded burn to death. (534)
In Argentan enemy fighter-bomber attack in clear weather German ambulances loaded full with severely wounded. They  must accommodate without medical assistance in burrows more than twelve hours. (406)
On the road to Rouen Bauvais German Ambulance Corps is attacked by four enemy fighters. Five vehicles are burned in the attack, killing nine wounded. (388)
On the road from Calais to Tron German bus is firebombed with serious injuries from a fighter plane, although the car is marked with the Red Cross. Several war-injured are killed. (181)
Near Berne, a column of four Ambulance trucks with wounded are attacked several times by enemy fighter planes. Bombardment continues even as the attendants waving Red Cross flags and the back doors of the cars open, so that the stretchers of wounded are clearly visible. A bullet rips a wounded the left leg off.
On the further transport from Berne to Rouen four likewise marked trucks with wounded are again attacked. A car is set on fire, with fifteen wounded burning to death. After a few kilometers the second attack, in which the driver and three wounded are killed. (393)
In Elboeuff (Seine) an American plane attacks a medical marked truck with wounded. Some of the wounded are killed, other are further wounded.  (260)
In space Vimoutier German ambulance convoy of about thirty to forty cars are fire-bombed by enemy planes. The number of deaths is particularly large. (337)
In Rouen German ambulances column of about eighty vehicles, filled with seriously wounded, by hostile Chen low-flying aircraft is attacked. (508)
In space Brogli-Bernay six to eight ambulances are attacked with wounded by enemy fighter aircraft and burned up. The badly wounded burn in the vehicles. (322)
In Elboeuff a marked Red Cross ferry from enemy low-flying aircraft is shot despite marking. Thirty to forty ambulances that are on the ferry, are on fire and damaged the ferry itself. Even when doctors and medics pull the injured out of the cars, the planes continue to fire on them. (114)
On the route Tours-Dijon German hospital train is attacked by low-flying planes, with six wounded to be killed. (579)
In Carrara (Italy) German Medic station is occupied and destroyed - even though it is clearly marked - by hostile fighter bombers. Result: six dead. Numerous injuries among the wounded and medical personnel. (177)
Bernay (Normandie): column of German ambulances is shot into distruction by enemy planes flying low. The wounded in the vehicles found mostly death. (563)
At Le Mesnil-Pisseux a German ambulances being attacked with a badly wounded from a hunting aviator, and the wounded man is killed by strafing. (180)
In Bernay-Orbec a German ambulances column by low-flying aircraft is shot to pieces. From the bullet-riddled cars burned corpses of German wounded are hanging out. (655)
Hostile low flying planes attack in Vimoutiers-Orbec German transport column of fifty to sixty marked ambulances. The column is completely destroyed. (659)
At St Aubin (Normandy) is a German Ambulance Corps, marked with the red cross, consisting of twenty to twenty-five cars, destroyed  by enemy low-flying aircraft. (531)
Clearly marked German hospital train is attacked in Dorman at the Maas from low-flying aircraft with on-board weapons, which killed one man and several wounded. (141)
By  Elboeuff at the Seine, German Ambulance Corps of ten cars with Red Cross flags is attacked by enemy low-flying aircraft twice. Three cars and the medical unit of a field hospital of the 7th Army burn out. (572)
In a village of Normandy attack twelve to sixteen American fighters on a clear day with on-board weapons  an Ambulance convoy, thirty-six vehicles marked with the Red Cross, and stops in front of a hospital, as long until all thirty-six cars are set on fire. All the wounded in the convoy burn in the vehicles. Then the planes attack the hospital with bombs and strafing and place it in ruins, although the fleeing staff waving the airmen with white cloths. (327)
In Fers-Bernay enemy fighter planes with on-board weapons  engage two German hospital trucks, marked with the Red Cross, and kill all the occupants of a car.
On the route of Bernay by Loewen German hospital train is attacked at the height of the Meuse bridge, with killed and wounded to bemoan. (138)
S e p t e m b e r
Two German fighter pilots who jumped in a dogfight from their shot aircraft with a parachute are further shot and wounded hanging from the parachute near the German-Dutch border. (3964)
Enemy bombers throw bombs in Braunschweig on the air force hospital, in which thirty-five wounded, doctors and medics are being killed. (130)
In Mons (Belgium) attack enemy fighter planes with onboard weapons German sanitary trucks. Several wounded occupants are killed. (834)
German fighter plane shut down at Gorsel (Holland) in a dogfight. The pilot jumps with a parachute. While he was still hanging in the air, he is killed by enemy fire from the enemy plane. (322)
In the village in the district of Neuwied, Elgert, two German farmers are attacked separately by enemy fighter planes and fired at with on-board weapons. One farmer is killed, the other seriously injured. (383)
In Lehnen at the Mosel enemy fighter plane attacks in the field working peasant population. An agricultural worker and his child are killed, seriously wounded a German woman and a French prisoner of war. (378)
German ambulances marked with the Red Cross is in Stolberg near Aachen attacked by enemy planes with on-board weapons, which two German soldiers are killed. (769)
In Jülich (Rheinland) by explosive bombs enemy planes the military hospital St. Joseph house is completely destroyed along with the monastery. Approximately fifteen Catholic nuns find death. (553)
American Bomb Squad attacked in a daylight raid on Jülich the reserve military hospital, including all additional buildings. The entire hospital system is completely destroyed by the carpet bombing.
At the location of the bomb carpet can be seen that there has been a deliberate attack on the widely visible marked by the Red Cross hospital grounds.
The next day engage enemy fighters a field hospitals train, also marked with the Red Cross, in Jülich railway station. By bombing and strafing in repeated approach many occupants are killed or wounded. (350)
Near Zornheim, area Mainz are killed by bombs a low flier seven people. In the community one home a woman is killed by strafing in a carriage in the street. By Tiefflieger attack on a passenger train in the station Guntersblum lose seven travelers civilians lose their lives. (3439)
Engage enemy aircraft flying low attacking passenger train Dillenburg-Biedenkopf. Two, people are killed. At about the same time following arrival of hostile Tiefflieger found on non-military targets in this area:
1. When patrons attack on passenger train. Five dead, multiple serious injuries.
2. In Ewersbach bombardment of residential houses, a barn One dead, one seriously injured.
3. In Niederhörlen is a village that is totally away from any military target, is attacked with on-board weapons
4. In Bischofshofen strafing a passenger train.
5. In Eibelshausen bombardment of a passenger train.
6. In Wallau attack on passenger train.
7. The village Niederscheld attacked several times on the day of Chen hostile airmen. Thirty-four deaths, many wounded.
8. Günterrod: farmers are shot in an open field. Just the same the ones fleeing into the woods.
9. The houses and barns of Niederesenhausen are be attacked and set on fire by enemy planes with on-board weapons. Four residential houses and eight barns are on fire
10. In Herborn enemy planes bombard a shepherd with flock and twenty-four sheep were killed.
11. Gusternhain: This small farming village is attacked with bombs fen. Twenty-two deaths and numerous injured.
12. In Erdbach a house is bombarded with on-board weapons.
13. In the small village of Breitscheid are bombs dropped. Four dead and several seriously injured. (758)
In Great-Linden the Passenger train in the train station is attacked during the days by low-flying aircraft with bombs and strafing. Result: Fourteen passengers dead, about forty, including women and children, seriously injured. (334)
In Siegburg engage four enemy bombers at noon on crowded passenger train. When the train stops, and try to escape en masse on the field, the travelers, they are systematically fired from the on-board weapons. Result: forty-two people, including thirty-five women and children are being killed and injured a large number of other civilians. (329)
In Betzdorf enemy low-flying attack a passenger train. Refyge seeking travelers are bombarded with on-board weapons, a ticket agent is killed. (346)
In the area Limburg / Lahn, a village of 560 inhabitants is attacked by enemy bombers, which has no military installations, from a low height. 350-400 explosive bombs destroyed thirteen houses and thirteen people killed in the Community. (317, 341)
O c t o b e r
In Friedrichsdorf-Köppern enemy planes attack a working convoy with on-board weapons. Result: thirty-six civilian deaths. (121)
In space Ludwig Hagen a truck at low altitude is bombarded with onboard weapons, killing two people. (348)
Hostile Tiefflieger engage in Nienburg repeatedly in the field working women and children as well as on the road driving peasants. Frequent attacks on trains in that area results in considerable casualties among the civilian population, mostly among women and children. (337)
American fighter pilots attack in Battenfeld near Frankenberg  a group of farmers and women working in the field. A flyer throwing two bombs. A farmer's wife is killed. Another group of farm workers is about 300 meters bombarded with on-board weapons, where a horse is killed. The village does not have war economic enterprises. (305)
In Forest Moor standing hospital train attacked by four fighter pilots with weapons on board, where several nurses are killed. (575)
In Oberroßbach enemy low-flying planes attack the passenger train Friedberg-Bad Homburg. After stopping the train they shoot the fleeing travelers, especially women and school children, as well as in the fields working peasants, women and children. Many persons are killed or injured. (129)
In Low-Weimar near Marburg attack twelve American airplanes a waiting train with bombs and strafing fire. At the same time they bombard the busy harvesting potatoes population in the field. Seven people, five of them from one family are killed. (431)
In area Stockheim, Lauterbach attack twelve enemy Tiefflieger a passenger train directly behind the Elbeshausen train station. The fleeing travelers are further attacked far away from the train. Four persons (two children and two women) are killed. (307)
N o v e m b e r
On the route Lauda-Wertheim enemy aircraft attack with on-board weapons at low altitude on a passenger train. When he stops, and passengers flee, shoot behind them, thereby killed or injured many civilians. (3973)
In Gr. Welsbach attack American Tiefflieger around noon on a small train. Result: sixteen dead, seventeen serious injuries and about fifty slightly injured, mostly women and children. (148)
Four fighter-bomber attack in Derkun / Rheinland to a visibly marked field hospital with bombs. Several inmates are killed respectively. wounded. (582)
In Finstingen / Lorraine are four vehicles of regugees, visibly marked by a white flag, attacked on the road by enemy low-flying aircraft and totally destroyed along with the cattle. A woman and two small children are killed. (152)
In Dorta engage enemy Tiefflieger a passenger train with bombing and strafing. Result: sixteen civilians dead, twelve further wounded. (332)
By fighter attacking trucks in space Ludwigshafen five people killed. (348)
In Euskirchen an enemy fighter plane shooting at refugee German woman and her child. After failed first approach puts it on again and kill the woman. The child is so severely injured that it died a short time later. A nearby field hospital is also bombarded by fighter pilots. (384)
The town of Rüdesheim on the Rhein is destroyed by a daylight attack with explosive and incendiary bombs around half. Approximately 250-300 inhabitants, mostly women and children find death. In Rüdesheim are no military installations. (3945)
D e c e m b e r
Three American fighters attack ambulances clearly marked with lightly wounded. A wounded man is killed, another seriously injured. (157)
About Bonn German fighter by American planes shot down in aerial combat. American hunters attack the floating parachuter German pilot with onboard weapons. (313)
Five to six enemy aircraft attack with weapons on board on the track standing Friesach / Kärnten Bruck ad Mur passenger train . Locomotive leaders and heaters are shot here. Fleeing travelers are also shot at, with twenty-five people, mostly women are killed. (142)
On the route Frankenberg-Korbach enemy low-flying planes attack hospital train marked. The car show several hundred holes from guns. (128)
Eight enemy aircraft attack at Oberselters the train Limburg- Frankfurt / Main with onboard weapons. Three people are killed and dozens injured. (183)
On the western front fighter-bombers with on-board weapons firebomb marked German hospital truck, loaded with wounded. Driver and four seriously wounded in the burning car.
Near Werdorf in Wetzlar engage four enemy fighter planes German refugee train. When the train stops and escape the occupant, they are bombarded with on-board weapons and pelted with bombs. A woman is killed, fifteen other people seriously injured. (187)
In Idenheim Krs. Bitburg of hostile Chen low-flying aircraft woman driving a team of oxen and a man with a horse-drawn carriage are shot on the road . (349)
In Siegburg is the  former monastery on the hill above the town Michelsberg now a hospital, which is characterized by highly visible large white boxes with the Red Cross, is attacked in a raid with bombs. This will kill many wounded. (192)
In Gronau a passenger train by enemy low-flying aircraft is  attacked. Passengers flee in a 50 m distant forest, whereupon this also is taken under fire. A boy of 16 years was killed, injured several people. (122)
After the third attack on the town of Giessen on 6.12.1944 people flee from the burning city into the open field. Three enemy Tiefflieger shoot continuously into the fleeing crowd, where many people are killed and injured. (391)
In Bruchsal express train is attacked at noon in bright sunshine and clear view of two enemy fighter pilots. The fleeing of cars, through doors and windows, passengers are taken under fire with three different attacks.  About ten people were wounded. (429)
On the road Gerimont east German Ambulance Corps, consisting of three buses and two ambulances of enemy low-flying aircraft on fire. Four ambulances soldiers are killed, seventeen wounded. (573)
In Berdogne truck convoy marked with a red cross is attacked. Result: three dead. Afternoon done another attack on the hospital Berdogne, which is clearly marked with the Red Cross. (405)
USA Flyer grips the hospital in Bad Kreuznach with bombs and hits hard the left wing. Several nurses, eight wounded and three civilians who are just as visitors are killed.
In February 1945, is another hospital "Sonnenhaus" in Bad Kreuznach heavily damaged by enemy aircraft by two bombs. Two paramedics, a sister and several wounded are killed, as well as a hurrying to help paymaster. (538)
On the route Prüm-Euskirchen enemy fighter-bomber attack at best view  wounded convoy consisting of four marked with red crosses uses at low altitude. Many occupants are killed. Rescue attempts by some of the individuals are  systematically destroyed by further attacks. (191)
In space Luxembourg ambulances with three hunter planes with bombs and strafing attack. Rescue attempts half an hour later are impossible because of the shelling. Eight cars are respectively destroyed, severely damaged, thirteen deaths and a large number of wounded is the result. (379)
In Landstuhl-Palatinate station is standing hospital train attacked by low-flying aircraft, although hit is marked with the Red Cross. Several inmates are killed or wounded. (499)
In Landstuhl / Pfalz hospital train is attacked on the same day at different places twice, although it is marked clearly with Red Cross. (646)
In Zilly on the route Vienna-Agram engage enemy Tiefflieger a hospsital train four times with onboard weapons. Result: Seven dead, numerous wounded. (115)
1 9 4 4
(Without month)
In St. Sylvan German machine is shot down in a dogfight. The pilot hanging on a parachute is shot continuously until he drops down.
Hostile Tiefflieger shoot at Orbec German Ambulance Corps, characterized by the Red Cross, with on-board weapons. Numerous wounded can not be recovered because the attacks are repeated constantly and burned in the car. (537)
In Behmte enemy low-flying attack planes target German passenger train with on-board weapons. After holding the train fleeing civilians are ten further fired at. A woman is badly wounded, killed her two children. (409)
In space Fallaise-Rennes attack two enemy fighter at two clearly marked ambulances and shoot them on fire. All wounded burn. (185)
Enemy airmen bombards at Homberg Bez. Kassel a German pilot parachute, which in  a dogfight they shot down previously. Bombardment is continued until the pilot is dead. (134)
Enemy fighter-bomber attack in Louvres German Medical ferry with bombs and strafing. This ferry is shot inoperable, destroyed the ambulances and killed twenty wounded. (552)
In Fallaise engage enemy Tiefflieger hospital convoy clearly marked from fifteen to twenty vehicles with on-board weapons. Almost all the wounded to be killed. (877)
On the road Argentan Lake grab two hostile Tiefflieger  as target German ambulances. The driver and three wounded are killed by strafing. (568)
In Marbach Krs. Fulda bombards enemy fighter pilots a civilian train and after stopping it send the fleeing from the train. Here a woman is killed.
In Großenbach Krs. Hünfeld Tiefflieger bombard two civilian lorries. Both drivers are killed. (546)
In space Argentan-Fallaise American Tiefflieger grab on a clear day in the street German hospital convoy of thirty-five to forty cars with on-board weapons. The column is completely destroyed. (543)
In Belstedt a German rail car is attacked by hostile plane. The attack falls numerous deaths and serious injuries to the victim. (544)
Hostile Tiefflieger access to the Frankfurt / Main-Usingen route to German passenger train and shoot even the fleeing travelers. Thirty-eight people, including women and children are killed. (782)
In a dogfight between American and German fighters at Beesenlaublingen (Saalkreis) two German fighters are shot down. The American fighters attack a parachute floating on German pilots in defenseless situation further and wound him. (502)
In Wächtersbach a train with lightly wounded is bombarded. Five soldiers are seriously injured, two of them die shortly afterwards. The low-flying planes bombard also fleeing civilians on the street. (354)
At Breitenbach a plowing German farmer and his 8 year old grandson is killed by bombing by a hostile aircraft in the open field. Military Target is not near. (188)
In Zornheim be German farmers who work in the grape harvest, attacked by two enemy fighters with bombs and strafing, where several people are killed. (320)
In Magdeburg enemy planes attack a passenger train with on-board weapons. A large number of civilians, including women and children fall victim to the bombardment. (311)
On the road from Nordhausen to Bleicherode a passenger in Automobile is attacked of low-flying aircraft bombarded. A 17 year old girl looking for cover in the ditch, is killed by shot in the chest. (139)
In Dorla Krs. Fritzlar a farmer with his cows is bombarded by enemy low-flying aircraft with onboard weapons. Farmer and cows are killed. (3955)
In space Frankfurt / Main Darmstadt enemy planes attacking a passenger train with bombs and strafing. Result: More than 300 dead and injured.
Another attack takes place on the route Frankfurt-Höchst-Idstein on a passenger train, which in turn several  hundreds of persons were killed or wounded. The attacks carried out in clear weather, so have such high casualty figures result because the enemy planes can not be content with bomb throwing, but the fleeing travelers (men, women and children) are shot at with on-board weapons for a half hour out in the open field. 
City Hospital Sachsenhausen is bombarded despite clear marking with the Red Cross by both bombers and by low-flying aircraft. (319)
In Wächtersbach Krs. Gelnhausen enemy Tiefflieger bombard clearly marked German hospital train with on-board weapons, which two people are killed.
At the same time in Bad Orb, the marked with the Red Cross  military hospital, which is occupied in equal with wounded and with children, attacked with bombs and strafing. (202)
Hostile Tiefflieger kill at Dorla a German farmer in the field behind his plow. (394)
Three to four fighter-bomber attack in space Wösingen-Bratten the passenger train Karlsruhe-Eppingen with onboard weapons. About ten civilian personen be killed, about thirty-five injured, including several women and children. (312)

W i n t e r  1 9 4 4/1 9 4 5
Hostile Tiefflieger (low flying attack planes) attack in Kassel - Wilhelmshöhe a refugee train. The fleeing- over the snow running passanger in open terrain are bombarded. (975)
In Winterbach a traveling on the country road refugee convoy is attacked by fighter-bombers from about 50-60 m height. A woman is killed, a man and a child injured. (331)
Begin 1 9 4 5
In Wertheim clearly marked German hospital train is attacked by enemy low-flying aircraft. Although the paramedics wave with Red Cross flags that aircraft occupy the train with heavy fire. There are numerous dead and injured. (145)
The passenger train Gotha - Leipzig is attacked and fired on by enemy low-flying aircraft, which resulted in numerous dead and wounded. (428)
Hostile Tiefflieger engage in the Rheinpfalz civilian trains on regardless of the civilian travelers. Civilians are killed and wounded. In one instance, the attack is carried out only after the pilot is satisfied that the passengers left the train. Only then the locomotive is shot incapable. A sign that a protection of the civilian population is quite possible. (3975)
Westerwald (on the routes: Siershahn - Engers and Siershahn-Limburg) attack often hostile Tiefflieger clearly recognizable to face civil railway trains on branch lines. Civilians are killed and wounded. (3974)
J a n u a r y
In Dingden a busy train with Dutch refugees is bombarded by four allied aircraft. When leaving the train again twice attacking civilians. Among the travelers deaths and serious injuries, including children.
Dutch civilian workers are attacked by enemy planes. It is clear that this is not about German army unit. (113)
In your / Eiffel, Krs. Prüm, bombards enemy Tiefflieger the Casualty Clearing Station of 1st SS medical department Panz.-Div. "The Empire". There are several dead and injured. (554)
In Magdeburg Tiefflieger attack the hospital train Vienna-Szczecin. Cars burn out. Some wounded burn. (147)
In Weißwampach (Luxembourg) Tiefflieger attack a main wounded treatment station visible from afar marked with the Red Cross. Wounded who are currently in the operating room, are killed. Most of the medical personnel wounded. (149)
On the route Darmstadt-Wiebelsbach attack Tiefflieger between Reinheim and Lengfeld the passenger train. The machine will be destroyed and all cars are riddled with bullets. Two men of the train staff and six travelers, including two women, are killed. (189)
In Leichlingen attack two low-flying aircraft the passenger train, shooting at and pelting with bombs. 22 dead and 50 injured, mainly women and children.
In Arnsberg several Tiefflieger shoot from 50 meters height the express Dusseldorf-Berlin. After the train stopped, the airmen throw bombs and shoot at the fleeing travelers. 17 dead, 30 injured.
In Opladen track low-flying planes a passenger car. Pedestrians' groups are fired repeatedly at low altitude on a dirt tracks. Two dead, five injured. A farmer plowing is badly wounded. (382)
At Burg Tiefflieger attacks a ambulances in the street Burg-Reuland-Winterspellt. Three wounded and the driver killed. (385)
The place Taverneux (Belgium) is declared a wounded station.  In the house no. 8 wounded German and Americans are housed. On the roof of the Red Cross emblem is visible from afar. One afternoon on a clear day the village, especially the house Nr. 8 is bombed. (402)
In Burgdorf flier attack the train of Halle-Hettstedt small train. Approximately 40 dead and 30 wounded. Burgdorf is a small rural village with 250 inhabitants, without industry, 30 km west of Halle. (195)
Two American pilots engage at St. Vith the main sanitary station which is full with wounded, 10 clock on the morning. Four men are killed. (223)
On the road, Bielefeld-Soest shoot Tiefflieger about 20 km before Soest a civilian passenger car on fire. Driver dead, passenger seriously injured. (533)
In Bruchsal Tiefflieger grab a hospital train at 9 clock forward to noon on the open road. Some Red Cross nurses are wounded. (330)
Two Tiefflieger shoot six ambulances in Euskirchen from about 100 meters above sea level in fire. The cars, fully loaded with wounded burn all. (323)
On the road Bärenthal-Landau an ambulance column is attacked. Six seriously wounded and a driver burn. (580)
For large-Langenfeld / Eiffel ambulances being attacked. Two dead. (3438)
J a n u a r y / M a r ch
In Olberode accesses the route Treysa-Hersfeld a low-flying aircraft at a passenger train. Eight travelers, mostly women, are killed and 15 wounded. (403)
On the route Kassel-Giessen grab fliers at noon a hospital train and bombard it with onboard weapons in several stints. The wounded in the course are being killed or wounded again. (976)
In Nassau an der Lahn, the Kurhaus, other hotels and other buildings are taken as hospitals to complete and in accordance with the provisions of the Geneva Convention in. These buildings are destroyed by air raids and large number of wounded and killed Red Cross nurses. (553)
West Landstuhl / Pfalz attack more Tiefflieger in repeated stints German hospital train, on the roofs and the side walls properly with red crosses marked and located standing in front of a dark forest, so to stand out the characteristics particularly clear, with bombs and strafing. There are no military targets nearby. (3972)
In Siegburg Tiefflieger attack individual civilians, including women and children on the streets and out of town also in the fields. On 26 March 1945, a woman near Mücke is killed in Oberhessen by low-flying aircraft. (387)
F e b r u a r
On the route Oberursel Köppen engage enemy aircraft since February 1945 constantly on the scheduled passenger train. You hereby shoot the fleeing and seeking cover. Result: dead and wounded. (121)
American Tiefflieger access to the Frankfurt / Main-Limburg route to the scheduled workers' train. Travelers trying to save himself under an underpass. Again, they are bombarded by the airmen. 30 people, mostly women and children killed, injured substantial number heavy and light. (140)
Hostile Tiefflieger engages Jesberg, Bez. Kassel, in the morning in the town square playing children and bombards them with on-board weapons. (3949)

American bombers attack the spa Nassau an der Lahn in seven waves. The main objectives are both spa houses, which are marked since the beginning as war hospitals and as such be seen from afar. Under the rubble 150 wounded, doctors, chief physician with family and several sisters are buried. In the village no military policy objectives. (144)
Two fighter planes shoot at Cobstedt the passenger train 835 near the block post Cobstedt. Several dead and injured. (154)
Enemy aircraft attacks in Dillenburg to a commuter train with onboard weapons and bombs. Approximately 20 deaths (men, women and soldiers) and many seriously injured. (187)
Tiefflieger engages in Vaihingen / Enns a passenger car, in the addition to the driver, a pregnant woman with two or three children sitting on. Passangers hiding in the ditch are fired at. A woman and one of her children to be killed, another child seriously injured. The driver receives head injury. (339)
On the road in Bernsdorf / Eiffel bombards Tiefflieger a civillian car. The owner is killed. (792)
On the road Barnstedt-Steigra attacks Tiefflieger  a horse-carriage. Driver dead, horse shot. The plane bombards farmers working in the fields. (548)
Several enemy fliers engage in Wallau der Lahn to passenger train and shoot at it. Several travelers are killed, another large number injured. (432)
Enemy flyer engages in Mainz-Gustavsburg in the clearest weather ambulance truck Mannesmann. Four civilians dead, a woman seriously injured. (347)
In Lemgo / Lippe a plowing the field farmer from enemy airman was killed by shot in the chest and two thigh shots. Some days later, a coming out of the forest wooden wagon from Jabo is attacked. Rider and horses are killed. (389)
In Langen / Hessen several Tiefflieger attack a passenger train. Travelers seek cover in a field and a meadow. The vulnerable people continue to be fired at. At least 15 dead. (507)
In Zscherben / Saalkreis four low-flying planes attack accumulation of refugees. Two dead. (550)
On the backroad Walldum-Hardt home uses Tiefflieger to attack passanger train. The fleeing into the forest travelers are bombarded. Two girls and one man killed. (566)
On the road, Mannheim-Seckenheim shoots Tiefflieger farmer with horse-drawn plowing. (567)
In Esslingen Tiefflieger attack passenger train. Four dead, 15-20 serious injuries. (407)
On the backroad Treysa-Hersfeld bombards Tiefflieger at Olberode the there holding passenger train and fleeing into the woods travelers. Five fatalities. (556)
The spa marked as a hospital town of Nassau an der Lahn is attacked by enemy aircraft. The designated as a hospital Kurhaus is destroyed, just as most of the city. In Kurhaus about 100 deaths. (658)
Two planes engage the farming community in Mainz Niederalm with bombs and strafing. 13 dead. 17 houses have been destroyed. (404)
In the rural community of Lutter Krs. Fulda 400 bombs are thrown off. Twelve dead. Lutter is a municipality without industrial plants. Attack occurs on a clear day. (581)
Dresden is in the night of 13th / 14th February attack. Thousands homeless people were killed in the refugee [from the East of Germany and all over East Europe] collection points [*outdoors on meadows] "Grosser Garten" and "Vogelwiese". On February 14, between 10:30 a.m. and 11:00 a.m. carried out new attack on the city. The bombs are dropped on the "Vogelwiese" and
"Grosser Garten" assembled refugees. After that the enemy planes in low flight with guns attack the refugees. Flak defense does not exist. Tens of thousands of defenseless women and children are killed here. [*the men are at war] "Vogelwiese" and "Big Garden" look like a battlefield. On the meadow "Grosser Garten" attack the fliers also partial medic stations of the reserve hospital  III. Large number of severely wounded killed. (125)
In Nuremberg enemy airmen attack the site hospital with explosive and incendiary bombs. 21 wounded killed. (576)
On the route Ambach-Würzburg engage in Mörlbach about 15 deep aviator on a passenger train. Train is mainly filled by women and children. Big part of travelers taking cover in the open field next to the railway. After destruction of the locomotive and cars, the low-flying planes take the defenseless people under fire. Here come the planes down to 20 m. Result: 20 dead and more than 50 seriously injured people, mainly women and children only. (197)
Enemy airmen bomb by strafing the small town Hildburg- Hausen. The lying on the edge of the city mental hospital (hospital) is hit hard. 50 wounded, eight sisters and 110 inhabitants are killed. (562)
February March
In Dötlingen i. O. Tiefflieger attacks trucks with trailers. The truck is properly recognized as a civilian vehicle and is set on fire. The passenger will be torn apart by explosion projectile head. (199)
In Buhla at Urberach enemy airmen attack a settlement of temporary housing, consisting of about 15 houses at 14-15 clock with about ten bombs. A man, a father of two under-age children will be killed, and a woman a leg torn off below the knee. The settlement itself is badly damaged. (184)
A farmer wagon is attacked by several low-flying aircraft. A girl killed here. A working in the field farmer is seriously wounded and died a few days later. (146)
On Caldiero /In  Italy train station a fully loaded hospital train is attacked by a a low-flying aircraft. Eleven dead and about twenty wounded. (532)
In the area Mecklar-Hersfeld flyers attack repeatedly high speed and passenger trains. Once twenty, eleven once and another time seven dead, as well as a large number of wounded. (153)
In the train station Weingarten (Baden) Tiefflieger attack a passenger train. Seven dead and a large number of wounded. (722)
Enemy fliers bombarding the civilian population of the small town of Andernach a. Rhein. A person is killed. (571)
The place Bredten / Baden is indiscriminately shelled by American low-flying aircraft. Military objectives are not near. (312)
M a r c h
In Berlin daylight raid carried out at the Charité, which is marked by Red Cross sign. Medical care is interrupted and had to be stopped. (192)
Two Tiefflieger attack a group of nine workers in a truck. Five dead, four wounded. (137)
At Hockenheim Tiefflieger attacking country cart. Farmer is seriously injured and dead both horses. (124)
On the road Trebitz-Wettin a horse cart is repeatedly shelled. Here, find the driver, front passenger and three other workers death. Four are seriously wounded. (3976)
Working in the field, man is attacked and killed by low-flying aircraft. Young man who drives milk truck also attacked and killed by Tiefflieger. (143)
On the road Wirtheim-Schlüchtern attack low-flying planes targets with on-board weapons. Also hit a cart with household items and a woman killed with daughter. Likewise, one of the two horse is dead. (182)
Tiefflieger hit on the road Balduinstein-Langenscheidt Hirschberg at farmer's vehicle. The driver of the car is seriously wounded. (186)
Tiefflieger bombard the hospital train 681. After firing at the locomotive single cars are shot at. Attack carried out at low height. Red crosses on car roofs and sides of the car are clearly visible. Some of the wounded are injured again. (123)
On the route Heidelberg-Schwäbisch-Gmünd shoot two low-flying aircraft with onboard weapons a hospital train. Three wounded are again wounded. Similarly, the coverage seeking medical staff is attacked.   (190)
In Volkmarsen Tiefflieger attacks the craft of the farmer Robert Blume three times, killing the peasant and the two horses and shoots the wagon on fire. The same planes accesses at the street Volkmarsen-Luedersheim  the milk wagon of farmer Viereck of Lüdersheim and shoots both horses. (430, 411)
In space-Westerburg Wilmenrod (Oberwesterwald) a sole woman around the age of 50 years  walking outside is attacked by a low-flying aircraft and seriously injured on her arm. (221)
In Wetzlar low flying attack planes attack a truck. The employee Heinz from Leun, Krs. Wetzlar, as well as a French prisoner of war are killed instantly. The driver Muth suffered such severe head injuries that he died after two days. (336)
Low flying attack planes shoot in Cuxhagen (Hessen) at the train station standing travelers. Ten dead and ten seriously injured. (503)
On the way home from Bechtheim / Taunus, a low-flying aircraft bombarded a farm wagon loaded with hay. The wagon catches fire. Farmer  and daughter are killed. (540)
In Bad Lauterbach / 2 pm there is a greater accumulation of women and children in front of a bakery. An American plane throws a bomb here and 35-50 women and children are killed. (545)
In Mittelhattert area Oberwesterwald enemy flier attacks the medical collection station, well marked by Red Cross sign. Approximately 15 wounded in this case killed. Collection station is destroyed. (564)
In Bieneck bombards Tiefflieger on the highway a farmer's cart. A woman and a child are hit in this case. (569)
American warplane attacks in Nestätten the school used as a hospital with highly visible red cross. Eight people are killed. (653)
On the route Bamberg-Lichtenfels engages enemy aircraft at the station Zapfendorf on a passenger train. Dead and wounded. (924)
In Bad Neuhaus / Untersteiermark attacking four ambulances in the hospital area of ​​the field hospital 6/592. A person is kild and many more are wounded. (809)
In Westheim / Pfalz Tiefflieger attacks a horse and cart. Owner and horses are shot dead. (831)
In space-Ansbach Treuchtlingen Tiefflieger attack a civilian train and shoot at the fleeing civilians indiscriminately with onboard weapons. Attack is repeated from a low altitude and in this case a mother who who has with her a twelve year old child is shot dead. (309)
In Obersthausen Tiefflieger attack in the morning on the street the horse buggy of the mill owner Arno Hartmann. The horse is hit.
Shortly before this attack enemy fliers before the exit of the neighboring municipality Dillhausen the wagon of Wilhelm Loehr from Niedershausen. A horse is this shot dead. (308)
In Schwandorf (Oberpfalz) enemy aircraft attack a refugee train, almost occupied only with women and children. The train is a clearly a refugee train  (open wagons). 25 deaths and 50-60 injured. (117)
In Gelmeroda Tiefflieger (low flying planes) attack POWs on the highway south of Weimar. Prisoners making their presence felt by pivoting of towels. 118 deaths (British, French, Russians, Belgians, South Africans). (501)
In space Allenmühl-Pleubersbach area Heidelberg Tiefflieger attack the peasant Karl Bayer, who is traveling with his bike. B. is shot dead. At the same time attack on a horse and cart, both horses are killed. (345)
On the road Cromberg-Koenigstein / Taunus American Tiefflieger attack the road traffic. Coverage is not available. In a small pine tree protect corner, a group of worker girls of low-flying aircraft is taken under fire. Military objectives are not present. (203)
On the road, Leipzig-Halle bombard Tiefflieger with strafing near Eilenburg refugee columns. Here, many refugees are killed and injured. (118)
By day airstrike on Marburg / Lahn enemy aircraft destroyed by bombing a part of the surgical clinic, which is clearly marked with the Red Cross. (310)
Two low-flying planes attack on the street Marie Born Bretneuheim private vehicles. Two horses dead, wagon destroyed. Trucks burned. Military transport does not exist. (404)
Civilians who continue to Würzburg with their rescued belongings after the raid are bombarded on the arterial road Würzburg-Höchberg by American fighter planes. Military units are not nearby. (408)
In Bergneustadt area Cologne Tiefflieger attack the military hospital clearly marked with the Red Cross, which is almost completely destroyed by a direct hit. About 20 dead. (196)
At Heringen, area Limburg Tiefflieger attack the farmer Hies with his wagon on a clear day. Hies is hereby killed, a Pole riding with him is wounded. Horse is also dead. (316, 325)
In Crumstadt Tiefflieger attack working farmers and shoot up the village. Here, eight horses are killed and a  barn shot on fire. No important military targets.  (557)
On the route Kassel-Melsungen engage enemy airmen at Cuxhagen from low altitude on a train. Eight dead, large number of heavy and slightly injured. (410)
Fleeing farmers (south Nauheim) are shot at, and the farmer Heinrich Bieber here is killed at Potterweil. (845)
On Palm Sunday at eight in the morning several attack planes fly over the place Wilferdingen area Pforzheim. A flyer drops two moderate size bombs, destroying a house completely, several houses are lightly or heavily damaged. Nine people are killed. The funeral must take place in the early morning, because at this time even funeral processions are bombarded on the cemeteries. (395)
American planes attacking the small, consisting only of farms Fredelsloh community with about forty explosive and countless incendiary bombs. The whole village is a smoke and flame ocean. Twelve dead, many injured and burried by rubbel, mostly old people and children. 31 houses and farm buildings were destroyed completely. Planes shoot the people who run to help with on-board weapons. In a car killed are nine men. (328)
In Gütersloh attacl eight American hunters a passenger train. Eight people dead and six injured. (332)
Enemy flyer bombard attack regularly the street cars of route Wuppertal-Ronsdorf in the morning hours. They also shoot at fleeing passengers, including school children, with on-board weapons. Regular losses of killed and wounded. (382)
Five bombers kill by strafing after repeated tries butcher Eugen Müller from Bießenburg at the village exit Bieskirchen on the track Lehnberg-Bießenburg. (3967)
S p r i n g
The spa, residential and hospital city Nassau on the Lahn is four times attacked in daylight in good visibility by enemy planes.
Also, the village Seelbach area Unterlahn becomes victim of an attack with incendiary bombs. Seelbach is only farming community, far from industry and transport facilities. (318)
In Buxheim-Wölkertshofen Tiefflieger attacks single Beer truck. Driver seriously wounded and died on the same day. Passenger is also wounded. Similarly, low-level attack on the tractor with an open trailer, loaded with milk cans. The driver is shot off a foot. (355)
A p r i l
Enemy planes killing two civilians on the journey from Schorndorf / Württemberg to  Lentig near Gunzenhausen. (3965)
Tiefflieger engages at Dehlingen / Württemberg plowing of the field working farmers. He is killed by strafing. (3971)
In Ingolstadt Tiefflieger attacks a peasant wagon. A 17-year-olds girl and the two horses are killed. (201)
In Gadebusch enemy planes attacking farmers who work in the field. In the vicinity are not military objectives. (120)
Tiefflieger engage in Hof (Baveria) on the express train between Berlin and Munich. Train passengers, almost all the wounded, women and children, are refugees from Berlin. In the attack the passengers leave the train and looking at the railway embankment and in the surrounding meadows for cover. Air force directs live fire with all weapons at the unprotected people crowd. Approximately twenty dead, many injured (women and children). Train, completely shot to pieces, burned out. Even in the collected heaps of wounded shoot the planes barely 50 meters from above and kill thereby further severely wounded people. (194)
On the route Nuremberg-Berlin attack four low-flying aircraft in Rudolstadt / Thüringen a passenger train. Train is crowded with women, children, helper maiden, Air Force assistants, wounded holidaymakers and many amputee soldiers. The travelers escape from the incapacitated train. Tiefflieger bombard with explosives and  incendiary bombs everyone fleeing from the area of ​​the train. 45 dead, many wounded, and torn limbs cover the field. (150)
In area Lauterbach (Hessen) a passenger train is attacked. The fleeing travelers, almost all women and children are bombarded. Four dead and ten to fifteen injured. (315)
Three low-flying planes attack around 2 pm from about 100-150 meters above an ambulance column, consisting of about 15 vehicles. Eleven ambulances destroyed. Twelve wounded killed, 15 to 20 others injured again. Near this place tends a flock of sheep. Aviators drop two bombs. The shepherd and a refugeee family consisting of two women and two children were killed. (321)
In Altenbrak / Harz attack three low-flying aircraft to ambulances standing before a hospital. Wounded that are unloaded are injured again. (338)
In Aufhausen bei Regensburg bombards Tiefflieger the farmer Josef Bergmann, killing him. (380)
In Zeitz Tiefflieger attack an ambulance, consisting of a ambulances and three with Red Cross flags marked passenger cars, on the Reichsautobahn. Eight dead and several wounded. (381)
In Backnang / Württemberg Tiefflieger attack farmers working on the fields. Several farmers are killed. At the same time farmers are shot near Sulzbach in Württemberg in the field by low-flying aircraft. (39)
Tiefflieger engage in Schwarzenfeld (Bavaria) passenger train on the open road. Men, women and children are fleeing from the train. The planes shoot at low altitude at the fleeing travelers. (541.)
On the route Udine-Tuasimo (Italy) carried out an attack on a clearly marked hospital train. Eight cars burn out. The brought out from the train wounded are also fired at. (781)
In Stulln, near Marienbad, picks Tiefflieger on a carriage. Driver is shot. (549)
Three aircraft engage in Neusorg passenger train. One dead, one wounded. (565)
In Stockheim are Heilbronn enemy aircraft bombarded a clearly marked with the Red Cross ambulances laden with wounded. A wounded man is injured again, the car badly damaged. (3972)
The regularly scheduled passenger train is at seven clock in Niederstotzingen on the route Aalen - Ulm bombarded with on-board weapons. Twelve deaths (310)
Tiefflieger engage in Bamberg on passenger train and bombard the travelers with shooting. Several dead and wounded. (978)
In Zeitz around noon Tiefflieger fourteen times attack a hospital motorcade consisting of a ambulances and three or four cars. The vehicles marked with the Red Cross symbol are completely on fire. Eight dead, greater number injured. (131, 3966)
On the route Nuremberg-Erlangen engage low-flying aircraft in the afternoon on Passenger Train. Two dead and 23 seriously injured. (570)
At the train station Schlölen area Weißenfels attack fliers passenger train. Machine gun fire on the fleeing civilians. Nearby military targets are not present. Ten deaths, including women and children. (721)
Tiefflieger attacks by Rottdorf area Weimar farmer vehicle. farmer and 12-year-old boy are killed. No troops nearby. (119)
Two Tiefflieger destroy on the road Straubingen / Danube - Great Schmiedingen an ambulance. Two paramedics and three wounded are killed. (657)
Low flying attack plane targets the small village Lastau at Colditz, Krs. Grimma, with on-board weapons. The 80-year-old Mrs. Clara Schmidt is thereby severely wounded. (335)
Tiefflieger attack in the area of Schleusingen (Thuringia) a convoy of German refugees from the East.  Several women are in this case killed and wounded, ten to twelve horses killed. (427)
M a y   1 9 4 5
In Camberg planes attack passenger train. The first attack is directed at the locomotive. Then the train passengers flee under a railway underpass. Subsequently, the second attack occurs on the underpass from two sides. Here, about 30 people are killed and injured a number. (351)
Source:  Alliierte Kriegsverbrechen-pdf
* * *
After The Reich – The Brutal History Of The Allied Occupation
Crimes and Mercies by James Bacque (1997)
Deutschen Kriegsgefangenen Frankreich 1984_smith
Dutch Concentration Camps Torture
Eisenhowers (Jew) Death Camps PDF
Ermordete Deutsche als Judenopfer
Ethnic Cleansing of the Germans bei Eisenhower - 8 Million after the war
Ethnic Cleansing of the German people in Dresden by Bombing
Franzoesische Kriegsverbrechen
Gegen das Vergessen - Polnischer Tod - Weinlein
GENOCIDE of the Ethnic Germans in Yugoslavia 1944-1948 (2007)
James Bacque - Der geplante Tod (2002)
Jüdischer Massenmörder Eisenhower
Die Kriegserlebnisse-des-Werner-Weinlein-Nurnberg
Ludendorff Erich-Kriegshetze Und Voelkermorden In Den Letzten 150 Jahren 1935-1999_188S.
Gert O.-E. Sattler - Leidensweg deutscher Frauen 1944-1949
Nicht Rache sondern Verbrechen No 106
Polish Atrocities Against the German People
Politische Haeftlinge in the Gulag_Jenkner_Bibliographie
Post WWII Massacre of Innocent German Prisoners
Die Sieger Im Schatten Ihrer Schuld 1994_290S.
Soldat English - Dead Germans for Hollywood Movie of Holocaust
Oscar Friedrich - Ueber Galgen Waechst Kein Gras 1950_93S.
Das Unrecht an Deutschland - Scheidl 1968
Erich-Kern-Verbrechen-am-deutschen-Volk-Eine-Dokumentation-Alliierter-Grausamkeiten-1964
Verbrechen an der Wehrmacht - Seidler 1997
Verbrechen an Deutschen - Kumpf - Remy
Verschwiegene Schuld-Besatzungspolitik
Voelkermord an Deutschen in Polen