Jews = Mongolian Turk-Huns from the Steppe of Russia. (95% of today's Jews. Never were in Palestine ever.) Over the centuries, the Jews worked in dishonest ways with non-Jews (Gentiles) and used seduction of men, scheming to outsmart all other races and bring them to ruin and to murder them. They slaughtered almost all of the white race in Palestine thousands of years ago; some of the stories are recorded in the Bible. They have been very successful due to their disbelief in accountability to a higher being, so they rape, rob, deceive, lie and torture at will. Sure, they pretend to believe in God to further mislead us, but they most certainly have not written the Bible, though they have changed it as Marano scribes in the Catholic Church for their benefit. A Marano is a crypto-Jew, descendant of Jews who maintains his Jewish traditions while publicly adhering to other faiths. In other words, a deceiver! The bible is the primarily the history of the white man, though altered quite a bit by the Jews, and the Jews are the identity thieves, pretending they are us, the white race, and Yahweh's chosen people. The Jews are not white but are a Mongolian-Turkish tribe, Khazars, who have taken on the religion of the "Babylonian Talmud" of the Pharisees centuries ago. The Jews of today, have no value in the Bible as God's people but are the children of Satan, as Jesus called the Pharisees.
The Communist Jews are leaving their footprint everywhere to tease us. The Communist Star in many logos is a giveaway of Jewish Possession:
Can you choose a smaller privately owned cafe?

JEWS ARE HIDDEN COMMUNISTS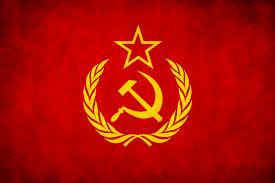 COMMUNISM COMES FROM THE JEWS AND IT IS THEIR AGENDA TO MURDER THE POPULATION. SPYING AND FALSE ACCUSATIONS ARE PART OF THE AGENDA.

COMMUNISM WAS USED IN RUSSIA TO CREATE THE JEWISH SOVIET UNION AND TO MURDER BETWEEN 66 MILLION TO OVER 100 MILLION RUSSIAN CITIZENS.
Jew Nikita Khrushchev speaking at the U.N. hitting his shoes against the podium claiming angrily America will become Communist by Communism being spoon fed a little at a time (so we won't notice). Remember the Jewish Communists, who founded the Soviet Union, had forced Russians to murder their fellow citizens, and after that, the forced murderers were eliminated, too. This has been hidden from history so no one would find out who the real culprits are in the world, namely the deceivers in all areas of life, the Jews.
_____________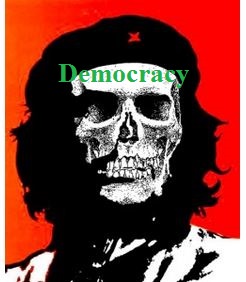 What Makes the Jews So Dangerous!
* They have obtained financial control of almost all countries through fraud
* Israel supposedly possesses about 300 atomic bombs through the United States' treason against its citizens. Off and on they threaten other states that they will drop their bombs on them.
* They have a goal and work feverishly and radically toward this goal. This goal is to rule the whole world.
* They are not spiritual – do not believe in a higher order. But they follow materialism for themselves and poverty for all others and that which we call satanic.
* They are in charge of medical facilities, pharmacology, education, science, the judiciary system, and all important infrastructure
* They have invented a very scary disease called 'cancer'. Perhaps this disease in itself is not that terrible but made terrible with the intervention of a horrible treatment which is almost always ending in death of the patient. There are voices who claim the healing of cancer by natural methods, e.g. Dr. Lorrain Day and Dr. Ryke Geerd Hamer.
* They have invented the Federal Reserve Bank that is nothing but a private Jewish bank, a Jewish fraud that has gotten the government into severe debt and therefore taken all power away from the people of the United States by having given away our land as collateral
* They lie, trick, and deceive while pretending to mean well
* They misguide us to come out ahead
* They distract with entertainment
* They have invented psychology as a replacement for the priest in the confessional to psych us out, and from this they know exactly how to MANIPULATE US
* They mislead with false history multiplied in 'documentaries', movies, books, and all the other media
* They murder and suicide people who expose them and stand up against their crimes and intrigues
* They supposedly have at least 300 atomic bombs
* They instigate individuals, tribes, races, and countries against each other, managing almost all revolutions and wars gaining Billions of Dollars in weapons sales and then rob the countries of their treasures and subjugate the survivors to their rule
* While soldiers think they are fighting for justice under the cover name 'democracy', they are actually exploited to spill their blood for the Jews while the Jews are hiding out in a safe and pleasant place
* The promote leaders with investing money to further the votes for those leaders; however, the leaders they pick have a dark side they can expose at any time if they do not follow their orders
* They buy men with prostitutes and sexual favors; knowing sex is always a weakness of men
* They are threatening and planning to kill most of the population by letting leak certain reports.
* They work with various secret societies which are part of societies that seem normal or good, and are, indeed, but only on the bottom layer as a cover up; for example, Freemasonry, Jehovah's Witnesses, Scientology, the Catholic Church, the Protestant Church, many of the hundreds of other churches. Many churches are financially managed nowadays, and who are the financiers? Mostly the Jews!
* They live by a rape, torture, murder and perversion book, the Talmud, which they call their 'Holy Book.'
*There are thousands more reasons that make them dangerous, I am sure.
* Their plans have been discovered and are published in the "Protocols of the Elders of Zion"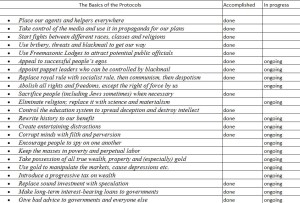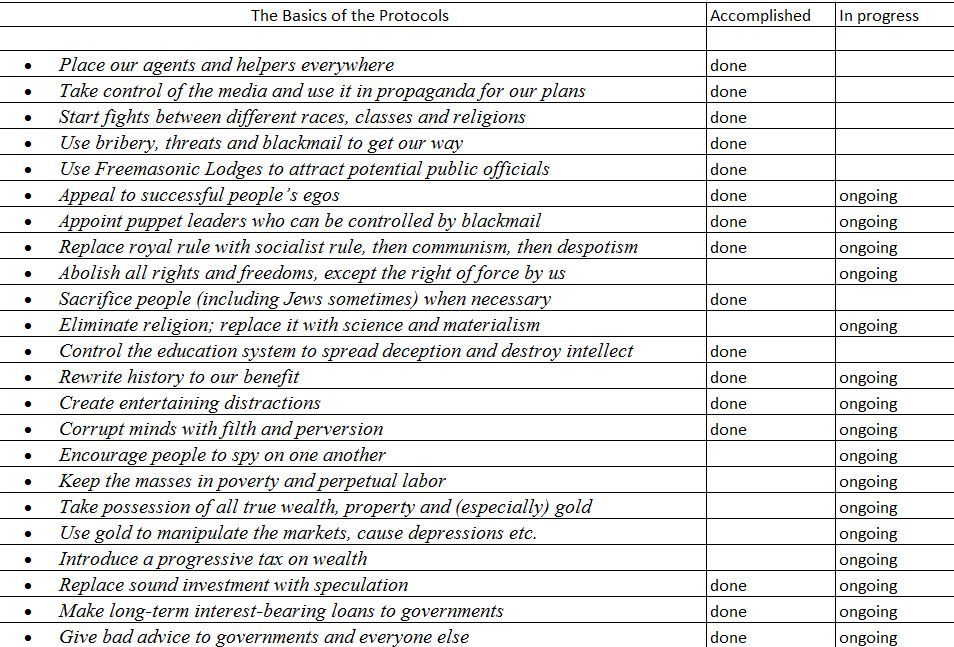 Deutsch-English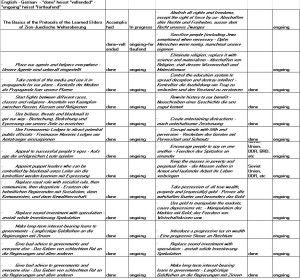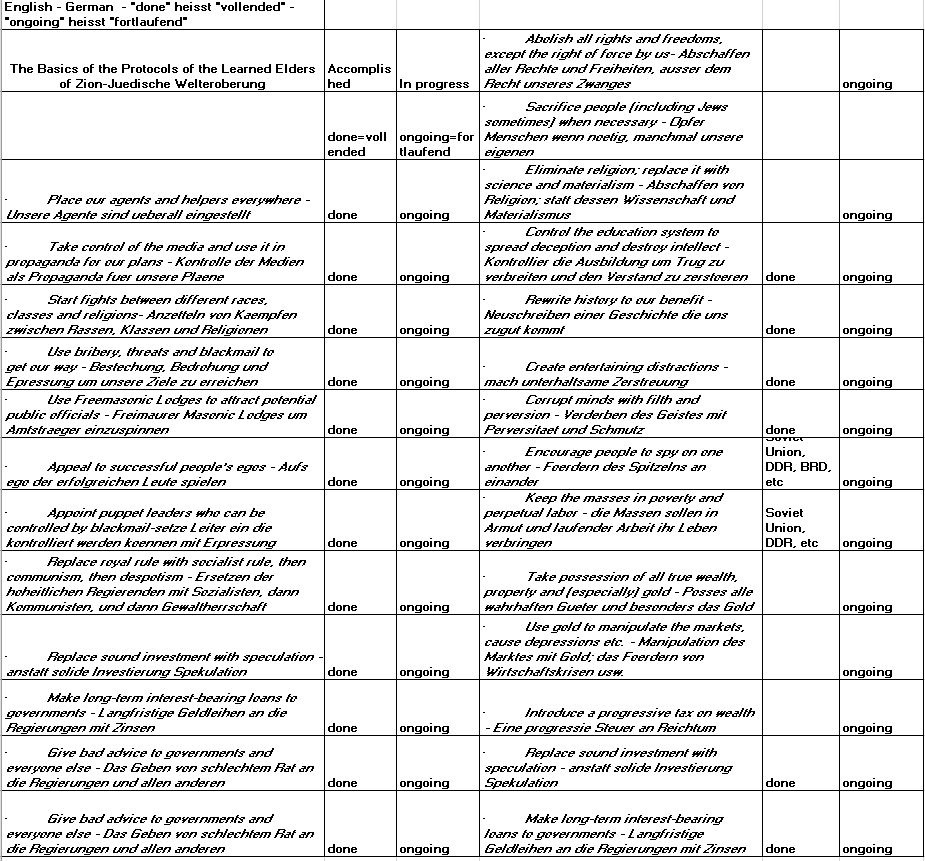 The Great Mourning on the Black Sea
Solzhenitsyn - Russia and the Jews
The Protocols Of The Learned Elders Of Zion
Jewish Peril The Zionist Protocols
###
###
###
###
###
###
###
###
###
###
###
###
###
###
###
###