germanvictims.com – English war crimes and brutalities. Churchill was a brutal, perverse man, who thought nothing of killing the innocent South African white Europeans in concentration camps and the German women and children by target bombing inner cities. By the enemies of mankind, he is hailed as a great leader. Of course to distract from the truth: Churchill was a mass murderer.
 Deutsch und English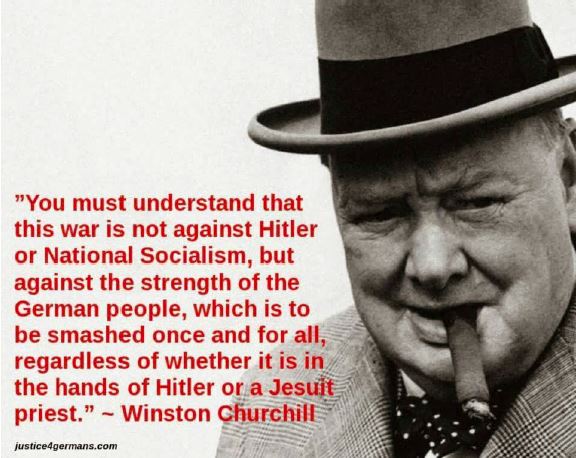 ###
Deutsch
Englische_Luegenpropaganda_39S
Doku_Friedenswillen Deutschlands_170S
Alleinschuld England's am Bombenkrieg!
Buch zum Kaufen: Englands Krieg gegen Deutschland
Ursachen, Methoden und Folgen des Zweiten Weltkriegs
http://www.versandbuchhandelscriptorium.com/angebot/0513engl.html
Deutschland – England 1933 – 1939
AH – Englands Kriegsschuld 1940
ENGLISCHE LUEGENHETZE – online
RUDOLF HESS – DEUTSCH – post
WELT TYRANN ENGLAND-BAGDADBAHN
English
The Dangerous Legacy of Winston Churchill -video