… "Die Besten der nicht-Juden sollst du töten." Ein Gebot im jüdischen Talmud. Das geht dann immer so fort mit Stufe nach Stufe runter bis niemand mehr überigbleibt, denn an die Stelle 'der besten' treten dann die 'zweitbesten,' als wieder die besten, dann die 'drittbesten,' und so weiter.
GERMAN – ENGLISH
Sie haben schon immer, unter anderen, unsere besten ausgewählt um sie zu ermorden, wie die deutschen Führer und die SS. Das geht seit dem Ende des 2. Weltkrieges heimlich so weiter. Deutsche Soldaten oder deutsche Größen sterben heimlich, oder werden 'selbstgemordet' oder sterben im Krankenhaus, oder an einem Herzinfakt, an Krebs, usw. Die angeklagten Deutschen damals, einige unserer ehrenhaftesten deutschen Männer, wurden furchtbar gequält im Gefängnis, und 130 von ihnen haben ihre Hoden in der Quälerei, um sie zu falschen Geständnissen zu zwingen, irreparable zerquetscht bekommen… Das "Gericht" zu Nürnberg war ein Kommunistisches Verbrechergericht. Die Deutschen durften sich nicht rechtsmäßig verteidigen. Das wurde von vielen Journalisten und Mitbeteiligen bestätigt. Die verlogenen Juden mußten ihre Anklagen nicht beweisen sondern diese wurden arrangiert, ein ausgewaehltes Hörensagen. Im "heiligen" Buch der Juden, dem Talmud, eigentlich ein Wahnsinns- und Verbrecherbuch, wird den Juden angeordnet die Nichtjuden zu verleumden, sie anzulügen und zu betrügen um einen Vorteil über sie zu haben. Den deutschen "Angeklagten" wurde mit der Vernichtung ihrer Familien gedroht (und weis Gott was noch alles) falls sie nicht vorgeschriebene "Geständnisse" machen würden um das jüdische Vernichtungsziel der Deutschen zu erreichen. Ich mußte oft weinen was ich alles schon gelernt habe über die Ungerechtigkeiten und den Betrug gegen die Deutschen. Alle diese Ungerechtigkeiten beweisen desto mehr daß die Deutschen zurecht und für die Verteidigung gegen diese Bestien gekämpft haben… Sogar die jungen Buben kämpften mit Recht gegen diese Verbrecher. Natürlich sind auch viele Soldaten der Alliierten unschuldig. Sie wurden mit Lügen und Täuschung in diesen Krieg mithineingezogen und haben keine Verbrechen begangen. Die meisten Richter waren kommunistische Juden ob aus Deutschland, Rußland, Amerika, oder sonstwoher! Da Europas 'Great Commander' Dwight Eisenhower auch ein grausamer Jude war (so schon genannt in seiner Jugend), ist es natürlich klar daß sich diese Kriminellen alles erlauben konnten da die Soldaten von Eisenhower aufgefordert wurden: "Macht mit den Deutschen und den deutschen Frauen was ihr wollt." Neben der Anregung zum großen Morden, zu Tode vergewaltigen, und Zutodequälen der Deutschen hat dieses Ungeheuer, Dwight Eisenhower, 6 Millionen deutsche Zivilisten verhungert und über 1 Million deutsche Soldaten verhungert allein auf den Rheinwiesen und dabei gezielt die Hilfe von Bauern sowie vom Roten Kreuz veboten und jegliches Dagegenstehen mit Erschießen bestraft. Es gab keine deutsche Polizei an die sich die Deutschen wenden konnten und keine deutschen Ärzte. Alle Verbrechen der Allierten wurden genehmigt und die Deutschen mussten bei der Kapitulation unterschreiben dass sie die Allierten niemals fuer ihre Verbrechen verantwortlich machen und zu Gericht bringen koenenn. (Das wurde aber nicht freiwillig sondern unter Zwang unterschrieben und sollte deshalb nicht gueltig sein.) Deshalb konnten diese Verbrecher zig Tausende von Deutschen von Verbrecher-"Ärzten" zu Tode "behandeln," wie meinen gesunden Cousin, im Bubenalter, der eine kleine Wunde hatte von einem Fahradunfall. Die "Gerichtsverhandlungen" zeigten damals schon wie schwach die "Europäischen" Amerikaner (und anderen Alliierten) waren solche Ungerechtigkeiten und Grausamkeiten wie das Gericht zu Nuernberg zuzulassen. Heute ist alles noch viel schlimmer weil noch mehr Macht in den Händen der größten Verbrecher der Welt liegt. Wir wissen es ja heute schon alle… wir leben in einer Welt die von einer verhältnismäßig kleinen Zahl von verbrecherisch Wahnsinnigen mit hunderten von Millionen von Helfern und Untertänigen kontrolliert durch Bestechung und Atomwaffendrohung kontrolliert wird. Wenn man aber herausfindet wie unschuldig die Deutschen waren in allen Anklagen dann fällt das deutsche Schuld-und Schamgefühl weg sowie die rosarote Brille und das kindliche Vertrauen zu Regierungen und zu Menschen aller Art. Es gibt sicher auch viele Deutsche die aus Angst ihre Mitbürger verraten, oder gar keine Deutsche sind sondern Juden die sich gezielt als Deutsche ausgeben (davon gibt es sehr viele in Deutschland); oder Deutsche die schon so heruntergekommen sind, dass sie aus Geldgier und wegen vorteiligen Beziehungen jegliche moralischen Werte verachten.
#
In German language, these are the daily orders by the commandors at Auschwitz, in particular Rudolf Hoess (Höß) who under extreme torture falsely admitted to have killed Millions of Jews. The technical part of his genocide confession story makes no sense at all. He just made it up.
###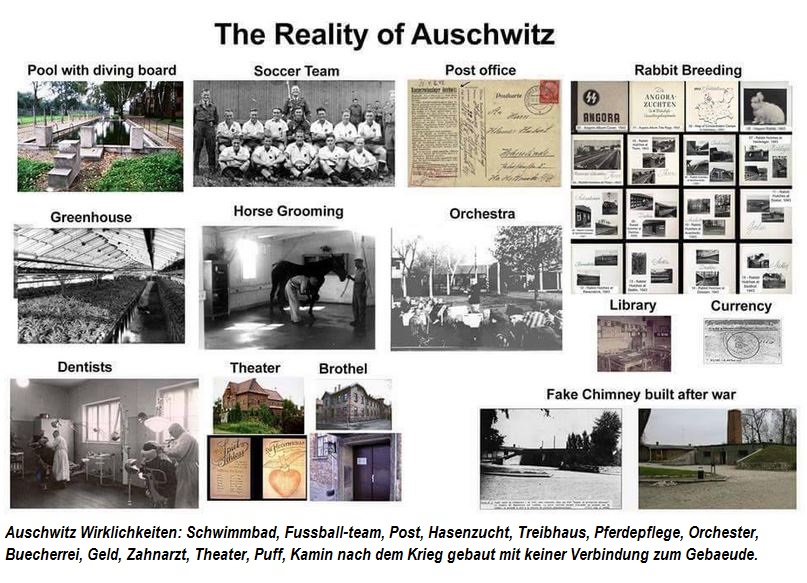 ###
How the British Obtained the Confessions of Rudolf Höss-Faurisson
 ###
###
###
###
###
80 Years of Infamy – Defaming the German People
A
Alois Brunner die Rechte Hand von Eichman Wusste Nichts von Gaskommern
American Atrocities in the Courts in Germany*Judge Roden
Americans torture Germans to extort "Confessions" British sunday-pictorial-january-23-1949-TORTURE_page-3
Angebliche Brutalitaet des Deutschen Heeres
Anti Wehrmacht Ausstellung*Deutsches Leiden
Anne Frank's Diary- Ditlieb Felderer -A Hoax 1978  80S.Text
Are Holocaust Witnesses Reliable_article
Author Of Best-selling Holocaust Book Admits Survival Story Not True_Fox News.pdf
B
Die Briten und das "Gestaendnis" Rudolf Hoess
Building Of Soviet Fake Gas Chambers Auschwitz
C
"Confessions" of Hoess – Faurisson – British torture
D
  Debunking-the-genocide-myth-Paul-Rassinier
The Diary Of Anne Frank Exposed As A Fraud  – Rorbert Faurisson
Walendy_Udo_-_Do_Photographs_Prove_the_Ns_Extermination_of_the_Jews
Do the 'War Crimes' Trials of Nuremberg Prove Extermination?-Pt. 1
Do the 'War Crimes' Trials of Nuremberg Prove Extermination?-Pt. 2
DOCUMENT NI-9912 DISPROVES NUREMBERG ACCUSATIONS ON ZYKLON B-FAURISSON
The Dwindling Death Toll of Auschwitz & Apollo Moonlanding History or Hoax? The Revisionist Feb. 2003
E
Die Englische Luegenpropaganda gegen Deutschland
Ein Prominter Falscher Zeuge: Elie Wiesel
Elie Wiesel*Renowned Con Artist
Exposing Literary and Documentary Frauds about the "Holocaust"
F
Facts about the Origination of Concentration Camps
Walendy_Udo_-_The_fake_photograph_problem
Forced to Build Gas Chambers After the War
 Walendy_Udo_-_Forged_war_crimes_malign_the_German_nation2
Forensic Examination Auschwitz
G
"German" Atrocities by Partisans in German Uniforms
Gemeine und Schamlose Luege*Kriegsschuld
Geschichte der Verfemung Deuschlands Band 6-Scheidl 1968
Gestaendnisse der Deutschen in Nuernberg Unter Folter oder Todesdrohung
H
How the British Obtained the Confessions of Rudolf
How Jews Tortured Innocent Germans to Make Holocaust Evidence
I
In 70 years no forensic proof-Faurisson
The Injustice of the Nuremberg Trials
J
Jewish Russian and USA Communist Connection
JEWS IN THE REICH DENY ATROCITIES BY NAZIS_3pg
Jude Burg: Zionistische Verschwoerung gegen Deutschland
K
Keine Beweise fuer Nazi Gaskammern
Kriegsverbrechen an den Anderen
L
Landsberg-Ein dokumentarischer Bericht deutscher Seite-Aschenauer-pdf
Die Luege Des Odysseus-Rassinier Paul- 1959 135S.
M
N
No Documents – No History, Faurisson – re false holocaust
Nuremberg-and-other-war-crimes-trials-pdf
Buecher zum Kaufen_Nuernbergverbrechen gegen Deutsche
Nuernberg-oder-das-gelobte-Land_Hans-Rudolf_1949-pdf
Nuernberg oder die Falschmuenzer
Nurenberg or the Promised Land
Der Nuernberger Prozess – Methoden und Bedeutung (1977, 40 S., verboten)
O
Official-auschwitz-records-1940-1945
P
Ein Prominenter Falscher Zeuge: Elie Wiesel
R
Real-Eichmann-trial-Paul-Rassinier-2002-history  Zionism
Rogue State US_William_Blum 2002-pdf
S
Die Schuld am Zweiten Weltkrieg
Schweinerei mit der Kriegsschuld
U
Ueber Galgen Waechst Kein Gras-Oscar Friedrich-93S
Um Recht und Wahrheit im Malmedy Fall-Aschenauer-pdf
Die Urschuldigen am Weltkriege
W 
The Wannsee Conferenc – Final Solution for the Jews-Read book here
The Wannsee Conference Protocol: Anatomy of a Fabrication
Welche Beweise gibt es fuer einen Juedischen Holocaust
Wir bauten Gaskammern nach dem Krieg
Z
Die Zeugen der Gaskammern von Auschwitz
###
Buecher zum Kaufen_Nuernbergverbrechen gegen Deutsche:
http://www.versandbuchhandelscriptorium.com/angebot/1557sieg.html
http://www.versandbuchhandelscriptorium.com/angebot/0911heuc.html
http://www.versandbuchhandelscriptorium.com/angebot/1116vord.html
http://www.versandbuchhandelscriptorium.com/angebot/1562foru.html
http://www.versandbuchhandelscriptorium.com/angebot/0608fall.html
http://www.versandbuchhandelscriptorium.com/angebot/0707rich.html