Aktuell-New – wichtige freie Information ueber das Dritte Reich und die heutigen Folgen, hauptsaechlich in Bezug auf Verbrechen gegen die Deutschen, Verfolgung der Wahrheitsprecher im Westen und dem Juedischen Gewaltsystem.
DEUTSCH – ENGLISH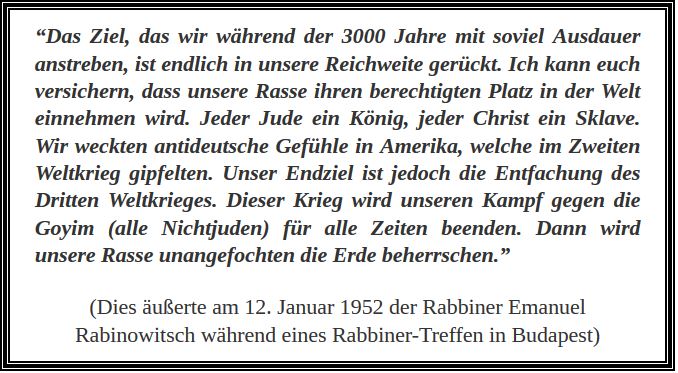 quelle: http://deutscher-freiheitskampf.com/aufklarende-zitate-2/zitate-von-juden/
Abbreviated English translation of above comments:
"The goal we've had for 3,000 years is almost accomplished. Our race will win: Every Jew a king, every Christian a slave. We stirred anti-German feelings which reached their height in WWII, but our  final goal is WWIII. This war will end our fight against the non-Jews because then our race will rule the world without dispute."  (This statement was made by Rabbi Emanuel Rabinowitsch during a rabbi conference in Budapest on 12 Jan. 1952).
They have reached their goal in the U.S. to a great extend. If we have a financial crash and/or Martial Law, will then the killing begin of our own citizens, like it was in the Soviet Union ruled by the same types? 
Jewish U.S. Law to Kill Christians
Red Alert – Missouri Police officer, Green Beret, Sgt. Dan Page – One Thousand Spetsnaz (special Russian forces) entering the U.S. every week – America is going down!
The Jew Commies Butchers from Hell
Solzhenitsyn: Russia and the Jews
PLAN TO DESTROY ALL SOUVEREIGN COUNTRIES-EXPLAINED BY BEN KLASSEN

_____________________________________________________
 Sept. 2, 1014

Wenn the Jews have full world power, will they force whites to marry blacks? Of course, because they want to destroy the white race. What a sadistic idea. But in Udo Walendy's book, "Rassismus Legal – Der Juden Drittes Reich," (book forbidden in Germany and Austria by the Jewish-U.S.occupation government "Bundesrepublik!" Of course!) Jews claim they want to create a mixed race of us because this race has no alliance to any blood or culture and so can be easily directed and controlled.
Buecher ueber das Reiches Schicksal bei Arthur Trebitsch
Sept. 1, 2014
America to become a killing zone?
31 August 2014
HITLERS KAMPF UM WELTFRIEDEN REDEN – gigantic love, justice, fairness and toughness… those were the attributes of the Fuehrer
30. August 2014
Voice Radio-John Kaminski-On the Condition of the World due to the Jews
World War 3 Anyone?! – Kaminski
The Psychos who aim to Kill You! - Kaminski
Israel Must be Destroyed Like a Mad Dog – Kaminski
English-Spanish – Video: Genocide Against My White Race
La Brújula: Discusión sobre el genocidio blanco.
Lucas Carena y Pablo J. Davoli exponen el genocidio blanco y el Plan Kalergi. Asimismo, señalan algunas de sus tácticas más importantes, como la promoción de una inmigración heterogénea y masiva; el forzamiento a un mestizaje de carácter caótico; la sustitución poblacional y étnica; y el multiculturalismo.
https://www.youtube.com/watch?v=lYwPhtf0u5E#t=368
Whom can one believe???!
Dutch Intellectuals Apologize to Putin:
http://macedoniaonline.eu/content/view/25981/53/
Video – Dr. Rigolf Hennig ueber die Europaeische Aktion – den Wiederaufbau der Selbstbestimmung Europas
CANCER CURE AND CURE OF MANY DISEASES – "GERMANISCHE HEILKUNDE" (DAS VIDEO IST AUF DEUTSCH)

German Internist Ryke Geerd Hamer discovered the cure for cancer and many other diseases. He did some research in 2008 regarding cancer deaths in Israel, based on the fact that so many Jews study his teachings and practice it in Israel (but Dr. Hamer was forbidden in Germany by the Jewish-controlled German Justice System to practice), and he discovered:
Israel, 8 Million citizens, in 2008 only 192 Cancer Death a year
This means, Germany having 80 Million citizens, in 2008 should have only 1,920 Cancer Death
But how Many Cancer death did Germany have in 2008? 300,000 Cancer Deaths because Dr. Hamer's practice was forbidden in Germany.
After his study, he was declared an anti-Semite and totally ruined as doctor. He left Germany.
Andreas Baumeister, an alternative health practitioner, not a doctor, carries on the teachings of Dr. Hamer. According to Dr. Hamer, the cause of all diseases and their cure can be discovered, and it is not about medicine, surgery, or chemo! Andreas Baumeister has been very successful in guiding cancer patients to a cure which comes from within the patient. In German only: