…In der ruhigen Diktion eines Geschichtswissenschaftlers widerlegt Heintz nachdrücklich die Anschuldigungen Böhlers [gegen die National Sozialisten] unter Nennung zahlloser Quellen, die dieser verschwiegen hat, und kommt zu dem Ergebnis, daß dessen Behauptungen sowie seine Schriften eine "Größte Zumutung…" und nichts weniger als Geschichtsfälschung sind…
germanvictims – deutsche Opfer
Regierungsdokument:
 WANDERAUSSTELLUNG BETRUG
Daniel Heintz ist ein deutscher Historiker. "Größte Zumutung " ist ein Buch über die angeblichen und tatsächlichen Verbrechen der Wehrmacht in Polen im September / Oktober 1939. Mit zwei Wanderausstellungen, die das umstrittene linke "Hamburger Institut für Sozialforschung" (HIS) konzipiert hatte, verbreitete es zwischen 1995 und 2004 öffentlichkeitswirksam die Behauptung, die deutsche Wehrmacht habe sich im Rußlandfeldzug systematischer Verbrechen schuldig gemacht und gar einen "Vernichtungsfeldzug" geführt. Obwohl die erste Ausstellung harsche Historikerschelte bezog und wegen grober Fehler zurückgerufen und grundlegend umgestaltet werden mußte, hatte das HIS sein Ziel erreicht: nämlich die Wehrmacht pauschal anzuklagen und Mißtrauen gegen eine ganze Generation zu säen. Doch damit nicht genug, eine Folgeausstellung ist nun angetreten, wurde zuerst in Polen und wird derzeit in Deutschland gezeigt. Ihr Titel: "Größte Härte…" Der Ausstellungsmacher Jochen Böhler beruft sich auf die ersten Anti-Wehrmachtausstellungen und verkündet im Katalog zur Wanderausstellung sowie in einer Monographie, bereits seit Beginn des Polenfeldzuges habe die Wehrmacht einen "Vernichtungsfeldzug" gegen die polnische Bevölkerung geführt. Dieser Anschuldigung ist der Historiker Daniel Heintz nachgegangen. Er hat im Bundesarchiv in den Originaldokumenten und -berichten recherchiert und ist zu erschreckenden Ergebnissen gekommen: Böhler hat Aussagen aus dem Zusammenhang gerissen, Dokumente gänzlich umgedeutet, Entlastendes unter den Tisch fallen lassen, bloß um seine These einer pauschal verbrecherischen Wehrmacht zu "beweisen"! In der ruhigen Diktion eines Geschichtswissenschaftlers widerlegt Heintz nachdrücklich die Anschuldigungen Böhlers unter Nennung zahlloser Quellen, die dieser verschwiegen hat, und kommt zu dem Ergebnis, daß dessen Behauptungen sowie seine Schriften eine "Größte Zumutung…" und nichts weniger als Geschichtsfälschung sind. Werke:
"Größte Zumutung…" – Vergehen gegen die historische Wahrheit: Über die angeblichen und tatsächlichen Verbrechen der Wehrmacht in Polen im September / Oktober 1939
Tierschutz im Dritten Reich, 2008
ANTI-DEUTSCHE PROPAGANDA IN AMERIKA
Ein Zeitungsartikel berichtet ueber eine Nachbarschaft in Columbus, Ohio, genannt "German Village" im 1. Weltkrieg. Viele Strassen hatten deutsche Namen und sie wurden auf Amerikanische Namen umgeaendert in 1917. Der Park war 23.45 acres und nannte sich Shiller Park seit 1891 und wurde in "Washington Park" umgenannt in 1917. Dort gab es auch 2 Buecherverbrennungen von Deutschsprachischen Buechern auf der "Broad Street" und am Fuss der Statue von Friedrich Schiller.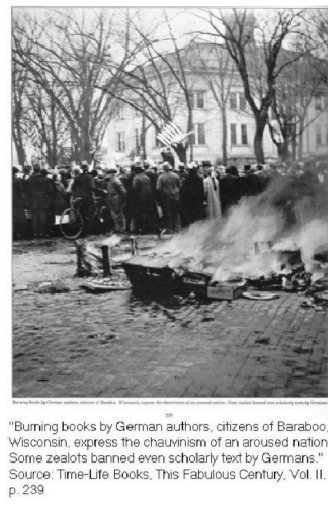 Es hiess weiterhin… in 1917 da war ein Zwang alle Columbus Hunde deutscher Hunderassen einzuziehen. Hunderte von Hunden wurden den Besitzern weggenommen. Sie wurden in den Park gezogen und in einer Feier wurden die Hunde erschossen und in ein vorher ausgegrabenes Loch geworfen. Danach wurde der Park von "Schiller Park" auf "Washington Park"  umgetauft.
Das Verbrennen von Deutschen Buechern in Baraboo, Wisconsin, USA
In manchen Plaetzen wurden Dachshunde gesteinigt!
In Amerika: "Wo ist denn dein Vater, Fritz?" "Ich weiss es nicht – Mutter sagt er ging zu einem Konzentrationslager." (Er konnte es nicht richtig sagen so anstatt "Concentration Camp," sagte er "Constipation Camp." Das Wort "constipation" heisst Verstopfung. Dieser "Beitrag" soll lustig sein fuer die Amerikanischen Leser.)
Die USA erklaerte am 6.4.1917 Deutschland offen den Krieg. "Die Welt muss fuer die Demokratie gesichert werden," sagte Wilson, und es begann eine unwahrscheinliche Hassorgie gegen das "verbrecherische Deutschland," gegen die "preussisch-deutsche Barbarei." Es wurde als ein "Kampf fuer Kultur, Zivilisation und Freiheit" erkuendet. Man nannte die Deutschen bereits damals "Hunnen" und "Barbaren," "tollwuetige Hunde Europas, die an die Kette gelegt gehoeren. " Wenn sie keine wehrlosen Frauen erschossen oder Nonnen in den Kloestern vergewaltigten, hackten sie Kindern unter Anleitung des Kaisers die Haende ab, oder nagelten Bauern an Scheunentore. Man hielt es damals mit der "7," so waren auf Deutschen Befehl angeblich 700,000 Griechen deportiert und ermordet worden, und nach dem Daily Telegraph vom 16.3.1916 haben die Oesterreicher damals 700,000 Serben vergast (!).
Am 10. Januar 1918 eroeffneten die Abgeordneten des amerikanischen Kongresses, unter Vorbeter Billy Sunday (Sonntag), dem Enkel deutscher Emigranten, die neue Sitzungsperiode it dem feierlichen Gebet:
"Allmaechtiger Gott – unser himmlischer Vater!…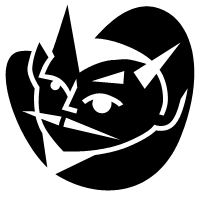 Du weisst, o Herr, dass wir in einem Kampf auf Tod und Leben stehen gegen eine der gemeinsten, uebelsten, gierigsten, geilsten, blutduerstigsten, suendhaftesten und habgierigsten aller Nationen, die jemals das Buch der Geschichte geschaendet haben. Du weisst, dass Deutschland aus den Augen der Menschen genuegend Traenen gepresst hat, um einen neuen Ozean zu fuellen, dass es genuegend Blut vergossen hat, um jede Woge auf diesem Ozean zu roeten, und dass es aus dem Herzen von Maennern, Frauen und Kindern genuegend Schreie und Stoehnen gepresst hat, um daraus ein neues Gebirge aufzutuermen.
Wir bitten Dich, o Herr, entbloesse Deinen maechtigen Arm und schlage das grosse Rudel dieser hungrigen, woelfischen Hunnen zurueck, von deren Faengen Blut und Schleim tropfen. Wir bitten Dich, lass die Sterne auf ihren Bahnen und die Winde und Wogen gegen sie kaempfen… Und wenn alles vorueber ist, werden wir unser Haupt entbloessen und unser Antlitz zum Himmel erheben… und Dir sei Lob und Preis immerdar, Durch Jesus Christus, Amen. "
Quelle: Congressional Record of the Session of the 65th Congress of the USA Bd. LVI.
Aus dem Buch: "Die Geplante Vernichtung" Christine Kluge
DAS WAR KEIN GEBET, BEI DIESEN HEUCHLERN – DENN SIE HABEN KEINEN GOTT NUR EINEN MAMMON – SONDERN GEZIELTE, VERLOGENE AMERIKANISCHE VOLKSVERHETZUNG, DAMIT DIE BUERGER, DAMALS WOHL 40% DEUTSCHER ABSTAMMUNG, DEM KRIEG ZUSTIMMEN WUERDEN. HABEN SIE IHM WIRKLICH ZUGESTIMMT? DIE BUERGER HAETTEN NICHT ZUGESTIMMT WENN SIE DIE WAHRHEIT GEWUSST HAETTEN! AUSSERDEM, HABEN DIE BUERGER SO UND SO KEINE BESTIMMUNG IN KRIEGSFUEHRUNG!
Sagt Unserem (USA) Volk – video – ueber das Buch "The Crime of Our Age" bei dem Amerikan. Pfarrer Theodor Fritsch – gegen die Ungerechtigkeit Amerikas gegen Deutschland
"Wir Juden sind die Vernichter und wir werden immer die Vernichter bleiben. Egal was ihr auch tun werdet, unsere Wuensche koennt ihr nie befriedigen. Wir werden daher immer vernichten, denn wir wollen unsere eigene Welt." (aus dem Buch YOU GENTILES vom juedischen Autor Maurice Samuels, Seite 155)
"Der  erste  Weltkrieg  hat  dem   Kommunismus [Juedisch]  Rußland,   der   zweite hat ihm Europa gebracht. Der  dritte Weltkrieg wird ihm die Weltherrschaft bringen." – Stalin (Man kann hier sehen dass der 3. Weltkrieg schon von der Internationalen Verbrecherbande geplant ist.)
DAS ERMORDEN DER DEUTSCHEN MILITAER INTELLIGENZ
Am Tage nach den Morden von Nürnberg gab der Alliierte Militärgerichtshof kund, die Leichen seien in zwei Möbelwagen weggebracht worden. In Dachau wurden sie verbrannt, ihre Asche unweit der Heilmannstraße im Münchner Villenvorort Solln in den Conwentzbach geworfen. Die offizielle Pressemeldung lautete später, die Asche sei "in einen Fluß irgendwo in Deutschland" gestreut worden. Am symbolischen Grab des in Nürnberg ermordeten Generalfeldmarschalls Wilhelm Keitel bei der Stiftskapelle auf seinem Gut in den Westausläufern des Harz ist eine Gedenktafel angebracht mit den Worten:
"DER FEIND HAT GERICHTET MIT RÄCHENDER HAND UND STREUTE DIE ASCHE WEIT ÜBERS LAND. DABEI TAT ER GRAUSAM DEN HARTEN SPRUCH:
KEIN RUHSTATT ZU HABEN, DAS SEI EUER FLUCH!
NIRGENDWO FINDE MAN KRANZ
ODER STEIN ALS STÄTTE FÜR EUER TOTES GEBEIN.
WENN NIEMAND EUER GRABMAL KENNT,
BALD KEINER MEHR EURE NAMEN NENNT.
GELÖSCHT, GETILGT AUS DES VOLKES SINN,
RUCHLOSE ASCHE, FAHR HIN, FAHR HIN.
UND DER WIND FUHR AUF
UND TRUG SIE FORT UND STREUTE SIE BALD HIER, BALD DORT.
DIE RAUSCHENDEN WÄLDER, DIE LANGEN HÖHN,
DIE SILBERNEN BÄCHE, DIE FLUREN SO SCHÖN,
DIE LIEBLICHEN AUEN, DER STEILE GRAT,
SIE ALLE EMPFANGEN DIE SELTSAME SAAT.
UND ES RAUNT UND FLÜSTERT LANDAUF, LANDAB:
WO IST DER LETZTEN HELDEN GRAB?
IST ES NIRGENDS? – NEIN, ES IST ÜBERALL!
GANZ DEUTSCHLAND WURDE IHR EHRENMAL!"
Heil dem Deutschen Reich!
http://deutscher-freiheitskampf.com/2013/04/07/der-seher-nicolaas-van-rensburg-uber-die-endzeit/
DIE KRIEGSERLEBNISSE DES WERNER WEINLEIN
Die Amerikaner allein haben 1.7 Millionen Deutsche Soldaten durch Hungern in den Lagern ermordet (plus fast 6 Millionen Zivilisten) unter dem Juden Dwight Eisenhower:
Rheinwiesenlager:
 http://www.youtube.com/watch?v=WtDPz8VLavQ
VERBRECHEN AM DEUTSCHEN VOLK – HOERBUCH, 1921 – WIELAND – (1. Weltkrieg)
https://archive.org/details/VerbrechenAmDeutschenVolk19212h8m
Deutschland Muss Untergehen-Jude Kaufman
Wegen der Naivitaet, Unschuldigkeit und Ehrenhaftigkeit der Arischen Rasse, wurde sie fuer Jahrtausende bei heimtueckischen, verlogenen, und zerstoerenden Beratern und Gegnern heimlich in Irre und in seine Vernichtung durch gegenseitige Kriege gefuehrt. Der Arier ist ehrenhaft und heldenhaft und wohlwollend gegenueber anderen Rassen; leider nimmt er deshalb an, dass alle anderen Rassen die gleiche wohlwonnende Empfindungen ihm gegenueber haben. Diese Grosszuegigkeit und Menschlichkeit wurde immer wieder ausgenuetzt fuer seine Vernichtung. Wir sind durch unsere genetische Naivitaet der Internationalen Verbrecherbande nicht gewachsen wenn wir uns rein auf unsere Gefuehle verlassen. Deshalb brauchen wir weise und liebende Fuehrer fuer unsere Rasse. Aber durch das viele Leid das uns Deutschen schon seit Jahrhunderten angetan wurde (deshalb muss man die WAHRE Geschichte kennen), haetten wir doch lernen sollen, anstatt uns selbst zu ermurksen indem wir uns mit den Luegen der Verbrecher selbst anklagen und zerstoeren. Oder?
* http://archive.org/details/Boyer-Jean-Die-schlimmsten-Feinde-unserer-Voelker
GRUNDINFORMATION UEBER DIE GRAUSAMEN, VERBORGENEN VERBRECHEN GEGEN DIE DEUTSCHEN: 
ALTTESTAMENTARISCHE KAPITULATION
Luegenhetzen im 2. Weltkrieg – Band 2 – hier lesen – Scheidl
http://www.vho.org/D/gdvd_2/index.html
Die Konzentrationslager:  – Band 3 – hier lesen – Scheidl
http://www.vho.org/D/gdvd_3/index.html
"Millionenvergasungen" Band 4 – hier lesen – Scheidl
http://www.vho.org/D/gdvd_4/index.html#Inhalt
Die "Ausrottung" der Juden – Band 5 – hier lesen – Scheidl
http://www.vho.org/D/gdvd_5/index.html
Geschichte der Verfemung Deutschlands – Scheidl 1968 – Band 6 – Pdf
Das Unrecht an Deutschland – Band 6 – hier lesen – Scheidl
http://www.vho.org/D/gdvd_6/index.html
*
VerschwiegeneWahrheiten – Major Friedrich Schlegel
MILLIONENFACH – Gedicht ueber Vergewaltigung und Mord der Deutschen
US-Amerikanische Kriegsfuehrung: "Was glauben die Zivilisten denn welche Art Krieg wir gefuehrt haben? Wir haben kalten Blutes Gefangene niedergemacht, wir haben Lazarette pulverisiert, Rettungsboote versenkt, feindliche Zivilisten [die Deutschen unfeindlichen Zivilisten] getoetet oder verwundet, Verwundeten den Garaus gemacht, Sterbende mit Toten in ein Loch gegraben. Im Pazifik haben wir die Schaedel unserer Feinde zerschlagen, sie abgekocht um aus ihnen Tischgarnituren fuer unsere Braeute zu machen und haben ihre Knochen ausgemeisselt um Briefoeffner aus ihnen zu verfertigen. Wir haben unsere Phosphorbombenabwuerfe und unsere Morde an der Zivilbevoelkerung mit dem Abwurf von Atombomben auf zwei unverteidigte Staedte gekroent und haben so zur Zeit einen unbestrittenen Rekord im Massenmord erreicht. Als Sieger haben wir uns das Recht angemasst, unsere Feinde fuer ihre Kriegsverbrechen vor Gericht zu stellen. [*Jedoch haben die Deutschen keine Verbrechen begangen-sie kaempften streng unter der Haager und Geneva Konvention und mussten durch endlose Folterung genoetigt werden, z.B. total zerquetschten Hoden in ca. 239 Gefangenen, in Nuernberg nur Dokumente unterschreiben ohne eine Verteiding zu haben und jemals erlaubt zu werden ein Verbrechen der Alliierten unter den Umstaenden zu erwaehnen]. Aber wir sollten Realisten genug sein zu begreifen dass wir in einem Dutzend Anklagepunkten fuer schludig erklaert werden wuerden wenn man uns gegen Bruchs der Kriegsgesetze vor Gericht stellte. Wir haben einen ehrlosen Krieg gefuehrt [*dass koennt ihr aber laut sagen!!!], denn die Moral stand im Denken der Soldaten [*jenen Verbrechern und Schweinen] erst an letzter Stellte."
Das schrieb der bekannte US-Kriegsberichterstatter Edgar L. Jones als Protest gegen die heuchlerischen amerikanischen Militaertribunale im Februar 1946 in der Zeitschift "The Atlantic Monthly." [*Bemerkungen by germanvictims] – Uebernommen von John de Nugent's Blog
(http://johndenugent.com)
[*Bemerkung by germanvictims]
Kitta Wagner – Fast  70 Jahre spaeter schrieb sie dieses Gedicht – –
 Geschichtslügen
Wir Alten aus der alten Zeit,
für die der Tod schon nicht mehr weit,
wir fragen uns, warum noch heute
erinnert werden alle Leute
durch Medien und Bücherflut,
was in Vergangenheit nicht gut
ausschließlich nur in deutschen Landen,
obwohl auch Andre sich befanden
im Unrecht und in großer Schuld.
Wie lange sollen in Geduld
wir diese Hetze noch ertragen,
wo Jugendliche auf Befragen
nur hören von der Ahnen Tat
und der Verbrechen böser Saat,
die nie auch Siegern zugeschrieben,
obwohl sie Schlimmstes doch betrieben,
uns Grauenhaftes angetan
im schrecklichsten Vergeltungswahn.
Gibt es Versöhnung nie auf Erden,
dass alle Menschen Brüder werden,
nicht weiter noch bekriegen sich?
Wer wünscht es sich nicht inniglich.
In Liebe muss sich Hass verwandeln.
Der Mensch allein kann niemals handeln,
geht weltweit es um große Macht,
die nur auf Herrschaft ist bedacht
und unterdrückt das Aufbegehren,
wenn Mutige sich opfernd wehren.
Und doch, die große Menschenschar
die immer schon beherrscht nur war,
verdammt, an ein System zu glauben,
als Untertan sich lässt berauben,
nicht länger darf sie Sklave sein.
Mit ihresgleichen im Verein
wird sie sich gegen Lügen wehren,
gewaltfrei ihre Ahnen ehren,
die in der Überzahl human
und nicht Verwerfliches getan,
sich opferten zum Schutz der Lieben
und Idealen treu geblieben.
—–> Kommentare