…Free trade inevitably leads to the alignment of living conditions to the lowest social and ecological level, and national markets and social systems implode…
***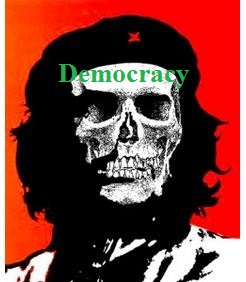 "If the jews win, mankind will eventually be annihilated and the planet will travel through space without it." Adolf Hitler
Why does the NPD (German Political Party) so decisively reject globalization?
Globalization is about the planetary expansion of capitalist economies under the leadership of Big Money. Big Money, though by it's nature without a specific location, has its politically and militarily sheltered locations, especially on the East Coast of the USA. That is why globalization is a blunt imperialist strategy of the US, exploitable by American corporations, to impose the American Way of Life, actually better said, the American Way of Death. For Peter Scholl-Latour, therefore, globalization and Americanization are synonyms. The cultural Americanization, promoted by modern communication technologies and mass media attacks on the organically grown identities of the peoples, works on creating a consumer-oriented human with equated identities, world-wide.
Warum lehnt die NPD so entschieden die Globalisierung ab?
Es handelt sich bei der Globalisierung um das planetarische Ausgreifen der kapitalistischen Wirtschaftsweise unter der Führung des Großen Geldes. Dieses hat, obwohl seinem Wesen nach ortlos, seinen politisch-militärisch beschirmten Standort vor allem an der Ostküste der USA. Deshalb ist Globalisierung eine unverblümte Imperialismusstrategie der USA, um der ganzen Welt den von US-Konzernen ausbeutbaren American Way of Life – besser: American Way of Death – aufzuzwingen. Für Peter Scholl-Latour sind Globalisierung und Amerikanisierung deshalb Synonyme. Die durch die modernen Kommunikationstechnologien und Massenmedien geförderte kulturelle Veramerikanisierung greift die organisch gewachsenen Identitäten der Völker an und arbeitet an einem konsumistisch abgerichteten Welteinheitsmenschen.
With globalization, capitalism has departed from all the political, social and ethno-cultural ties and commitments that still existed, especially earlier. It has de-territorialized the social, deprives man of every form of communal society, and does not know a home. The free-floating global capital devalues local state control power, robs the states of their decision-making autonomy and action and leads to forms of a capitalist 'government' without a popularly elected authority. With its attack on territorial principle, principle of sovereignty and legality of the nation states, it destroys the only conceivable geopolitical spaces of the ruling power in favor of anonymous, supranational power structures. At the same time it is a political incapacitation and economic exploitation program for the peoples.
Mit der Globalisierung hat sich der Kapitalismus von allen früher noch vorhandenen politischen, sozialen und ethno-kulturellen Bindungen und Verpflichtungen gelöst. Er hat das Soziale entterritorialisiert, entbettet sich jeder Gemeinschaftsform und kennt keine Heimat mehr. Das freischwebende Globalkapital entwertet staatliche Steuerungsmacht, raubt den Staaten ihre Entscheidungs- und Handlungsautonomie und führt zu Formen eines kapitalistischen 'Regierens' ohne volksgewählte Regierung. Mit ihrem Angriff auf das Territorialprinzip, Souveränitätsprinzip und Legalitätsprinzip der Nationalstaaten zerstört die Globalisierung die einzig vorstellbaren geopolitischen Räume der Volksherrschaft zugunsten anonymer, supranationaler Machtstrukturen. Es handelt sich gleichermaßen um ein politisches Entmündigungs- wie wirtschaftliches Ausbeutungsprogramm für die Völker.
The global commodity and capital mobility, due to the absence of customs barriers and capital controls, is driving the high-wage countries into a ruinous displacement and extermination competition with low-wage countries. Free trade inevitably leads to the alignment of living conditions to the lowest social and ecological level, and national markets and social systems implode. Globalization has led to a major decoupling of the financial movements of trading of goods and production. In the new, world-financial order (really disarray), the largest yield is pursued in accordance with the gambling law principle, without the capital commitment being effective for any work place or investment. With commodity and capital mobility, which has led to the erosion of the state's regulation and control monopoly, global capital extorts for itself agreeable local state conditions. Globalization and organized economic crime are therefore one and the same.
Die globale Waren- und Kapitalmobilität aufgrund des Fehlens von Zollschranken und Kapitalverkehrskontrollen treibt die Hochlohnländer in einen ruinösen Verdrängungs- und Vernichtungswettbewerb mit Billiglohnländern. Der Freihandel führt unweigerlich zur Angleichung der Lebensverhältnisse auf dem niedrigsten sozialen und ökologischen Niveau, und die nationalen Märkte und Sozialsysteme implodieren. Durch die Globalisierung ist es zur weitgehenden Abkopplung der Finanzbewegungen von Güterhandel und Produktion gekommen. In der neuen Weltfinanz(un-)ordnung wird nach dem Spielkasinoprinzip der größten Rendite nachgejagt, ohne daß der Kapitaleinsatz noch irgendwo investitions- und arbeitsplatzwirksam wird. Mit der Waren- und Kapitalmobilität, die zur Erosion des staatlichen Regulierungs- und Kontrollmonopols geführt hat, erpreßt das Globalkapital von den Staaten ihm genehme Standortbedingungen. Globalisierung und organisierte Wirtschaftskriminalität sind deshalb ein und dasselbe.
24 December 2014
translated by germanvictims.com
https://npd.de/warum-lehnt-die-npd-so-entschieden-die-globalisierung-ab/