…Warnung des Volkes und Liebe fuer das Deutsche Volk nennt man Volksverhetztung in Deutschland…"Sie sollen mich also wegen Volksverhetzung vor die Inquisition zerren. Welches Volk soll ich denn verhetzt haben, das von Jahwe auserwählte? Das Volk, welches nach folgenden Maßgaben handelt:…"
Per email von Endederluege, April 7, 2016:
Henry Hafenmayer · Stemmerstr. 1 · 46145 Oberhausen · ePost
EndederLuege@hushmail.com
www.Ende-der-Luege.com
Oberhausen, den 22.03.2016
– Offener Brief III –
Amtsgericht Duisburg                     Polizeipräsidium Essen
König-Heinrich-Platz 1                    Büscherstraße 2-6
47051 Duisburg                              45131 Essen
Aktenzeichen: 11 Gs 315/16 116 Js 366/15
Hausdurchsuchung 05.02.2016/Ihr Beschluß vom 05.02.2016
Herrn Timm ("Richter" am Amtsgericht),
Beamte und Angestellte der BRD
(Diesem Schreiben, welches an ca. 400 Empfänger verschickt wird, lege ich je eine Druckausgabe des im Jahre 1922 erschienen Buches "Die Protokolle der Weisen von Zion" bei. Soweit nicht besonders erwähnt, beziehen sich alle im Schreiben benutzten Zitate auf dieses Buch.)
Als Diener der feindlichen Besatzungsmacht scheint es Ihnen dringend erforderlich, gegen mich zu ermitteln. Ist Ihnen nicht offenkundig genug, daß ich der Verfasser der "offenen Briefe" bin?
Sie sollen mich also wegen Volksverhetzung vor die Inquisition zerren.
Welches Volk soll ich denn verhetzt haben, das von Jahwe auserwählte? Das Volk, welches nach folgenden Maßgaben handelt:
http://de.metapedia.org/wiki/Protokolle_der_Weisen_von_Zion
"Wir müssen ohne Unterlaß in allen Ländern die Beziehungen der Völker und Staaten zueinander vergiften; wir müssen alle Völker durch Neid und Haß, durch Streit und Krieg, ja selbst durch Entbehrungen, Hunger und Verbreitung von Seuchen derart zermürben, daß die Nichtjuden keinen anderen Ausweg finden, als sich unserer Geldmacht und vollständigen Herrschaft zu unterwerfen.
Unsere Loesung ist: Gewalt und Heuchelei! Die Gewalt bildet die Grundlage, aber List und Verschlagenheit wirken als Machtmittel. Daher dürfen wir nicht zurückschrecken vor Bestechung, Betrug, Verrat….
Die Nichtjuden sind eine Hammelherde, wir Juden aber sind die Wölfe."
Muß man gegen ein Volk mit derartigen Grundsätzen hetzen? Sollten Sie und all jene, die im Dienste dieses kranken Volkes stehen, dem deutschen Volk nicht
endlich die Wahrheit sagen, aus welchen Gründen Sie für Ihren Posten auserwählt wurden? "In staatsrechtlichen Fragen von grundsätzlicher Bedeutung entscheiden die Gerichte so, wie wir es ihnen vorschreiben, natürlich nur durch Mittelspersonen, mit denen wir scheinbar nicht die geringsten Berührungspunkte haben. Unsere Helfershelfer werden vergnügungssüchtige Verwaltungsbeamte….."
Sie sollten sich von der Propaganda der feindlichen Medien nicht täuschen lassen, die Ihnenvormacht, daß Ihre Herrschaft noch lange währt. Denn auch sie arbeitet, wie folgende Auszüge aus den Protokollen belegen, ausschließlich für die Juden!
"In den 'fortgeschrittenen' Ländern haben wir ein geistloses, schmutziges, widerwärtiges Schrifttum geschaffen. Die meisten Menschen wissen gar nicht, wem die Presse eigentlich dient.
Diese Nachrichtenämter sollen ganz in unsere Hände übergehen und nur das
veröffentlichen, was wir ihnen vorschreiben. Es ist uns schon jetzt gelungen, die
Gedankenwelt der nichtjüdischen Gesellschaft in einer Weise zu beherrschen, daß fast alle Nichtjuden die Weltereignisse durch die bunten Gläser der Brillen ansehen, die wir ihnen aufgesetzt haben.
Bücher und Zeitungen sind zwei der wichtigsten Erziehungsmittel. Das darf natürlich in der Öffentlichkeit nicht bekannt werden. Unsere Zeitungen und Zeitschriften sollen daher äußerlich den verschiedensten Richtungen angehören, um das Vertrauen der ahnungslosen Nichtjuden zu erwerben, sie alle in die Falle zu locken und unschädlich zu machen. Alle Glieder der Presse sind gegenseitig zur Wahrung des Berufsgeheimnisses verpflichtet. Kein Tagesschriftsteller wird es wagen, gegen diese Bestimmung zu verstoßen, da nur solche Personen zum Berufe zugelassen werden, deren Vergangenheit irgendeinen dunklen Punkt aufweist. Dieses Schandmal würde vor aller Öffentlichkeit enthüllt werden, sobald ein
Verstoß gegen das Berufsgeheimnis vorliegt"
Das deutsche Volk und seine europäischen Nachbarn durchschauen endlich das falsche Spiel und setzen sich gegen die Erfüllungsgehilfen der "westlichen Wertegemeinschaft" zur Wehr. Noch gibt es einige, die glauben, Politiker wollen etwas Gutes für ihr Volk erreichen. Diesen Menschen sei ans Herz gelegt, wer diese demokratisch gewählten Politiker in Wahrheit sind. "So lange es noch gefährlich erscheint, verantwortliche Staatsstellen unseren jüdischen Brüdern zu übergeben, werden wir sie nur solchen Persönlichkeiten anvertrauen, deren Vergangenheit und Charakter für sie bürgt. Hierzu gehört, daß zwischen ihnen und dem
Volke ein Abgrund klafft! Selbst Mitglieder des Senates und höhere Verwaltungsbeamte folgen blindlings unseren Ratschlägen.
Der viehische Verstand der Nichtjuden ist zur Zergliederung eines Begriffes und zur Beobachtung überhaupt nicht fähig; um so weniger können sie voraus sehen, welche weitgehenden Schlußfolgerungen sich an gewisse Entscheidungen anknüpfen lassen. Leichtsinn und Kurzsichtigkeit der nichtjüdischen Herrscher in allen Fragen der staatlichen Geld- und Steuerwirtschaft, Käuflichkeit und Unfähigkeit der höchsten Staatsbeamten haben alle nichtjüdischen Staaten uns gegenüber in eine derartige Schuldknechtschaft gestürzt, daß sie sich niemals davon befreien können.
Alle Räder der Staatsmaschine werden durch eine Kraft getrieben, die ganz in unseren Händen ruht: Das Gold! Die von unseren Gelehrten erdachte Volkswirtschaftslehre hat schon längst dem Gelde eine überlegene Machtstellung zugewiesen." Hier ist offenbart, daß all die Verbrechen der Regierungen gegen ihre Völker kein Zufall sind! Mit wenigen Pausen zieht dieses auserwählte Volk seit hunderten von Jahren die Fäden aus dem Verborgenen, weil es sich unter anderem an folgende festgelegte Pläne hält:
"Wir haben eine unwahre Staatslehre erdacht und sie den Nichtjuden eingeflößt. Das wichtige Geheimnis besteht darin, die Fehler und Gebrechen des Volkes zu vermehren. Alle schlechten Gewohnheiten, Leidenschaften müssen derart auf die Spitze getrieben werden, daß die Menschen aufhören, einander zu verstehen.
Auf diese Weise wird es uns leicht sein, Zwietracht in allen Parteien zu säen, jede Sammlung von Kräften zu verhindern und jede persönliche Tatkraft von vor herein zu entmutigen. Da aber alle Völker in Parteien zerspalten sind und der Parteikampf große Mittel erfordert, so hängen alle Parteien und Völker von uns ab; denn das Geld haben wir allein.
In der Staatskunst muß man fremdes Eigentum ohne Zögern nehmen, wenn hierdurch nur Unterwürfigkeit und Macht erlangt werden.
Um die öffentliche Meinung zu beherrschen, müssen wir Zweifel und Zwietracht säen, bis die Nichtjuden zu der Überzeugung kommen, daß es am besten sei, überhaupt keine Meinung zu haben."
Kann man offenkundiger zum Ausdruck bringen, daß man als Volk der Feind aller Menschen ist, wie schon Martin Buber schrieb: "Das Nein zum Leben der Völker"?
"Wir aber wollen die Entartung der Nichtjuden", gibt dieses Volk unumwunden zu.
Da verwundert es nicht, wenn sich die Diener dieses satanischen Völkchens zur Umsetzung menschheitszerstörender Programme wie "Gender-Mainstreaming" hergeben. Auch die Familie als kleinste funktionierende Zelle eines gesunden Volkes soll zerstört werden. In den Protokollen heißt es hierzu: "Nachdem wir Alle an den Gedanken der Selbstbestimmung gewöhnt haben, werden wir die Bedeutung der nichtjüdischen Familie und ihre erzieherischen Werte vernichten."  Mit Hilfe geheimer Bünde, denn "zu diesem Zwecke haben wir die geheimen jüdischen Freimaurerlogen gegründet", durchsetzen Sie alle Völker. "Ochsen von Nichtjuden, die wir zur Teilnahme an den offenen Freimaurerlogen bewogen haben, um ihren Stammensbrüdern Sand in die Augen zu streuen.", helfen bereitwillig bei der Umsetzung der Pläne.
Wenn sie zugeben, "daß alles Übel, welches wir im Laufe vieler Jahrhunderte anstiften mußten, schließlich doch zur wahren Wohlfahrt geführt hat", meinen sie nicht das Wohl der Nichtjuden! Durch Unterwanderung der Kirchen, Fälschen der Geschichte und Ablenkung der Massen, zersetzen sie die Völker so lange, bis es Zeit für die jüdische Weltherrschaft ist. In den Protokollen liest sich das z.B. so:
"Die nichtjüdischen Regierungen können sich nur mühsam am Ruder behaupten. Sie sind von einer Gesellschaft umgeben, die wir so weit entsittlichten, daß sie jeden Glauben an Gott verloren hat. Aus diesem Grunde müssen wir unbedingt den Gottesglauben zerstören, jeden Gedanken an Gott und den Heiligen Geist aus der Seele der Nichtjuden herausreißen und ihn durch zahlenmäßige Berechnungen und körperliche Bedürfnisse ersetzen.
Auf unser Betreiben hin wurde die Geistlichkeit der Nichtjuden in den Augen des Volkes herabgesetzt und jeden Einflusses auf die Massen beraubt. Wenn sie die Massen noch hinter sich hätte, so läge darin für die Verwirklichung unserer Pläne ein ernstes Hindernis. Aber ihr Einfluß auf das Volk geht ersichtlich mit jedem Tage mehr zurück. Wenn die Zeit reif ist, die Macht des Papstes endgültig zu zerstören, wird der Finger einer unsichtbaren Hand die Völker auf den päpstlichen Hof hinweisen. Mit den anderen Glaubenslehren werden wir noch schneller fertig werden, doch ist es verfrüht, davon jetzt zu sprechen.
Haben die Menschen die Fähigkeit zum selbständigen Denken verloren, werden sie uns alles nachsprechen. Wir werden dann neue Gedankenrichtungen hervorbringen durch solche Persönlichkeiten, die nicht im Verdachte einer Verbindung mit uns stehen. Wir werden aus dem Gedächtnisse der Menschheit alle Tatsachen der Geschichte streichen, die uns unbequem sind. Damit die Massen nicht den Dingen auf die Spur kommen, lenken wir sie durch allerhand
Vergnügungen, Spiele, Leidenschaften und Volkshäuser ab."
Speziell zu den späteren Lügen über unsere deutsche Geschichte wurde schon im Jahre 1897 (!) von den jüdischen Führern festgehalten:
"Sobald wir von einem Staate angegriffen werden, treten andere Staaten für uns ein. Unsere Stellung wird durch die unendliche Niedertracht der nichtjüdischen Völker gefördert, die vor der Macht kriechen. Sobald ein nichtjüdischer Staat es wagt, uns Widerstand zu leisten, müssen wir seine Nachbarn zum Kriege gegen ihn veranlassen. Wollen aber auch die Nachbarn gemeinsame Sachen mit ihm machen und gegen uns vorgehen, so müssen wir den Weltkrieg entfesseln."
Und alle Völker Europas sollten sich vor Augen führen:
"Sollte es zu einer gemeinsamen Erhebung aller europäischen Staaten wider uns kommen, so werden ihnen amerikanische Geschütze in unserem Namen antworten."! Wir europäischen Völker werden von dummen, zutiefst verachtenswerten, rückgratlosen Gesellen im Auftrag der Juden belogen und betrogen! Auf Ihrem Kongreß, einhundert Jahre nach der französischen Revolution, verkünden die Auserwählten:
"Schon im Altertume ließen wir unter den Völkern den Ruf erschallen 'Freiheit, Gleichheit, Brüderlichkeit!' Diese Worte haben gedankenlose Papageien oft wiederholt. Diese Worte haben der Welt die wahre persönliche Freiheit zerstört.
Selbstverständige und kluge Nichtjuden verstanden den eigentlichen Sinne dieser Worte nicht, sie erkannten nicht ihren inneren Widerspruch. Sie sagten nicht, daß die Natur keine Gleichheit kennt, daß sie keine Freiheit geben kann. Die Natur selbst hat die Ungleichheit des Verstandes, des Charakters, der Fähigkeiten unter ihre Gesetze eingerichtet.
Sobald wir zur Herrschaft gelangen, werden wir das alte freisinnige Feldgeschrei 'Freiheit, Gleichheit, Brüderlichkeit!', das von unseren Logen in die Welt gesetzt wurde ersetzen." "….die Reihen unseres Heeres von Sozialisten, Anarchisten und Kommunisten" besorgten von jeher die Drecksarbeit der armen, immer verfolgten Judenheit. Und was die Völker erwartet, wenn die Weltherrschaft erlangt ist, sagen z.B. diese beiden Sätze: "Sobald wir die Weltherrschaft erlangt haben, werden wir keinen anderen Glauben dulden! Wir werden jede Lehrfreiheit beseitigen!"
Lesen Sie die Protokolle und entscheiden Sie jetzt, ob Sie dem deutschen Volk zurück ins Licht helfen wollen, oder weiter der dunklen Seite dienen. Alle, die sich zu letzterem entschließen, seien darauf hingewiesen, daß die BRD nicht mehr lange als Schutzmacht für sie gerade stehen kann und daß die Todesstrafe im Deutschen Reich nicht abgeschafft ist! Für all jene, die Ihrer Heilung offen entgegensehen, die gewillt sind, sich endlich ein Bild über die wahren geschichtlichen Zusammenhänge zu erarbeiten, sei unter vielen anderen auf das sehr
aufschlußreiche Buch von Ulrich Fleischhauer "Gerichtsgutachten zum Berner Prozeß" hingewiesen, das Ihnen auf www.Sonnenrad.tv zur Verfügung steht.
Der Jude kann seine zersetzende Tätigkeit nur ausüben, wenn die Völker in unterwürfiger Weise vor dem Geschrei und den Drohungen zurückschrecken.
Jeder einzelne ist aufgefordert, zu prüfen, ob sein Handeln, egal von wem es verlangt oder angeordnet wird, einem vernünftigen Zweck dient, der nicht dem eigenen Volk schadet.
Ist die geforderte Handlung einem bösen Zweck dienlich, wissen Sie sofort, wen Sie vor sich haben und müssen die Ausführung verweigern!
Weichen Sie nicht zurück, wenn Todschlagargumente wie "Nazi", "Rassist" oder "Antisemit" ertönen. Erkennen Sie endlich wozu, bzw. gegen wen diese Begriffe benutzt werden und vor allem, wer diese benutzt.
"Der Tod ist das unvermeidliche Ende aller Menschen. Daher ist es besser, dieses Ende für diejenigen zu beschleunigen, die unserer Sache schaden. Sie alle sterben, sobald es nötig ist, scheinbar eines natürlichen Todes", sprach es und wurde dabei nicht mal rot. Glauben Sie noch immer an Zufälle, wenn sich gerade bei politisch aktiven Menschen merkwürdige Unfälle ereignen? Ein erfundener Holocaust, ein 11. September 2001, Vermischung der nationalen Völker und viele
andere inszenierte Veranstaltungen sind nur Meilensteine auf dem Weg zur jüdischen Weltherrschaft.
Wachen Sie endlich auf und verhindern Sie den nahenden Völkerkrieg in Europa!
Die Geheimnisse Der Weisen Von Zion-Beek 1922
Henry Hafenmayer
#####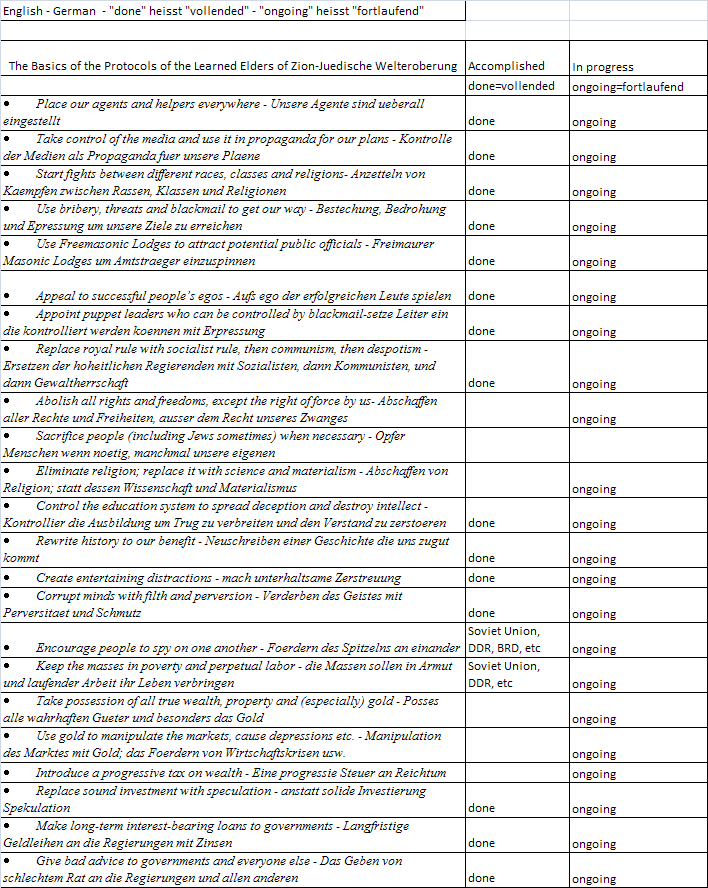 Judische_Weltmachtsplaene-Engelhardt 1936-100S.pdf
Jewish World Conspiracy-Court of Bern, Switzerland, Bergmeister_21 pg.
Gerichtsgutachten zum Berner Prozess_Die Echten Protokolle der Weisen_ Fleischhauer
Jewish Peril The Zionist Protocols
Murawski Friedrich-DerKaiser Aus Dem Jenseits_Wirken der Kinder Jahwehs_1939
The Protocols Of The Learned Elders Of Zion
Alfred Rosenberg-Die Protokolle Der Weisen Von Zion Und Die Juedische Weltpolitik 1933_143S
Die Psychopathologie des Judentums von Hervé Ryssen
Satanische Verse.Hamburger Version
Die Schlimmsten Feinde unserer Voelker – Boyer – Ausbeutung aller
Sieg des Judenthums ueber das Germanenthum 1879
Die Spur Des Juden Im Wandel Der Zeiten – Alfred Rosenberg
Alfred-Rosenberg-Der-Staatsfeindliche-Zionismus-1938
Tausende Enteignungen bei den Zionisten
Fritsch Theodor-Die Zionistischen Protokolle 14.Auflage 1933_80S.