…Seine Studie endet mit dem bereits erwähnten Vorschlag: Da es schlicht und einfach unmöglich ist, die Existenz der Gaskammern nachzuweisen, müsse man eben versuchen zu beweisen, daß ihre Nichtexistenz unmöglich ist! Damit stellt der Verfasser eine Bankrotterklärung für die Gegenwart aus und legt gleichzeitig ein Glaubensbekenntnis für die Zukunft ab…
ISRAEL DER  GEFRAESSIGE MOLOCH – DEUTSCHLAND SERVIERT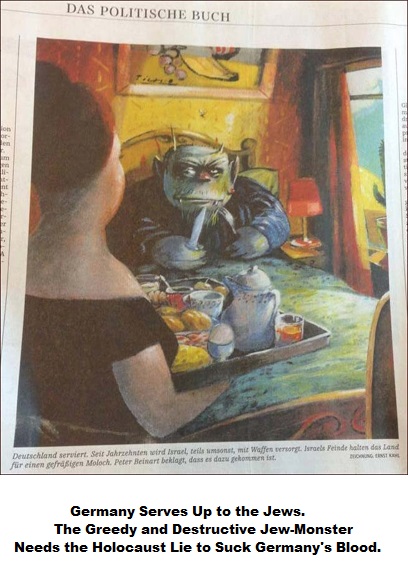 Ein orthodoxer Historiker räumt endlich ein, daß es keine Beweise für die Nazi-Gaskammern gibt
Von Prof. em. Dr. Robert Faurisson
Jacques Baynac, 1939 geboren, ist ein französischer Historiker,[1] dessen Sympathien bei der Linken liegen. Er hegt eine unverkennbare Feindseligkeit gegenüber mit den Revisionisten (die er Argumenten, "Negationisten" nennt), insbesondere gegenüber Pierre Guillaume und meiner Person. Er hat stets behauptet, die Nazigaskammern hätten existiert, doch nun hat er eben enthüllt, letzten Endes müsse man, selbst wenn dies »schmerzlich zu sagen und zu hören sei, zugeben, daß die Zeugenaussagen nicht ausreichen und daß es schlicht und einfach unmöglich ist, die Existenz der Gaskammern auf wissenschaftlicher Ebene nachzuweisen. Doch, fügt er seltsamerweise hinzu, müsse man mangels eines direkten Beweises künftig einen indirekten Beweis suchen, und da man die Existenz der Nazigaskammern nicht nachweisen könne, müsse man versuchen, zu beweisen, daß ihre Nichtexistenz unmöglich sei! J. Baynac legt seine Ansichten in zwei langen, in aufeinanderfolgenden Ausgaben der Lausanner Zeitung Le Nouveau Quotidien erschienenen Artikeln dar.[2]
Das Ausweichen der Historiker
Im ersten Artikel beklagt er eingangs die Existenz eines antirevisionistischen Gesetzes in Frankreich, der loi Gayssot vom 13. Juli 1990, die, wie er sich ausdrückt, der "negationistischen Sekte" gestatte, sich der Gerichte als Tribünen zu bedienen. Er unterstreicht, daß dieses Gesetz von Claude Imbert (von Le Point), Pierre Vidal-Naquet (einem Historiker, der gesagt hat: »Ich bin bereit, Faurisson zu töten, nicht aber, ihn gerichtlich zu belangen!), Madeleine Reberioux (der ehemaligen Vorsitzenden der Ligue des Droits de l'homme, also der Menschenrechtsliga), Herrn Charles Korman (einem antirevisionistischen Rechtsanwalt) sowie mehreren Abgeordneten der neogaullistischen PRP kritisiert worden ist. Er behauptet, die Revisionisten oder Negationisten hätten allen Grund zur Freude, besonders seitdem sich nach der Affäre Abbé Pierre die »Atmosphäre zu ihren Gunsten verändert habe. Er hält fest, daß bei den Widersachern der Revisionisten »die Ratlosigkeit auf die Bestürzung gefolgt ist, daß P. Vidal-Naquet »betrübt, Bernard-Henri Levy »rasend vor Wut, Pierre-André Taguieff »entsetzt ist und daß die Zeitschrift L'Evénement du jeudi als Titelblattschlagzeile (für ihre Ausgabe vom 27. Juni bis zum 3. Juli 1996) »La Victoire des révisionnistes [Der Sieg der Revisionisten] gewählt hat. Er geißelt die Verantwortungslosigkeit eines Intellektuellen, des ehemaligen Deportierten Jorge Semprun, der nach seinen Worten das gegen den Revisionisten Paul Rassinier gerichtete Buch Florent Brayards »ermordet hat. Auf der Linken hat sich seiner Auffassung nach eine »Paranoia entwickelt, eine »Hexenjagd (wie sich Jean-François Kahn ausdrückt) und ein »verheerendes Tohuwabohu. Er behauptet, Simone Veil und Dominique Jamet stünden der loi Gayssot gleichfalls ablehnend gegenüber, und man »verweigere die Debatte mit den Revisionisten. Unter Hinweis auf die verblüffende Erklärung »34 namhafter Historiker in Le Monde vom 21. Februar 1979, in der die Autoren sich weigerten, mir zu antworten und mir zu erklären, wie die magischen Nazigaskammern technisch funktionieren konnten, spricht er vom »Ausweichmanöver der Historiker im allgemeinen. Seiner Ausdrucksweise zufolge "haben die Historiker gekniffen".
Weder Dokumente, Spuren noch Beweise
Im zweiten Artikel bedauert er, daß die wahren Historiker Jean-Claude Pressac, einem Apotheker und »Amateurhistoriker, ihr Vertrauen geschenkt hätten, der, wie man heute sieht, zur Schlußfolgerung gelangt ist, die Gesamtzahl der jüdischen und nichtjüdischen Auschwitz-Opfer belaufe sich »auf insgesamt 600.000.[3] Er macht sich über François Bayrou, Erziehungsminister und selbst Historiker, lustig, der im Bewußtsein der Schwierigkeit, den Völkermord und die Gaskammern zu beweisen, in diesem Fall den Rückgriff auf eine »erleichterte historische Methode predigt. J. Baynac erblickt darin das »Konzept einer Geschichte light. Er behauptet, die Nazigaskammern hätten existiert, doch um dies zu beweisen, habe man zu sehr ein »unwissenschaftliches und zu wenig ein »wissenschaftliches Vorgehen gewählt. Beim ersten erhalte »die Zeugenaussage den Vorrang, beim zweiten hingegen das Dokument. Doch könne man, meint er voll Bedauern, nur »das Fehlen von Dokumenten, Spuren oder anderen materiellen Beweisen feststellen. Er erinnert an die bereits im Jahre 1988 getroffene Feststellung des jüdisch-amerikanischen Historikers Arno Mayer: »Die Quellen, die für die Erforschung der Gaskammern zur Verfügung stehen, sind rar und unzuverlässig.[4] J. Baynac sagt, wir verfügten »nicht über die Elemente, die für das normale Praktizieren der historischen Methode erforderlich seien. Er schreibt, man müsse »mangels Dokumenten leisetreten. Er folgert: »Man muß eingestehen, daß das Fehlen von Spuren das Unvermögen nach sich zieht, die Realität der Menschentötungsgaskammern direkt zu beweisen. Wenn er »das Fehlen von Spuren sagt, meint er damit, wie er zuvor präzisiert hat, »das Fehlern von Dokumenten, Spuren oder anderen materiellen Beweisen.
Beweise für morgen?
Seine Studie endet mit dem bereits erwähnten Vorschlag: Da es schlicht und einfach unmöglich ist, die Existenz der Gaskammern nachzuweisen, müsse man eben versuchen zu beweisen, daß ihre Nichtexistenz unmöglich ist! Damit stellt der Verfasser eine Bankrotterklärung für die Gegenwart aus und legt gleichzeitig ein Glaubensbekenntnis für die Zukunft ab. Jacques Baynac ist naiv. Er stellt sich vor, wenn die Historiker die Realität dieser Greuel so nachdrücklich behauptet und wenn so viele Überlebende erklärt hätten, ihnen beigewohnt zu haben, dann hätten sie sicherlich existiert. Er vergißt, daß man mit der Zeit entdeckt, daß die Geschichte (im Singular) voll von Geschichten (im Plural) ist, bei denen es sich mehr oder weniger um Phantasiegebilde handelt. J. Baynac glaubt weiter an die Gaskammern, so wie er anscheinend weiter an den Kommunismus glaubt. Morgen wird man den Beweis für die Gaskammern finden. Morgen wird der Kommunismus wahr sein. Morgen kann man sich beim Friseur gratis rasieren lassen. Morgen wird man endlich den Beweis dafür haben, daß der Nationalsozialismus das fleischgewordene Böse und der Kommunismus das fleischgewordene Gute ist. Die ewige Einfalt der französischen Intelligenz läßt grüßen. J. Baynac stimmt in den Chor der »34 namhaften Historiker ein, die, wie vorhin erwähnt, in Le Monde eine der monumentalsten Eseleien in der Geschichte der französischen Universitäten von sich gegeben haben:
»Man darf sich nicht fragen, wie solch ein Massenmord technisch möglich war. Er war technisch möglich, weil er stattgefunden hat.«
J. Baynac setzt seinen Namen also auf die Namensliste der orthodoxen Historiker, die sich gezwungen sahen, den revisionistischen Historikern in diesem oder jenem Kernpunkt recht zu geben. Wie können Richter in Anbetracht dieser Tatsache weiterhin Revisionisten für die Bestreitung eines Verbrechens verurteilen, das — wie man der Studie J. Baynacs entnehmen kann — immer noch nicht bewiesen ist?
Genierliche Gaskammern
Ganz offensichtlich werden die Gaskammern den Historikern oder Autoren, welche die Judenausrottungsthese verfechten, immer genierlicher. Schon 1984 warnte P. Vidal-Naquet jene unter seinen Freunden, die bereits versuchten, diese Gaskammern aufzugeben: dies, meinte er, wäre »eine Totalkapitulation (»Le Secret partagé, Le Nouvel Observateur, 21. September 1984, S. 80).
1987 druckte ein rabiat antirevisionistisches Blatt einen Leserbrief zweier jüdischstämmiger Lehrer [Ida Zajdel und Marc Ascione] ab, in dem die These vertreten wurde, die Nazis hätten absichtlich falsche Geständnisse abgelegt und die Gaskammern nur erwähnt, um damit eine »Zeitbombe gegen die Juden, ein Ablenkungsmanöver und, warum auch nicht, ein Instrument der Erpressung zu schaffen (Article 31, Januar/Februar 1987, S. 22).
Man könnte noch viele andere Beispiele zitieren, doch würde dies zu weit führen. Ich will mich hier mit drei Beispielen aus jüngster Vergangenheit begnügen: Elie Wiesel (1994), der polnisch-jüdischstämmige niederländische Professor Michel Korzec (1995) und schließlich der jüdische US-Historiker Daniel Jonah Goldhagen (1996):
— 1994 schrieb E. Wiesel in seinen Memoiren:
»Die Gaskammern sollten indiskreten Blicken besser verschlossen bleiben. Und der Vorstellungskraft.«
Im Klartext heißt dies: "Versuchen wir nicht, eine Nazigaskammer zu sehen oder sie uns auch nur vorzustellen"; die Fortsetzung legt den völligen Skeptizismus desselben E. Wiesel gegenüber den angeblichen Zeugenaussagen zu diesem Thema offen (Tous les fleuves vont à la mer, Mémoires, Band I, Editions du Seuil, Paris 1994, S. 97);
— 1995 erklärte M. Korzec, man habe zu viel Gewicht auf die Bedeutung der Vergasungen und die Zahl der Vergasten gelegt; mit kabbalistisch anmutender Verdrehungskunst fügte er hinzu, die Deutschen, nicht die Juden, seien an diesem Irrtum schuld: ihm zufolge haben fast überall in Europa weit mehr Deutsche am Judenmord teilgenommen als die paar wenigen Deutschen, die mit der bloßen Vergasung ihrer Opfer beauftragt gewesen seien (»De mythe van de efficiente massamoord, Intermediair, 15.12.1995);
— 1996 schrieb D.J. Goldhagen in seinem wild antideutschen Werk: »Gassing was really epiphenomenal to the Germans' slaughter of Jews (Vergasungen waren wirklich nebensächlich bei der Judenabschlachtung der Deutschen) (Hitler's Willing Executioners, Little, Brown & Co., London 1996, S. 521, Anmerkung 81). In einem Interview, das er einer Wiener Zeitschrift gewährte, erklärte er:
»Die industrielle Vernichtung der Juden ist für mich nicht die Kernfrage der Erklärung des Holocaust […]. Die Gaskammern sind ein Symbol. Es ist aber ein Unsinn zu glauben, daß der Holocaust ohne Gaskammern nicht stattgefunden hätte (Profil, 9.9.1996, S. 75).
Gaskammern nur noch Symbol
Die Gaskammern sind im Jahre 1996 nur noch ein Symbol! Eine Schweizer Zeitung gibt dazu ein Beispiel. Im Lauf der letzten Jahre habe ich — sei es in Samisdat-Texten, sei es anläßlich von durch Ernst Zündel aufgenommener Interviews in Kanada — diese Entwicklung der Exterminationisten (also der Verfechter der Ausrottungsthese) hinsichtlich der Frage der Nazigaskammern mehrfach beschrieben; in einem vom 22. September 1993 datierenden Text, den ich nächstes Jahr auch auf Französisch publizieren werde, ging ich soweit, vorauszusagen, welche Gestalt dieser Wandel letztlich annehmen wird.
Das Holocaustmuseum in Washington hat bereits entschieden, auf eine materielle Darstellung der Gaskammern zu verzichten (abgesehen von einem "künstlerischen" und absurden Modell).
Die beiden Artikel J. Baynacs stellen eine schlichte Etappe dieser Metamorphose der offiziellen Geschichtsschreibung dar. Sie können nur Richter — berufsmäßige und selbsternannte — überraschen, die sich ohne jegliche Sachkenntnis zu allen möglichen historischen Themen äußern. Sie bestätigen, daß die Historiker seit längerer Zeit die Fassade der Einmütigkeit durchbrochen haben. Diese Historiker haben nach und nach die allzu einfältigen Schlußfolgerungen des Nürnberger Gerichts über die Gaskammern und den Völkermord verworfen. In dieser Hinsicht kann man nicht mehr von einer angeblich "offenkundigen" historischen Wahrheit reden. Wenn die französischen Richter meinen, das Bestreiten der Existenz der Gaskammern komme einer Bestreitung des "Verbrechens gegen die Menschlichkeit" gleich, welches der Völkermord an den Juden darstelle, haben sie recht, doch konsequent gesehen zieht das Fehlen von Beweisen für die spezifische Tatwaffe das Fehlen von Beweisen für die spezifische Tat nach sich. Diese für Richter, welche den Revisionismus zu verurteilen wagen, höchst genierliche Schlußfolgerung ergibt sich aus der Stellungnahme J. Baynacs, die — sagen wir es nochmals — keineswegs für ihn allein kennzeichnend ist, sondern die gesamte Tendenz der orthodoxen Geschichtsschreibung repräsentiert. J. Baynac sagt ganz laut, was seine Zunftgenossen ganz leise denken.
In Frankreich können die beiden Artikel aus der Schweiz niemanden mehr aus der Fassung bringen außer beispielsweise die braven Leser von Le Monde, die an den durch die Zensur geschaffenen Zustand wohliger Schläfrigkeit in Fragen des "Holocaust" gewohnt sind.
Mit der Veröffentlichung der beiden Artikel J. Baynacs hat das — dem Revisionismus gegenüber an sich so voreingenommene — Lausanner Blatt Le Nouveau Quotidien Respekt vor seinen Lesern und Klarsichtigkeit an den Tag gelegt.[5]
Anmerkungen
1. J. Baynac hat namentlich folgende Bücher verfaßt: La Terreur sous Lenine (1975), Ravachol et ses compagnons (1976), Mai retrouvé (1978), Les Socialistes révolutionnaires russes (1881-1917) (1979), La Révolution gorbatchévienne (1988).
2. 2.9.1996, S. 16, sowie 3.9.1996, S. 14.
3. La Déportation/Le Système concentrationnaire nazi, unter der Obhut von François Bedarida und Laurent Gervereau veröffentlichtes Werk, BDIC, 1995, S. 196. J.-C. Pressac spricht von 600.000 bis 800.000 Toten, einer Zahl, die weit unter den 9.000.000 des Films Nuit et Brouillard, den 4.000.000 des Nürnberger Prozesses und der Aufschriften auf der Gedenktafel in Auschwitz (alte Version) oder den 1.500.000 der neuen Version von 1995 liegt.
4. Arno Mayer, Der Krieg als Kreuzzug. Das Deutsche Reich, Hitlers Wehrmacht und die "Endlösung", Rowohlt, Reinbek bei Hamburg 1989, S. 541. Die englische Originalfassung lautet wie folgt: »Sources for the study of the gas chambers are at once rare and unreliable (Why Did the Heavens Not Darken? The "Final Solution" in History, Pantheon, New York 1988, S. 362).
5. In der Nummer vom 2. September sind drei kleinere Irrtümer zu berichtigen: In der zweiten Spalte muß es richtig Florent Brayard heißen (statt Florent Rassinier); in der dritten Spalte Jean-François Kahn (statt Khan); in der vierten »Il ne faut pas se demander comment (statt »se demander si) (»Man darf sich nicht fragen, wie statt »sich fragen, ob).
J. Baynac: »Es gibt keine Beweise, aber ich glaube.
R. Faurisson: »Es gibt keine Beweise, also weigere ich mich zu glauben.
Für den ersten freie Meinungsäußerung.
Für den zweiten eine Haftstrafe von einem Monat bis zu einem Jahr, eine Buße von 2.000 bis 300.000 Francs und noch andere Strafen.
---
Quelle: Vierteljahreshefte für freie Geschichtsforschung, 1, 1, März 1997, S. 19-21. Original Ausgabe: Un historien orthodoxe admet enfin qu'il n'y a pas de preuves des chambres à gaz nazies, 2-3 September 1996, samizdat. Wir haben die original Text von Baynac: Comment les historiens délèguent à la justice la tâche de faire taire les révisionnistes.
Quelle: http://www.vho.org/aaargh/deut/FaurissonArchiv/RF960903.all.html