GERMAN – ENGLISH: Mike Walsh, veteran journalist, broadcaster and historian of international reputation. A fugitive only from leftists, palace scribblers and censors, whom he dismisses as renegade …Europeans, he has shrugged off their wrath over 50 years of writing. Mike has quite a pedigree. His Irish-American father, Patrick, by the time he reached 40-years of age, had fought in four conflicts. As a rebel in the Irish peoples guerrilla war against England's Black and Tans…
November 3, 2015
Dear Friends,
I am more likely to be on Mark Zuckerberg's hit list than his Christmas card list.  The sentiment is mutual. Unsurprisingly, I find myself constantly blocked by Fakebook. Having learned that it is better not to have all one's eggs in one basket with a dodgy handle, I have diversified ~ not my bloodline but my social media network. You can join me on:-
Renegade Tribune
http://renegadetribune.com/?s=mike+walsh
My Website
http://www.spanglefish.com/historywithoutthespin/
www.spanglefish.com/michaelwalshpoetry/
Twitter
https://twitter.com/MikeWalshWriter
Facebook (when open for businesses)
https://www.facebook.com/profile.php?id=100006771495915
Pinterest
https://ru.pinterest.com/add_success/
VKontacte
LinkedIn
https://www.linkedin.com/pub/michael-walsh/40/1a2/6a6
Google+
https://plus.google.com/113141132560906549287/posts
Cordially, Mike
EUROPE ARISE!
By Michael Walsh: It is time for those of European blood; wherever in the world they are, to get their knees off the politically correct prayer mats. The immigrant invasion of Western Europe is the coup de grace for a White Europe. Our peoples, Celt, Teutonic and Slav, lost 100 million blood brothers and sisters to Capitalism and Bolshevism during the 20th Century.
Today, our White ethnic peoples make up only 8 percent of the world population of 7.3 billion. If the final betrayal is not answered, with blood and fire if necessary, there is no future for a White Europe.
YOU THINK IT IS SCAREMONGERING
The European Union is similar in size to that of White Rhodesia and South Africa. The cabalistic conspiracy to turn these nations over to Black rule was in our lifetime unthinkable. The unthinkable happened in 1979 and 1994 respectively.
If you want to see Western Europe in the near future have a look at South Africa, Zimbabwe and Zambia. While you are thinking the unthinkable the same conspirators are thinking the inevitable. Wake up, Europe.
EUROPE ARISE, a Mike Walsh exclusive now available on AMAZON BOOKS and AMAZON KINDLE.
http://www.amazon.com/Europe-Arise-Flames-Cause-Solution/dp/1518809030/ref=sr_1_1?s=books&ie=UTF8&qid=1446022394&sr=1-1&keywords=Michael+Walsh+Europe+Arise
Michael Walsh
__________________
EUROPE'S YET TO SPEAK
Genocide by other name,
We're kâfir in our lands,
Swamped by immigration,
The Europeans tanned,
Across their pure White backsides,
Their skin now darkened hue,
Race renegades triumphant when,
There's White folk there to screw.
Genocide is Satan's kiss,
Abortion comes to mind,
Birth control and exile,
For Christians, Gentile,
Mutation, degradation,
Make fewer of their kind.
Race renegades are happy,
When there's poison in the wine.
The Chosen Ones control the Press,
They do as they would wish,
They feed the European,
With their poison on the dish,
But now the tide is turning,
True Europe's yet to speak,
There's no place for craven coward,
No turning of the cheek.
Mike Walsh Poetry (24.10.2015)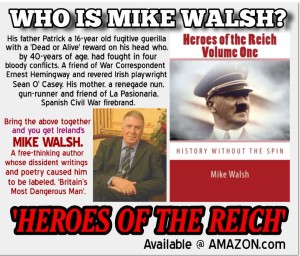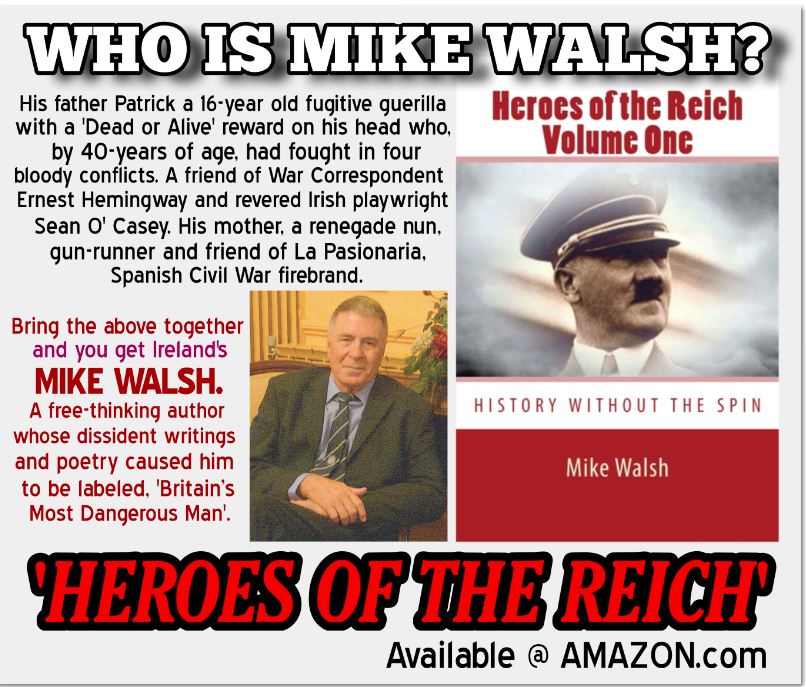 Editorial Reviews – Amazon
About the Author
Mike Walsh, veteran journalist, broadcaster and historian of international reputation. A fugitive only from leftists, palace scribblers and censors, whom he dismisses as renegade Europeans, he has shrugged off their wrath over 50 years of writing. Mike has quite a pedigree. His Irish-American father, Patrick, by the time he reached 40-years of age, had fought in four conflicts. As a rebel in the Irish peoples guerrilla war against England's Black and Tans. These irregulars, mostly dredged from England's prisons, were notorious for their viciousness. Patrick also fought in the Irish War of Independence. Mike's father went on to fight in the most ferocious hand-to-hand battles during the Spanish Civil War. Whilst on the frontlines, he was a close associate and friend of American war correspondent, Ernest Hemingway. He formed a close and enduring friendship with Ireland's most celebrated playwright, Sean O'Casey. Eventually, but not finally, his father served in the Royal Air Force during World War Two as an aircraft fitter / flier. Mikes mother, Kathleen, from a literary family, and who also mentored Mike's writing skills, was a corresponding friend of Dolores Ibarruri, Spain's Civil War revolutionary La Pasionaria. A tireless traveler, Mike, from the age of 26, was consumed by a passion for truth and justice. Inevitably, this led him to discover the potpourri of lies, infamies, cover-ups and crimes committed by those who militarily but never morally defeated Europe's last chance of survival, free from race-mixing genocide, perpetual war and bankers' slaves. The hapless victors ensured the spread of Bolshevism, the dismembering of the British Empire, and surrender to American imperialism. What was the true achievement of the combined British, American and Bolshevik empires? Ultimately, these 'victors' hastened the genocide of the European peoples. Through their base treachery they destroyed the one genuine revolution that alone could have ensured the preservation of European culture and values. Their dance of death is on their own funeral pyres. Witness to History is their obituary.
_____________
Michael Walsh's newest book:
BACK COVER The surprising thing about the Hitler phenomena is not how much but how little is known of this remarkable revolutionary. Thanks to freer self-publishing, and the internet, we now know victors' propaganda was never intended to inform; its purpose was to misinform.  Undeniably, the great German social reformer was the most popular leader in European history.
Germany's future leader, as a 16-year old, beheld a vision.  He was destined to follow the path of Rienzi, the Roman tribune who revolted against corrupt government and perished when overwhelmed by his foes.
World War Two is dubbed 'the war of the dictators'. True, neither Stalin nor Churchill was elected. U.S. President Roosevelt narrowly squeaked in after falsely reassuring the electorate that he would not involve the U.S in wars abroad.  In 1945, U.S. President Truman was parachuted in without the people's vote. Only Adolf Hitler could truthfully claim to have been democratically elected. A glance at this remarkable book's contents will surely inspire you to learn more.
http://www.amazon.com/Odyssey-Adolf-Hitler-Remarkable-Redeemer/dp/1517066514/ref=sr_1_1?s=books&ie=UTF8&qid=1440654440&sr=1-1&keywords=Mike+Walsh+Odyssey+Adolf+Hitler&pebp=1440654436699&perid=1FGF0JD423B9PP8PVPMJ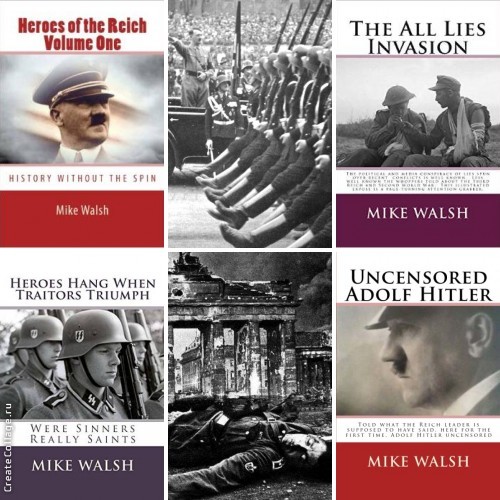 @ @ @
Die Vergewaltigung von Paula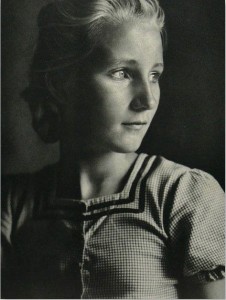 Von Mike Walsh
"Paula", seufzte er in Gedanken versunken, "sie wurde unter den schrecklichsten Umständen geboren und es lastete stark auf ihr."
Ich wollte etwas sagen, aber zögerte. Ich hatte den Eindruck, der alte Mann wollte seine Gedankengänge nicht unterbrechen. Geistesabwesend schürte mein grübelnder Freund die Glut im Kamin und fand endlich die Worte.
"Sie war noch ein Kind und hatte nie erfahren wie das ist einen vollen Magen zu haben, ein neues Kleid zu tragen oder glücklich zu sein. Es waren schwere Zeiten für alle."
"Ich kann mir das vorstellen", lächelte ich mit Mitgefühl.
"Es gab kein Selbstwertgefühl, keine Würde des Lebens und keine Hoffnung. Ihre Familie war stark verschuldet. Sicher, sie arbeiteten hart, ihre Eltern. Um ehrlich zu sein, die Sklaven einer Plantage lebten wahrscheinlich ein besseres Leben."
"Gab es denn eine Verbesserung Ihrer Situation?" fragte ich.
"Oh ja", antwortete der alte Mann begeistert, "in Paula's Leben passierte etwas das alles veränderte. Mit neunzehn Jahren erhielt sie eine Brosche mit einem Symbol drauf das alles veränderte. Weißt Du mein Sohn, sie trug diese Brosche immer und war überzeugt daß sie ihr Glück bringt. Von diesem Zeitpunkt an verwandelte sie sich in die schönste und lebhafteste Kreatur, die man sich vorstellen kann.
Sie war voller Selbstvertrauen und schuldete keinem einen Pfenning. Paula hatte eine tolle Arbeit und allen Grund auf eine hoffnungsvolle Zukunft zu bauen."
"Fantastisch," murmelte ich.
Der alte Mann zuckte seine Schultern. "Es dauerte nicht lange, mein Sohn. Ihr Erfolg brachte ihr Feinde, eifersüchtige Rivalen, die alles nur Mögliche taten um sie zu ruinieren, um zu stehlen was sie verdient hatte."
"Ich kann es nicht glauben," antwortete ich, doch ich wusste, daß mein Freund die Wahrheit sagte.
"Rivalen hassten sie und verpassten keine Gelegenheit über Paula zu lügen, sie ständig zu bedrohen und der jungen Frau Schaden zuzufügen."
"Es muss eine schreckliche Wirkung auf sie gehabt haben," wagte ich zu sagen.
Der alte Mann lächelte. "Eigentlich nicht! Warum sollte es? Sie hatte soviel mehr als ihre Feinde, also wie konnten sie ihr schaden?"
"Aber sie haben es doch?"
"Ja, Paula, wurde als 25jährige überfallen."
"Beraubt?"
"Noch viel schlimmer", murmelte mein alter Freund. "Paula wurde sehr schwer verletzt. Ihr trautes Heim wurde überfallen und ausgeplündert. Ihre Familie – nun, wer weiß, was ihrer Familie passierte?!"
"Meinst du das im Ernst?"
"Ich befürchte, ja."
Mein Freund lächelte, aber Bitterkeit zog sich über seine Lippen."Paula wurde immerwieder vergewaltigt, ihre Kleider zerrissen und zerfetzt, ihrer Nahrung geplündert und ihre schönen Aussichten wurden für immer zerstört."
"Das Verständnis für ihre Lage muss überwältigend gewesen sein."
"Nein, im Gegenteil, die Eindringlinge und deren Komplizen, auch diejenigen, die nicht von ihrem Ruin profitierten, applaudierten. Ihre Vergewaltiger drehten den Spieß um und behaupteten sie war die Angreiferin und hat die Behandlung verdient. Dem armen Mädchen wurde jegliche gerichtliche Gelegenheit verweigert sich zu verteidigen. Und weißt du, nach all den Jahren feiern sie immer noch die Vergewaltigung von Paula."
"Paula?"
"Ah ja,… ihr wirklicher Name war Germania."
Michael Walsh
www.spanglefish.com/historywithoutthespin
Author, Publishing and Broadcasting
European Global Affairs Correspondent
Free Thinking Journalism, Broadcasting 
Spin-Free History
@@@
_____________________
CONSERVATION (RACE)
CONSERVATION as a term is fashionable; it is applied to earth's threatened atmosphere and resources, natural habitats such as the rain forests, endangered species, animals and some favoured ethnic groups. The term CONSERVATION screams positive. The term 'race hate' is negative.
It is imperative that European race conservationists constantly and repetitively use the CONSERVATION term on a daily basis. e.g.
Letters to the Editor, Dear Sir / Madam, Why is it that ethic Europeans wishing to preserve ethnic types get labelled as race haters. Surely those set on destroying ethnic types through integration are the race haters.
To advertisers: "Dear Sir / Madam, those of us who wish to conserve ethnic type object to your advert in which an unrealistic image of a diverse couple is displayed. Make your mind up. Are you selling a product or are you selling a politically correct message. Why don't you just merge your business with a business of a wholly different type?  ~ Ex-customer.
If you get the message so will editors, advertisers, race propagandists ~ and the dim-witted.
Mike Walsh.
____________________
BEHIND ENEMY LINES
By Mike Walsh – Oct 20, 2015
The expression conjures up images of infiltrating enemy occupied territory. Getting behind enemy lines is difficult and hazardous. To do so you need to be bold, resourceful, and able to think and act independently. In the ongoing battle for hearts and minds the enemy's lines are not quite as vague as we sometimes think they are. The enemy is MAINSTREAM MEDIA.
The survival of the Aryan has nothing to do with street battles or enlisting. Success or failure will depend on our ability to undermine, subvert, infiltrate, and degrade mainstream media. If this can be achieved then we are a hair's breadth away from victory.
YOUR COMBAT KIT
Never miss opportunity to mock MSM.
Each day carry out acts that help to destroy MSM credibility.
Use social media to denigrate MSM.
Printed media has an online presence; editor and journalists are accessible by email. Give them a tough time.
You object to bias, race-mixing, political, spin; email advertisers and tell them you will never buy a product that sponsors propaganda.
Use MSM Letters Page to make your point.
MSM own major book publishers. Some activists deface objectionable books but such activity raises issues.
Educate and encourage friends to follow this advice.
If you detect spin warn the community by using social media.
Starve their advertising resources by never purchasing printed media.
"This generation is burning the mass media to the ground. We are reclaiming our rights to world history."  ~ Julian Assange.

History Without The Spin | Home
________________________
By Mike Walsh – October 20, 2015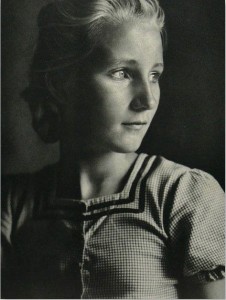 THE RAPE OF PAULA

"Paula," he sighed as though lost in thought; "She was born into the most distressing of circumstances and it weighed heavily upon her."
I wanted to say something but hesitated. I got the impression the old man didn't want his train of thought interrupted.  Then, as he absent-mindedly poked the fire's embers my brooding friend found the words he wanted to say.
"Still a child, she had never known what it was to have a full stomach, wear a new dress, or to know happiness. They were hard times for everyone."
"I imagine," I smiled sympathetically.
"There was no self-worth, no dignity to life, and no hope. Her family was heavily in debt. Sure, her parents worked hard. To be honest a plantation slave likely lived a better life."
"Was there any improvement in her situation?" I asked.
"Oh, yes," the old man brightened up. "Something happened in Paula's life that changed everything. At nineteen-years of age she was gifted a brooch; upon it a symbol that changed everything.  You know, son, she always wore that brooch and swore it brought her good fortune. From that point on she was transformed into the loveliest and liveliest creature imaginable.
"Brimming with confidence she owed not a penny to anyone. Paula had a great job and everything to look forward to.
"Fan ~ tastic," I murmured.
The old man's shoulders shrunk. "It didn't last, son. Her success brought her enemies, jealous rivals who would do anything to ruin her, to steal what she had earned."
"I can't believe it," I replied but knew my friend was telling the truth.
"Rivals hated her and never missed opportunity to lie about Paula; constantly threatened and tried to harm the young woman."
"It must have had a terrible effect on her," I ventured.
The old man smiled. "Not really. Why should it?  She had much more than they had so how could they harm her?"
"But they did?"
"Yes, Paula when 25-years old was ambushed."
"Robbed?"
"No, far worse than that," my old friend muttered. "Paula was very badly hurt.  Her home was attacked and plundered, her family ~ well, who knows what happened to her family?"
"You're serious?"
"I am afraid so."
My friend smiled but bitterness tightened his lips. "Paula was repeatedly raped, her clothes torn and shredded, her cupboards were laid bare, and her prospects destroyed."
"The sympathy for her plight must have been overwhelming."
"On the contrary, her attackers and their accomplices, even those who hadn't benefited from her ruination applauded. Her assailants accused Paula of attacking them and claimed she had it coming to her. The poor girl was denied opportunity to defend herself. You know, all these years on and they still celebrate the Rape of Paula.
"Paula?"
"Ah, yes, her real name was Germania."
Mike Walsh
History Without The Spin | Home
By Mike Walsh – October 18, 2015
1930 ~ 2015 THE TRUTH REMAINS A THREAT
Russian President Vladimir Putin is universally applauded as the redeemer of Russia. However, many are disillusioned by his endorsement of the holocaust narrative. Let's face facts; the shameful record of Russia and the Capitalist West is unfit for human consumption.  The co-conspirators of 20th Century calamity have much in common; much to hide and their nations' credibility to protect.
If the root cause of the 20th Century catastrophe ever became widely known and accepted, Russia, Zionism and Capitalism are finished.  In the 1930s, both undemocratic systems were threatened by the emergence of National Socialism.  This was the only revolution that could truthfully be described as the Revolution of the Will of the European Peoples.
During the 1930s, whatever their supposed differences, the two systems had little choice but to stand together to protect their fraudulent structures.  Fast forward to 2015; again both are threatened by the Revolution of the Will of the European Peoples.
Should the shackles of their lies ever be broken then the Revolution of the Will of the European Peoples, as best suited to each nation, will rise triumphant. A united Celtic, Teutonic and Slav Aryan Race will be the outcome. European peoples will hold hands from Vladivostok, across the straits to the North Americas, reaching out across Europe and onward to Vladivostok. That is our purpose and that is our prize.
Today, as in the 1930s, whatever their marketing rivalries, Russia, Zionism and the United States are threatened by the Redemption of the Revolution of the Will of the European Peoples.  As in the 1930s the two fraudulent systems, on their bedrock of Zionism, will unite to crush the awakening White European Race. The solution is the resurrection of the Revolution of the Will of the European Peoples. ~ Mike Walsh.