…Canada: Hypocrite Nation Ruled by Zionist Deception & anti-Free Speech Laws…
THEY WANT TO MAKE THE PEOPLE OF THE WORLD INTO ONE MASS OF CONSUMERS AND WORKERS. THAT'S IT! NO ONE IS SUPPOSED TO HAVE THEIR OWN CULTURE, THEIR INDIVIDUALISM, THEIR CONNECTION TO THEIR ANCESTORS; No! JUST BLOBS THAT WORK AND CONSUME AND DO AS TOLD ON THE JEW-BOX. THEY DO THESE CHANGES VERY SLOWLY, ONE DRIP AT A TIME SO ONLY A FEW PEOPLE WILL NOTICE. AND IF THEY LET US LIVE, WE MIGHT WISH WE WERE DEAD! SEE: Russia and the Jews_Solzhenytsen.pdf
FREE SPEECH, IMMIGRATION AND OTHER IMPORTANT ISSUES IN CANADA, VOL. II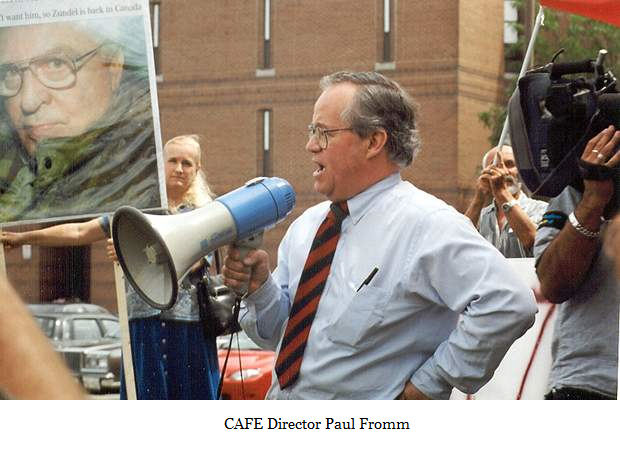 Paul Fromm
To get on his email distribution list, please contact Paul at
Catch Me Daily on White Resistance Radio.com
White Pride or White Resistance Radio.com started broadcasting on April 18 this year with a full 24-hour a day programme of news commentary, old timey music, legal and financial advice, children's stories and good wholesome entertainment. My show (Paul Fromm), THE FIGHTING SIDE OF ME,  airs every evening, except Sunday, at midnight and is repeated at 8:00 a.m. and 4:00 p.m. — all times EST.
* * *

Paul Fromm earned his Bachelor of Arts and Master of Arts degrees in English Language and Literature from the University of Toronto and a Bachelor of Education at the University of Toronto. He did post graduate work at Webster College in St. Louis, Missouri and Waterloo University in Waterloo, Ontario, Canada. He spent 25 years as an instructor in the Ontario, Canada public school system. He is the director of the Canadian Association for Free Expression and a longtime advocate for free speech. He is widely traveled and lectures at events throughout the United States and Canada.
https://www.youtube.com/watch?v=-kG56yHJcjA
______________________________________________________________
http://www.studentsforwesterncivilisation.com/
http://www.ImmigrationWatchCanada.org
______________________________________________________________
Rassenzerstoerung:
Praktischer Idealismus-Kodenhove-Kalergi
Dear Reader:
Volume II and I, datewise, are a bit messed up because I forgot I had started a Volume II and so went to Volume I posting. Therefore, the dates of posting between the 2 blogs are confusing. Sorry. The newest postings will now be on Volume II.
I have not posted that much because if people are interested, they can ask Paul Fromm to get on his mailing list.
Click to read German Pioneers!
June 2017
Christian School Told They Can't Teach 'Offensive' Scripture | The Daily Caller
The authorities in Alberta are now going after Judeo-Christian schools for teaching the appropriate scripture that it is sinful for a "man to lie with a man". Not only that but they are threatening to prosecute these schools under current Alberta Human Rights legislation to prohibit them from quoting such scriptural passages. In response these Judeo-Christians better known as gentile Jews are screaming "free speech".
I seem to recall that for decades these hypocrites labeling themselves as "Christians" have been applauding the prosecution of dissidents and revisionists who have questioned false gods like the Holocost and now they are claiming persecution under the banner of free speech? This is the best news I've seen in a long time. Ain't karma a bitch?       TL
Christian School Told They Can't Teach 'Offensive' Scripture
Evangelical Christians are under fire as an Alberta school board is demanding a Christian school stop teaching "offensive" scripture that indicts homosexuality as a sin, the National Post reports.
The offending passage is from 1 Corinthians 6:9-10, which states: "Neither the sexually immoral nor idolaters nor adulterers nor men who have sex with men nor thieves nor the greedy nor drunkards nor slanderers nor swindlers will inherit the kingdom of God."
The Battle River School Division (BRSD) first asked Cornerstone Christian Academy, not far from the Alberta capital of Edmonton, to remove the scripture from the school's statement of faith. They also asked that the word "quality" be redacted from the mission statement that the school offers "quality educational programming."
CCA agreed to the demands. Board chairwoman Laurie Skori then said that wouldn't be enough. The school would have to cease from even teaching the scripture, saying that "any scripture that could be considered offensive to particular individuals should not be read or studied in school." She said exactly what she meant in a subsequent piece of correspondence that read: "For example: any teachings that denigrate or vilify someone's sexual orientation."
That was too much for the school. CCA chairwoman Deanna Margel said the school had a right to teach what it wants.
"That's a completely different directive, and it was shocking. Absolutely shocking," said Margel.
"You can't just pick and choose those scriptures," she told the National Post. "We need every single word there to challenge us, to call us to greater understanding. We're talking about freedom of religion, but we're (also) talking about freedom of expression," she said.
The school, which teaches students from kindergarten to grade 12, has asked the Justice Centre for Constitutional Freedom for legal assistance. The conservative activist group that defends "the constitutional freedoms of Canadians through litigation and education" has come to the school's defense.
"Trustees enjoy the legal right to send their own kids to various schools that align with the parents' beliefs and convictions. But these trustees have no right to impose their own ideology on schools they disagree with," said the group's president, John Carpay, in a statement.
Spokeswoman for the school board, Diane Hutchinson, said they are making the demands because "gender and sexual minorities" were added tot the province's human rights code in 2015.
"In our province there is a heightened awareness and a heightened sensitivity" around LGBTQ issues, she said, downplaying concerns of censorship.
But Carpay says this is about freedom of religion and expression and that "Alberta has one of the most diverse education systems in Canada," Carpay told the Post. "It's really contrary to government policy for any school board to try to squelch that diversity."
If the conflict between the school and the board is not resolved, CCA will have three choices: find a new board, become a private school or shut down.
###
Comment response by Paul Fromm:
We've warned smug Christians for years that, after the thought police disposed of people like Zundel and Keegstra and Terry Long and Malcolm Ross and Doug Collins, etc, they, especially in their Christian-hating Jew form and in the deviate lobby form would be coming after them!
Paul
###
January 6, 2017
January 5, 2017
August 24, 2016
Via email from Paul Fromm – if you want to get regular articles regarding Information about Canada not found in the lying press, please send an email to Paul to get on his mailing list.
Chinese Multiculturalism in Richmond, BC = Exclude English Speakers and Impose Mandarin Language
Andreas Kargut Takes the Chinese Mandarins to court in Richmond BC
By Andreas Kargut
I am writing this article to share with you a part of the housing crisis in Chinese-controlled Richmond, B.C. Not many Canadians might be aware of the influx of foreigners, aliens with Chinese nationality, purchasing local Richmond and Vancouver property (and across Canada). This has created difficulties for those Canadians seeking a family life. I would like to share those difficulties with you.
Before I get right into the issue, I'd like to tell you a little bit about myself. I am a born Vancouverite and my parents first immigrated to Saskatoon, where my dad worked for the railway. They ended up in Vancouver in the mid-fifties, my dad working as a labourer for the City of Vancouver and my mum working the afternoon shift for building services at the University of British Columbia. They raised three children in a modest house in Vancouver and elected to rent out a room in the basement as well. The house soon became too small, and after purchasing an empty lot in Richmond and building their dream home, we moved to Richmond in the late 1970s.
I remember the Knight Street Bridge had just replaced the aging wooden Fraser Street Bridge. There was no Alex Fraser Bridge, but the Massey Tunnel was there already and I remember the Oak street Bridge was a toll bridge. My parents never used it so they could save every penny they had. I finished my High School years at John Oliver Secondary in Vancouver and went on to finish my apprenticeship at BCIT.
I was able to purchase my first home, an older condominium, in central Richmond in 1990. Years later, I met my wife and together we sold the condominium in 2004. We were looking to purchase a modest single family dwelling in Richmond at that time but realized quickly we could not afford a house. My wife had immigrated to Vancouver from Germany in 1999, living with her cousin's family. She had grown up in East Germany and had very humble beginnings here in Canada, working a variety of jobs, starting out in tourism on a work visa and later on attending evening classes to better herself.
During one of our late afternoon walks, we saw a new development of beautiful townhouses being constructed in central Richmond, near where we lived. It really peaked our interest, fit our budget and the layout and spaciousness of the home fit our family plans. We had found our dream home. A few years later, we filled two bedrooms with our beautiful children. The French Immersion elementary school they attend is walking distance and the French Immersion High School is only a short bike ride or a few bus stops away. We have a drugstore, a grocery store, a shoe repair place, a bakery and several take out restaurants and coffee shops two blocks away. The Skytrain is walking distance. So are several parks. The rest of the extended family is only a short driving distance away, as they all live in Richmond.
I became a member of the strata council of our townhouse complex in 2005, wanting to ensure that our community remained in tip top shape as we planned on raising our children here and staying in town until our retirement years. There were lots of families here. We had get-togethers on our little playground, and kids would ride their bikes and scooters around the complex. Halloween was a breeze. Everyone handed out candy in the early years and we would exchange small gifts during the holidays. There was always someone you could borrow a bowl of sugar from if you needed it.
All that changed in July of 2014 at our strata's Annual General Meeting (AGM). Most of the long term strata White council members were voted out. Only one remained. This was accomplished through a high number of proxy votes that were collected by one Chinese owner. The meeting wasn't very peaceful and civil, but what he did was perfectly legal, according to the BC Strata Act. The atmosphere amongst the owners and the sense of community within the complex changed to one of mistrust, pitting one group of owners against the other.
In my opinion, the following year the new Chinese-dominated strata council did not accomplish much in terms of maintenance and repair and was only able to have three official council meetings in the full calendar year. I believe some of that was due to a council member being out of the country for an extended period of time. The next AGM, the same Chinese individual held 80 percent of the vote with 34 proxies collected in a complex that has only 54 units. This is not wrong according to BC law. No actual voting for the election of council members took place and they were imperially appointed by the Chinese owner holding 80 percent of the vote. The last remaining original White council member was ousted. He did not speak Mandarin and the new council did not know this until they met for the first time after the 2014 AGM.
Later that year in December, I and another concerned owner decided to attend a council meeting as observers. This is open to all owners and a legal right owners have as stated in the BC Strata Act. We let the council know and the response to us was that our attendance would be welcome. However, the meeting would be held in Mandarin only for efficiency reasons, and that they had no intentions of using English. We asked them to reconsider as neither one of us understands Mandarin. They did not and while the other owner bowed out of attending the meeting, I did not and sat through a council meeting held in Mandarin only. There was no translation service provided.
When I returned from the meeting, I went online and filed a complaint with the BC Human Rights Tribunal. My complaint was accepted in March 2016 and together with a small group of owners, we are now fighting a legal battle that has cost us and our diverse community dearly. Our personal price tag for this legal battle currently sits at over $25K and has cost the strata council and property management company zero dollars. They are covered by strata directors' insurance. We have now started a GoFundMe page to assist covering the high legal bills. You can find it at gofund.me/AndreasKargut.
We know we aren't the only ones experiencing this situation. We have heard from many strata owners across the Lower Mainland, and everyone needs to become aware that it could happen to them too. If you would like to support us in setting a precedent and acknowledging English as a common language amongst our diverse communities in BC, so that we are all able to communicate with each other, then please share this story amongst your family and friends. I realize there are next steps to be taken after the complaint is settled like changes to the Strata Act. The Strata Act needs changes to limit the number of proxies one single owner can hold to a maximum of one proxy. Our province also needs a language act acknowledging Canada's official languages on a provincial level. Many provinces and territories across Canada have done so, but BC has not.
If you or someone you know is able to sponsor our case or assist us in any other way, we would be very thankful. You can leave comments on the GoFundMe page and can contact us through the page as well should you have further questions or ideas.
For sensible immigration policies for the 21st century.
###
August 4, 2016
German-English*Monika Schaefer*Canada*Persecuted For Quoting History Truth
#######
May 1, 2016:
Via email from Kathleen:
Sunday, 1 May 2016 AN 14h41
Hello.  I sent you a message yesterday using another anonymous emailer, which I have never used before. Don't know if it worked.
Excuse me for sending again, in an effort to ensure that you receive this.
There's a little "top-up" at the very end.
Kind regards,
Kathleen, Canada
– – –
Hello, you said:
"I'm over in Alberta [Canada] now visiting my kids and grand kids. My daughter just informed me that the refugee rapes are occurring here in the cities on mass but it is not being reported in the media. She has a friend as a dispatcher in Calgary with the RCMP, blond and pretty, who told her that the police are informing the media about it but they refuse to report it. It's so bad that her friend wants to move out of Calgary as soon as possible. In other words it is happening all over and sooner or later people will be forced to wake up or die. The Jew is waking us up with his own chutzpah. That's the lesson of history. The race war is inevitable.~O
Also:
1. The "Canadian" media are increasingly mixed-race — a slew of mulattos, from what I can see — and perhaps this is helping to create a barricade against informing the local "white" victims who built the country and to whom it legally belongs.
2.  Please ask your daughter to consider reporting the fact of the mass refugee rapes of Canadians, at the web site of the Council of European Canadians.  This needs to be known, and I suspect they get a lot of visitors.
3.  Major news breakthrough:  Communists have been controlling Canada for decades. One major proof: I found the 1972 manifesto of the "separatist" PARTI QUEBECOIS (PQ) (caps to avoid French accents) on a shelf in a university law library. It contains PLANS for a Communist state of Quebec, centralized state ownership of means of production, virtual abolition of private enterprise (a businessman interviewed in a radio tape on the subject also in 1972 called it "the apocalypse of business").  Inquiries with reference librarians at the Quebec Archives produced the news that no English draft of this manifesto is known to exist. The French is terrible, it was written by a number of people, without an editor to style it afterwards. Long, convoluted paragraphs and other literary horrors.  I undertook to translate it into English, frequently making a great deal of time to do so. By the end of 2014, I had finished it. You can download it for free here: https://www.sendspace.com/file/hkl9s1
That folder contains my page-by-page (perfect facsimile) scan of the original French book, photographs by me of the book on the law library shelf, print-screens of the book listed in the University online catalog, and my transcript and English translation of the French-language radio show discussing the manifesto, as well as a tape of the show which I downloaded from the CBC archives.
More background:  https://nosnowinmoscow.wordpress.com/
The importance of this discovery is that the PQ was set up to run referendums in Quebec, under the front of a claim that they are protecting the ethnic French-Canadians from assimilation in "English" Canada!  Huge lie!  The ethnic French-Canadians have been manipulated, and many of them turned against Canada, by these same REDS and MULTINATIONAL CORPORATIONS and the ROYAL INSTITUTE OF INTERNATIONAL AFFAIRS (JEW BANKERS) who are in fact behind the creation of the PQ.  The purpose of the PQ is to get a "YES" in a referendum, to hand the COMMUNIST-CONTROLLED FEDERAL LEVEL a "public pretext" to seem to "negotiate" the complete dismantling of Canada with their commie pals controlling Quebec.  Now, hang onto your seat. The manifesto proves they are Communists. The radio show proves they are Communists (despite the fact the French-speaking commentators appear sympathetic to the leftists).  The PQ conducted two referendums in Quebec, in 1980 and in 1995, to get "sovereignty" for the poor, downtrodden, oppressed, colonized, French-Canadians!  Those were clearly two referendums to convert Quebec to a COMMUNIST STATE.  In our parliamentary system, the QUEEN or the representative of the QUEEN (Governor General of Canada or a Lieutenant Governor of a Province) SIGNS THE WRITS that are issued to summon the voters to elections. That electoral system was unconstitutionally and illegally used to run the Quebec referendums!  The PQ commies, once they were in de facto control of the Quebec government, merely "passed" new "laws" adapting the electoral writs to the referendums.  The Lieutenant-Governors of Quebec thus SIGNED and/or otherwise AUTHORIZED these referendums IN THE NAME OF THE QUEEN.  This means necessarily that the current royal family is behind the Jewish dismantling of Canada by the RIIA, since the current "queen" and her father before her act as "royal patrons" (protectors) of the RIIA, which is the front for the big Jew Banks who financed the setup of Israel and the Bolshevik Revolution.
Most often, the Jew Reds use surrogates to do their dirty work. I have observed for example that in the 1950s, when Maurice Duplessis was Premier of Quebec, he tried to put down the Communists and stop them from organizing. He also tried to put down the seditious lunatics from the Jehova's Witnesses.  Jewish law firms in Montreal and in Quebec City went on the attack against Duplessis.  But they were careful to choose a stupid GOY to front for them in both cases.  In the Montreal case, the Jew law firm of STEIN & STEIN managed to recruit law professor Francis Reginald Scott (Frank Scott, F. R. Scott), who was a socialist, a Rhodes Scholar, and a duped member of the RIIA who believed the Holocaust hoax.  Scott stood side by side with the Jew Steins against Duplessis.  I think the Jews wouldn't have dared to stand against him on their own!  Then in Quebec City, another Jew firm (I forget the name right now) used a female GOY to come after Duplessis. The self-righteous bitch decades later ends up on the Supreme Court of Canada, helping the Jews in the background to dismantle Canada by declaring that all of Canada MUST "negotiate" with Quebec after a "YES" in another referendum.  The Quebec City Jews had taken the young female French-Canadian law graduate into their law firm when the other firms were not yet hiring women. So, they had a great chance to demonstrate their "superiority" and "magnanimity", i.e., to indoctrinate a useful idiot from the target host population to do the Jews' dirty work for them.  This woman is Claire L'Heureux-DIUBE, and she tells this little story on video, of how the JEW lawyer hired her when nobody else would!  I have given you my interpretation. Moreover, she said on the video that when she was ASSIGNED by the Jew lawyers to go after Duplessis, she was called aside and told: you may receive hate mail, even death threats, if you don't want to do it, we'll LET YOU RESIGN!  And this twit went along with that insult to her dignity!
4.  There is more news. The JEWS overthrew Canada in 1982 for their own world-government system. And our "queen" helped them do it.
Of course there were again useful idiots available to provide the front. But my researching is exposing various JEWS in strategic back-scene positions, who were pushing for it, and who, as "constitutional law advisers" to federal and provincial governments, were helping to cover up the JEWISH COUP on Canada. They hijacked our lawful Parliament and provincial Legislatures of 1867, they hijacked our lawful Constitution, the British North America Act, 1867 which created Canada as an ETHNIC FEDERATION of our own White, Christian, British founding peoples.  They replaced it with JEWISH "HATE SPEECH" and JEWISH government, while officially unleashing the mass third-world immigration designed — as by the Reds in Ukraine — to ethnically destroy us and our culture. They took our country and our institutions and remodeled them, and handed them over to the ethnic foreigners.  One JEW who was involved for over 20 years in getting this dirty work done, together with COMMUNIST Pierre Elliott Trudeau and others, was BARRY LEE STRAYER, who studied at Oxford.  I have a document of his, a pair of LECTURES he delivered to a Faculty of Law within SIX months after the so-called 1982 "patriation" of our constitution, in which he PUBLICLY ADMITS IT WAS A COUP D'ETAT and explains why and how those who did it will get away with it.  In other words, our dear "queen", supposedly of German birth, turned traitor on her own peoples for the JEWS, and helped them overthrow Canada for the JEWISH system.  I've put the two Lectures online in OCR at this web site, and linked the scans of same to the sidebar:
https://patriationandlegitimacyofthecanadianconstitution.wordpress.com/
Further to that coup, and thanks in major part to Communist PIERRE ELLIOTT TRUDEAU (who planted JEWS in key high positions, by the way: ready for the coup) we have so-called "human rights tribunals" that prosecute Canadians for "hate speech" and in at least one known case are trying to have a Canadian man BANNED FOR LIFE FROM FREE SPEECH ON THE INTERNET!
Trudeau put TRAITOR JEWS at the head of the Supreme Court of Canada: BORA LASKIN; at the head of the Federal Court of Canada: ALLAN LUTFY (long-time "advisor" to prime minister JEAN CRETIN (i.e., CHRETIEN). JEW BARRY LEE STRAYER advised TRUDEAU, who had long been planning and working on the COUP in Canada.
There are other criminal JEWS involved a-plenty, in the law faculties and in government justice departments, who have deliberately lied to governments to allow governments to lie to the public, that the 1982 coup was "constitutional".  LORRAINE WEINRIB, devout supporter of Israel; ANNE BAYEFSKY, devout supporter of Israel; WILLIAM R. LEDERMAN (socialist lawyer and pal of F. R. Scott and others) who helped to rubber-stamp the COUP in law journals before the ink was dry on the "queen's signature". (By which she threw herself legally out of office, by the way! Self-discharged for treason, she replaced the Constitution, but cleverly HUNG ONTO THE CROWN and all the perks and property that go with it, i.e. THEFT BY A FORMER MONARCH OF THE CROWN AND TITLES AND ALL RELATED PROPERTY!  Then there are the father-son teams of the GOLDENBERGS and the GOLDBLOOMS, and I recently learned that BORA LASKIN has a nephew, JOHN LASKIN, involved in a post-"patriation" phase of the Communist coup. And there are others, but my files are not with me.
5. Communist infiltration of Canada from the top down over DECADES:
https://insidethefeatherbedfile.wordpress.com/?order=asc
We are full of REDS here, and the only way that could happen is treachery by the royal family, by the party exercising the Crown, who betrayed us to them; and who in fact betrayed the entire British Empire to the JEW BANKS behind the RIIA.
Thank you for your web site, keep the faith.  I am not German, but as a Canadian, I know the contribution the Germans made to defending these colonies very early for the British Empire, and therefore they contributed to the founding of Canada, which is legally, an ETHNIC CONFEDERATION of its own founding peoples, and not a multicultural third-world anti-national slum.
Kind regards.
– – –
TOP-UP
It would be important to know that the Jooz and their allies and traitors in our countries are implementing the Soviet system of chemical "psychiatry", by slipping it in through illegal and unconstitutional activities in our western courts.  You need to be on the lookout for this in your own courts.
www.judicialmadness.com
I know a lot more about the issue than I've been able to get online to date. I won't try to go into it here. (And that's not a real wordpress site, it's an html look-alike with no RSS or comments, so don't try to sign up, sorry!)
However, I can quickly tell you this.  I have recently discovered that this ploy to add Soviet chemical psychiatry to Quebec is not unique to Quebec.
It is also apparently being done in Europe (i.e., in the EUSSR) at least at their so-called "Human Rights" court.
It is also being contemplated for other Provinces of Canada, including Nova Scotia.
It is being greased in slyly at the level of the Federal Court of Canada, and if they succeed, it would thus be spread to the whole country.
The GOAL of the man behind this scheme in Canada, i.e., Rhodes Scholar (RIIA, Jew-Banker ally) Yves-Marie Morissette, is to get this into place using litigants alleged to be "vexatious", who are now further to be declared "querulous" (mentally ill) directly by JUDGES (no psychiatric intervening), in order to blacklist them as such. THEN, when it has the look of "legality", it will be spread to all realms of life, it will not be just a "mental illness" of self-represented litigants. It will be fully deployed country-wide, in every sphere of life. So that "complainers" who don't like what the STATE orders them to do or believe, can be arrested and forcibly chemically lobotomized, as was done to Soviet dissidents; and is coming up again there, as well.
That's the scam. They are abusing the court system to force this into place, and our judiciaries are too stupid to know that they cannot possibly have a "power" to declare litigants "mentally ill" from the bench on the basis of the way self-representers handle their own litigation.
Furthermore, the "principle" on which they are basing this new nonsense, under the supposed banner of "ACCESS to JUSTICE", is the "principle" of "proportionality".
Morissette and others allege that this new "principle" in courts in Quebec (and I also in Ontario, I think; and coming to the Federal Court of Canada, if not already in) — is of "British" inspiration. The great "LORD WOOLF" is always cited, with an obvious view to making it look as though Quebec and other Canadian or British western jurisdictions are simply on a "trend", copying the lead of "British" "law".
Lord Wolf is a JEW. The "principle" of "proportionality" apparently comes from the TALMUD.
It therefore seems that commencing at least in UK (it may come from elsewhere previous to this). a ZIONIST system for our courts, involving at least one principle from the TALMUD, is being imposed on the West by stealth; and that one use it is being PUT TO, is to "stop" so-called "vexatious" litigants who are self-representers, thus paving the way to the COURTS being allowed to declare them "querulous", an alleged mental illness on the precise model of the old Soviet mental illness of "creeping schizophrenia" used as the pretext to chemically lobotomize Soviet dissidents.
The "British" Lord Wolf:
https://www.google.co.uk/search?q=lord+woolf&biw=1024&bih=647&tbm=isch&source=lnms&sa=X&ved=0ahUKEwjEzoGfw7nMAhUHfiwKHcBlCSsQ_AUIBygC#imgrc=hMvW8ffcN6CTRM%3A
Put a wig like that on him, and you have a real "Wolf in sheep's clothing".
Now, you may already know this, however, here it is anyway:
http://www.rense.com/general85/dere.htm
http://www.rense.com/general74/commun.htm
http://nikiraapana.blogspot.co.uk/
http://www.newswithviews.com/Raapana/niki7.htm
That ought to get you started, if you don't already know.
Kind regards,
Kathleen Moore
Montreal, Canada
________________________
Via email from Paul Fromm April 4, 2016
BREAKING: Trudeau to build refugee camps on Canadian military bases — taxpayers will fund mosques, Korans
You have to take the time to read this. Whether you are a Liberal or a Conservative you will realize Trudeau has gone too far. I'll be damned if my taxes are building Mosques and buying prayer mats. Maybe he did convert to Islam somewhere along the way. Please read and listen to the video and pass it on.What an insult to us and our homeless.He really has not learned one thing from the problems in Europe. If you think this is a good or acceptable plan please let me know.
From: Ezra Levant
Sent: Monday, February 08, 2016 12:55 PM
Subject: BREAKING: Trudeau to build refugee camps on Canadian military bases — taxpayers will fund mosques, Korans
Dear,

Today Justin Trudeau ordered the Canadian Armed Forces to stop combat operations against the Islamic State in Iraq and Syria.

But his new plans are even more shocking: the Liberals have drafted plans to house more than 6,000 Muslim migrants on a long-term basis at seven military bases across Canada.

Trudeau plans to turn our military bases into refugee camps.

Documents obtained by The Rebel under access to information laws show that the Department of National Defence has budgeted tens of millions of dollars for this scheme. That includes a massive budget for "religious support" of these Syrian migrants, including the purchase of Korans, Muslim prayer mats and foot-washing towels. The plan also calls for the construction of mosques, or "worship centres" as they're referred to in the documents.

Click here to  watch our video exclusive of this news, and read the government planning documents yourself.

Yours truly,

Ezra Levant

P.S. Please forward this e-mail to all of your friends and family. The mainstream media loves Trudeau's plans to weaken our military, abandon our allies, and open the floodgates to unvetted Muslim migrants.
###
Via email from Ian April 8, 2016
HP -The hatchet man for the firing of the decent Christian Morgan Wheeldon was one Brad Lavigne (Levine?) who came out of nowhere to do the dirty work and quickly crawled back into his hole to continue as an "advisor".  I bet there are plenty of dubious skeletons in the supposedly clean NDP's closet, including the comment by Stephen Lewis that if there should be a war between Canada and Israel, his son would be on the Israeli side.  IV
From: ianvmacdonald@aol.com
To: letters@nationalp0st.com
Sent: 2016-04-07 6:25:11 P.M. Eastern Daylight Time
Subj: Mulcair's chutzpah
April 7, 2016
Editor
NATIONAL POST
Toronto
Dear Sir
Mulcair conflict of interest
At the time of the NDP leadership convention, July, 2012, a Canadian Jewish watchdog association opposed the election of Thomas Mulcair as leader on the grounds that he was financed by the Israeli Lobby and that his primary loyalty was to the State of Israel. He thereby faced a conflict of interest unacceptable for a Party that claimed to be 100% pro-Canadian and, unlike the older parties, relied on donations from the "little people", as distinct from corrupting, self-serving "capitalist" donors. Mulcair's undivided loyalty to Israel was not a public, nor even a party, issue at the time, but burst out during the Federal election campaign with Mulcair's sordid firing of Morgan Wheeldon, one of his party's most enthusiastic and effective candidates, for once allegedly having criticized the Israeli Occupation. The fact that the firing was a knee-jerk reaction, with no hearing for the popular candidate, must have shaken even the most dedicated Party members to the core, and stopped idealistic potential new supporters in their disillusioned tracks!.
Such perfidious action, showing more concern over Israeli sensitivities than over the reputation of his own party, would have been sufficient to reverse the growing electoral momentum, but there were other serious mistakes, perhaps contrived, that reflected acquiescence to Lobby pressure, the most decisive being the failure of the NDP to exploit Prime Minister Harper's "love affair with Israel" and grovelling to rabbis that left the PM open to ridicule and charges of outrageously poor judgement in the damage the "alliance" did to Canada's self-respect and image as a sovereign nation.  Add to these negatives the confusion of the meaningless "Change" platform and Mulcair's decision not to have the good grace to apologize and resign, and the recent headline "Mulcair looking for 70%" at the Leadership Convention (see NP April 6. 2016) must be seen as well beyond chutzpah.
I wrote to most senior NDP officials, beginning 2014, saying that retaining Mulcair as leader was a prime case of snatching defeat from the jaws of victory. I received a reply from only one, the righteous Paul Dewar, who ironically was defeated.  He attempted to explain his Party's support of the rape and dispossession of Libya by NATO and murder of its enlightened pro-Canadian, anti-Israel Leader, who had done more for his people than any leader in history – yet another campaign opportunity left unexploited.  With this record of treachery to both Party and nation, Mulcair should be lucky to get 7%, not 70, at the forthcoming Leadership Convention.
As ever, Ian V. Macdonald 455 Wilbrod Street Ottawa ON K1N 6M7    613 241 5389
_______________________
Canada: Hypocrite Nation Ruled by Zionist Deception & anti-Free Speech Laws by Arthur Topham
http://www.radicalpress.com/?p=7062
_____________________
###
To get on their distribution list, send email to
groundswell@telus.net
____________________________________________
FREE SPEECH CANADA, VOL. II
March 28, 2016
Attention Immigration Reformer:
For your information, Immigration Watch Canada is sending you its latest bulletin: "Immigration Minister 'Know Nothing' Speaks."
Respectfully,
Dan Murray
www.ImmigrationWatchCanada.org
++++++++++++++++++++++++++++++++++++++++++++++
Immigration Minister "Know Nothing" Speaks
In a recent speech to the Halifax Chamber of Commerce, Canada's Minister of Immigration (John McCallum) boasted about the economic effects of immigration. Once again, he showed that he does not know what he is talking about.
His government has recently raised Canada's immigration intake to over 300,000 for 2016. This intake is the highest in 100 years. Now, he is proclaiming that his government will raise immigration to even higher levels in the years following—-all supposedly to stimulate Canada's economy.
Let's point out some basics for Mr. McCallum : In the late 1980's, Ottawa asked The Economic Council of Canada to investigate whether immigration had produced economic benefits for Canada. Their answer : almost none for every decade since 1867. In other words, if government wants to stimulate the economy, immigration has not done it in the past and is unlikely to do it in future.
Even worse, according to a recent study done by SFU Economics Professor Emeritus Herb Grubel and Veteran Economist Patrick Grady, recent immigrants are annually taking up to $35 Billion more out of government coffers than they are contributing.
On top of that, two UBC professors have just released studies which demonstrate that Canada's relentless immigration intake is the cause of astronomic house prices in Metro Vancouver in particular, but also in Toronto—the two major destinations of immigrants.  Speculation by Chinese buyers has literally driven many Vancouverites out of Metro Vancouver. Does McCallum consider displacement "an economic benefit"?
McCallum seemed to be completely unaware of these studies and that all contradicted what he says.
But that did not deter him. His speech to the Halifax Chamber of Commerce got worse. He stated "I know that when a society faces an aging population and does not have an access to immigrants it is a recipe for trouble, and if you don't believe me, just look at Japan. " He implies that if Japan were to use immigration as a tool, it could solve its aging population problem.
For McCallum's benefit, let's make something else clear. Regarding the aging population issue, in the late 1980's, Ottawa asked its Health and Welfare Department to determine whether Immigration would solve the potential problem of an older population outnumbering the workforce. The possible result : government tax revenues would decline and both Canadian workers and the Canadian economy would be burdened with providing for older citizens. The Department looked at many options (including one option of greatly reducing the age of immigrants). It concluded that even increasing immigration to 600,000 per year would make very little difference to the proportion of workers to the number of aged Canadians. It concluded that Canada get both its 45+ year-old unemployed males and more women into the workforce.
Mr. McCallum also does not seem to understand that the conclusions that Health and Welfare Canada drew were based on mathematical projections, not wishful, ideological opinions as McCallum's are. Japan has probably done similar projections and concluded that even if Japan were to ignore the crucial cultural issue of being overwhelmed by non-Japanese, it would not make mathematical sense to import large numbers of immigrants.
Let's give Minister "Know Nothing" more evidence. In 2006, Canada's C.D. Howe Institute added to the mathematical investigation of the aging population issue. Its overall conclusion was that immigration would not make Canada younger. It looked at three strategies that Canada might use. Two of them involved stabilizing the number of older Canadians. In one strategy, immigration intake would have to rise to 7 million per year by 2050¬¬ at which time Canada's population would be 165.4 million !!! Obviously, such a solution was not an option.
The other very interesting thing about McCallum's reference to Japan is that he (and previous immigration ministers and Prime Ministers) seem to think that the cultural effect of a high immigration intake is unimportant. Most countries, particularly China and India would regard the process of being overwhelmed by foreigners as an invasion. They would not tolerate it. In contrast, McCallum has raised no objections to his own riding becoming over 70% Chinese. Does he want to cover up his own guilt by making the rest of Canada look like his own riding? Furthermore, the Prime Minister's own riding is now majority visible minority. Does he also at heart feel so guilty that he approves what Minister "Know Nothing" recommends?
Let's spell things out for Immigration Minister John McCallum, PM Trudeau and politicians of all stripes : The current Chinese and the East Indians came to Canada because they know that the people who have built the country of Canada had built a culture and a country that was significantly superior to that of the current versions of China and India and to that of most other countries. Both China and India are vastly over-populated, economically unsustainable and, according to Canada's Privy Council, the major environmental cesspools of the planet.
In fact, China's Deputy Minister of the Environment had a name for the large number of Chinese who were leaving China and going to "Western" countries such as Canada. He called them "parasites" who had exploited the Chinese landscape and Chinese workers to acquire profits and who had left sordid messes behind them in China.
As Canada has found out, those same "parasites" are repeating their behaviour in Canada. For example, several hundred thousand Chinese immigrants have entered Canada under Canada's so-called "Investor Immigrant" programme. Huge numbers of them live in mansions, pay little (if any) income tax but extract all the benefits they can get. One of those benefits has been getting a Western education for their children at a dirt-cheap price and without the cut-throat competition for professional degrees that their children would have faced in China. The result has been displacement of thousands of Canadian students by Chinese students who never should have been allowed in.—–a fact that, unbelievably, a number of university presidents such as those at UBC and SFU have cheered. Is this what our Immigration Minister calls an economic "benefit" of immigration?
What other reasons do many Chinese and Sikhs have for coming here? Some are undoubtedly here for sincere reasons, but it seems clear that significant numbers of them want to re-create the national cesspools they came from and to plunder and displace as much as they can. They see themselves as colonizers and relish the thought of becoming a majority in different parts of Canada. For example, a number of Sikhs now want to have Punjabi elevated to the status of an Official Language of Canada. In addition, there are so many Chinese in places like Metro Vancouver and Markham, Ontario (Minister "Know Nothing's riding) that the public now say, "Free Tibet. But First Free Metro Vancouver and Markham." To make matters worse, a number of Chinese with equally malicious intent, are watching the crude and boorish tactics of some Sikhs. Other groups feel the same way.
How do our Immigration Minister, the PM and a considerable number of our politicians respond? Well, our PM announces that Canada is 'a post-national state" !!! Then, he and others get down on their knees and give new arrivals whatever they ask for— in return for their votes.
Let's be blunt : The next time our PM, Immigration Minister "Know Nothing" and his like are on their knees in boot-licking position, they should pause for a few minutes from their degrading activity and look up at the faces of the crude elements in the Chinese, the Sikhs and other groups whose boots they are licking. Those getting boot-licked are laughing at them and have contempt for them.
A fiasco is happening in Canada and it is being led by fools, quislings and Know Nothings.
Things don't have to be this way. It's time for a major ass-kicking !!!
###
Jan 19, 2015 from Paul Fromm
Immigration Reformers Link GTA Traffic Gridlock to Massive Immigration
PORT CREDIT, January 17, 2015. A dozen immigration reformers braved cold winds this afternoon to call for major cuts to immigration to help ease traffic gridlock in the Greater Toronto Area (GTA). Members of Immigration Watch Canada and the Canada First Immigration Reform Committee displayed a banner "Fight Gridlock — Cut Immigration" on the pedestrian walkway above the Queen Elizabeth Way inbound to Toronto. Heavy traffic slowed right down. Many motorists honked or gave the thumbs up of approval. Some took pictures on their cellphones and tweeted or texted to their friends. One sorehead gave the group the finger.
The immigration reformers also leafletted several nearby parking lots and have vowed further protests Traffic gridlock, GTA voters say, is their number one issue.  A statement circulated by the protesters proclaimed:
"Traffic gridlock, GTA voters say, is their number one issue.
Little surprise. The GTA has longer commute times than Los Angeles or Atlanta. Traffic gridlock costs us big time. Economists say it costs Ontario's economy $7-billion a year! To say nothing of the wear and tear on nerves to say nothing of the wear on your car. How many times do you have to hit the brake when creeping along the QEW or the 401?
Every year, rush hour starts a little earlier. We're now in gridlock at 3:00. How many more years will it be before it is 2:00!
Traffic gridlock is the result of Canada's irresponsible immigration policies. Each year 125,000 immigrants flock to the GTA. Yet, our infrastructure — with the exception of the 407 —  has hardly changed since 1970! What worked well 40 years ago is choking and doesn't work today.
To add the roads and transit needed to alleviate traffic gridlock will take years and billions of dollars.
In the meantime, if the federal government keeps the immigration doors wide open and keeps flooding the GTA, even if we build new roads, the gridlock will continue.
This is not anti-immigrant. It is common sense.
Traffic gridlock is one of the many hidden costs of immigration. Anyway, with 6.3% unemployment — 1.5-million Canadians unemployed, another 900,000 involuntarily in part-time jobs — there is just no economic justification for immigration.
SPEAK UP: Call or write your MP, your councillor and mayor.
Insist that they represent you and work to FIGHT TRAFFIC GRIDLOCK by CUTTING IMMIGRATION.