Auschwitz – truths – tremendous amounts of documents available against the false holocaust invention
Most of the Documentation is on the post False Jewish Holocaust
and Der Falsche Holocaust (Deutsch)
Das folgende Buch nicht verbreiten da die Gesetze sich in Deutschland nicht veraendert haben. Nur weil es ein beruehmter Jude schreibt ist es kein Schutz fuer Deutsche.
English: The news video below reports IN 1948  (in German) 300,000 dead in Auschwitz, but it is also way too high – it's fraud.  And this lie about special cruelty to the women prisoners… baloney all the way through. Women prisoners at Auschwitz worked as household assistants in officer's homes. Here the numbers from the Russian archives: In all 60,421 Jews died OF VARIOUS CAUSES at Auschwitz. I just put a table together here:
IN ALLEM STARBEN 60,421 JUDEN AUS VERSCHIEDENEN GRUENDEN!!!
Deutsch: In 1948, dieser Video-Bericht erzaelt von 300.000 Toten; das ist auch viel zu hoch – es ist ein Betrug. Und diese Lüge über besondere Grausamkeit gegen die Frauen Gefangenen … Unsinn die ganze Geschichte! Die Frauen in Auschwitz arbeiteten sogar als Hausangestellte in Offiziersheimen. Hier die Zahlen aus dem russischen Archiv: Total  60.421 Juden starben aus VERSCHIEDENEN URSACHEN in Auschwitz. Ich habe hier eine Tabelle zusammengestellt:
https://www.youtube.com/watch?v=RIingBE2p-Y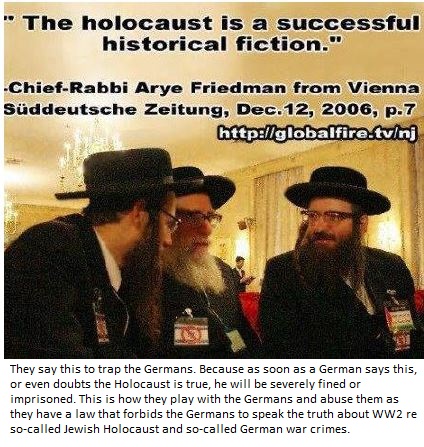 Auszug – Auschwitz-Befehle-Pdf
###
Of course it is not a nice thing to be incarcerated, but the Jews were not incarcerated until way into the war and for being a threat to the Germans and the German government. Not only that, the Jews were free to leave Germany and immigrate out (in those days people had to have the approval of the government). Not only did they get the approval of Adolf Hitler, he paid for their trip out and reimbursed them for their properties. Though I do not know this, they probably burned their own synagogues down to get the insurance money since they could not take the buildings with them. Deceivers and liars as they are per their holy book, the Talmud, it's quite possible. Further, on March 24, 1933 the Jews of Germany (and the whole world) declared war on Germany. That was treason and normally that would have resulted in a death penalty. So no, I do not feel sorry for the Jews in general. Of course, among a bunch of bad guys, there are always the innocent that suffer.
IF THE ALLEGATIONS WERE NOT SO SERIOUS, I WOULD CALL THE WHOLE THING A BAD JOKE!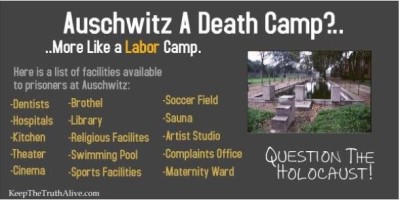 Robert FAURISSON     20 July 2001
(with addendum of 27 July)
 
The Auschwitz Swimming Pool
Swimming Pool, Auschwitz Camp, June 1996. 'Inmates from Auschwitz and surrounding camps enjoyed swimming and sunbathing beside the pool on Saturday and Sunday afternoons. Although not as popular as sports like soccer, some competition was organized where inmates from different countries of origin, and different camps, raced in individual and relay events.' Above photo and caption from www.air-photo.com, below photo provided by an anonymous donor.
The German-Australian revisionist Frederick Toben has brought to our attention the fact that today, beside the swimming pool at Auschwitz I, there stands a signboard bearing, in Polish, English and Hebrew, a notice intended to have the visitor believe that the pool was in fact a simple reservoir for the fire brigade. It reads as follows:
"Fire brigade reservoir built in the form of a swimming pool, probably in early 1944." Ha, ha, ha!

[How stupid do they think people are? Very stupid… that's how little respect they have for people in general. ~ germanvictims]
He asks when exactly this signboard appeared. I myself have no idea but the inscription is just as fallacious as any number of the Auschwitz museum's other allegations or explanations. One fails to see why the Germans, rather than settling for an ordinary reservoir, would have made one in the fashion of a swimming pool… complete with diving board.
The pool was a pool. It was meant for the detainees. Marc Klein mentions it at least twice in his recollections of the camp. In an article entitled 'Auschwitz I Stammlager' he wrote:
The working hours were modified on Sundays and holidays, when most of the kommandos were at leisure. Roll call was at around noon; evenings were devoted to rest and to a choice of cultural and sporting activities. Football, basketball, and water-polo matches (in an open-air pool built within the perimeter by detainees) attracted crowds of onlookers. It should be noted that only the very fit and well-fed, exempt from the harsh jobs, could indulge in these games which drew the liveliest applause from the masses of other detainees (De l'Université aux camps de concentration: Télmorgnages strasbourgeois, Paris, les Belles-lettres, 1947, p. 453).
In his booklet Observations et réflexions sur les camps de concentration nazis he further wrote:
Auschwitz I was made up of 28 blocks built of stone laid out in three parallel rows between which ran paved streets. A third street ran the length of the quadrangle and was planted with birch trees, the Birkenhaller intended as a walkway for the detainees, with benches; there also was an open air swimming pool (booklet of 32 pages printed in Caen, 1948, p. 10; its text is a reproduction of the author's article published in Etudes germaniques, n° 3, 1948, pp. 244-275).
M. Klein, professor at the Strasbourg medicine faculty, took care to point out that his first statement had been submitted "to the reading and scrutiny of Robert Weil, professor of science at Sarreguemines lycée," who had been interned in the same camps as himself (p. 455).
In 1985, at Ernst Zündel's first trial in Toronto, I spoke of M. Klein's recollections but the real specialist on the history of the Auschwitz I swimming pool was at that time none other than the Swedish revisionist Dietlieb Felderer. If I remember correctly, the Canadian press headlined an article on his testimony about it. Moreover, in his writings he often returns to this and other quite concrete, quite precise subjects just as disquieting for the supporters of the exterminationist argument.
N.B. The water of the swimming pool can obviously be used by firemen in case of emergency. In his booklet, M. Klein wrote that "there were firemen at the camp with very modern equipment" (p. 9). Amongst the things that he had not expected to find on arriving, in June 1944, "at a camp whose sinister reputation was known to the whole world thanks to the Allied radio broadcasts," one may note, for the detainees, "a hospital with sections specialised in line with the most modern hospital practices" (p. 4), "vast and well fitted-out wash houses along with communal W.C.'s built according to the modern principles of sanitary hygiene" (p. 10), "the micro-wave delousing process which had just been created" (p. 14), "the mechanical bakery" (p. 15) the legal aid for the detainees (pp. 16-17), the existence of "dietetic cooking" for some of the sick, with "special soups and even a special bread" (p. 26), "a library where numerous reference works, classic textbooks, and periodicals could be found" (p. 27), the daily rolling by, next to the camp, of "the Krakow-Berlin express" (p. 29), a cinema, a cabaret, an orchestra (p. 31), etc. M. Klein also notes the horrible aspects of life in the camp and all the rumours, including the "horrific stories" of gassings which he seems not really to have believed until after the war, and then only thanks to the testimonies in the "various trials of war criminals" (p. 7).
Addendum of 27 July. A wartime detainee and, like M. Klein and R. Weil, a Jew himself, confirmed, in a short testimony written in 1997 entitled "Une Piscine à Auschwitz," that he saw, in July 1944, dozens of his fellow prisoners busy at work on the said pool which, he pointed out, had "a diving board and an access ladder"; he could have added "along with three starting blocks for races." He wrote that towards the end of that month "a newsreel director had some deportees filmed swimming there." As one might expect, he enlivened his account with the regular stereotypes of the SS men's or kapos' brutality and he saw in the making both of the pool and of the film nothing but a propaganda operation. His report ends with two interesting remarks. First, that in 1997 no guide was "aware" of the pool (which nonetheless was before the guides' very eyes and of which a photograph accompanies the article: we read that this picture, showing a swimming pool full of water, was taken in that year) and that the author would like to know just where the newsreel might be today. His question is akin to those put by some revisionists: might the film not be "at the headquarters of the International Red Cross"? Doubtless he meant: at the International Tracing Service (ITS) located at Arolsen-Waldeck in Germany and operating under the direction of the International Committee of the Red Cross (ICRC), with headquarters in Geneva. Since 1978, this body has barred revisionists from its archives, which are known to be an exceptionally rich resource. For its part, the Auschwitz State Museum probably possesses documentation relevant to various aspects of this swimming pool's construction, e.g. the project, the plans, the financing, the requests for and the supply of building materials, the requisition of labourers, the inspection visits.
(Reference for this account: R. Esrail, registration no. 173295, « Une piscine à Auschwitz », in Après Auschwitz (Bulletin de l'Amicale des déportés d'Auschwitz), n° 264/octobre 1997, p. 10).
A
"Sanning Walter-Die Auf loesung Des Osteuropaeischen Judentums 1983-313S."
https://archive.org/details/CarloMattogno-The Bunkers Of Auschwitz-Black Propaganda Versus History
https://archive.org/details/Auschwitz Crematorium I And The Alleged Homicial Gassings
https://archive.org/details/Mattogno-Carlo-Auschwitz-Das-Ende-einer-Legende
Auschwitz Fakten versus Fiktion-pdf
https://archive.org/details/Mattogno Carlo-Auschwitz-The First Gassing-Rumor And Reality 2005-165
https://archive.org/details/Auschwitz Gas Chambers The End Of A Legend By Carlo Mattogno
Die Auschwitz Luege-Christophersen-pdf
Rudolf Germar-Auschwitz-Luegen 2005_381S.
Staeglich, Wilhelm – Der Auschwitz-Mythos (1979, 390 S., Text)
https://archive.org/details/Mattogno Carlo-Auschwitz-Open Air Incinerations_2005-137P..pdf
https://archive.org/details/Auschwitz Plain Facts_424
https://archive.org/details/Mattogno-Carlo-Sonderbehandlung-in-Auschwitz
The Jews are such liars by nature due to their law in the Talmud, they turn everything upside down and backwards forwards:
https://archive.org/details/Special Treatment In Auschwitz-Origin And Meaning Of A Term2004
B
Brainwashing und Ende der Luege 4 deutsch-PDF
Die Briten und das "Gestaendnis" Rudolf Hoess
C
Concentration-camp-Majdanek-Eine Historische und Technische Studie_Juergen Graf-Carlo Mattogno-2003-pdf
D
David Irving und die Lager der Aktion Reinhardt
http://juergen-graf.vho.org/articles/david-irving-und-die-lager-der-aktion-reinhardt.html
Deutscher Revisionist Germar Rudolf*English
Download Books free – Buecher frei – Jewish Lies about Germans – Luegen ueber das Reich – Germar Rudolf
E
Ein prominenter falscheer Zeuge: Elie Wiesel
Graf-Einleitung-Douglas-Reeds-Buch-Der-Streit-Um-Zion-pdf
ENGLISH – "THE FALSE JEWISH HOLOCAUST"-SEHR VIELE BEWEISDOKUMENTE GEGEN DIE HOLOCAUST LUEGE
Es geht nicht mit Rechten Dingen Zu!
Extermination_Camps Aktion Reinhardt_Long Vers._Mattogno Kues Graf 2013-pdf
F
G
German-English*Multi-Lingual*Monika Schaefer*Canada*Persecuted For Quoting History Truth
"Gestaendnis" der Deutschen in Nuernberg Unter Folter oder Todesdrohung
H
Carolyn Yeager – Hidden Auschwitz-the Underground Guided Tour
Historische Tatsachen – Nr. 01 – Udo Walendy – Kriegs-, Verbrechens- oder Propagandaopfer (1975-1994, 40 S., verboten)
Walendy Udo-Historische Tatsachen Nr.50-Wirbel Um Den Leuchter-bericht 1991-48S.Scan
Mehr Historische Tatsachen-Walendy
Prof. Hellmut Diwald*Revisionsit-Deutsch-Honsik
Der Holocaust Auf Dem Pruefstand – Juergen Graf-1998-pdf
HOLOCAUST*JUDEN KEINE RASSE UND KEIN VOLK
I
J
Jude Burg: Zionistische Verschwoerung gegen Deutschland
Rose, Franz – Juden richten sich selbst (1938, 307 S., Scan)
Judenparagraph 130 und 86-Deckert
K
Kann es ein Verbrechen sein, Fragen zu stellen? Ja, In Deutschland!
Keine Beweise fuer Nazi Gaskammern
Konzentrationslager Majdanek Juergen Graf Carlo Mattogno-pdf
Band 4: Jürgen Graf, Carlo Mattogno, Das Konzentrationslager Stutthof: und seine Funktion in der nationalsozialistischen Judenpolitik
L
Leuchter Report*Ende eines Mythos
M
Mensch Meyer – Ein Abgesang der Offenkundigkeit-Graf-Artikel
N
Neue Fantasien-Juden im Wasser verbrannt – denn die Gas Luege klappt nicht mehr

Graf-die-neue-Weltordnung-und-der-Holocaust-pdf
O
OMNIOESER VERNICHTUNGSPLAN DER VOELKER
P
Q
R
Alois Brunner die Rechte Hand von Eichmann wusste Nichts von Gaskammern
Faurisson-der-Revisionismus-Pius-xii-pd
Reinhold Elstner's Suicide Sacrifice
Das Rudolf Gutachten_Auschwitz(2001)
S
Sobibor_Holocaust Propaganda und Wirklichkeit_Graf-Kuess_Mattogno-pdf
Sogenannte Offenkundigkeit des Holoausts
T
Treblinka Vernichtungslager oder Durchgangslager_Mattogno_Graf_2002-pdf
U
Unsägliches Justizverbrechen-Gerd Ittner
V
Band 3: Jürgen Graf, "Die Vernichtung der europäischen Juden": Hilbergs Riese auf tönernen Füßen
Video: Auschwitz Survivors Who Speak the Truth
Video: Theresienstadt Concentration Camp
Video Treblinka Archeology-Farce – English-Deutsche Untertitel
Viel "Holocaust" Aber Keine Geschichte
Vom Untergang der Schweizerischen Freiheit-Graf-Artikel
Graf-Von-einem-der-auszog-Ben-Nescher-pdf
W
Wachet Auf Ruft Uns die Stimme!
Das Wannsee-Protokoll – Anatomie einer Fälschung
Rassinier Paul-Was Nun Odysseus 1960 104S.Text
Wessen Ausrottungsplan War und Ist Es Wirklich?-Zanderbusch
Wie der Durchbruch an der Holocaustfront von Sylvia Stolz vorbereitet wurde 
– Der Geist ist aus der Flasche
http://www.adelaideinstitute.org/newsletters/n367E.htm
Wiederaufnahmeantrag – von Verfahren gegen unschuldige Deutsche wegen dem Holocaust – Ursula Haverbeck
X
Y
Z
Die Zeugen der Gaskammern von Auschwitz