germanvictims.com – Im Gegenteil zu den Luegen und ihn nur in einen Hausmaler zu verwandeln (nichts gegen Hausmaler), Hitler war ein guter Kuenstler im Malen. Seine Gemaelde sprechen fuer sich selbst. Hier koennen Sie einige sehen.   
Virtual Tour of Hitler's art museum, called "Haus der Deutschen Kunst" in Munich – Opened in 1937 – you'll have to download the player – easy – takes a few seconds
Gemaelde und Video Adolf Hitler
Gemälde bei Adolf Hilter
*
Wasserfarbengemaelde by Adolf Hitler
*
Adolf Hitler als Maler und Künstler in HD – Beautiful art of Hitler in a video
https://www.youtube.com/watch?v=tpAtnoDFMeA
Background score credit: Richard Wagner's Prelude to "Die Meistersinger." Wilhelm Furtwangler conducts the 116-player Bayreuth Festival Orchestra and cast, in 1943. This was Hitler's favorite Wagner composition.
3 Gedichte fuer die Soldaten Kameraden by Adolf Hilter
*
Denk' es!
Wenn deine Mutter alt geworden
Und älter du geworden bist,
Wenn ihr, was früher leicht und mühelos
Nunmehr zur Last geworden ist,
Wenn ihre lieben, treuen Augen
Nicht mehr, wie einst, ins Leben seh'n,
Wenn ihre müd' geword'nen Füße
Sie nicht mehr tragen woll'n beim Geh'n,
Dann reiche ihr den Arm zur Stütze,
Geleite sie mit froher Lust;
Die Stunde kommt, da du sie weinend
Zum letzten Gang begleiten mußt!
Und fragt sie dich, so gib ihr Antwort,
Und fragt sie wieder, sprich auch du!
Und fragt sie nochmals, steh' ihr Rede,
Nicht ungestüm, in sanfter Ruh'!
Erklär' ihr alles froh bewegt;
Und kann sie dich nicht recht versteh'n,
Die Stunde kommt, die bitt're Stunde,
Da dich ihr Mund — nach nichts mehr frägt.
Adolf Hitler- 1923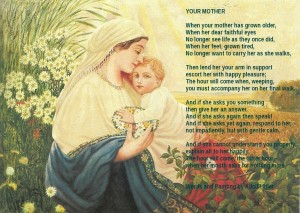 Gemälde bei Adolf Hilter