germanvictims.com – "Poland wants war with Germany and Germany will not be able to avoid it even if she wants to." Polish Marshal Rydz-Smigly as reported in the Daily Mail, August 6th, 1939

THE POLES AND THEIR JEWISH LYING LEADERS NEED TO SHUT UP ABOUT ALL THEIR WORLD WAR II LIES.
THE POLES STARTED IT!
THE JEWS WANTED IT AND PLANNED IT!
AND THE POLES WERE AND ARE THE FOOL FOR THAT. THEY COULD HAVE HAD A GOOD LIFE LIKE THE GERMANS IN 1938!!!
NOT ONLY ARE THE POLES PARTIALLY RESPONSIBLE FOR WWII, THEY ARE ALSO RESPONSIBLE FOR WHAT HAPPENED TO EUROPE, THEN AND TODAY. KEEP THIS IN MIND, POLES,  WHEN YOU OPEN YOUR MOUTH LYING ABOUT THE GERMANS. POLES STARTED THE WAR! AND ENGLAND AND FRANCE STARTED THE WORLD WAR!
GERMANY IS INNOCENT OF BOTH WORLD WARS!
* * *
GERMANS OF THE WHOLE WORLD ARISE! DON'T TAKE THE LIES FROM THE JEWISH PRESS AND THEIR HENCHMEN ABOUT YOU AND YOUR SUPPOSEDLY 'EVIL' GENES ANY LONGER! FIND OUT THE TRUTH, STAND UP AND BE PROUD TO BE GERMAN, ONCE THE MOST ADVANCED SOCIETY OF EUROPE.
IT'S THE JEWS WHO HAVE EVIL GENES. JUST READ THE OLD TESTAMENT AND THE TALMUD. MOST OF ALL READ THE TALMUD EXCERPTS ON MY WEBSITE AND YOU WILL KNOW HOW THE WIND BLOWS.
Polish German Situation Before WWII
 Perpetual War for Perpetual Peace_Harry Elmer Barnes 1953_696 pg.
###
THE HATE IN THE "CHRISTIAN" DECEIVERS
Cardinal Karol Wojtyla, 58, archbishop of Krakow, Poland was elected Pope in 1978. The new pope chose the name John Paul II in honor of his immediate predecessor, Archbishop Albino Luciani of Venice, who resigned as John Paul I for just 34 days before his death Sept. 28.
Cardinal Karol Wojtyla, (obviously a Jew with his rat face and big downward nose) was a real hateful devil, and he was promoted like crazy in the media because he was a Jew (most Popes were/are Jews).  Though Germany never did anything to the Poles, as priest or cardinal, he sang hateful murder songs with his congregation against the Germans. Also, over the centuries, the Priests and Cardinals of Poland celebrated with the Catholic Poles the torturing to death, publicly, of the Ukrainians because they did not want to change to the Catholic faith but wanted to remain with their Orthodox Christian faith. There the wives of the men and his children who had this horrible fate, were forced to watch the Torture.
And these are supposed to be men in Christ??? A Jew has absolutely no respect for Christ. We have been fooled by the Jewish-Christian religion, an invention to subdue us, to eradicate us, to eradicate Amalek, the nordic man. The devil sits in low and high priests' seats pretending to be a Christian but really is a Jew who hates Christ.
Millions of Germans were invited to come to Poland to help farm the land and build Poland. They had lived their for centuries. Millions of Germans were annexed by Poland as the Poles stole our German land after WW1. Over a Million of Germans fled right after WW1 because the Poles did just this to the Germans what is in the song below. Whoever stayed was in great danger. Before the war started, when Poland invaded German territory and Germany finally fought back for the first time on Sept. 1, 1939, the Poles attacked the German border guards many times killing and injuring many guards. The Poles also tortured to death by mutilating thousands, if not tens of thousands of ethnic Germans in Poland on annexed German land. By begin of the war between Poland and Germany, 50,000 Germans had disappeared from Poland.
Here is one of the Polish songs before the war:
Demand and song, agreed with
and sung by Polish, Jewish Probst
Cardinal Karol Wojtyla, the later
Pope John Paul II
Rota (oath)
"Brothers: Sickles in the hands!
To the battle let us hurry!
Poland's bondage has an end;
We do not want to wait any longer.
Collect crowds around you all;
Our enemy, the German, must fall!
[*He is speaking of Germans inside Poland]
Plunder, rob, scorch, burn!
He who hangs the German dogs,
He will earn God's reward.
I, the Probst, promise you for this
Guaranteed the heavenly kingdom.
Every sin is forgiven you;
Even deliberate murder,
Because we want a free Poland
Supported from place to place!
But curse the villain,
Who speaks for Germany before us.
Pope and God promises to me
Russia, Prussia must disappear,
Heil the Polish Panier!
Therefore, joyfully rejoice
"Poland Live" large and small. "
Adolf Hitler in his address to the Reichstag in on Sept. 1, 1939 – 'We are shooting Back.'
Book to purchase: The guilty Question of the Second WW
http://www.versandbuchhandelscriptorium.com/angebot/e0882trut.html
Book to purchase: The Case for Germany – by a Scott
http://www.versandbuchhandelscriptorium.com/angebot/e0103case.html
THE GERMAN-POLISH SITUATION UP TO THE OUTBREAK OF WAR
Europe was relieved to hear of the German-Polish agreement on Jan. 26, 1934.  The realistic peace determination of Adolf Hitler, together with the true sense of statesmanship of Marshal Pilsudski, had found common ground in the mutual desire to establish a new state of political relationship by direct contact between Germany  and Poland, the basic idea being to ensure the maintenance and security of a lasting peace between the  two countries. It was  realised by all those who saw in the latent tension between Germany and Poland an immediate danger to the peace of Europe that such a constructive cooperation of the two statesmen must be of interest to the whole  of Europe. It was the most earnest desire of Germany and Poland to follow up the first declaration of a 10-years pact by the development of sincere friendly relations. Such a friendship based on peaceful development would have left the door open for a friendly and acceptable settlement of all outstanding questions between the two neighbouring countries. There was no doubt  that  problems,  as  yet  unsettled,  did  exist  between  the two countries.  It  was quite clear  that  the conditions and boundaries imposed on Germany by the Treaty of Versailles were for any length of time impossible and unacceptable.  It  depended  on  the  honesty  of  purpose  of  Poland  as  to  how  far  an  arrangement of a closer understanding between the two countries could fulfil the sincere hopes of Germany and all peace-loving friends. At that time already, certain definite forces abroad were actively trying to disturb the work of conciliation between Germany and Poland. The opponents of the Third Reich were not in the least interested in a relaxation of the tension between Germany and Poland; in fact they were secretly and openly fanning the ever-glowing fires of propaganda in Poland and directed against Germany and everything German. The change of course in policy both in Berlin and Warsaw in no way suited  their plans.  Apart  from  this,  a  reconciliation  of  Poland  with her neighbour did not represent the aims of the supporters of the Treaty of Versailles, who intended that Poland should  remain  in  a  state  of  permanent  opposition  to Germany, and that she should remain as an active  instrument  in  the  encirclement policy against the Reich. As a result the enemies of friendly advances between Germany and Poland tried to stifle from the very beginning any reasonable political arrangement and any attempt at a reconciliation between Germany and Poland, by resuscitating the old differences and suspicions. With the help of extremist Polish societies and the Press, already controlled by Jewish elements, the saboteurs of conciliatory measures very soon gained the upper-hand. The intensified campaign of anti-German propaganda had an increasing influence on  public opinion and incited it against Germany and the German minority in Poland. The anti-German activity found ready response amongst Polish officials and military circles. The continued efforts of the Government of the Reich, with a view to persuading those in Warsaw responsible for the creation of public opinion to act in accord with the German-Polish Press agreement of Feb. 24, 1934, and to arrive at an effective moral disarmament within the spirit and general lines of the agreement of understanding  remained  unsuccessful.
Since the days of Versailles, the political situation between  Germany  and  Poland  had never calmed down. On the contrary the systematic deprival of the right of the German element long established in former Prussian provinces remained such a dead weight on German-Polish relations that the  greater  part  of  the  world's  opinion  was  always sceptical of the success of the German-Polish agreement of understanding. In German opinion the strong personality  of  Pilsudski  offered  in  itself  guarantee  enough  that,  in the development of the idea of an understanding, an alteration in sentiment would take place, together with a change in the hostile attitude of wide  circles  of  influence  in Poland against German minority groups. The Führer held the firm opinion that, in spite of all obstructive circumstances, the German-Polish work of  cooperation  must  be attempted and developed until the desired results had been attained. He held  that despite the disappointment of the German Government caused by the  unscrupulous Polish methods within the sphere of minority policy, as well as by the continuous anti- German press campaign, these must not be allowed to interfere with his hopes for the success of the final issue.
Even during Pilsudski's lifetime it had been clearly shown that the authority of the Marshal himself was not sufficient to make the subordinate Polish officials adhere to a just treatment of the German minority. The exaggerated Polish patriotic feeling still appeared in a more moderate way, but it had not been eliminated. For the time being suppressive measures were not so brutal, but more cunning. The political system based on the old watchword of sworn principle to exterminate everything  of German  origin, continued unhampered; full responsibility for this must be ascribed to the Polish Government. After the death of Marshal Pilsudski the mask was completely dropped. A campaign of aggressive activity, based on the desire for annexation and such aims was very soon developed in speech and in print.
The continuous efforts of Germany to bring about tolerable relations between the German minority and the Polish population were of no avail. Her efforts were completely frustrated by the sterile attitude of the Polish Government. Poland's absolutely negative attitude, marked by an unbroken chain of violations of the spirit of the German-Polish pact, and also by a continual breach of the fundamental principles governing the protection of minorities, agreed to and signed by Poland in the reciprocal minority agreement of Nov. 5, 1937 became manifestly clear when the respective representatives of the central administrative offices of both countries met in Berlin on Feb. 27, 1939, to discuss all outstanding questions,  pertaining  to  minorities.  These  unsuccessful discussions showed that Poland had no intentions of carrying on Marshal  Pilsudski's clearly defined policy of peace and harmony with his German  neighbour.  The  specific desire of the Führer for a definite settlement of the Danzig question, and that of a territorial link between East Prussia and the Reich were repeatedly  placed  before  the Polish Government in the friendliest manner. The evasive attitude, however, of Colonel Beck, Minister for Foreign Affairs, made it clearer from month to month that the Polish authorities were methodically turning their backs on any intention of agreement [p. 15] with Germany. Poland's increased resistance to any  kind  of  reparation  or  even alleviation of the injustice of Versailles as regards Germany's Eastern boundary, corresponded with the stiffening of the Polish policy towards the members of the German minority and with an intensified Chauvinistic activity of the Polish press, tantamount to a direct challenge to the Reich.
Even in the spring of 1939 it became quite clear that the change in Poland's foreign policy was being definitely advanced and guided by two forces. Polish public opinion, influenced by the Government's toleration of anti-German propaganda, was imbued with an unparalleled feeling of hatred against everything German. Any statement or expression pertaining to the daily life of the German minority was considered as an hostile act against the Polish State and in consequence the extermination of everything of German origin was put forward as a national duty. It was evident that the restraint of the German Government towards this degeneration of hatred towards minority Germans was regarded by the Polish authorities as an expression of weakness. This fateful error was the underlying motive for the vehement attacks on Germany which expressed themselves in impassioned demands for the annexation of German territory, and reached their climax in the ridiculous display of megalomania, as displayed in a demand for the River Elbe as a boundary necessary to Polish national requirements. The Polish Government gave a free hand to the perpetrators of such bellicose demonstration of annexation, as well as to the miscreants of acts of violence against the German minority in the Western provinces, who were in their turn aided and abetted by the provincial authorities. The responsibility for this feverish atmosphere was hereby placed on the shoulders of the Polish Government. This finally resulted in moral chaos in towns and in the country, accompanied by indiscriminate murders of thousands of defenceless and innocent minority Germans by Polish soldiers and armed civilians.
The question arose as to how the Polish Government could allow such a dangerous sentiment to develop in the country and to such an extent as to permit her own citizens of German origin to be surrendered to the lowest class of Polish degenerates, whose very lust for murder made them ignore constitution, law, morality and humaneness. Furthermore how could responsible Polish rulers allow themselves to be manoeuvred deeper and deeper into a condition of irreparable tension with Germany, without accounting to
State or people for the inevitable consequences of an armed conflict with Germany? The answer to this leads to the second force which influenced Poland from outside and allowed Poland to believe that all further consideration towards the German minority or the Reich could be dropped. This force was England, was the guarantee of assistance given by the British Government to Poland, and the British active influence to use Poland as a pawn to stimulate the British encirclement policy so thoroughly as to kindle the fires of war — a war which had been prepared long beforehand, and was intentional, and which actually broke out in connection with Danzig and the Corridor. As England was guaranteeing this diabolical scheme, Warsaw was of the opinion that no moderation or consideration of action as to avoiding overdoing anything was necessary. England had guaranteed the integrity of Poland! The British promise of assistance to Poland had provided the latter with the role of a political battering ram. Since then, and conscious of this, Poland had permitted herself to challenge the Reich in every conceivable way and, in her delusions, even dreamt of a "victorious battle before the gates of Berlin." Had the British war clique not continually urged Poland into an obstinate resistance towards the Reich, and had it not been for Britain's promises, of which she felt perfectly sure, it is very doubtful whether Poland would ever have allowed things to go so far, as to make the signal for the removal of Germans in the eyes of Polish military and civilians equivalent to a signal for the murder and bestial butchery of German people (1).
(1)    The British Government must have known, having due regard to the temperamental national character and inclination to extremes of political megalomania, of the likewise anti-German propaganda carried on in the Press for years and worked up against Germany and the German minorities some months before the War to a definite state of aggressive bloodthirstiness. She must have known that her active interest in the warlike policy of Poland, backed up by the pact of assistance, would of necessity be the cause of national hatred, spreading like an epidemic and resulting in the most unbelievable and bloody outrages on German citizens. If the British Government had not realised the delirious effect on Poland of the pact of assistance which was responsible for the ghastly consequences, then it would appear that the extent of the bestiality of the Polish atrocities on Germans must prove England to be even more guilty of the bloodshed. Only he who moved amongst Poles during those decisive weeks could really measure the direct destructive effect of Chamberlain's guarantee of assistance on the Polish mentality and psychology.
Without the blank cheque given by Great Britain to Poland the latter would never have so frivolously rejected the unique offer for compromise made by the Führer, as was made public in his speech in the Reichstag on April 28, 1939, or would Poland ever have started her war machinery or opened the doors to the Provincial governors' policy of extermination of the German minority. The German minority in Poland had long since been gagged and deprived of all rights (2).
(2)    The terrific losses caused to German interests in Poland during the Polish domination can be given in figures under the heading of emigration, expropriation, closing of German schools,  as follows: up to the middle of 1939, 1.4 million Germans under the pressure of Polish officials had emigrated from Posen-West Prussia and from Upper Silesia. German settlers had lost 1,263,288 acres of land and of these 265,288 acres due to the one-sided Agrarian  Reforms  unilaterally applied against Germans, 998,000 acres due to cancellation and liquidation. Of the 657  public German minority schools in existence in 1925 (in 1927 only 498), only 185 were left at the beginning of the school year 1938/1939 (of these 150 in Posen-West  Prussia and 35  in  Upper Silesia).
Thousands of German enterprises and independent German businesses had been systematically destroyed by cancellation of orders, boycott, by taxes rigorously calculated and even more vigorously applied, withdrawal of concessions, confiscation, and the refusal of permits for the purchase of land. Innumerable German workmen and employees, for the greater part old and trusted hands, were made victims of mass dismissals, based on political race discrimination, and were driven from their normal areas of work and reduced to a condition of absolute penury with no further means of existence. The one-sided application of the Agrarian Reform Laws and the regulations governing frontier zones forced old established German settlers to emigrate. German church services were disturbed, German newspapers were seized one after the other; and the use of the German language was made impossible either in the street, in shops or restaurants. Germans were attacked in the open country, in their homes and on their farms. From May 1939 onwards prohibition orders and punishments literally hailed down upon them. The closing down of schools, kindergartens, libraries and German clubs, the elimination of cooperatives, cultural and charitable societies, and the personal threat to each individual, increased to an unimaginable degree, quite contrary to the rights of the German minority as guaranteed by the Constitution.
Edited and compiled by Hans Schadewaldt, Volk und Reich Verlag, Berlin, 1940, based on documented evidence.
~~~~~~~~~~~~~~~~~~~~~~~~~~~~~~~~~~~~~~~~~~~~~~~~~~
GERMANY IS NOT RESPONSIBLE FOR WWII
 "Poland wants war with Germany and Germany will not be able to avoid it even if she wants to." Polish Marshal Rydz-Smigly as reported in the Daily Mail, August 6th, 1939 
Radio Talk:
German Response to Poland:
http://www.blogtalkradio.com/american-nationalist-network/2013/09/06/world-view-conversations
The Unknown History of the 1939 German/Polish conflict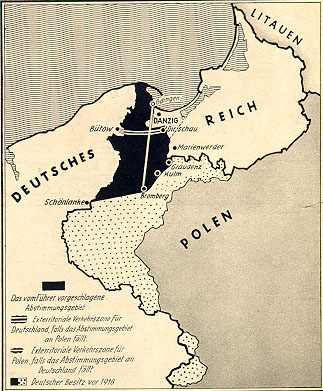 AUGUST 26, 1939
1) Poles attacking plane of Secretary Stuckart returning from Danzig!
2) Poles create a blood bath among German refugees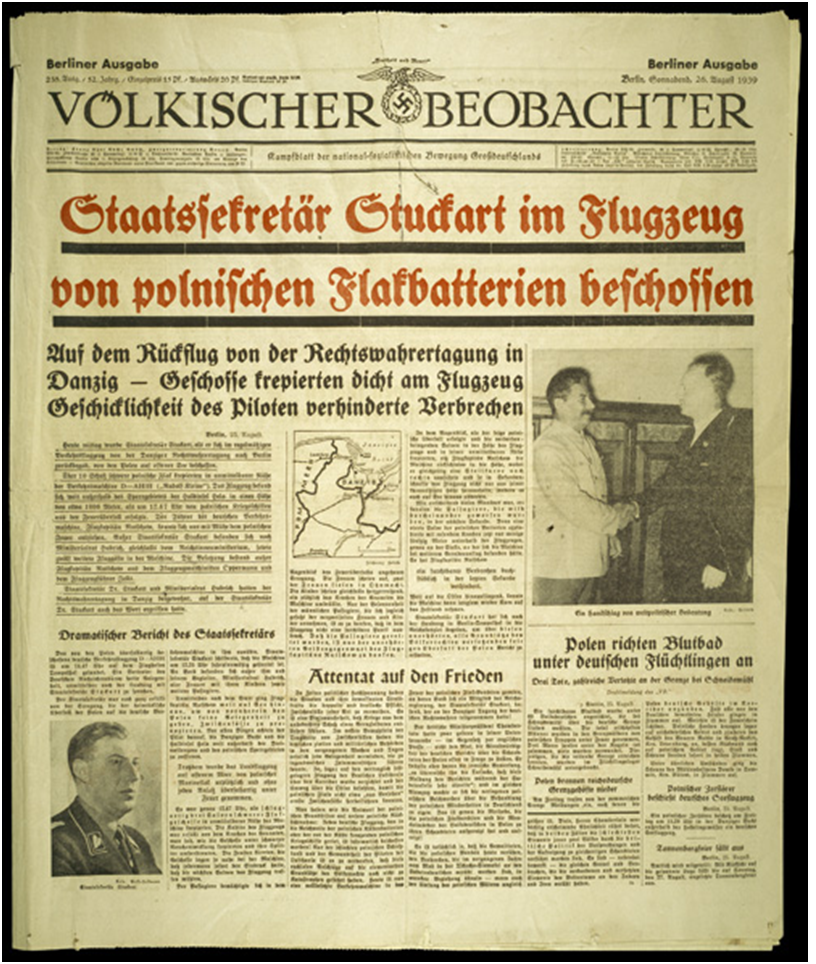 BY CLICKING SEVERAL TIMES YOU CAN ENLARGE AT LEAST THE SECOND PAPER – Freiburger Zeitung August 31, 1939
– Gefecht mit Danziger Grenzschutz
-Wie Moerder gefesselt verschleppt
-Deutsche Muetter und Kinder zur Schanzarbeit gepresst
AUG. 31, 1939 – POLISH ATTACK AT THE BORDER – GERMAN WOMEN AND CHILDREN DRAGGED OFF IN CHAINS BY THE POLES FOR SLAVE LABOR WORK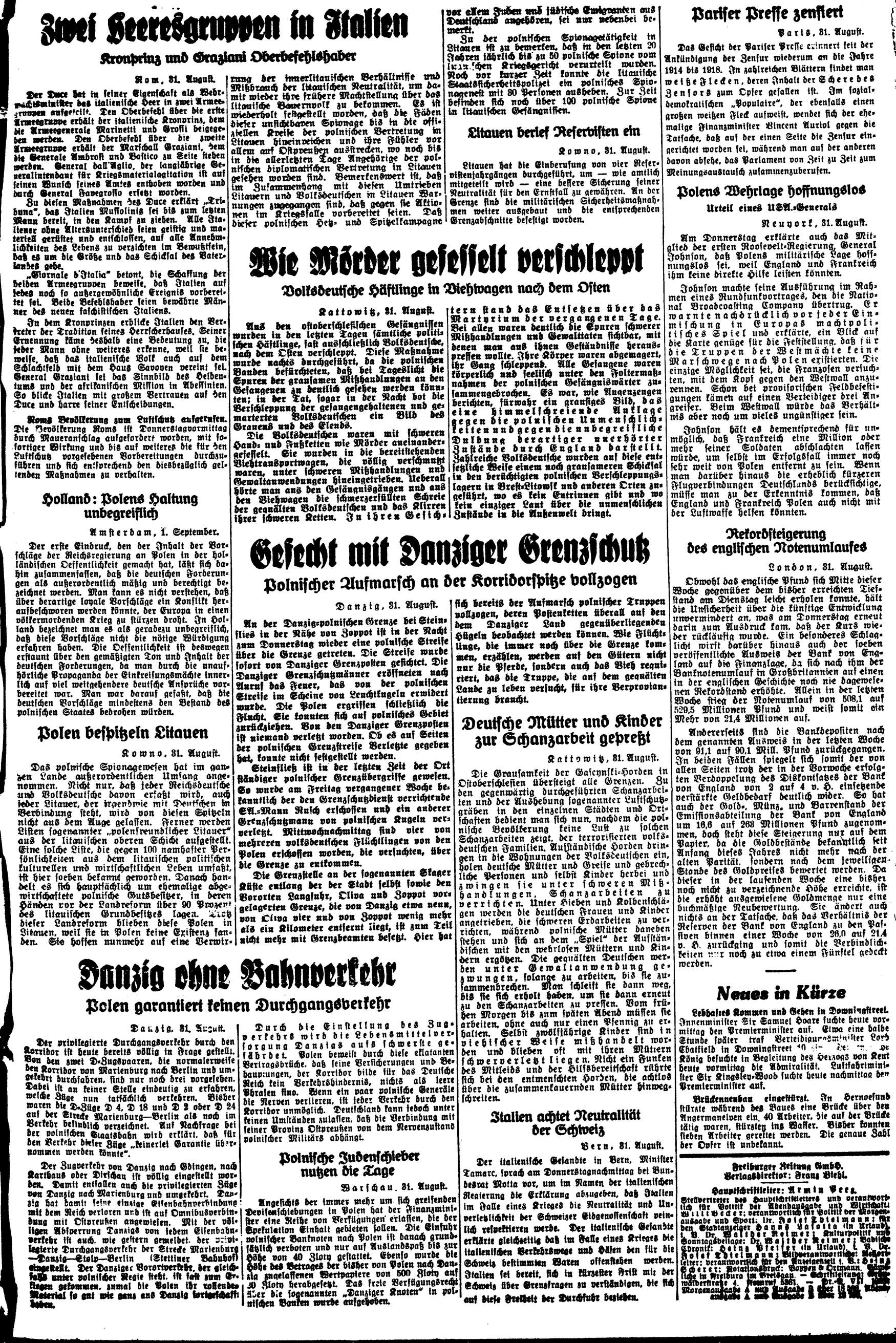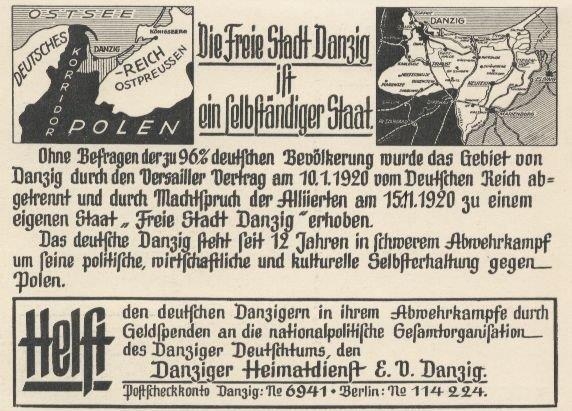 The Fault of WWII – from "Das Unrecht an Deutschland" – Franz Scheidl
The efforts of Roosevelt and American Jewry to trigger WWII.
As long as the government of Germany does not allow the truth to come forth as to who is at fault of WWII, Germany will never be restored as a full member partner.
WWII is not Germany's fault. It is the fault of the Allies. Roosevelt was determined to lead the Americans into war and this even though Germany has not at the slightest threatened the U.S. Germany ignored the attacks of Roosevelt on German ships, as to not give Roosevelt any reason to accuse Hitler of wanting war because Hitler knew that this is what Roosevelt wanted, war.
Roosevelt explained: "It was our aim to maneuver the Japanese into firing the first shot." Oliver Lyttleton said in his speech before the American Chamber of Commerce in London: "America has so provoked the Japanese, that the Japanese were forced to attack Pearl Harbor."
After this happened, the American Public wanted war. Roosevelt knew to the day and hour of the attack on Pearl Harbor as the Americans had deciphered the Japanese codes! But he did nothing, on purpose. He wanted it. He even went on vacation to make it look like he had no idea. The whole Pacific fleet was destroyed and 30,000 American soldiers and civilians lost their life. To get the Morgenthau (Jew) war against Germany on the road, Roosevelt had 30,000 American citizens killed. Roosevelt's wife said that she had not seen her husband as happy as that in a long time when he heard of the horrible attack on Pear Harbor.
During the re-election in October 1941, Roosevelt said: "I've told you mothers and fathers earlier, but I want to repeat it again and again, your sons will not be sent into foreign wars."
The whole world Jewry pushed all of the Western powers into a war against Germany. The repeated war declarations by the Jewry against Germany and the horror propaganda against Germany was so intense and so expansive, that chancellor Hitler said on 31 Jan. 1939, "If the Jews will succeed in pushing people into a world war, the result will be that the Jews will be destroyed."
Hitler made very reasonable demands on Poland. (Prof. Hoggan, Harvard University). Germany offered Poland a guaranty. Germany did not want any Polish territory, just a corridor for a train and Autobahn, and the return of the city of Danzig (97% German) to Germany. Hitler tried to negotiate with Poland until the last days before he returned fire, but Poland had already decided in March of that year to have no real talks with Hitler due to British finagling.
The fault of the war between Germany and Poland lies with Poland, and the fault of the World War lies with England, primarily. Halifax declared about Hitler: "Now we have forced him into war and he no longer can correct the Versailles contract piece by piece."
Polish General Sosnkowski declared on 31 August 1943: "The decision by Poland on 30. August 1939… designated a change in the history of Europe. Hitler was with this put before the necessity to have war, at a time when he wanted nothing but non-bloody conquests."
Historian Prof. Taylor (Oxford) in his book "The Cause of the Second World War," 1961 brings a blow against the war fault lie.
Prof. E. Barnes describes the whole pre-war history in his report: "How Roosevelt Forced WWII," starting with Roosevelt's talk in Chicago on 4. Okt. 1937 until his official entry into the war on 7. December 1941. It describes how Roosevelt switched to war after his disastrous economic policy. "War and mobilization will be the means with which we can stop the depression…"
In 1933 already he wanted war against Japan to change the depression in the U.S.. Already in 1941 Churchill assured that the USA is on the side of England.
Prof. David Leslie Hoggan writes in his works: "The Forced War," 1961, that Hitler was not at fault of WWII as much as the Kaiser was not at fault at WWI."
War Minister Forrestal writes: "This war will enter into history as Roosevelt's war." "America in the fight for the Continents." He writes in the same book: "The new history will probably never show any documents that Hitler wanted war. His diplomatic reasonability, forthcoming, and understanding for the needs of other countries was unprecedented. Poland did not even show him a reception. Poland received an assurance from Roosevelt, Great Britain and France to be on her side. Chamberlin said: "Even after close inspection of all archives, there was no proof that Hitler had any plan of an offensive against the west."
"Austria was not conquered with weapons – instead Hitler brought unity and order into the old heart of Europe." Rev. Peter H. Nicoll.
"Hitler did not awaken the unhappiness of the Sudetenland. To the contrary, diplomats worked on calming any disturbances amongst the Sudetendeutschen in Boehmen."
Brit. Captain Ramsay, Member of the Lower House from 1931 to 1945 gave lots of information about the causes of the war.
Anneliese von Ribbentrop shows the causes of the war in her works: "Die Verschwoerung gegen den Frieden." (Druffel Verlag, 1962).
Many books have been written that follow the same confirmations that Hitler is not guilty of WWII:
Walter Reitenhart, "Kriegsschuldforderung" (Tuebingen, 1954)
Dr. Rumpf, "Der Hochrote Hahn" (Frankfurt)
Helmut Suendermann "Die Pioniere und die Ahnungslosen." (Starnberger See)
Graf Szembek, Undersekretary of the Polish Diplomat, "Tagebuch"
etc.
*compliled from the book, "Das Unrecht an Deutschland, Band 6," Franz Scheidl.
INSTITUTE FOR HISTORICAL REVIEW
Excerpt from
American Policy Toward Europe: The Fateful Change
Notes On The Legacy Of Woodrow Wilson And Franklin Roosevelt
By Karl Otto Braun
How did America come to war against Germany, the heart of Europe? Could not Roosevelt have acted as a great peacemaker by mediating the Danzig conflict in 1939, instead of instigating the Poles against Germany? Roosevelt knew full well that war between Germany and Poland would mean the end of Poland. Just a week before the outbreak of war, a traitor in the German embassy in Moscow informed the U.S. government that Germany and the Soviet Union had agreed to divide Poland between them. /24 Roosevelt knew this but refrained from telling the hapless Poles. Veteran New York Times correspondent Harrison Salisbury reports in his memoirs that Roosevelt knew in advance of the German-Soviet pact of August 1939 and could have delayed (or prevented?) war had he leaked this information to the press. /25 The American President could very possibly have saved the peace in 1939. Instead, he fed the American people inventions about a hypothetical German plot to take over the United States and the whole world. Of course, a Germany which was incapable of crossing the English Channel to conquer Britain had not the slightest ability (or intention) of conquering America from across the Atlantic ocean. Roosevelt and Truman should have easily realized that Churchill's 1934 dream of finally destroying Germany for all time and subjecting her to a new super-Versailles would end in global chaos. /26 Bullitt's prophecy became reality […]
About the author
Karl Otto Braun (1910-1988) was a German diplomat and historian. From 1938 to November 1940, he served in Japan as a cultural attaché with the German embassy in Tokyo and as an economic affairs Vice Consul with the German Consulate General in Osaka. From 1941 until the end of the Second World War he was with the East Asia section of the Political Department of the German Foreign Office in Berlin. During the final two years of the war, he headed the section
– http://www.ihr.org/jhr/v10/v10p237_Clive.html
*********************************
95% of what is written and said in the mass media about the Reich is  lies and defamation to distract from Allied crimes. So it is with who started WWII. Poland committed many acts of war against Germany over several months before Germany responded militarily. The so-called current "German" government, but in reality Jewish/Allied government, commits ongoing acts of treason by defaming the German people with lies. Mrs. Merkel, a Pole, especially insists on hiding the truth about the Polish aggressions. Is that not treason of the worst kind?
GERMANY LOVED PEACE
By Admin
Following WWI, after the Allies stole much German land and handed it to Poland, Millions of ethnic Germans were driven off their homes and land by the Poles (similar to the Palestinians). They lost all their possessions and their homeland. Throughout the 20+ years before WWII, Millions more ethnic Germans suffered the same fate or were tortured to death in the most gruesome ways imaginable.
Expulsion
After the commentary, there is an excerpt from the German White Book on the last days before war regarding Poland. Also below is Adolf Hitler's speech regarding "shooting back at Poland," meaning that was a response, not an aggression. This was in reply to ongoing torture/murders of ethnic Germans and ongoing border aggressions by the Poles amidst a repeated unwillingness by Poland to negotiate. The endless disregard by Poland of Adolf Hitler's many efforts to come to some solutions over the Polish-German disputes, primarily having access to the German city of Danzig, prompted Adolf Hitler to fight back to protect the German minority in Poland. He said in his speech: "…from now on we will repay every bomb with a bomb."
Here is a comment by a historical eye witness, Ernst Kriesner, born in 1939, who was 11 years old at the time war started: 
It was a big shock to us when War was declared on us by the United Kingdom and France on behalf of Poland who created Hell on Earth for us, the people of the Free City of Danzig, with a 97.6 % pure German population of a mere 408,000.
What Poland wanted, and did not get under the terms of the Versailles treaty, was, by hook or by crook, our piece of Prime Real Estate. That piece of prime Real Estate with a Harbour City to boot, comprised an area of some 2,000 sq km, or to put it in other terms, twice the size of present Singapore.
The Polish argument went like this; the River Vistula, one of the main Waterways of Europe, primarily flows though Poland. Therefore, Polish politicians contended: The mouth of the River must belong to Poland also, and to Hell with the pure German population!
Against this outrageous demand by Poland it must be pointed out: The River Rhein [Renus] primarily flows through Germany, but what would the Dutch people say if Germany would lay claim to Rotterdam?
Surrounded by 35 Millions Poles, armed to the teeth, we the people of the Free City of Danzig, made totally defenseless by the Geneva League of Nations, with nobody being permitted to have any firearms, not even the Police, massive Polish aggression was upon us from the word go, from the very day of the establishment under International law of the Free City of Danzig, November 15, 1920.
To bring us down to our knees, Poland, having been given control over our Harbour, customs, foreign affairs and protection of the Free City, did engage in terror tactics, in economical warfare to the effect that nobody, but the Soviet Union, was allowed to trade with us. In order to put the economical screws even tighter, Poland then, with the help of French capital, did build herself a new Harbour at Gdynia, diverting all shipping away from Danzig.
But even that was not enough in order to make us poor people  kowtow to Polish daily tyranny. Life, normal and more happy times were to come for us when, even before Adolf Hitler came to power, the National Socialists gained majority in the Danzig Senate and Parliament. From then on all we wanted, the people of the Free City of Danzig, was to be returned to Germany as it was before the Versailles treaty. Poland, however, had other ideas and did everything possible in ways of open aggression, provocation, tyranny and murder to prevent this unification from happening.
And the rest, as they say, is history. History as written by the Victors.
Ernst
Here is data from the German White Book recording the situation in the last days before to Outbreak of WWII.
The full text is available in PDF Format or on the weblink below.
By Sweetliberty.org:   Note on the German White Book
The German White Book, presented herewith, is a collection of official documents and speeches, not a collection of uncontrollable conversations. It does not pretend to cover the entire field of German-Polish relations but, as the title implies, concerns itself solely with the last phase of the German-Polish crisis, from August 4th to September 3rd, 1939.
The Polish-German controversy concerning the Corridor, Upper Silesia and Danzig, began in 1919; it has never, since the signing of the Versailles Treaty, ceased to agitate Europe. For many years intelligent commentators and statesmen of all nations, including Great Britain, agreed that the separation of East Prussia from the Reich and, indeed, the whole Polish settlement, was unjust and fraught with danger.
Germany, again and again, made attempts to solve the differences between the two countries in a friendly spirit. It was only when all negotiations proved vain and Poland joined the encirclement front against Germany, that chancellor Hitler cut the Gordian knot with the sword. It was England that forced the sword into his hand.
Great Britain asserts in her Blue Book and elsewhere that she was compelled to "guaranty" Poland against "aggression" for reason of international morality. Unfortunately the British Government subsequently admitted (Under-Secretary of State Butler, House of Commons, October 19, 1939) that the "guaranty" was aimed solely against Germany.
It was not valid in case of conflicts with other powers. In other words, the British "guaranty" was merely a link in the British encirclement chain. The Polish crisis was deliberately manufactured by Great Britain with the connivance of Poland: it was the fuse designed to set off the explosion!
Great Britain naturally attempts to becloud this fact. Official British statements on the outbreak of the war place great emphasis on the allegation that England did not give a formal "guaranty" to Poland until March 31, 193, whereas the German demand on Poland, which Poland rejected, was made on march 21st. Britain contends that the British "guaranty" was merely the consequence of the German demand of March 21st.
Britain denies that her "guaranty" stiffened Polish resistance. She insists that Germany took advantage of a moment of highly strained international tension by springing upon Poland her demand for an extra-territorial road through the Corridor between the Reich and East Prussia.
The British ignore a vital fact in this connection. The existence of the "guaranty", not its formal announcement, was the decisive factor. The future may reveal when the British promise was first dangled before Poland. In any event, Poland was assured of British aid before March 21st.
Chamberlain's speech of march 17, 1939, and the statement by Lord Halifax of March 20th, (both reprinted in the British Blue Book) leave no doubt on that question. The British "guaranty" was in the nature of a blank check. Poland did not know when she marched to her doom, that the check would not be honored.
The allegations that the Poles were surprised or overwhelmed by the German proposals, does not hold water. Poland was fully informed of the German demands. When as Herr von Ribbentrop points out in his Danzig speech (October 24, 1939) chancellor Hitler in 1934 concluded a Friendship and Non-Aggression Pact with Marshal Pilsudski, it was clearly understood that the problem of Danzig and the Corridor must be solved sooner or later. Chancellor Hitler hoped that it would be solved within the framework of that instrument.
Poland callously disregarded her obligations under the German-Polish Pact, after the death of Marshal Pilsudski. The persecution of German minorities in Poland, Poland's measures to strangle Danzig economically, the insolent manner the Polish Government chose to adopt with the British blank check in its pocket and the Polish mobilization frustrated chancellor Hitler's desire to settle Polish-German differences by peaceful negotiation, as he had solved every other problem arising from the bankruptcy of statesmanship at Versailles.
No one can affirm that the National Socialist Government did not attempt with extraordinary patience to impress upon Poland the desirability of a prompt and peaceful solution. The Polish Government was familiar with the specific solution proposed by Chancellor Hitler since October 24, 1938. The nature of the German proposals was discussed at least four times between the two governments before March 21, 1939.
On October 24, 1938, von Ribbentrop, the German foreign Minister, proposed to the Polish Ambassador, Lipski, four steps to rectify the injustice of Versailles and to eliminate all sources of friction between the two countries…
You may read on in the attached PDf or on the website link.
German White Book Link regarding Poland
PDF at:
http://archive.org/details/GermanWhiteBookOnPolandLastDaysBeforeWwii
http://www.sweetliberty.org/issues/wars/whitebook/1.shtml
*********************************************************
Death Marches of German Captives in Poland
In this speech, Adolf Hitler explains that the German people are no longer willing to allow the torture and murders of tenths of thousands of ethnic Germans in Poland and the ongoing attacks by the Poles on the German border. This time the Poles went too far by invading German land with their military and Germany will RESPOND (not attack, as attacking is an initiation) with military action! (The deceivers in history call it an attack!)
Reichskanzler Adolf Hitler's Full Speech
September 1, 1939 before the Reichstag in Berlin
First, a brief excerpt:
Deputies, Men of the German Reichstag!
…The German minorities living there are abused in harrowing ways. Already in 1919/1920 over one million ethnic Germans were driven off their land by the Poles….
…There were attempts made to excuse their actions against the Germans by claiming that these come in response to provocations. I do not know what type of "provocations" those women and children had allegedly perpetrated who were abused and abducted. Nor can I imagine what provocations had been perpetrated by those who were most sadistically and most bestially tortured and murdered. That I do not know! Only one thing I do know, there is no great country of honor that would allow these acts to go on over time!…
…My Deputies! Can someone ask of the German Reich and its head of state to tolerate this? And if the German Reich and its head of state would endure this, then the German nation would deserve nothing better than to take leave of the political stage! And here they have fundamentally deceived themselves! One should not confuse my love of peace and endless forbearance with weakness, or even cowardice!…
…I am determined to battle until either the present Polish Government is willing to bring about these conditions, or until another Polish Government shall be willing to do so. I want to remove this element of insecurity, these eternal civil-war-like conditions from the German [Polish] borders! I want to ensure that our borders in the East enjoys the same stability as our other borders…
…For the first time last night, Polish military invaded our territory and attacked from our soil. We have now been returning fire [not started fire!] since 5:45 a.m! And from now on, we shall repay [not initiate] bomb for bomb!…
The Full Speech:
We are all suffering for months in agony over a situation that, partially, the contract, actually diktat, of Versailles has brought upon us. This is a calamity that in its depravity and degeneracy has now become unbearable. Danzig was a German city and is a German city! The Corridor was German and is German! All these regions owe their cultural development exclusively to the German Volk. Without the German Volk, these eastern regions would still be ruled by severe barbarism. Danzig was torn from us [by Poland]. The Corridor along with other German territories in the East was annexed by Poland! The German minorities living there are abused in harrowing ways. Already in 1919/1920 over one million ethnic Germans were driven off their land by the Poles.
As always, I also tried here with peaceful revision proposals to bring about a change in this unbearable situation. It is a lie, when they claim in other parts of the world, that we proceeded only with pressure. Fifteen years before National Socialism's rise to leadership, there were opportunities to bring about these revisions by most peaceful understanding. Nothing was done. In every single case, I initiated the proposals, not once but frequently, to revise these intolerable conditions.
As you know, all my proposals were rejected. I do not have to list every single one of them: my proposals on the limitation of arms, and if necessary, even for the complete elimination of weaponry; my proposals for limited warfare; for the abolition of methods employed in modern warfare that, in my eyes, are hardly reconcilable with international law. You know of my proposals regarding the necessity to restore German sovereignty over German Reich territory. You know of the endless attempts I made for a peaceful resolution and coming to some understanding regarding the Austrian situation, and later over the issues of the Sudetenland, Bohemia, and Moravia. It was all futile. It is an impossible situation, to demand that an unworkable condition be removed with peaceful revisions and then to refuse these peaceful revisions consistently!
It is also an impossible standpoint to say that someone in this position, who makes a move for modifications from his end, is breaking a law. Because the Diktat of Versailles is not a law for us Germans! It was forced on us! It is not sensible to coerce a signature whilst pointing a gun with the threat: 'Sign, or Millions of your people will be starved to death [1] by us,' and then ceremoniously proclaim this document official law!
I also attempted in the case of Danzig, the Corridor, and so on, to solve these deteriorating conditions by peaceful proposals and discussions. That these problems had to be resolved was obvious! That the Western States were possibly unconcerned with the time table is understandable. Yet, this time table is not indifferent to us, and most of all, it was not and could not be indifferent to the victims, who suffered the most.
In my discussions with the Polish statesmen, I presented those thoughts-the ones you already learned of in my last speech before the Reichstag-and talked them through. No man could have said or insisted that this was an improper action or even that undue pressure was applied. I did, however, use the opportunity to finally formulate the German suggestions. And I must repeat here once again, that nothing more loyal or modest exists than these proposals then brought forward by me. And I want to say this to the world: Only by myself was I even in a position to make such proposals, because I know very well that in doing so I brought myself into opposition to millions of Germans.
These proposals have been refused. But not only that, they were answered
1. by mobilization, and
2. with increased terror,
and with an intensified force on the ethnic Germans in those regions. Further, a deliberate strangling assault took place in the free city of Danzig commercially and politically with customs duty maneuvers. Then finally, in the last few weeks, exploits in military and traffic logistics took hold. Poland has unleashed a battle against the free city of Danzig! It was further not willing to solve the Corridor question in the least costly way that would have rendered justice to the interests of both parties. And ultimately it has not been concerned with upholding its responsibilities toward its ethnic minorities.
And here I must point something out: Germany has fulfilled its obligations! The minorities living within the Reich are not persecuted. There is not one Frenchman who can stand up and proclaim that the 50,000 to 100,000 French living in the Saar territory are being oppressed, tortured, or robbed of their rights. None can say that!
I have calmly observed this situation for four months now; however, not without repeated warnings. And I have intensified these warnings lately. Already more than three weeks ago, I had informed the Polish Ambassador that if Poland should make further ultimatum threats to Danzig, if it should implement further repression measures against the Germans there, or if Poland should attempt to destroy Danzig economically by employing customs politics, then Germany could simply no longer be expected to stand by without taking action. And I left no doubt that in this context one should not confuse the Germany of today with the Germany of the past.
There were attempts made to excuse their actions against the Germans by claiming that these come in response to provocations. I do not know what type of "provocations" those women and children had allegedly perpetrated who were abused and abducted. Nor can I imagine what provocations had been perpetrated by those who were most sadistically and most bestially tortured and murdered. That I do not know! Only one thing I do know, there is no great country of honor that would allow these acts to go on over time!
I also tried one last time, even though-I must admit-in my heart I was convinced that the Polish government is not serious about attaining a real understanding, perhaps as a result of their dependence on the now unleashed wild bands of soldiers. I tried one last time to accept a mediation proposal from the British government. Brittan did not want to negotiate themselves, but suggested and guaranteed that they would open a direct line of communication between Poland and Germany to initiate in this way talks once more.
Now I must determine the following: I accepted this proposal. I worked out fundamentals for these talks that you are familiar with. And so I sat here for two full days with our government waiting if it would please the Polish government to send us an authorization or not. They did not send us an endorsement last night but informed us via their ambassador that they are currently considering whether, and to what extent, they are in a position to comply with the English proposals and that they would let England know.
My Deputies! Can someone ask of the German Reich and its head of state to tolerate this? And if the German Reich and its head of state would endure this, then the German nation would deserve nothing better than to take leave of the political stage! And here they have fundamentally deceived themselves! One should not confuse my love of peace and endless forbearance with weakness, or even cowardice!
I have therefore decided last night to also inform the British Government that under these conditions I can no longer see any goodwill by the Polish Government to enter into any serious talks with us. It follows, the mediation suggestions have failed. For meanwhile, we had indeed received their first answer to our proposals, namely a general mobilization in Poland and their second answer by renewed atrocities. These incidents were repeated tonight. After we already had twenty-one attacks at the border in just one single night, we had fourteen incidents tonight, three of them very serious. That is why I have resolved to speak to Poland in the same language Poland has been speaking to us for months now!
If the statesmen in the West go about declaring that this infringes on their interests, I can only regret this declaration. But this cannot make me waver for a second in the fulfillment of my duty. What more is wanted from us? I have solemnly assured, and I'll repeat it, that we do not demand anything from the western states and shall never demand anything of them in the future. I have pledged that the border separating France and Germany is a final one. Time and time again I have offered England friendship, and if necessary the closest cooperation. But love cannot be offered only from one side. It must meet with reciprocation by the other.
Germany has no interests in the West. Our Westwall delineates the Reich's border to the West for all times. Our ambitions for the future are not any different. And nothing shall ever change the Reich's standpoint in this matter. The other European states, in part, comprehend our stance. Here I wish to thank Italy, above all, for supporting us the entire time. But you understand that I do not want to appeal to a foreign power for assistance in this battle. We will carry out our responsibilities by ourselves.
The neutral states have basically assured us of their neutrality just as we had earlier guaranteed them our neutrality. Our assurances are made in sacred earnestness. As long as other powers do not violate their neutrality, we shall likewise respect them scrupulously, for what would we wish or demand from them?
But I am happy to inform you of one development in this situation. You know that Russia and Germany are governed by two different doctrines. There was but one question that needed to be clarified: Germany has no intention to export its doctrine. At the moment that Soviet Russia no longer thinks of exporting its doctrine to Germany, in that same moment I no longer see any cause, not even once, for us to take up positions against each other.
And both of us have gained complete clarity that every battle between our two nations would merely benefit others. Hence we have decided to enter into a pact that shall preclude the use of force between us for all times! It obligates us to seek mutual consultation in certain European questions, it shall render possible economic cooperation and, above all, it shall ensure that the strengths of these two great states are not squandered in rivalry with each other. Every attempt of the West to change this is doomed to failure! I want to ascertain here today that this political decision denotes a tremendous turning point for the future and is a final one!
I believe the entire German people will welcome my political stance. Because Russia and Germany fought each other in WWI only for both to become the victims in the end. This shall not happen a second time and will not happen again! Yesterday the Non-Aggression and Mutual Consultation Pact was ratified in Moscow and Berlin and put into effect at that moment. In Moscow this pact was as warmly received as you receive it here. I second every word of the Russian Foreign Commissioner Molotov's speech.
Our Goals
I am determined to resolve:
1. the question of Danzig and
2. the question of the Corridor, and
3. to bring about a change in German-Polish relations, so as to warrant     peaceful coexistence
I am determined to battle until either the present Polish Government is willing to bring about these conditions, or until another Polish Government shall be willing to do so. I want to remove this element of insecurity, these eternal civil-war-like conditions from the German [Polish] borders! I want to ensure that our borders in the East enjoys the same stability as our other borders.
I will take the measures necessary in an approach that does not contradict what I have pronounced to be my proposals to the world before you, my Deputies, and the Reichstag. This means I do not wish to lead this war against women and children. I have ordered my Luftwaffe to limit its attacks to military objectives. Should, however, the enemy regard this as a license to fight with opposite measures against us, then he shall receive an answer that will beat him senseless!
For the first time last night, Polish military invaded our territory and attacked from our soil. We have now been returning fire since 5:45 a.m! And from now on, we shall repay bomb for bomb! He who fights with poison will be fought with poison gas! He who distances himself from the rules of humane warfare conduct, cannot expect anything from us but retaliation. I will lead this battle so long, regardless against whom, until the security and the rights of the Reich are secured.
For over six years I've worked on the rearmament of the German Wehrmacht. During this time we expended over 90 billion Reichsmark for this purpose. Today it is the best equipped and far above any comparison with our military in 1914. My confidence in it is unshakeable!
As I called up this Wehrmacht, and when I now call for sacrifice from the German people, and if necessary, all sacrifices, then I have a right to do so. Because today I am as willing as I was before to make every personal sacrifice. I ask of no German man something other than what I volunteered for and was always willing to do for four years.
There shall be no sacrifice in Germany that I would not take upon myself immediately. My whole life belongs from now on more than ever to my Volk. I want to be nothing else today but the first soldier of the German Reich. I have put on the suit that once was to me the most holy and dearest. I shall only take it off again after the victory, or I will not live to see it.
Should something happen to me in this war, then my immediate successor shall be party comrade Göring. Should anything happen to party comrade Göring, then his successor shall be party comrade Hess. Your duty is to give these men-as your Führer -the same blind loyalty and obedience you gave me! Should anything happen to party comrade Hess, then through the offices of law I shall call upon the Senate to determine the most worthy, i.e. the most valiant man from its midst.
As a National Socialist and German soldier, I go into this battle with a strong heart! My whole life was but one continuous struggle for our people, for our resurrection, for Germany. This struggle was governed by only one principle, faith in our people! There is one word I never knew, capitulation! If anyone now believes that we are facing severe times, then I would like to ask him to bear in mind that once a Prussian king with a laughably small state faced off the greatest coalition, and three battles later, he stood in victory. For he possessed that strong, believing heart, a heart we also need in these times. I would like to assure the world around us of one thing, that a November 1918 shall never repeat itself in German history!
Since I myself stand ever ready to lay down my life for my Volk and Germany-anyone can take it from me-I demand the same of everyone else! Whoever believes he can set himself against this national commandment, be it direct or indirect, shall fall! Traitors have nothing to expect but death! All of us pledge ourselves here to the one ancient principle: It is totally unimportant if we live. But it is necessary that our Volk lives, that Germany lives!
I expect of you as the Reich's emissaries that you shall do your duty at whatever posts you may be assigned to! You must carry the banner of resistance forth, regardless of the cost. None report to me that morale is low in your district, your circuit, your troupes, or in your cabin. The one responsible for morale is you—the responsibility is yours! I am the one responsible for the morale of the German Volk. The responsible carrier of good morale is you. I am responsible for the morale of the German people. You are responsible for your districts and circuits. No one has the right to cast off this responsibility. We are now not asking so much about any kind of good morale but exclusively about duty. And the duty is lined up. The sacrifice demanded of us today is no greater than the sacrifice made by countless earlier generations. All the men who before us had to set out on this most bitter and hardest path for Germany have not sacrificed and accomplished anything other than what we also must accomplish. Their sacrifice was not less valuable or less painful, and so it was not an easier sacrifice than ours would be, what is asked from us!
I expect from the German woman that she will be a role model and integrate herself into this great battle community with iron discipline. The German youth certainly will fulfill with a radiant heart the tasks the nation, the National Socialist state, expects and demands of it. When we build this community, sworn together tightly, ready for anything, never willing to capitulate, then our will shall master all difficulty!
I want to conclude with the declaration I once made as I began my struggle for leadership in the Reich. Back then I said: When our will is so strong that no hardship can dominate it, then our will and our German 'steel' will conquer the hardship!
Germany – Victory in Well Being! [Sieg Heil]
[1] The Allied Hunger Blockade starved the Germans anyway, killing nearly 8 Million Germans.
Verified and translated by Teutonicaworld, March 2013
1) German audio file
2) "Reden Adolf Hitlers," Philipp Bouhler, Zentralverlag der NSDAP, Franz Eher, Nachf., Muenchen, 1940 (Fraktur)
This speech was printed in the Deutsche Allgemeine Zeitung, September 1, 1939
——————————————————————-
Below a brief excerpt from a book 
"The Unknown History of the 1939 German-Polish Conflict"
A brief Synopsis that shows the terrible hate towards the Germans by the Poles
 The Unknown History of the 1939 Polish-German Conflict – please read here
  Free State of Danzig     website
GERMANY IS THE VICTIM! LONG LIVE THE TRUTH!